Money, mission and meeting in person — a new study looks at COVID-19's effect on churches
More than 550 congregations took part in Lake Institute's survey about the pandemic. While their finances have been impacted, many faith communities are adapting, which will be critical moving forward.
The Rev. Dr. Shelly Wood sat alone in the sanctuary of Orchard Park Presbyterian(link is external) on Easter morning, listening to the sermon she'd prerecorded for her congregation and imagining they were there with her.
It had been a month since COVID-19 had forced the Indianapolis church to do the unthinkable: close its doors to services. The church had never worshipped online before, and Wood scrambled that first Sunday to record a service on her iPhone and post it to YouTube. Surely, she thought then, we'll be back in the sanctuary in two weeks.
When that didn't happen, she set her sights on Easter. But Easter arrived and her congregation still could not safely worship together.
"Closing worship was like heresy," she said. "I really went through -- I think we all did -- a dark time, a time of grieving and emptiness."
Wood said she was driving home after the solitary service when she heard a voice.
"I heard God say, 'I'm with you. I'm with you in this,'" she said. "I came home and had a shift, from a feeling of desperation to a feeling of hope, a feeling of, 'I'm with you in this new place, and we will keep going.'"
Unable to worship together, fretting about finances and reeling from the losses associated with the pandemic, any congregation would find it easy "to get stuck in their own story," said David P. King, the Karen Lake Buttrey Director of Lake Institute on Faith & Giving.
But a recent survey(link is external) of 555 faith communities conducted by the institute offers cause for optimism as well as a path forward for congregations wrestling with uncertainty. While not a representative sampling, the July 2020 survey provides a snapshot of how congregations are managing their finances, engaging with members and planning for the future, King said.
What have you noticed about your congregation's giving during the pandemic? What has changed that's worth paying attention to, and what has remained consistent that's worth celebrating?
It's a challenging time, to be sure, he said. But it's also an opportunity for congregations to think creatively about revenue streams, to lean into their service-oriented missions and to celebrate what they have rather than despair over what they've lost.
"It's not a death knell or a dismal story," he said. "It's an opportunity to focus on this new normal and, not wish for these pandemics, but move through them and be able to take stock of the new future of your congregation and demonstrate the resiliency of American congregations."
Last fall, Lake Institute, part of the Indiana University Lilly Family School of Philanthropy at IUPUI, released its National Study of Congregations' Economic Practices.(link is external) It examined how 1,231 U.S. congregations received, managed and spent their resources between 2014 and 2017.
That study, the largest nationally representative survey of congregational finances in a generation, determined that 81% of congregational funding comes from individual donations, with 78% of those given during worship services.
But nearly every congregation ceased in-person worship in March 2020, at least temporarily, which left Lake Institute wondering: What happens to giving when churches close their sanctuaries?
For 41% of respondents in the newest survey, that has meant a drop in financial giving. But King is quick to point out that that still means the majority of churches have been able to sustain (31%) or even increase (28%) member giving.
"It's not all bad," he said. "Sustaining giving in a time like a global pandemic is something to be proud of, even excited about."
Overall, study participants reported that giving was down about 4.4% between February and June 2020 as compared with last year. Congregations that already had online giving options before COVID-19 tended to fare better.
Small congregations with attendance of fewer than 50 were least likely to have online giving options already in place, the study reported, and slightly more than half of those (54%) said they still did not. Meanwhile, nearly all congregations with 100 or more weekly worshippers (94%) now offer online giving, according to the study.
Concerned about the potential for decreased revenue, churches trimmed costs by reducing nonpersonnel administrative expenses (38%), delaying capital campaigns (11%) or building programs and repairs (16%), and cutting back on giving to religious associations (12%), the study found.
Only 14% reported salary reductions, layoffs or furloughs, and just 8% decreased missions, service or benevolence expenses. However, 30% of the survey's respondents said they also financially supported other congregations or nonprofits in need, and 22% created special funds to support members in crisis.
Asked about their budget planning for next year, a majority of congregations (52%) reported plans to keep their budgets the same, while the rest anticipated cuts of 5% to 10%.
In the past, what assumptions has your congregation or institution made in its budgeting process? How has the pandemic challenged or confirmed those assumptions, and how is that shaping your budget planning for 2021?
Even during a pandemic, perhaps especially during a time like this, King said, he urges church leaders to share a message of abundance with their congregations. What do we have, he said, that could serve others?
"It's not just the megachurches with ministers of technology and multiple cameras and angles. You can do a lot with a pastor at her kitchen table, Zooming off her iPhone. There are plenty of ways to make that connection if you think creatively and think of the abundance you have," he said.
"The message is not, 'We really need your money now' but a reminder of the mission -- how you're engaged in community and helping others now, being the light -- rather than, 'You owe.'"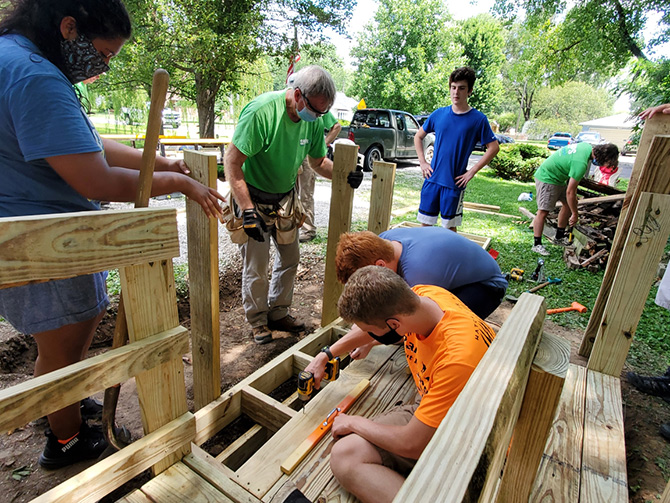 Money follows mission
Focusing on mission can keep members engaged financially and spiritually, said Phill Martin, the CEO of The Church Network,(link is external) a professional association of church administrators based in Dallas. Martin said he's urged churches to be upfront with their members about what funds are needed and how they're being used.
"People tend to give to purpose," Martin said. "What is the church doing in the midst of this that money is making possible?"
What have you learned about the economic realities of the lives of your members or constituents across these months? Have there been surprises that could shape future ministries?
That adage has held true for Broad Street Presbyterian Church(link is external) in Columbus, Ohio, according to the Rev. Amy Miracle, the church's senior pastor. The congregation of about 800 members sponsors three community-based missions: a food pantry, an eviction-prevention program and an academic achievement program for children, all in high demand right now.
An annual fundraising event for all three resulted in an "amazing" response from members, who were able to see right away the results of their giving, Miracle said. The church is hopeful that that generosity will extend to its annual pledge campaign, which begins soon, but the congregation isn't focused on its bottom line right now, she said.
"Immediately, we made the decision to have clarity about our mission, to just not worry about the money, knowing it was the right thing to do," she said. "If we keep laser-focused on who we are during this situation, the financial support will follow -- or it won't. Either way, we'll be faithful."
The response at Orchard Park was similar. Not long after Wood's Easter revelation, the church's session, its governing body, held a meeting, stripping the agenda of anything not pandemic related.
"We said, 'When this is over, what kind of congregation do we want to be? What do we want to say we have done? Who are we, and who are we not?'" Wood said.
The group boiled their answers down to a list of four priorities: serving the community, supporting members by staying connected, pursuing social justice, and maintaining the essentials of Christian formation, like worship, Bible study and children's ministries. Instead of going on a mission trip this summer, members built wheelchair ramps throughout their community. The church also collaborated with several other congregations, raising $20,000 for meals and gift cards for vulnerable children.
Church leaders quickly began making contact with every one of Orchard Park's 700 members. Deacons, elders and staff have each taken responsibility for small groups of five to 10, regularly checking in to offer support, Wood said.
The Rev. Dr. Reggie Blount, the senior pastor at Arnett Chapel African Methodist Episcopal Church(link is external) in Chicago, said he's grateful that his congregation is "holding on" more than six months into the pandemic. While members mail in and drop off donations, many also use the congregation's online giving option, which existed before COVID-19.
Blount estimates that giving is about 85% to 90% of what it was pre-pandemic, though he noted that the number of donors has dropped to about 60%. While that creates some financial pressure for the church, Blount said his primary concern is what's going on in the lives of those former donors. Have they lost jobs or become ill? Are they feeling disconnected? He said he has encouraged his congregation to "find ways to touch without touching" by calling, writing and otherwise checking in with each other.
"The biggest thing right now is connection. This is a period of trauma and a lot of uncertainty and not knowing what voices to trust out there, because there are a lot of mixed messages -- not that anybody has any clear answers. But it doesn't help when people feel isolated," said Blount, who is also an associate professor of formation, leadership and culture at Garrett-Evangelical Theological Seminary in Evanston, Illinois. "This is truly the time to emphasize pastoral care."
The pandemic has underscored and deepened significant economic injustices in American society. How is your congregation or institution responding to those injustices during this time?
When churches care for their congregations in times of crisis, those congregations are better equipped to turn around and care for their communities, he said. Arnett Chapel, which has about 150 members, partnered with the Greater Chicago Food Depository this summer, providing dozens of volunteers at a food distribution site that served roughly 300 families a week for 12 weeks.
"If that's not the purpose and role of the church, what is it? If we're not there to help protect the needs of the least of these no matter what we're going through, we're no different than any other organization," Blount said.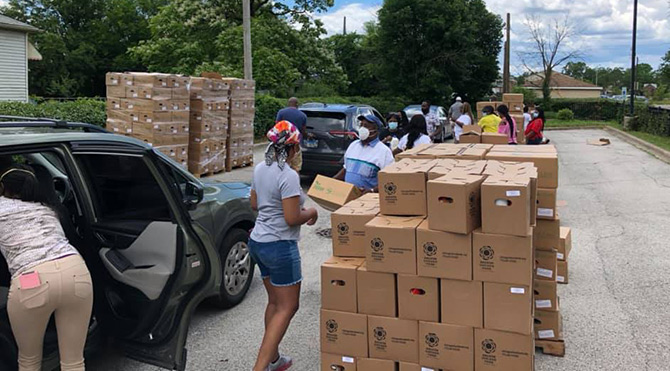 Like 66% of the survey's participants, Arnett Chapel applied for the federal Paycheck Protection Program. Larger congregations applied at four times the rate of smaller ones, probably because they had more administrative capacity to fill out all the paperwork and "be first in line when the banks opened," said King.
When a large bank proved unhelpful to Arnett Chapel, the church received guidance from a local nonprofit in applying for the funds, which preserved the salaries of its office manager and musician, Blount said.
While providing encouragement to his congregation, Blount said he's also been honest with them, "because I'm experiencing too many folks wanting to get back to normal, and normal isn't coming back."
"How do we grieve what used to be and prepare ourselves to embrace what the new realities are going to be?" he said. "We can't just go back to our old rhythms once everyone is vaccinated. We'll be leaning into new rhythms by then."
Embracing creative engagement
Despite shuttered sanctuaries, slightly more than half (52%) of those who responded to Lake Institute's survey reported that participation in worship services had increased compared with previous in-person attendance.
Roughly one-third (35%) reported a decrease in participation. While only 31% of the surveyed congregations provided online worship opportunities pre-pandemic, 86% reported offering them now.
The Lake Institute survey results provide an opportunity to have a conversation with your leadership team about organizational or congregational economics. What preparatory work do you need to do as a leader to make that conversation beneficial?
Broad Street has developed a slate of creative ways to engage safely with members, Miracle said, including hosting small concerts in the church parking lot, arranging for backyard home visits between staff and members, and establishing a popular Sunday morning hiking group that includes prayer, meditation and a chance to exercise outside. Seniors and high school students hungry for in-person contact have participated in record numbers, Miracle said.
In March, the church committed to responding to the crisis with "flexibility, creativity and generosity," a phrase Miracle still has posted above her desk. While the congregation had always been generous, it wasn't as flexible and creative as it aspired to be, she said. COVID-19 has changed that.
"It's amazing how quickly even a church can change when it has no other choice," she said.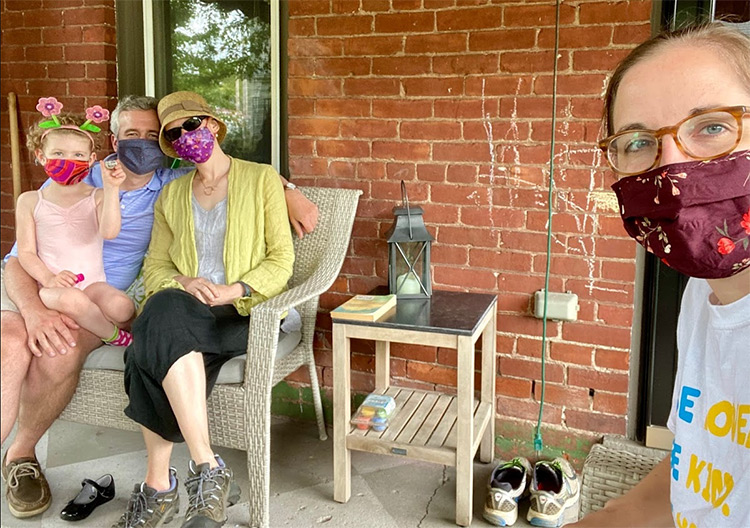 In Indiana, a grant from the Center for Congregations enabled Orchard Park to purchase cameras and improved lighting for the sanctuary so Wood no longer had to rely on her iPhone to record virtual services, thus upping their online presence.
But Wood noted "it's the little things" that have meant so much to members as they imagine new ways to share sacred traditions and devote considerable effort to being a light in their community. The church offers drive-thru communion, for instance, and used one of those events as an opportunity to continue its tradition of handing out Bibles to its third graders.
And though Indianapolis was essentially shut down, the church got permission from the mayor to organize a Palm Sunday parade, with members driving around town waving palms they'd picked up in the church's parking lot. Members had so much fun that they suggested the parade become an annual tradition.
Five members of Orchard Park's session formed a task force that spent months examining CDC guidelines before agreeing to open the church's sanctuary in July under strict conditions, Wood said.
Everyone must be masked and use hand sanitizer before being escorted into (and out of) the sanctuary, where they sit 6 feet apart, every other pew, she said. No one exchanges hymnals or Bibles anymore, and when they're asked to pass the peace, worshippers stand up and wave at each other or greet one another in sign language.
"The first time we can actually pass the peace of Christ and hug each other, I'm going to be a mess," she said.
Still, Wood said, online participation remains strong, and the church intends to continue offering that service. The largest in-person Sunday attendance so far has been about 100 people, far below the 400-person average before the pandemic. The task force allowed the church's preschool and pre-K programs to open once school started in Indiana, but it has already decreed that there won't be any more opening up until 2021, she said.
Whether to reopen and when was one of the biggest decisions facing churches that participated in Lake Institute's survey -- one that appeared to be driven more by finances and political orientation than health factors, according to the study.
While 71% of the congregations that identified themselves as conservative indicated they had already reopened or intended to reopen by August, only 20% of liberal congregations reported the same. Among moderates, 49% had reopened by August. Churches with endowments or reserves generally opened later than churches that didn't have those funds to rely on, the study reported.
Wood described her own congregation as an "incredibly purple church" and said politics never entered into its decision to reopen for worship. Rather, she said, it was "a really faithful decision" made by elected members of the congregation.
Thinking back to the start of the pandemic, when she hoped for no more than a two-week disruption, Wood said she'd had no idea how much change was coming. The fact that the lectionary is focused on the story of Exodus right now is "so perfect," she said.
"They started to complain about manna, and they had no idea how far they still had to go," she said. "The humanity of trusting God in the wilderness is a very real thing."
---
Lessons from the pandemic
The pandemic has presented significant challenges to congregations, many of which remain closed for in-person worship. But faith leaders say it has offered valuable lessons as well that will continue to serve them long after this crisis passes.
While it's important to reach out to other congregations and nonprofits for support and suggestions, avoid comparingyour church's response with that of others, which can cause anxiety, said the Rev. Amy Miracle of Broad Street Presbyterian in Columbus, Ohio. Instead, lean into your own congregation's culture and let that inform the steps you take.
Pace yourself, said the Rev. Dr. Shelly Wood of Orchard Park Presbyterian in Indianapolis. Early on, a friend advised her that the pandemic would play out more like a marathon than a sprint. "I heard that and felt that, but I also felt so much urgency and fear and responsibility that I couldn't not be overwhelmed and feel a sense of, 'If I work really, really hard, maybe everything will be OK,'" she said. "Now, I look back and think, 'Well, that was really naive of me.'"
Staying with the race analogy, The Church Network CEO Phill Martin noted that church leaders and staff have been "in a full sprint" since March, trying to respond to the needs of their communities, and fatigue has set in. Give yourself permission to name the problem, he said, and set some boundaries that give you the "space and grace" you need to recover.
Maintain connections with congregants and keep your mission at the forefront, advised the Rev. Dr. Reggie Blount, the senior pastor at Arnett Chapel AME in Chicago. "What can increase giving is being able to demonstrate that you're still serving," he said. "People give to mission."
Both Blount and Martin pointed out that this is a good time to take stock of your assets, including shuttered facilities. Is all that square footage still necessary to continue the church's mission? Or might it be put to alternative use post-pandemic?
Rather than getting mired down in fear and anxiety, think about what you want your faith community to look like as it moves through this crisis and what you want it to be on the other side, said David P. King, the Karen Lake Buttrey Director of Lake Institute on Faith & Giving. "Take time to grieve what's been lost, the loss of community, the loss of life," he said, "and then pick yourself back up as an organization and take these next steps."
Questions to consider
What have you noticed about your congregation's giving during the pandemic? What has changed that's worth paying attention to, and what has remained consistent that's worth celebrating?
In the past, what assumptions has your congregation or institution made in its budgeting process? How has the pandemic challenged or confirmed those assumptions, and how is that shaping your budget planning for 2021?
What have you learned about the economic realities of the lives of your members or constituents across these months? Have there been surprises that could shape future ministries?
The pandemic has underscored and deepened significant economic injustices in American society. How is your congregation or institution responding to those injustices during this time?
The Lake Institute survey results provide an opportunity to have a conversation with your leadership team about organizational or congregational economics. What preparatory work do you need to do as a leader to make that conversation beneficial?
The toll of the last six months on clergy requires a sustained response, from the seminary and denominational levels as well as congregations, writes an expert on faith and mental health.
I call a pastor friend to ask him for a favor, and we're engaging in pleasantries.
"How are you?" I ask.
He pauses and then says, "I'm good. Well, yeah, I'm good."
I pause. I have a decision to make. Do I stick with my mission and move on about my day? The truth is, I can't.
So many times in the past few months, I've had this conversation — the pastor calling to ask for a mental health referral for a member, the executive minister calling to schedule a Zoom-based session on mental health during the pandemic, the clergy member arranging a panel on responding to race-based violence in the U.S.
The purpose of the conversation is service to the people we all care about, but when do faith leaders make time to attend to themselves?
"I don't believe you," I say to my friend. He just responds, "I know."
"I'm here," I say. "You know I'm here." He replies to my invitation with three simple words: "It's just everything!"
Immediately, I get it. He doesn't need to explain. The past six months have been a whirlwind for all of us. In March, the arrival of a pandemic that stopped us in our tracks. What we thought would be a few weeks has turned into a half-year-long saga of reinventing the ministry wheel and responding to emotional, financial and programmatic needs.
In May and the months after, the ubiquitous reminders of the racialized violence that is embedded in the bones of this country, reinforcing how perilous the very concept of "safety" is. Add to that a contentious political battle in which it seems that we are fighting for our very souls. Ministering has never, ever been an easy job, but this year has made it even harder.
Ministry as a profession trains people to orient themselves outward and upward; less often are they encouraged to orient inward. For clergy, this season has been a call to action.
In heroic efforts for which they have not always gotten appropriate credit, clergy have worked to transition churches to online formats, shift their pastoral care strategies, manage financial concerns, and respond to the fears and anxiety of congregations who are wondering what to do in moments like these.
While the buildings have been closed, the phone calls and requests for help have not stopped. In fact, the work has somehow increased! Parishioners have needs, and they call clergy first.
Clergy have had front-row seats to the pain: the COVID-19 deaths, the isolation from family and friends, the despair about how long this period will last, the racial unrest and calls to protest, the mental health consequences that come along with this turmoil. They see and feel and hold it all.
Our trauma is their trauma, on top of their own. The simple definition of trauma I give to clients who have experienced it is this: something happened that shouldn't have happened, or something didn't happen that should have happened.
Isn't that this year in a nutshell?
Secondary trauma is bearing witness to these happenings (and not-happenings) for others. For clergy, it's bearing witness for lots of others — and in times like these, there is often a sense of hopelessness or powerlessness that simply overwhelms. Clergy are doing what they can, but many simultaneously have the sense that it is not enough.
As this internal and external war rages on, the things that can serve as little reminders that their labor is good and their efforts are appreciated have faded away: no hugs or high fives, fewer smiles from people who can see how hard they are working, no faces in the sanctuary reacting to the sermons, no real-time responses to the proverbial sermonic call.
A funeral, which at one time was a balm for collective grief, suddenly turns into a graveside service with many left watching at home. A wedding or baby dedication to celebrate the cyclical nature of life is either canceled or transformed into something nearly unrecognizable.
The anxiety and angst of this time in our collective history means that people need more. And clergy, being who they are, have responded.
But who takes care of the shepherds? While they have the responsibility of leading churches during these tumultuous times, they are still whole people with their own anxiety about COVID-19, maybe their own financial issues, their own angst about the state of the world. Still, their churches might be needing more and more.
It is a precarious place to be, and the reality is that when people are used to being in the role of caretaker, it can be hard for others to see them (and for them to see themselves) as needing love, care, support and encouragement. The shepherds need this care and support more than ever. Theirs can be a thankless job, and we are in a particularly unforgiving season.
Add to that the uncertainty. When will the church building open back up? When can we return to "normal" life? What's our responsibility in response to social unrest? Where is God in all of this?
I imagine that some clergy are tackling another uncertainty in addition to this list: How can I go on like this?
I have said over these past few months that I firmly believe we are all doing the best we can. What is the best we can do in this moment? What is the best we can do for the shepherds?
One place we can start is simply giving clergy places to name their struggles. Many of us know the isolation that can come with this profession. What clergy need now, more than ever, is connection — even if that connection is not through the traditional methods. This can be personal and emotional, but it can also be professional.
Clergy can benefit from spaces to share best practices, technology hacks and helpful resources. They also need spaces to cry, scream and lament.
Now is the time for denominations to rethink and rework renewal leaves, sabbaticals and time away.
Now is the time for churches to evaluate their benefits packages to make sure they include comprehensive medical and mental health care, paid leave, and professional funds. For many churches, this means getting creative, collaborating with fellow churches and capitalizing on the strengths of the leaders in each congregation.
The clarion call of rising clergy burnout rates has been ringing for quite some time, and for us to be the church, we must equip the clergy. They have risen to the occasion, and now it's our turn.
A part of this equipping work ideally happens before a crisis occurs. In most traditional seminary training, there is at least a cursory discussion of self-care as a part of pastoral care or some other foundational class. But what we are learning in this time is that ministry during a crisis requires something different as clergy attempt to care for congregations and to care for themselves.
Seminaries can be a part of the solution by helping seminarians build crisis-specific skills: collaboration, understanding and responding to personal needs, setting appropriate boundaries. The strategies might be similar to those of general self-care, but they are executed differently in times of crisis.
It will take all of us to come together and envision processes for being well and even thriving as these challenges continue.
Faith & Leadership
This was first published in Faith & Leadership, the online learning resource for Christian leaders and their institutions from Leadership Education at Duke Divinity.
The Thriving in Ministry Coordination Program is a service of Leadership Education, which designs educational offerings, develops intellectual resources and facilitates networks of institutions.
Building on strengths and taking the long view, a Christ-centered South Nashville nonprofit emerges as a catalyst for holistic community development.
Don't be misled by the makeshift counter and tent outside Humphreys Street Coffee Shop in Nashville, Tennessee. The business is here to stay.
That renovated green house is a symbol of permanence, commitment and determination. After all, helping people understand their value is not quick work.
As a social enterprise of Harvest Hands Community Development Corporation,(link is external) the coffee shop serves up more than cold brew and lattes; it provides jobs, mentorship, discipleship and skills for teens from the community nearby.
"We don't hire students to make coffee," Harvest Hands executive director Brian Hicks likes to say. "We make coffee to hire students."
On a hot, humid August afternoon, local residents pull up or stroll over in a steady stream. One speaks of how he likes both the coffee and the aesthetic. On the edge of a recently gentrified neighborhood, it's charming, inviting. And powerful.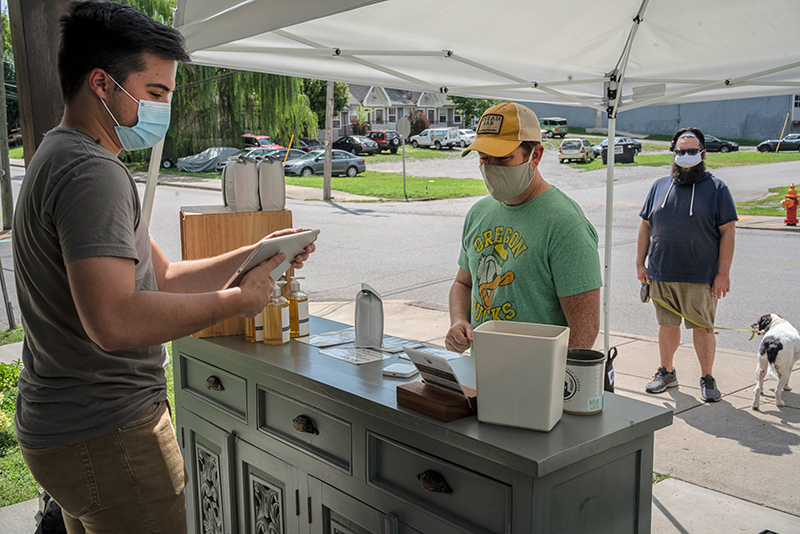 In a non-COVID season, Harvest Hands has met community requests for after-school activities, sports leagues, leadership training and more. Founded in 2007 by Hicks and his wife, Courtney, the organization has grown from a neighborhood gathering of a dozen or so kids to a nonprofit that brings in $500,000 a year in coffee roasting, brewed coffee and handmade soaps, in addition to gifts from individuals, churches and foundations.
Does your organization have empty spaces that could be re-imagined into a way to serve your community in this season?
There are typically 10 full-time staff and up to 50 more in various part-time roles -- including those students. In the wake of COVID-19, the shop is currently curbside and delivery only.
After-school programs are shuttered for now, coffee and soap production continues with just a handful of students, and the once-bustling community center has transitioned to a quiet, safe and internet-ready space for younger children to take part in remote learning.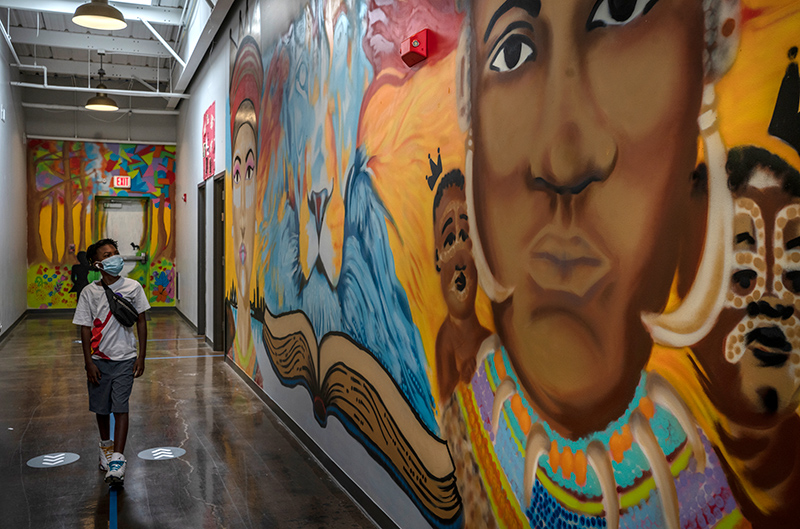 But the undercurrent of digging in for the long haul remains.
"Numbers are important," said William Parker, the Harvest Hands director of youth and mentoring. "But they don't dictate success."
'What do you love about your neighborhood?'
It was the Rev. Howard Olds who drew Hicks from Kentucky to the neighborhood. Olds was the longtime pastor of Brentwood United Methodist Church, an affluent congregation in an adjacent county. He was interested in neighborhood revitalization in South Nashville, not far from downtown; the church had the resources but not the manpower for the work.
Hicks, a seminary grad who cut his social activism teeth working in inner-city Philadelphia, Chicago's South Side and Louisville, was hired by the church to lead the nonprofit. As the organization grew, all other staff would be funded through Harvest Hands and represent a variety of denominations, experience and education.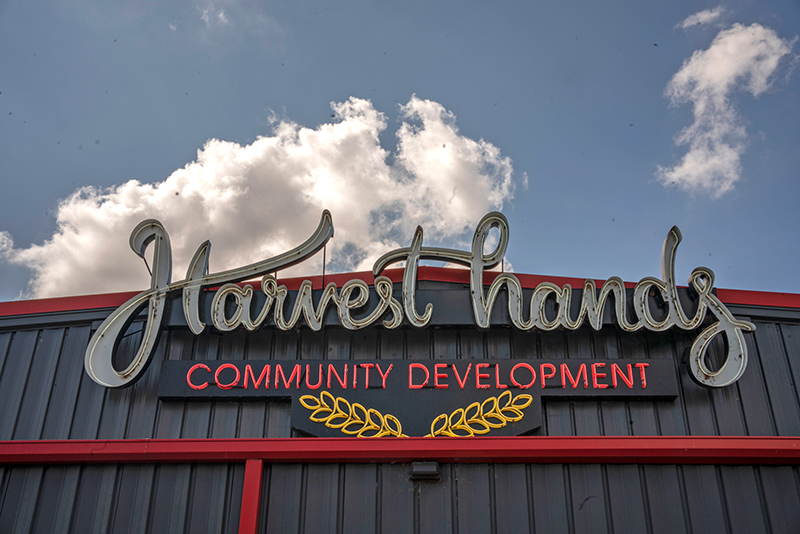 Hicks had been further inspired by the writings of John Perkins, co-founder of the Christian Community Development Association, and was ready to see communities empowered through true partnership rather than charity. He was ready to put down roots.
Olds, meanwhile, had attended a community meeting and was told that if he really wanted to make a difference, the church should buy the drug house on the top of a neighborhood hill.
Leadership Education at Duke Divinity recognizes institutions that act creatively in the face of challenges while remaining faithful to their mission and convictions. Winners received $10,000 to continue their work.
"So they did," Hicks said. "He didn't ask the congregation, which was made up of CEOs and leaders. He told them. And that became the entry point."
The house was torn down, and a fall harvest festival was held on the lot.
"The price of admission was a survey," Hicks said. "We asked them, 'What do you love about your neighborhood? And what would you change?'"
The residents were concerned about kids with nothing to do but get in trouble. An after-school program was a simple ask.
The newly formed Harvest Hands bought a small house and started working with children in 2008. It had outgrown that house by the following year, and the Methodist Church donated the building -- the former Humphreys Street UMC -- that would eventually become the coffee house. But things were just getting started.
Ruben Torres, an introverted middle schooler who would hunch over and fold into himself as if he didn't exist, was already part of the Harvest Hands program. Hicks saw promise in Torres and asked whether he might be interested in a new opportunity.
He could learn how to roast coffee, "a grown-up, adult thing that was super exciting," Torres said. Harvest Hands was looking for a social enterprise that would engage teens; a paycheck would be a definite draw.
Whom do you need to invite to get involved in your community's mission in a new way?
The church provided an introduction to one member in particular: Cal Turner Jr., former chairman and CEO of Dollar General. Hicks asked Turner for not only a Diedrich coffee roaster -- a high-quality machine geared toward specialty batch roasting -- but also a trip to the company's Idaho headquarters for himself and one other to learn how to use it.
"That's like learning to drive from Henry Ford," Hicks said. Turner told the then-30-year-old Hicks to write a business plan and he'd make it happen. Hicks enlisted the help of the teens. After a few tweaks here and there, Turner held true to his word.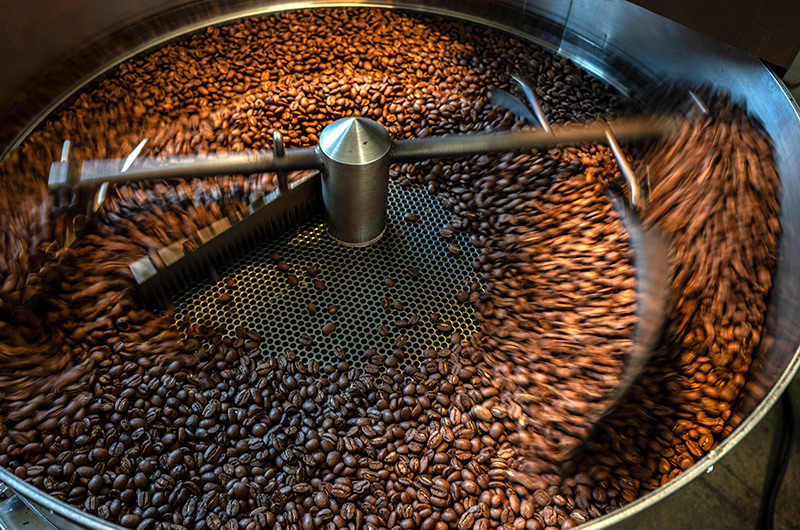 Torres was chosen for the trip. Today, he's production manager and head roaster, overseeing teens not unlike who he once was. Harvest Hands, he said, helped him learn about his value as a person.
"Something we very much believe in is that everybody in the community has the potential to be greater," Torres said. "There are also people who have the potential to be leaders. The talent is there. There's no need to bring a whole bunch of external factors."
It is easy to default to bringing in trusted external experts to start something new. What potential is already present in your community waiting to be invited to contribute?
He considers himself fortunate to have had an "awesome support system and great parents." His mother, Jael Fuentes, is now soap production manager at Harvest Hands. But Torres also understands he's in a position to model change, leadership and motivation for others. His own experience lends credibility.
"They take things to heart from me," he said. "As opposed to saying, 'You don't know my life.'"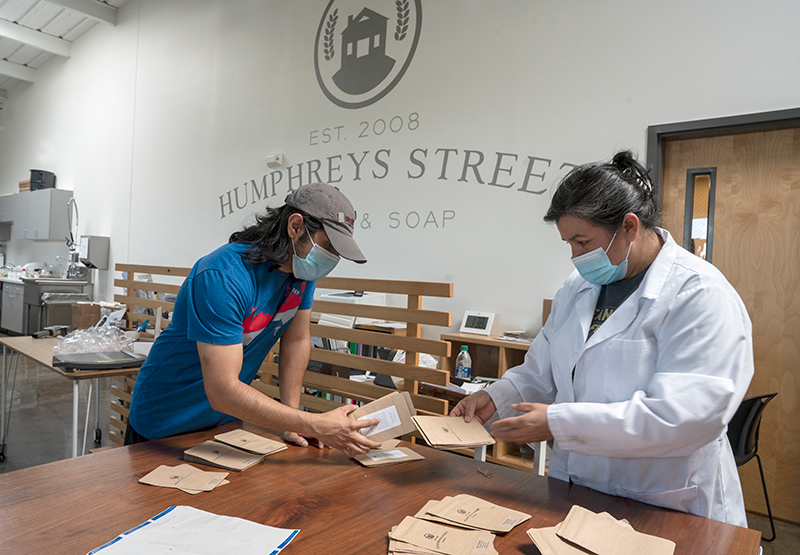 Giving it back to the people
As coffee and soap production grew, the Wedgewood-Houston neighborhood began to gentrify.
"The first thing we did," Torres said, "was to invite the community members in and say, 'What do you need? What do you see?'"
With housing costs rapidly rising, many were being forced out.
By 2015, Harvest Hands staff knew they needed to relocate. They met with members of the Napier-Sudekum neighborhood, less than a mile away, and learned of the need for after-school programs there, too.
Naturally, there were new challenges. Napier-Sudekum has more than 800 government housing units; crime rates and violence are high, and Harvest Hands notes that the average annual household income is $6,500. But it is also a community in which neighbors look out for each other and untapped talent is overflowing. Hicks found an old warehouse perfect for a community center and set to work.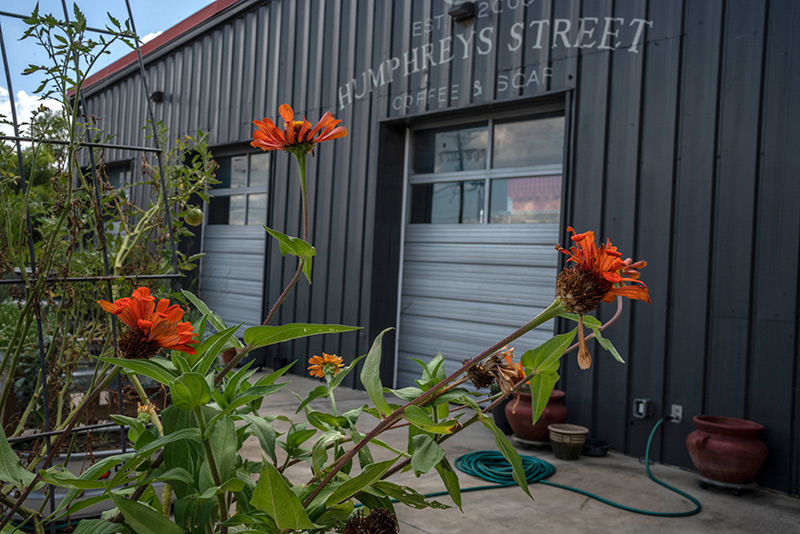 "It was the craziest thing," he said. "We beat the realtors and the developers to the building. As much as gentrification pushed people out, it drove up the price of that original crack house lot [in Wedgewood-Houston]."
The property that Harvest Hands had bought for $275,000 was sold to developers for $2.3 million, with plans to add shipping container units for "affordable" housing. The funds from the sale have been given back to the people, in essence, as Harvest Hands continues to expand its reach.
"It's creatively using gentrification for justice," Hicks said.
A call to reform
The bright and spacious community center in Napier-Sudekum officially opened in 2016. Named for Olds, who died in 2008, it is adorned with colorful murals and words like "integrity," "compassion," "love," "courage," "respect" and "wisdom." There's a playground and a large lab-like room that now houses two coffee roasters, stacked bags of coffee beans and packaged handmade soaps.
What do the spaces your organization inhabits communicate to others? How do you cultivate a space in which people feel valued?
As one of the first craft roasters in Nashville, Harvest Hands had steadily built a following that has helped sustain the organization through the pandemic. Online sales through its website(link is external) include coffee from Africa, Central America, South America and Southeast Asia, in addition to liquid and bar soaps, laundry soap and a coffee sugar scrub. The brick-and-mortar coffee shop on Humphreys Street opened in 2018.
When people visit the Howard Olds Community Center, Hicks said, they often seem surprised at just how "amazing" it is. "Several things go through my mind -- first, do you think these kids should not have a great space? Is it supposed to be a dump? We try to help kids believe that they are valuable and they are worth it."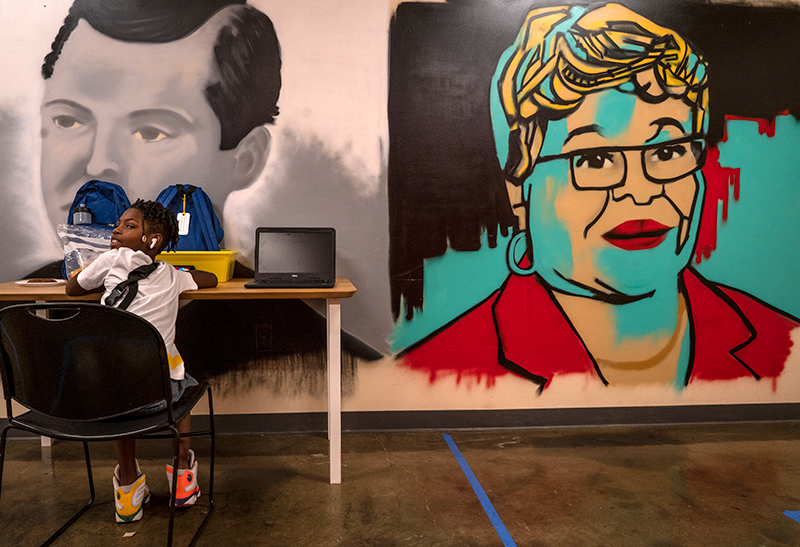 Jessica Holman, the organization's senior director of employee and community relations, grew up in the area and came to work at Harvest Hands while in graduate school at Vanderbilt University close to a decade ago. She knows firsthand that local residents have "inherent talents and skills," she said. "They just need opportunities to let them shine."
"I wish that people knew the people in these communities," she said. "There are some amazing people here. Intelligent. Creative. And I wish people knew about the sense of community here, too."
Consider Jarica Sanders, a self-employed artist, hair braider and mother of three. Her kids, ages 7, 8 and 10, have taken part in Harvest Hands programs for several years. They've played a variety of sports with the organization, participated in after-school programs, learned life skills, been encouraged in their faith and are now going to the community center for virtual learning. Sanders is hoping her oldest son, Lemy, will be able to gain work experience through Harvest Hands when he's older, too.
In her Napier-Sudekum neighborhood, she said, "if you don't know about Harvest Hands, I don't know where you've been." And it's not just the activities and opportunities for the kids. Sanders said the organization has a reputation for truly partnering with residents.
"We have parent meetings at Harvest Hands," she said. "They give us the chance to come in and tell them what's working and what's not working and what they could do better. They get the community involved, and I really like that. A lot of programs, they just come out and say, 'We have this, this and this.' But the people at Harvest Hands actually take the time to say, 'What do you need? What do you think can we add?' That's a very big help."
Harvest Hands follows the tenets of asset-based community development, which include focusing on those strengths, gifts and talents already present rather than just working to "fix" what's wrong.
How much of your organization's work is "fixing" what is wrong, and how much is building upon the strengths, gifts and talents already at work?
Parker, a Memphis minister who came to Harvest Hands in January, said those concepts had always been part of his story; he just didn't know them by that name.
Learning about the powers that systemically oppress communities -- especially communities of color in urban environments -- tugged at his heart. So did the opportunity to continue his work with teens.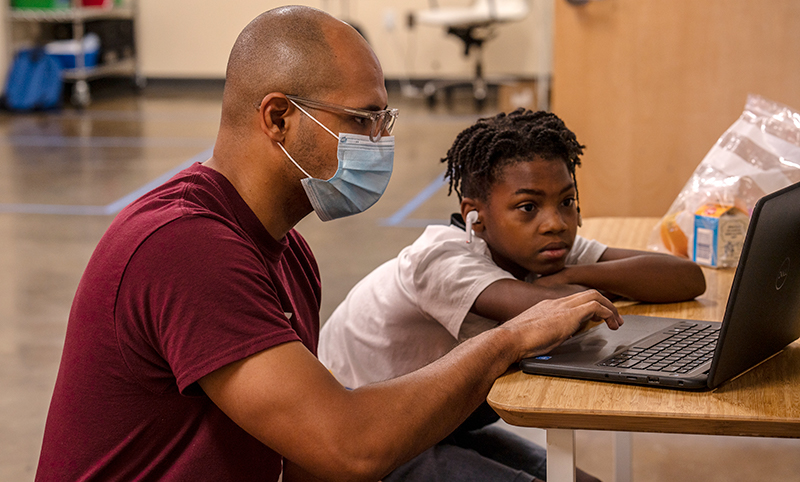 "It's not enough for me to just believe that Jesus Christ has changed the world through his actions," he said. "That same spirit that is in Jesus is in me, and it's calling me to bring reform, to change, to be with the community and say that it doesn't have to be this way. The gospel is more than just the theological ideology that we hold that sounds good on Sunday mornings. It calls for social reform to be in the mix.
"I'm just trying to lean into that social holiness piece and say, 'OK, justice is really close to the heart of God.' If I want to be able to understand how faith is played out in communities, I need to be in a position to hear stories and say, 'Where is God in that story, do you think?' … What drew me to Harvest Hands was to have space to ask the big questions without attempting to fix anything. That's where real healing takes place, where people are brought back to themselves."
Living Jesus out loud
That same hot day that customers were lining up for coffee at the shop, Parker was sharing a classroom in the community center with a middle schooler taking part in remote learning; the city's schools had not yet opened for in-person classes because of COVID-19.
Across the hall, Chartrice Crowley, the director of elementary programs, had a handful of younger students of her own. The kids have been on alternating days from 7:30 a.m. to 1 p.m., mindful of social distancing limits, with sibling schedules matched to ease the burden for parents.
This effort, too, came from going to the community and asking rather than assuming what was needed. It is the difference in saying, "We are here for you, not because of you," Parker said.
How might your organization's work be different if it existed "for" people rather than "because of" people?
In more normal seasons, Crowley plans after-school enrichment opportunities like African drumming and ballet, homework time, personal development, fun, and a faith component. Harvest Hands allows her to "live Jesus out loud" in a way that working in a public school would not.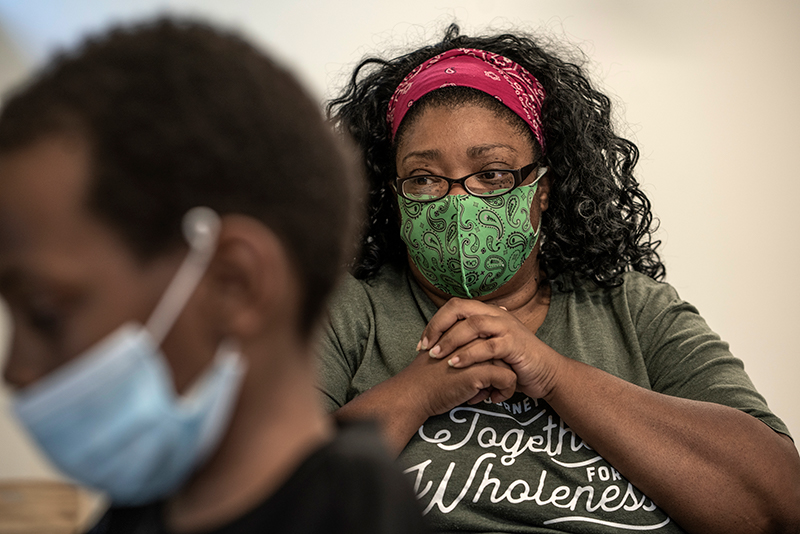 "The thing that makes me most proud about working here is that I get to see the fruits of the seeds that have been planted," Crowley said. "I get to see greatness every day. These kids are amazing. They're fun. They're witty. They're smart. They blow me away every day with what they know." Even when they're figuring out learning through a screen.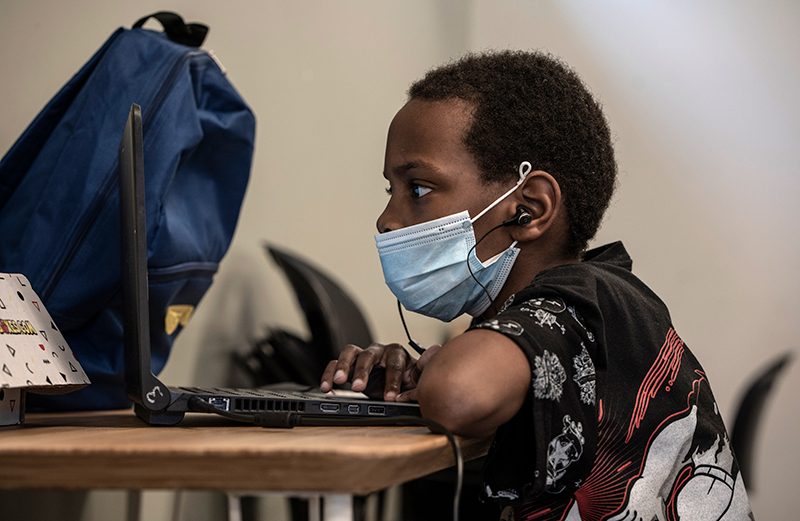 There's a cultural element to Harvest Hands, too, one that opens doors of opportunity, knowledge and respect for the predominantly Black community. Classrooms, for example, are named for historically Black colleges and universities, with those names changing each semester to increase exposure.
"Students are placed in their 'house' at the beginning of each semester," Holman said, "and they participate in house games throughout the semester, where they are able to win prizes. We think it's important for our students to know the history of HBCUs, why they were created, and that they are an option for them to further their education. It's important that they learn about Black excellence at an early age so that they grow up learning that greatness lies within them."
Local street artist Charles Key serves as another inspiration; his work can be seen throughout the community center (as well as at various Nashville sites). There are portraits of lesser-known Black leaders -- many of them from the area -- on the walls of the middle school classroom.
Overall, the ongoing uncertainty of COVID-19 makes some aspects of the future unclear. What is clear is that Harvest Hands will keep asking the community what it needs and endeavoring to incorporate the resources available to bring it about.
Torres hopes to develop a roasting certification program for the students he oversees. Hicks is looking forward to hallways full of kids once again. Parker is exploring pathways to success for high schoolers. And Holman will keep seeking opportunities to tell the story of long-term vision and sustainable success.
As for others hoping to do the same? Holman suggests that they'd do well to check their "why."
"Will you be there for the long haul, willing to relinquish power to the people within the community and let them shape it?" she said. "Our goal, at the end of the day, is to work ourselves out of a job. If we're doing what we aspire to do, that means the community will lead. Then they'll be the ones out there doing what needs to be done."
Questions to consider
Does your organization have empty spaces that could be re-imagined into a way to serve your community in this season?
Whom do you need to invite to get involved in your community's mission in a new way?
It is easy to default to bringing in trusted external experts to start something new. What potential is already present in your community waiting to be invited to contribute?
What do the spaces your organization inhabits communicate to others? How do you cultivate a space in which people feel valued?
How much of your organization's work is "fixing" what is wrong, and how much is building upon the strengths, gifts and talents already at work?
How might your organization's work be different if it existed "for" people rather than "because of" people?
The promises made through baptism must reflect Christians' commitment to justice and peace for all people, writes the director of the Thriving Congregations Coordination Program at Duke Divinity.
When my son was in first grade, he joined the chorus at his public magnet school for performing and visual arts. He was a reluctant singer, not a fan of being the center of attention, so I beamed and teared up when he and dozens of other children joyfully belted out "Lift Every Voice and Sing,"(link is external) "(Something Inside) So Strong"(link is external) and "It's a New Day."(link is external)
I was proud of me, too.
Every day, I drove past the mostly white neighborhood elementary to drop off my white son at a school with as many Black and brown children as white children. I privately sneered at other white parents I knew who opted for much less diverse private or charter schools while my white son was singing songs, coached by three extraordinary Black female teachers, that demanded liberation, decried oppression and celebrated the election of President Barack Obama.
This scene could have been plucked from the New York Times podcast "Nice White Parents,"(link is external) which traces the outsize influence of white parents on one school building in Brooklyn, I.S. 293.
Like some of the white parents featured in the podcast, I thought during my son's early elementary years that mixing a diverse group of students in one school was the goal. If I could just be a nice white parent who said the right things and endeavored to raise a nice white son who valued all people, I was doing enough for diversity and equality. I clearly remember gazing at those beautiful children onstage and thinking, in a self-satisfied way, "This is what the kingdom of God looks like."
But is it?
Does God prize a tidy vision of unity over justice? A pretty picture of reconciliation over liberation for all of God's people from oppressive systems? A community whose primary demand on me is showing up to take pictures from the front row over one that asks me to acknowledge my privilege and use my power to love all those children as much as my own?
As "Nice White Parents" host Chana Joffe-Walt reports, Brooklyn school administrators are trying to help white parents see something I also needed to see those years ago: "Their mere presence in the school does not make it integrated. They have to work at making this place fair."
Sociologist Margaret A. Hagerman, who studies how white children learn about race and racism, sounds the same message when she notes that many white parents focus on how to talk about race and manage individual children's behaviors without questioning structures that benefit them.
Talking isn't bad; it's just wildly insufficient to address the socially constructed system of racialized oppression that privileges whiteness. Instead, she writes in San Antonio Review,(link is external) white parents committed to anti-racism must focus on aligning their actions with their values and "make different decisions that prioritize the common good." And doing that, becoming more than not racist, requires a regular, honest and humble reckoning with our identity, our history, our relationships and our world.(link is external)
The church has a path for such reorientation, alignment and decision making. It begins with baptism.
In "Desiring the Kingdom," James K.A. Smith writes that baptism creates a new "social and political reality," a "baptismal city" where privilege of all kinds is erased, family is reconstituted to include all of God's children, and all evil, injustice and oppression is actively resisted: "Our baptism signals that we are new creatures, with new desires, a new passion for a very different kingdom; thus we renounce (and keep renouncing) our former desires."
Baptism is the beginning of a lifelong process, Smith writes, to learn to love what God loves and actively and intentionally join in the collaborative project to build a community animated by justice, peace and dignity for all.
But for many churches, our approach to baptism is insufficient to inaugurate such a radical reordering of our hearts, minds and lives. What would it take for white Christians to participate in founding a baptismal city?
We could start by "troubling the waters," renewing the ancient ritual of baptism, the Rev. Dr. Brad R. Braxton writes in the "T&T Clark Handbook of African American Theology."(link is external) Baptism must engage our present reality, he says, acknowledging our culture's violence and sickness and economic inequity and oppression of Black bodies.
How different would our practice of baptism be if, as Braxton suggests, it focused more on Jesus' gruesome death that we join as we sink under the water? How different would our practice of baptism be if we focused less on the "cleansing of our souls from sin" and more on the "marking of our bodies for struggle"? How different would our practice of baptism be if the liturgy affirmed that Black lives matter by naming such martyrs as the Birmingham Four(link is external) and the nine murdered at Mother Emanuel?(link is external)
Matthew's account of Jesus' baptism, Braxton writes, has such a justice focus. In Matthew 3:13-17,(link is external) Jesus agrees to be baptized by John "to fulfill all righteousness" (NRSV). That purpose is both personal and political, Braxton says, demonstrating Jesus' participation in God's mission to fight oppression.
Baptismal services that maintain a fidelity to Jesus' baptism must, then, be much less polite and much more political, Braxton says: "Baptism is vacuous if it morphs into a genteel moment to acknowledge godparents, provide a gilt-edged baptism certificate with filigree font, and share an after-church baptism brunch for family and friends at an upscale restaurant."
That sentence takes my breath away. As well it should.
In baptism, we die. In baptism, we are invited to renounce and resist the evils of the world, to love our neighbors as ourselves, to respect the dignity of every human being. In baptism, we give our bodies and all that we do to God's struggle for justice and peace for all people.
Depending on our context, such action could look like reflection and education on racism, white supremacy, and implicit bias; donating money; marching; writing government officials; voting; challenging family and friends who make racist remarks; advocating for those whose voices are typically ignored; and constructing our daily lives to listen to and learn from people of color. Seeking and serving Christ in all people like this requires ongoing formation, repentance and returning to God.
That is what we promise we will do in our baptism. But is it what we practice? Or are we instead becoming and raising nice white Christians?