Excerpt: 'Planning Sabbaticals: A Guide for Congregations and Their Pastors'
What Kinds of Activities Can the Congregation Do?
As is the case with pastoral activities, congregations should not worry about what they hear other congregations doing during their pastor's sabbatical. Your congregation is unique, and the life history and social setting of your members come together to form a community unlike any other. This means that, as with pastors, conversations about this uniqueness and what feeds the soul of the people in that place can be incredibly valuable in and of themselves. Most congregations have regular conversations about mission, identity, growth strategies, etc., but when was the last time your congregation had an unhurried, open conversation about what things give it life?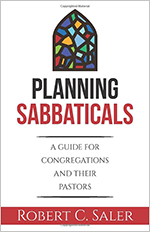 This is the joy of renewal periods — they are gloriously superfluous. By refusing to serve the immediate, they open space for the deep and expansive. They are not designed first and foremost to be congregational strategy sessions about worship design, church growth, financial matters, etc. Just as, while on sabbatical, the pastor is invited to step away from the day-to-day demands of ministry and leadership in order to focus deeply on spiritual matters, so too the renewal period can be a time for the congregation to indulge in the blessed luxury of asking questions about joy and meaning.
Now, in saying this I do not mean to go against what I said before about how congregational leaders might also pick up some leadership tasks while the pastor is away! But the truth is that the two emphases — greater congregational leadership and deeper time for exploring questions of what gives life to the congregation — are not actually opposed. The former can draw out the latter, and vice versa.
A congregation whose pastor was on sabbatical instituted a lay preaching series to help cover the pulpit while the pastor was away. One by one, various leaders and faithful members of the congregation shared testimony during the sermon time about the operations of God's grace in their lives. As the series continued, the congregation realized that the intense focus on new programs and added activities in the last few years had, inadvertently, served to clutter some of the core reasons why people chose to go to church there — personal connections, unhurried worship, clear focus on the gospel.
The congregation taking on more "preaching to itself," as it were, served to create a space in which eventually the people had the courage to take a pause and begin to engage in what C. Christopher Smith and John Pattison [in "Slow Church: Cultivating Community in the Patient Way of Jesus"] call "slow church" — the careful, connectional, simple realities of life together in community apart from busy-ness and pressure to grow. So increased leadership and increased reflection can go hand in hand.
The best congregational activities during a renewal period, then, are the ones that draw on and enhance these twin goods: encouraging leadership among congregation members while also creating space for reflection.
Some congregations (such as the one discussed in the Introduction) bring in guest speakers and preachers to focus on topics of interest to the congregation — especially if those topics relate somehow to the theme of the pastor's sabbatical leave. Depending on the congregation's finances, it can draw on local colleges, seminaries, or other educational institutions for speakers. Most seminary professors and professors at Christian colleges in particular are eager to speak in congregational settings. Be sure to allocate money in the total renewal period to pay a fair mileage rate and honorarium.
Don't assume that the most profound topics will be the most "religious," or vice versa. Sometimes, congregations have gotten more out of bringing in experts to talk about ecology, science, art, or health care than would have happened had they brought in theologians! Just as some of the most theologically rich sabbaticals consist of "non-church" activities that nonetheless draw the pastor deep into the joy of God's creation, so too sometimes congregations can have their imaginations for ministry fired by topics that at first seem irrelevant to ministry, but soon show themselves to be deeply resonant with the lives of the people.
Again, have the frank conversation about what is on the hearts of the people in the congregation, and don't be afraid to craft a plan that might make no sense to a neighboring congregation, but for your people is fitted and right.
Things to Avoid
As the congregation thinks about its activities, its imagination should range far and wide. However, there are several categories of activity that should be avoided by congregations during the renewal period.
First, while the pastor is away, the congregation should not hire consultants or bring in speakers/facilitators who will cause the congregation to start having conversations that are best had while the pastor is present. While conversations about theology, mission, Bible, history, culture, etc., can be very profitable for congregations to discuss while the pastor is gone, if talks turn to finances, staffing, outreach, or other sensitive matters, then the congregation might find itself embroiled in controversies that can spin out of control. Do not bring in "stewardship experts" or "church growth strategists" or others whose talks are likely to set off debates about sensitive matter such as money, attendance, and staff performance/compensation.
Some congregations make the mistake of thinking of the time when the pastor is gone as akin to an interim period between pastors, which is a time when congregations are called to be introspective about both mission and ministry details. Renewal periods are not that; they are times for introspection about mission, but not for detail work around financial and operational matters. Let the renewal period be a time to focus on spiritual, theological, and recreational matters; this will, as with the pastor, give the congregation fresh energy and insight to tackle practicalities once the pastor and congregation are reunited.
Meanwhile, if the congregation has secured grant funding or donations for renewal activities during the sabbatical, then make sure that the money goes toward activities and not capital improvements to the building or grounds. A congregation who uses the renewal period to focus on, say, Celtic spirituality has the potential for a very meaningful time; however, if that same congregation were to use funds set aside for renewal to build [a] multi-thousand dollar labyrinth on the church grounds, it might be hard to avoid the impression that the labyrinth itself (or the augmented sound system, or the patched roof, etc.) was the real point of the renewal. Focus on experiences, not property.
As with the pastor's activities, the congregation should not feel bound by a theme. If a theme is helpful, then use it; however, it may be that the best way for the congregation and the pastor to both have powerful experiences during the renewal period is for each to chart an individual course, so as to marvel at the ways God can make the courses converge once reunion happens.
From "Planning Sabbaticals: A Guide for Congregations and Their Pastors" by Robert C. Saler. Copyright © 2019 by Robert Saler. Published by Chalice Press and reprinted with permission.
Report after report reveals this difficult truth: church attendance is going down.
Many leaders are considering what to do with congregations that are in the midst of dramatic decline.
While church planting offers hope, is starting new churches really the only answer? Is congregational rejuvenation possible?
As someone who has both planted a new church and entered into the rejuvenation of another, experience has taught me that disruption, though difficult, can be the key to breathing new life into a stagnant system.
Ultimately, a church is a group of people who have come together to form a worshipping community, and this community inevitably (and properly so) creates a system to maintain their communal and missional lives together.
This system is maintained through a complex microculture of language, values, beliefs and habits.
When a system is not thriving, most of the time it is because the system has accumulated an excess of bad habits that weigh it down and work to reform its culture in a negative direction.
This usually happens in a church when a congregation gets tired and doesn't have enough positive outcomes to release the energy of communal endorphins. Just as in our everyday life, when we get tired and are stuck in a "grind," we seek convenience and self-preservation instead of generous self-giving.
The problem with a system that is not flourishing is not the people within the system but the habits of those people.
Habits that began as positive actions may over time in fact inhibit the desired outcomes of a congregation. "Old habits die hard," not because of laziness or weakness, but because we often unconsciously attach our identities to the habits we engage in.
If we build our central identities around what we do, then to stop doing those things is to lose our self-meaning — and ultimately, to feel as though we are losing ourselves.
When I walked into Trinity United Methodist Church in Raleigh, North Carolina, two years ago, this was exactly the case.
Founded in 1942, Trinity had seen years of incredible, thriving ministry but over the last two decades or so had experienced steady decline. The mostly older congregation began to see clearly that drastic action was needed to turn their church around. In partnership with the North Carolina Conference of the UMC, I was brought in to do just this — turn the system around.
From the beginning, it was clear that this church of 50 or so folks was full of incredible people. Their stories of commitment to the church stood as a testimony to their faithfulness to Christ.
Even so, their church was dying, and they were tired.
In one of my first meetings with them, one of the older members said to me, "We've really tried everything here; I don't know what you can do that will change anything."
Very often, the work of turning a system around begins with disruption, because disruption is one of the few elements that can interrupt and expose habit. The congregation had tried many things, but they hadn't tried disruption, because — well, who wants that?
For Trinity, disruption meant stopping everything they did, even the good things.
I had to be the villain for a season and stop Sunday school, the choir, the prayer groups, the women's studies, the leadership teams — even worship.
In a culture driven by "doing" and "performance," stopping can be countercultural and deeply disruptive. How do we even "do" church if we aren't "doing something"? For Trinity, stopping meant death, in a way — death of the church they had known, death of their groups, death of their activity.
We entered into the biblical space of Sabbath.
We rested. We reflected.
We stopped.
And this stopping allowed us to ask some questions about ourselves, our present and our future. Disruption allowed us to stop doing the things that were probably preventing us from seeing ourselves and our future clearly. It opened a crack in the system for change and opened our minds to a reimagination.
When we let our fields of ministry lie fallow, when we take Sabbath seriously and enter into a space of quiet, we can begin to hear the cries of the community around us again. When we stop church activity, we may spend less time in Bible studies but more time getting to know our neighbors.
Through these new spaces and conversations that have been opened up, we can reimagine what a new future looks like and realize that maybe we need to plant completely different crops next season.
Disruption can lead to new ideas and new possibilities, and through conversations and prayer, it can lead to a community re-identifying the guiding values of their new future.
For Trinity, disruption led to the rediscovery of our desired value of generosity toward and unconditional embrace of the community around us. This would be the new crop we would sow to usher in our new future together.
For six months, we made a committed effort to renew our system through the process of disruption, reimagination, re-identification and re-habituation.
It was hard — harder than many thought it would be. Some members left. Giving went down. There were arguments and ultimatums.
After six months, we relaunched Trinity as Open Table United Methodist Church with a new name, a new imagination, new values, and new communal habits of interaction and activity that would guide our future.
We had stopped for long enough to realize that there were new ways of doing ministry that could open up our tables to the isolated and marginalized in our community.
Two years later, we have become a thriving and growing community of more than 250 incredibly diverse members.
Disruption was a difficult process, but one that has birthed the surprise of the kingdom right here in our midst.
The church today in New York and other urban areas is bigger than we can imagine, says Mark Gornik, the director of City Seminary of New York.
"It's from all parts of the world; it's from different traditions," Gornik said. "It's so much bigger. God has many people in the city, and the surprise of who's there is the joy of what God is doing."
In the book "Stay in the City: How Christian Faith Is Flourishing in an Urban World," published last year by Eerdmans, Gornik and Maria Liu Wong, the dean of City Seminary, share what the school is learning about Christianity in today's increasingly globalized and urban world. Founded in 2003, City Seminary of New York is an independent seminary that provides theological education to men and women in ministry in the city's ethnic and immigrant communities, where Christianity is thriving.
"The world is more urban than it's ever been, and will be increasingly so," Liu Wong said. "The average Christian in the world is going to be an urban Christian going forward, so how do we live into that space and context?"
In the book, Gornik and Liu Wong argue that global migration is one of the most important factors fueling the growth of Christianity today.
"One of the gifts of immigration is the gift of faith," Gornik said. "The church is here all around us because God is bringing people from around the world to enrich cities and enrich communities, suburban areas, rural areas, urban areas in the United States. It's everywhere we look.
"We should rejoice in that and grow in it and recognize how connected we in the United States are to the world."
This increasingly urban and globalized Christianity is changing our understanding of and approach to ministry, Liu Wong said.
"When we think about ministry, it's important to be present and to hear and see what's already there — that God is there before us, that people are already doing things in the neighborhoods, and that we're not coming in to save that community," she said. "It's about spending time and recognizing what is already happening and then seeing where we can be invited into that."
Liu Wong and Gornik spoke recently with Faith & Leadership about "Stay in the City" and how an increasingly urban and global faith is changing our understanding of ministry and theological education. The following is an edited transcript.
Q: Tell us a little about the book and what you're trying to accomplish.
Gornik: We wrote it because we wanted to share what we are finding in the city and in urban life in New York. We have found great joy and hope in the Christian community and its flourishing life and diversity, so we wanted to share what we are learning as a seminary about Christian faith in our urban world today.
The title, "Stay in the City," is from the Gospel of Luke, where after Christ's resurrection, he says to the people, "Stay in the city, where you will receive power from on high" (Luke 24:49).
There's a power and presence, and that's where the Spirit meets us. It's not about going as much as it is staying and seeing what God is doing through the Holy Spirit right in front of you.
Q: Who's the intended audience?
Liu Wong: We were hoping that it would start conversations. It could be for a small group or a Sunday school or a seminary classroom — a wide range of uses. We've even used it with our high school youth seminary to have conversations and reflections.
It pushes past the idea of urban ministry as ministry in a specific neighborhood or community and instead sees that ministry is happening everywhere and how to be present to that, whether as a parent, educator, neighbor or just someone riding on the subway. It's about seeing what is happening in the city and recognizing that ministry is much broader than we think.
Q: What does urban Christianity look like in the 21st century?
Liu Wong: There's a lot of complexity, a lot of change. When we think about ministry, it's important to be present and to hear and see what's already there — that God is there before us, that people are already doing things in the neighborhoods, and that we're not coming in to save that community. It's about spending time and recognizing what is already happening and then seeing where we can be invited into that.
The world is more urban than it's ever been, and will be increasingly so. The average Christian in the world is going to be an urban Christian going forward, so how do we live into that space and context?
Gornik: "Urban ministry" sometimes sounds like "inner-city ministry" or "industrial ministry." We're not trying to lose the word "urban," but "urban ministry" has this connotation, whereas we think about ministry in the city as what everybody is doing. When you get up in the morning and when you go to work and when you're going to school — the way we live our lives in an urban context is how we do ministry in the city.
The church is much bigger than we can imagine — it's from all parts of the world; it's from different traditions. It's so much bigger. God has many people in the city, and the surprise of who's there is the joy of what God is doing. So ministry becomes redefined, not as a project or a particular position, but as a way of life that everyone is living.
Q: In the book, you say that the vocation of urban Christians begins with presence and that ministry is theology on the ground. What do you mean?
Gornik: One thing we mean is that we don't start by saying we know what ministry is. We don't always know what it is until we are present to people around us and seeing where Christ is already present. It's being open to the work of the Holy Spirit. It's being open to God's leading.
It's not programs as much as it's relational and personal, right in front of us. It doesn't mean that ministry doesn't take institutional or programmatic forms at times, but the underlying structure is being present to God and to others, listening and finding out why we're being invited into God's story in the places and relationships that we have in city life.
Liu Wong: There's intentionality in that. The pace of life in New York is always moving. It's easy to just go through a community that you live in — get your coffee here, your bagel there — and never really recognize who is there, what is happening, what your presence means in the community, until you stop and look and study and really try to interpret theologically where God has placed you.
In our Pray and Break Bread events, we invite students to do a deeper dive into their own communities where they live or work. And we've found that spending time praying and being on the ground, walking and touching a school building or a hospital, being aware of what's there, changes people.
Presence is being intentional about what is before you — opening your eyes to being in a space and having physical, sensory experiences and praying and remembering that and expanding our own experience.
I know New York a whole lot better because I've been able to pray in so many different places. I could do this for my entire life and still not visit every neighborhood in New York. But it's also about depth and scope and raising awareness for our students and their congregations and their families. When we pray for the city, it's not an abstract notion of "the city" but also the person I get coffee from and others. I know their names, I know their stories, and I pray for them.
So it's stretching what it is to be a neighbor in a city with so many people.
Q: You write in the book that the most important factor for the growth of faith today is global migration between cities. If so, what is the impact of the current battles over immigration on the spread of faith?
Gornik: Andrew Walls has shown that Christianity has developed over time by crossing cultures and continents and lines and barriers. Christian faith is a dynamic, living community that is at home around the world, and continues to make its homes around the world.
One of the great gifts of immigration is to see how God is present in the people that are moving around the world. Sometimes that's for reasons that are really hard — drought or loss of land or loss of jobs or violence or war.
But as the world constantly moves and people move with it, they bring their faith with them. One of the greatest gifts we've received in North America is that Christians from around the world have brought their faith and given everyone an opportunity to grow together into the fullness of Christ.
Sociologically or economically, it's very hard to undo globalization, and I think it's here with us. The struggle [over immigration] is a spiritual struggle. How do we live together in a globalized world? How do we live with generosity and hospitality?
One of the gifts of immigration is the gift of faith. The church is here all around us because God is bringing people from around the world to enrich cities and enrich communities, suburban areas, rural areas, urban areas in the United States. It's everywhere we look.
We should rejoice in that and grow in it and recognize how connected we in the United States are to the world.
Liu Wong: New York will always be fueled by immigration. That's what makes this city work. I think about the different stories, like my own family's story coming from England to America. I am optimistic that there are cycles and seasons, and that particularly harder seasons don't necessarily mean that everything's going to lead to destruction.
And it's not just immigration; it is migration. Many New Yorkers have transcontinental identities. My parents came, but they went back to Asia, and they come back, and their story isn't unique. Many people here have homes in two or more places.
Q: The book has five "lessons for the long run." Walk us through those.
Gornik: In doing research for this book, which was supported by the Lilly Endowment, we brought together small groups of Christians from different parts of the United States and Latin America and a few other places and we listened. We asked them to talk about the practices that were helpful to them, and we collated them and came up with these five practices, which also confirmed our own experience.
The first is begin with what is in front of you.
City life is always at a very fast pace, so we're encouraging people to slow down, take moments during the day to reflect and consider what they are experiencing, to exercise the gift of wonder and the gift of prayer and look at all the different relationships that people carry with them and then ask, "How is God already present in the city?"
It's a way of being and a way of understanding everyday life through the lens of gratitude and wonder and prayer, but also through the senses. And it's an encouragement to pray as we go through everyday life — not to separate prayer from school or prayer from the bus or prayer from the grocery store, but to incorporate a prayerful spirit — because we're encountering God's presence everywhere and [seeing] how creation is flourishing or broken.
So this was a way to focus on what is already here, to suspend judgment and knowledge and listen and find something new.
Liu Wong: The second lesson is that relationships come first. It's about really listening — listening for people's hopes, dreams, expectations. Listening for what God is telling us through conversations and time with others.
At the seminary, we talk about how we are learning from each other in our relationships rather than attending a program. So really investing in interpersonal but also institutional and organizational relationships and in the various parts of our lives where our stories come together and God speaks to us.
Gornik: The third lesson is that community matters. Many times, our understanding of ministry is individual — I have my ministry; I am the pastor; I am the youth leader.
But we are finding that what really matters for a flourishing and thriving ministry is that we share this journey with others — and that includes everything from thinking about what ministry is to the joys and struggles we share to the callings we have.
It includes the embodied practices of eating together, forgiveness and friendship. This is the heart of ministry. We're not in this alone. There may be seasons when we feel alone, but ministry is a gift given to community and to doing with others.
Liu Wong: The fourth lesson is to try new things and take risks. It's a mindset that everything we engage in is a place where we can learn. We can learn from our mistakes and failures, but we have to also learn how we learn.
It's being open to the possibilities that God brings before us, being able to discern together with others what we can do or how we can be and how we can join in with what God is already doing.
City Seminary is a story of taking a risk and going by faith and doing something that maybe others haven't done. Our story has evolved with just being open to where God has put us, trying in faith to honor our call as an organization but also respond in new or different ways.
Gornik: The last lesson is that who you are is significant.
Even as we work in community, we also are growing individually and spiritually before God. It's an awareness of our gifts and vocation and our life in God and our life with one another.
Who you are is significant in any type of ministry, whether it's a youth pastor or your faith at work or a pastor of a new church. There should be a sense of security in the work that God is doing in our lives, and a lot of that comes from reflecting on our experience with other leaders, having peer mentors that allow us to find a way to thrive in ministry.
Who we are is important. We don't want to lose sight of our own journeys and our own stories of this work of the gospel.
What we bring to ministry ties them all together. It's about relationships. It's about being present. It's about the ability to try new things.
Q: So they're all interrelated.
Gornik: Yes, they are interrelated, and they build on one another.
For example, when we started City Seminary, it wouldn't have happened unless we were present to what was in front of us, to what God was doing with Maria's story and the new Nigerian and Ghanaian churches in the city.
Because of that, we asked, "What opportunities do we have to learn together and serve together for the work of the gospel in the city?"
City Seminary was born in response to what God was doing. It wasn't that we just wanted to do something innovative or creative; it was, "What is God doing, and how is God showing us something about the future and where the church should be? And how do we join in this?"
It's important to be present to what God is doing. We don't always see it. That's why being present to God in the streets and the world is so critical. There's so much creative opportunity in front of us to do new things for the kingdom of God, but it takes time to see what that is.
It's a natural response to the work of the Holy Spirit in our communities and lives, but it also is innovative in that we don't have to do it the same way. What is the 21st century, and how does it invite us to think and do and believe and pray in new ways?
Liu Wong: It's not innovation for innovation's sake. It's how do we make meaning — and make meaning in new ways — because of the experiences that we've had with others.
We're always inviting our students to take risks when they're in their very diverse community of learners. They are from a lot of different places, and they're taking a risk being in this space and sharing their lives together.
But the fruit of that — the friendships, the possibilities that emerge out of those relationships — are things that they could not have imagined without this space and time together. Creativity comes out of having had this possibility for relationship in a safe space and then really seeing that God is bigger than what I've known God to be and that I need to believe and trust in that.
Q: What does all of this mean for theological education? What are the lessons from City Seminary for theological education?
Gornik: Maria and I wrestle with that question. For us, we're asking, "Where is the church going, and how can we be transformed by that?" We're trying to respond to what the Holy Spirit is doing, and we're trying to understand what is happening in the church and be part of that journey for the future of the church.
This is the most exciting time to be involved in theological education. Theological education is a common good for the church, and to know that there is so much flourishing faith in our city and to be part of it is a gift.
We're trying to understand what it means to do theological education in light of urbanization and a global church. These are very different [conditions from] when the theological education that formed many of us was formed in the 19th century, so there is a different set of questions.
Maria's writing a book, with Ted Smith at Emory, about her story — and probably about this story. Maria, can you say a little about that?
Liu Wong: Sure. I've been working with Ted and about 11 other people, wrestling around the question of theological education in this moment of a lot of change and the question of what is the meaning and purpose of theological education and what is most hopeful going forward.
My particular contribution is an autoethnography, tracing my own story and how it's been integral with the story of the City Seminary. I'm trying to share lessons from my own formation and think about theological education both within the scope of institutional life and beyond.
One of the key ideas is that theological education is not simply for the individual but for the family and the community, and how can educational formation be thought of that way. So I'm weaving my story through the lens of family and friendship and learning in leadership, and then I end up with a consideration of wisdom.
In our particular case at City Seminary, we're always asking, "What are the needs of our students, and how do we respond? How does our curriculum, how does the way we teach, reflect our students? What is the context, and how do we make sense of the world together?"
Our world is changing so much. We have to be relevant, we have to be accessible, we have to be responsive, and that might look different than it did 50 years ago. What are the implications of that?
I'm considering the idea of theological education starting much earlier than seminary, even from the home. My parents were missionaries, and we had missionaries in our home all the time, so a lot of my own trajectory of living and working in faith here is because of the formation that I had, starting with my parents.
And when I went to seminary, my husband and I — we went together and were in our second year of marriage, and we had a newborn. We did seminary together, but so much of our community came around us.
Theological education now and for the future has to take into account all those things.