'Napkin Theology: Small Drawings About Big Ideas'
A world made out of love: Creation
When we talk about the Trinity, we talk about love: the three persons of Father, Son, and Holy Spirit in an ever-moving, ever-giving dance of love.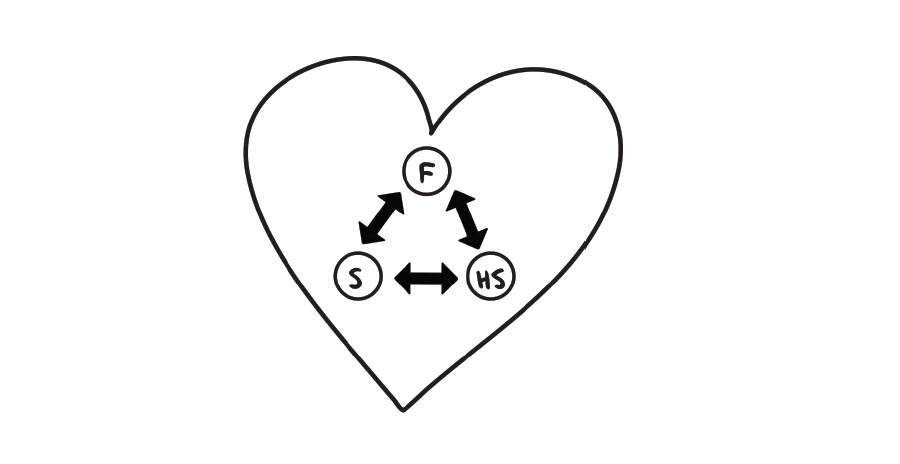 When we talk about creation, we also talk about love: the love amongst the three persons that spilled out into sun and sea and you and me.
Theology has a couple different terms to talk about these loves and how the Trinity works in relation to itself and in relation to what has been created.
When we think about that dance of love that Father, Son, and Spirit spin and move in, the inner life of these three persons, we are thinking about the immanent Trinity. When we say "immanent," we mean "internal," "innate," "inside." This is a pretty mysterious concept, because there's only so much we can know and say about what goes on inside the Godhead apart from what we can see in the world around us.
But we can say a few important things. The apostle John put it neatly in his first letter to some early Christians: "Whoever does not love does not know God, for God is love" (1 John 4:8). God does not simply have love, or give love. Love is not simply an attribute of God; it's God's whole being.
And God chose to allow that love to burst out of God's very own self.
'When God began to create the heavens and the earth …'
This is where we begin to see the economic Trinity at play — the Trinity in its relation to what is not God, in relation to what God has created. God could have chosen to just remain as the immanent Trinity forever, having nothing to do with that which is not God. The love flowing freely between the persons of the Trinity would have been enough for God. Father, Son, and Spirit were not sitting around sulky, moping, in need of praise and adoration.
Creation wasn't necessary.
Our world did not need to exist. Everything we see and smell and taste is excessive: an outpouring of God's love. God didn't need to create humans or frogs or planets to satisfy some whim or to appease some lack. God didn't need us.
But God wanted us.
There's a phrase attributed to St. Augustine: Amo; volo ut sis. Translated from Latin, it reads: "I love you; I want you to be." Imagine, for a moment, God whispering this as the heavens and the earth began to take their shape, as Adam was formed from the dust and breathed into life. "I love you; I want you to be."
God needs nothing — but God wants us to be. And in creation, God wanted to share the love that is God's own self and being. In creating, the love within the Trinity flooded over into every nook and cranny of the cosmos, every inch drenched in it.
'… the earth was complete chaos, and darkness covered the face of the deep …'
So God didn't need to create, but God chose to, freely. That's a statement we need to make when we talk about creation. There's another piece to it, though: that God created out of nothing.
When we humans "create," we use paints, bricks, computers, thoughts in our minds: things that already exist. When God created (in the truest sense of that word), God used … nothing.
The term theologians use to describe this concept is (you guessed it) a Latin phrase, creatio ex nihilo, which translates to "creation out of nothing." This sets God apart from any one of us, and it sets God far beyond the reaches of any technology or tool we might develop. Only God can take nothing — a void of voids — and create.
The scholar Janet Soskice puts it like this: "Creatio ex nihilo affirms that God, from no compulsion or necessity, created the world out of nothing — really nothing — no preexistent matter, space, or time." This concept of "really nothing" is essentially impossible for us to fathom. How can we imagine this kind of emptiness? What creatio ex nihilo does is force us to confess just how transcendent, just how "other," God is.
But it also shows us another key thing about God.
Many centuries ago, in an English town called Norwich, a woman lived inside a church.
The woman, who became known as Julian of Norwich, lived the life of an "anchoress," voluntarily secluding herself in a cell within the church walls so she could devote herself to prayer and worship.
She spent many years there, sifting through and making sense of some remarkable things that had happened to her. She wrote a book, "Revelations of Divine Love"— the first book written by a woman in the English language — about a series of "showings" she had received from God during a severe illness. These showings were often dramatic and graphic, showing the suffering Christ in vivid detail, but one of them included a simple image.
And in this vision he also showed a little thing, the size of a hazelnut, lying in the palm of my hand, and it was as round as a ball, as it seemed to me. I looked at it and thought, "What can this be?" And the answer came to me in a general way, like this, "It is all that is made." I wondered how it could last, for it seemed to me so small that it might have disintegrated suddenly into nothingness. And I was answered in my understanding, "It lasts, and always will, because God loves it; and in the same way everything has its being through the love of God."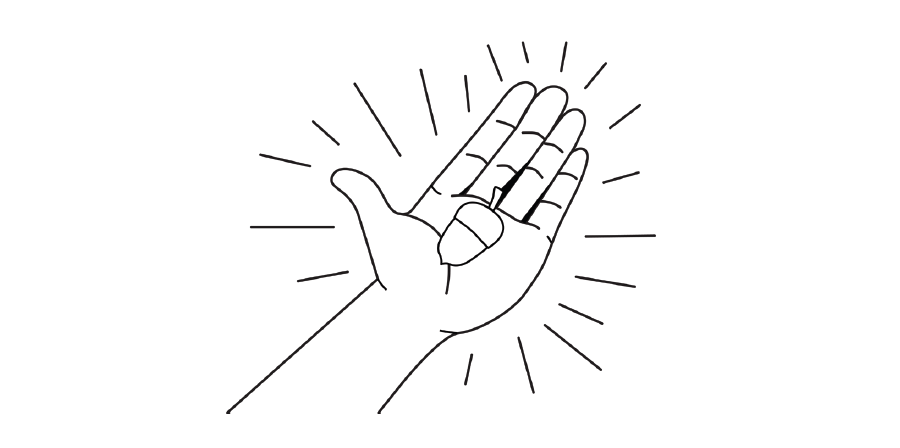 God is transcendent and "other," yes. But God also knows us and sustains us in a profound and personal way. This is not a watchmaker God that some philosophers have spoken of: a God who puts together a watch and then steps back to let it tick away. God is not aloof. We last because God loves us. We couldn't exist without that love — the enveloping love of a God who is both utterly beyond us and beside us.
To emphasize that God sustains us and all of creation, theologians often reference the idea of creatio continua, another fancy Latin phrase that means that God constantly upholds all of creation.
God did not simply, at one time, desire to create the world. God always wants the world; he consistently calls what he made "good." God actively re-creates the world in every single moment. God always wants us, and everything, to be.
What happens when we start to forget some of these ideas about creation?
Much of Christian theology ends up being centered around the person and work of Jesus Christ — which makes sense, considering the name "Christian." The attention we give him is well-deserved, after all. But sometimes the way that focus plays out results in some long-term damage — like when the doctrine of creation starts getting squashed.
A weak theology of creation is bad news for creation. If we focus so much of our energy on ourselves as humans, on what God has done for us, and we don't pay much attention to the rest of the universe that God made, we end up staring at a tiny piece of the big picture that is God's love and care for the world.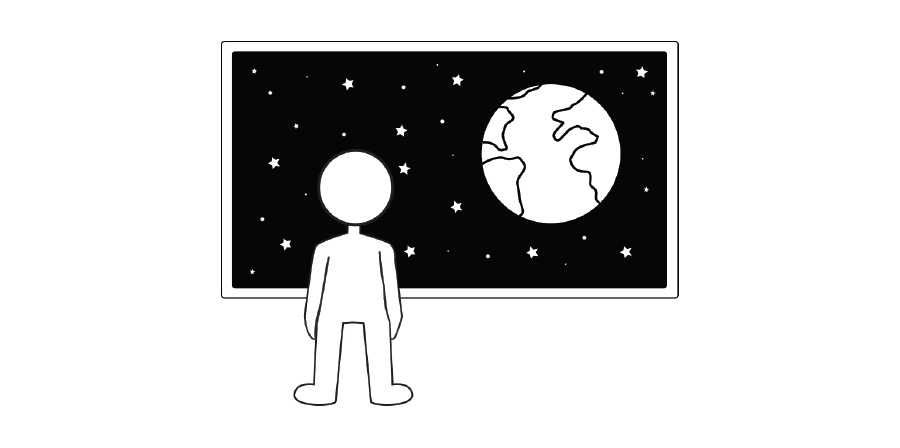 A Native American theologian named George Tinker knows this all too well. He writes about the ways Christian missionaries preached the gospel to Native Americans, giving it the usual Western-church spin of humanity's fall from grace, their sinful nature, and their need for redemption. For traditionally oppressed and marginalized peoples, however, the emphasis on humanity's sin and their need for a savior doesn't sound like the best news. "Unfortunately," Tinker writes, "by the time the preacher gets to the 'good news' of the gospel, people are so bogged down … in [their] internalization of brokenness and lack of self-worth that too often they never quite hear the proclamation of 'good news' in any actualized, existential sense."
Tinker calls for us to start sharing the good news from, well, the beginning of it all: that first "in the beginning." He asks for us to "take creation seriously as the starting point for theology rather than treat it merely as an add-on to concerns for justice and peace."
When we begin to neglect the significance of creation — what it says about God and God's love — we can find ourselves getting so wrapped up in our own lost-ness and need that we forget just how loved we have always been, just how valuable everything and everyone around us is. When our theology becomes centered on "just Jesus and me," our sisters and brothers — our whole planet — suffers.
What might it look like to take creation seriously, then — to remember how God holds us tight and close, wanting us to be?
What might it look like to remember that we live in a world that God wants?
God's creation is vast and expansive. God does not choose to be God only for God's own self — God is the One who delights in extending love and life to others. God's good world — created and sustained by God's loving-kindness — is worth knowing and celebrating and protecting.
Luckily for us, God chooses to reveal to us more of what we, creation, and God are like. That's what we'll look at in the next chapter.
From "Napkin Theology," by Emily Lund and Tyler Hansen. Copyright © 2023 by Emily Lund and Tyler Hansen. Excerpted by permission of Wipf and Stock Publishers. All rights reserved.
Not too long after I joined the pastoral staff of a church, another team member gave me some feedback from our senior pastor's wife.
"The pastor's wife is uncomfortable with you sitting in the chair next to her husband," the staff member told me — she feared that congregants would think I was his wife.
I sat in the pulpit's second row for the next five years. Hyperaware of my presence as a single woman on the pastoral staff, I never spoke about this conversation again.
I often felt alone and misunderstood, and I wondered, do other Black clergywomen experience such challenges? I resolved to find out, and applied for a Reflective Leadership Grant to conduct an ethnographic study of Black clergywomen.
I wanted to explore the challenges, but I also wanted to talk to women who were flourishing and cultivating space for other women in ministerial leadership. I focused on the question, What makes Black clergywomen thrive?
I interviewed 11 Black clergywomen and 25 congregants, along with scholars whose work includes areas of Black women and religious studies. There were seven denominations represented.
During my research, I came to realize that I was not alone in my challenges.
The Rev. Dr. Renita J. Weems aptly articulated the shared experiences of a majority of interviewees when she told me, "Black women, especially single ones, make the best work mules — grossly underpaid and obscenely overworked. We forget our boundaries because Christianity and ministry have elevated sacrifice and silence in women as a virtue. Women have to learn the importance of boundaries, saying no and saving parts of themselves for themselves."
Yet that's not the whole story. In spite of the opposition that Black women have faced for centuries, I saw that they are dismantling that which is destructive, oppressive and seeks to limit their thriving.
I heard many hopeful stories. Women are refusing to give most of their time and energy to demanding respect or legitimizing their work, instead devoting themselves to preaching in pulpits, writing books, transforming communities through social activism, traveling abroad and living dreams that would have seemed impossible to their ancestors.
I am sharing some of the findings of my project, from which I identified three key factors that contribute to the flourishing of Black clergywomen.
Intentional self-care
Black clergywomen who flourished were not only committed to providing care for communities; they prioritized it for themselves. They were committed to rituals, rest, friendships and activities that nourished their souls.
"We [Black female pastors] try to bear [the] whole world and lose ourselves. … Joy has to be our active form of resistance," said the Rev. Cece Jones-Davis, who serves on the pastoral staff at The Table in Oklahoma City.
She said that part of her routine was watching a comedy show before going to sleep, "even stuff that's not good, because I need the lightheartedness before I can rest."
Clergywomen said they exercised, received regular massages, cooked meals and went on vacations.
Others learned to ask for what they needed to thrive, including sabbaticals, therapy sessions and, in some cases, travel funds for a spouse or a child to accompany them to ministry engagements.
Congregational ethos of care
Black clergywomen flourished in congregations that had an ethos of caring for them. In these spaces, they were paid well, and their contributions were valued and respected.
Elders and other congregational leaders understood the importance of supporting their well-being, including paying for professional and personal development.
Yet even where Black clergywomen were flourishing, they were often carrying more than their share — and suffering for it. Some churches claim to be progressive and egalitarian, but when you examine the roles, responsibilities and organizational charts, those ideals are not borne out in practice.
For those who hire and work alongside Black clergywomen, consider it your responsibility to assist in dismantling practices that silence, harm and prevent them from being able to speak up and show up as their full selves.
Congregational openness to new approaches
I also found that Black clergywomen thrived in places where congregations and their leaders showed an openness to dismantling systems and practices that hindered their expression of their whole selves.
In some churches, leaders were willing to re-envision and restructure hegemonic leadership and worship practices destructive to Black clergywomen — and the wider community.
Congregants at St. Paul's Baptist Church in Philadelphia told me about changes that happened when the Rev. Dr. Leslie D. Callahan became the senior pastor in 2009. Among them: learning to use inclusive language.
"The God-talk is different here. It is not what we were raised with or accustomed to," an associate minister at St. Paul's told me.
I found that Black clergywomen who were flourishing had been encouraged and permitted by denominational and congregational leadership to re-imagine new ways of leading and loving themselves and their congregations.
Their churches tended to show more signs of collaborative leadership; people in the decision-making circles did not all look alike, think alike or share the same educational and socioeconomic backgrounds.
Through making changes in liturgical practices, church governance and teachings that expand the imaginations of their congregants, Black clergywomen are modeling what it means to invite others into their liberation.
Their very work shows promise in that the life-giving traditions that have sustained Black people for centuries can be amended and overhauled to give more possibilities for the flourishing of wider communities.
What will it take for churches to consider other models, beyond the personality of one (usually male) person in the pulpit and the work of women behind the scenes?
It was not until I had the space and time to listen to the stories of Black clergywomen that I allowed myself to wrestle with the problematic situation I encountered in my previous church setting.
Why did I feel I had to stay silent? Why did we as a staff not teach people that a woman who holds power and is next in line to the pastor does not have to be his wife? Why did I move to the second row instead of working with my congregation to dismantle the prevailing assumptions about a woman's role in the church?
I was heartened to talk with Black clergywomen who are doing just that — taking care of themselves while changing the church. My hope is that they will not be left to do this work alone.
In 2017, I was the pastor of a small-membership church, and my wife was a youth pastor at a church in the next city over. A week before Christmas, our 6-month-old daughter woke up with a high fever and a nasty cough. Her breathing was so labored that we took her to the emergency room.
She was admitted and put on oxygen. The doctors assured us that she would be fine — she had a bad case of RSV, which just needed to run its course. But for the next three days, she lay in her crib, an oxygen tube in her tiny nostrils, an IV in her tiny arm.
For a parent, there are few things more gut-wrenching than sitting helplessly beside the crib of your sick child.
For a young pastor married to another young pastor, there is no worse timing for such a crisis than mid-December. Between the two of us, we had a combined five Christmas services that needed to be planned and executed.
But it was this experience that really drove home to me the power of relationships in a small-membership church.
One day, while my daughter was napping, I called one of my lay leaders to talk through the rapidly approaching services.
My parishioner picked up the phone with a curt but well-meaning greeting: "Why are you calling me? Don't you have other things to worry about right now?"
She knew me, and with those first comments, she let me know that she cared about me.
Rural and small-membership churches are places that depend on deep relationships. Carl Dudley has argued that small-membership churches are often single-celled organisms, with that single cell functioning as a caring unit.
Within a small church, the members tend to each other. If someone is sick, meals are arranged almost spontaneously. If a parishioner needs something from the church but can't ask, other members will reliably let the pastor know. If someone has a small business, members are sure to shop there.
Members of the small church depend on one another — for connection, for friendship, for help.
Like most strengths, this can have a negative side. At times, small-membership churches have been criticized for focusing too much on internal relationships — an inward focus that can inadvertently close the community off from the outside world. It can be difficult for new members to gain entrance to that caring cell.
Yet with the world locked into physical distancing and isolation, I've been thinking a lot about the positive side of those relationships, that sense of community. In times of sickness and anxiety, it can be a powerfully sustaining force. It is one of the principal gifts of a small church.
I was the beneficiary of that calming gift that day on the phone. I explained that there was a lot of stuff to get done: people who needed to be called and visited, services that needed to be planned.
"We can handle those things," my parishioner said. "Your daughter is in the hospital. You can call me when you're home again."
I was overwhelmed, both by the way my church cared for me and my family and by the leadership demonstrated by this depth of care.
Much of my work now is helping leaders of small-membership churches grow their confidence in organizational and institutional leadership, so that they can claim their role as anchor institutions within the community.
But what happens when church committees don't meet in person and Sunday worship happens virtually or over a conference call?
I think this is when the strengths of the small-membership church are most apparent.
The early church persisted in part because it was networks of small groups that met when they could. This allowed the church to spread beneath the radar of those who wanted to stamp it out.
Our small churches today continue to exist for the same reason — deep relationships that draw people in and form them in community.
During the pandemic, I've been captivated by the stories of leadership I'm seeing in small churches. Pastors who print weekly devotionals and Bible studies and deliver them to parishioners — a friendly but physically distant presence waving at members through the window, reminding them they are not alone.
Lay leaders who organize phone trees to make sure everyone is checked on and connected with a friendly voice. Leaders who host conference calls where people can share their prayer requests and have others respond.
On Palm Sunday, we received a text message from the volunteer children's director at the church where we attend and volunteer as youth pastors. "You've been egged," it said.
Out in the yard were 24 brightly colored plastic eggs. A gift bag with a palm leaf and a book about ducks — my daughter's favorite animal — was on the porch.
In place of the community Easter egg hunt, volunteers were scattering eggs in the yards of the kids and surprising each with a personalized goody bag.
As my daughter ran around the yard, I found myself grateful for the community that knew us and remembered us, a community that reminded us we were still cared for and were not alone.
In this time of uncertainty, we might turn to the small-membership church for guidance and wisdom. We can learn from the ways that leadership in a small church is not bound by established institutional channels — the ways that committed silos break down over family dinner conversations, that pastoral care is shared among all the members.
My daughter's RSV was not COVID-19, but when I lingered in the uncertainty of her illness, I depended upon the relationships, the compassion and empathy, that were foundational to my church.
In a world where "social distancing" is now common language, the small church can help us recover this formational life of community, forged through deep relationships that sustain us even in uncertain times.
What Kinds of Activities Can the Congregation Do?
As is the case with pastoral activities, congregations should not worry about what they hear other congregations doing during their pastor's sabbatical. Your congregation is unique, and the life history and social setting of your members come together to form a community unlike any other. This means that, as with pastors, conversations about this uniqueness and what feeds the soul of the people in that place can be incredibly valuable in and of themselves. Most congregations have regular conversations about mission, identity, growth strategies, etc., but when was the last time your congregation had an unhurried, open conversation about what things give it life?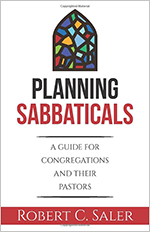 This is the joy of renewal periods — they are gloriously superfluous. By refusing to serve the immediate, they open space for the deep and expansive. They are not designed first and foremost to be congregational strategy sessions about worship design, church growth, financial matters, etc. Just as, while on sabbatical, the pastor is invited to step away from the day-to-day demands of ministry and leadership in order to focus deeply on spiritual matters, so too the renewal period can be a time for the congregation to indulge in the blessed luxury of asking questions about joy and meaning.
Now, in saying this I do not mean to go against what I said before about how congregational leaders might also pick up some leadership tasks while the pastor is away! But the truth is that the two emphases — greater congregational leadership and deeper time for exploring questions of what gives life to the congregation — are not actually opposed. The former can draw out the latter, and vice versa.
A congregation whose pastor was on sabbatical instituted a lay preaching series to help cover the pulpit while the pastor was away. One by one, various leaders and faithful members of the congregation shared testimony during the sermon time about the operations of God's grace in their lives. As the series continued, the congregation realized that the intense focus on new programs and added activities in the last few years had, inadvertently, served to clutter some of the core reasons why people chose to go to church there — personal connections, unhurried worship, clear focus on the gospel.
The congregation taking on more "preaching to itself," as it were, served to create a space in which eventually the people had the courage to take a pause and begin to engage in what C. Christopher Smith and John Pattison [in "Slow Church: Cultivating Community in the Patient Way of Jesus"] call "slow church" — the careful, connectional, simple realities of life together in community apart from busy-ness and pressure to grow. So increased leadership and increased reflection can go hand in hand.
The best congregational activities during a renewal period, then, are the ones that draw on and enhance these twin goods: encouraging leadership among congregation members while also creating space for reflection.
Some congregations (such as the one discussed in the Introduction) bring in guest speakers and preachers to focus on topics of interest to the congregation — especially if those topics relate somehow to the theme of the pastor's sabbatical leave. Depending on the congregation's finances, it can draw on local colleges, seminaries, or other educational institutions for speakers. Most seminary professors and professors at Christian colleges in particular are eager to speak in congregational settings. Be sure to allocate money in the total renewal period to pay a fair mileage rate and honorarium.
Don't assume that the most profound topics will be the most "religious," or vice versa. Sometimes, congregations have gotten more out of bringing in experts to talk about ecology, science, art, or health care than would have happened had they brought in theologians! Just as some of the most theologically rich sabbaticals consist of "non-church" activities that nonetheless draw the pastor deep into the joy of God's creation, so too sometimes congregations can have their imaginations for ministry fired by topics that at first seem irrelevant to ministry, but soon show themselves to be deeply resonant with the lives of the people.
Again, have the frank conversation about what is on the hearts of the people in the congregation, and don't be afraid to craft a plan that might make no sense to a neighboring congregation, but for your people is fitted and right.
Things to Avoid
As the congregation thinks about its activities, its imagination should range far and wide. However, there are several categories of activity that should be avoided by congregations during the renewal period.
First, while the pastor is away, the congregation should not hire consultants or bring in speakers/facilitators who will cause the congregation to start having conversations that are best had while the pastor is present. While conversations about theology, mission, Bible, history, culture, etc., can be very profitable for congregations to discuss while the pastor is gone, if talks turn to finances, staffing, outreach, or other sensitive matters, then the congregation might find itself embroiled in controversies that can spin out of control. Do not bring in "stewardship experts" or "church growth strategists" or others whose talks are likely to set off debates about sensitive matter such as money, attendance, and staff performance/compensation.
Some congregations make the mistake of thinking of the time when the pastor is gone as akin to an interim period between pastors, which is a time when congregations are called to be introspective about both mission and ministry details. Renewal periods are not that; they are times for introspection about mission, but not for detail work around financial and operational matters. Let the renewal period be a time to focus on spiritual, theological, and recreational matters; this will, as with the pastor, give the congregation fresh energy and insight to tackle practicalities once the pastor and congregation are reunited.
Meanwhile, if the congregation has secured grant funding or donations for renewal activities during the sabbatical, then make sure that the money goes toward activities and not capital improvements to the building or grounds. A congregation who uses the renewal period to focus on, say, Celtic spirituality has the potential for a very meaningful time; however, if that same congregation were to use funds set aside for renewal to build [a] multi-thousand dollar labyrinth on the church grounds, it might be hard to avoid the impression that the labyrinth itself (or the augmented sound system, or the patched roof, etc.) was the real point of the renewal. Focus on experiences, not property.
As with the pastor's activities, the congregation should not feel bound by a theme. If a theme is helpful, then use it; however, it may be that the best way for the congregation and the pastor to both have powerful experiences during the renewal period is for each to chart an individual course, so as to marvel at the ways God can make the courses converge once reunion happens.
From "Planning Sabbaticals: A Guide for Congregations and Their Pastors" by Robert C. Saler. Copyright © 2019 by Robert Saler. Published by Chalice Press and reprinted with permission.