Pastors are uniquely positioned to help people contemplating suicide
If you or someone you know is in crisis, call the Suicide & Crisis Lifeline: Call, chat or text 988, a national, 24-hour service.
When psychologist Karen Mason managed the Colorado Office of Suicide Prevention in the early 2000s, she wanted to engage faith leaders to help educate the public and respond to warning signs of crisis.
But her research since then has revealed a paradox. Though pastors are uniquely positioned to help prevent suicides, they're often hesitant to embrace the role.
"Clergy are very reluctant to talk about the topic because they don't know what to say and they're afraid to say the wrong thing," said Mason, now a professor of psychology at Gordon-Conwell Theological Seminary and the author of "Preventing Suicide: A Handbook for Pastors, Chaplains and Pastoral Counselors."
Faith leaders' silence, no matter how well-intentioned, comes at a price. It can reinforce stigma associated with suicidal thinking, Mason said, including the assumption that contemplating suicide signals a weak faith. When people feel that their struggles can't be disclosed, even at church, social isolation and risk of suicide can increase.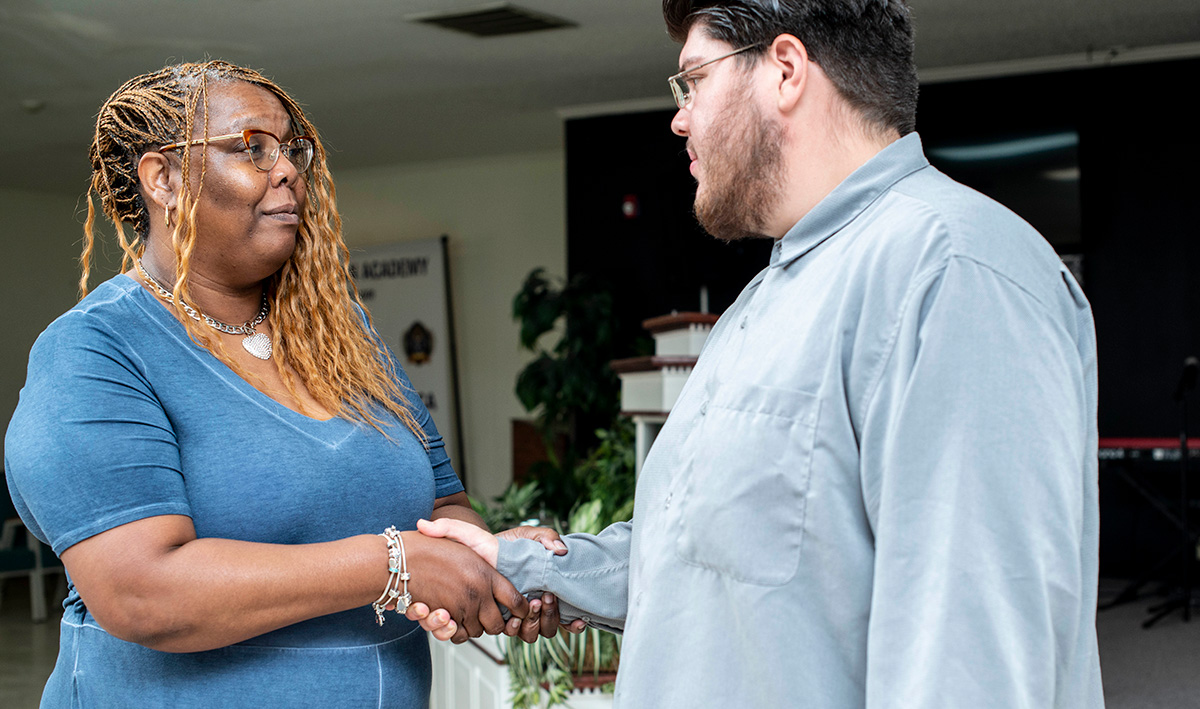 Pastors have "a moral responsibility to help this person sort through, 'What other options do [I] have besides death?'" Mason said.
Suicide is increasingly recognized as a prevalent and largely preventable problem. The U.S. suicide rate increased by 30% from 2000 to 2018, according to the Centers for Disease Control and Prevention. It's now the nation's 12th leading cause of death, responsible for the loss of almost 46,000 lives in 2020.
When clergy look out at the pews and see middle-aged faces, they're looking at the group most likely to need help: 80% of suicide deaths occur among men and women ages 45 to 54. Rates across age groups are especially high for certain demographic groups, including men, Native Americans, LGBTQ folks, rural dwellers, farm workers, military service members and veterans.
Efforts are now proliferating to help pastors rethink assumptions, prepare for conversations about suicide, and recognize that they don't have to be therapists in order to discuss people's hopeless feelings and influence their life-and-death choices.
Many pastors express a feeling of powerlessness, said Michelle Snyder, the executive director of Soul Shop, a nonprofit that equips faith leaders to train congregations in ministering to those pondering suicide.
"To which I say 'no'; I reject that. I think pastors have the power of persuasion," she said. "So leverage your position for suicide prevention."
Resources and training
Resources have been expanding to help pastors do that leveraging. For example, in October 2020, the LivingWorks company launched LivingWorks Faith, a self-paced online program that guides faith leaders in how to intervene, minister to the bereaved post-suicide and promote purposeful living.
Those seeking to go deeper can attend the company's two-day in-person program in Applied Suicide Intervention Skills Training (ASIST), which has been used by the U.S. military for more than 20 years.
Soul Shop offers a one-day in-person workshop for faith leaders that covers how to help congregants have conversations about suicide and how to solicit testimonies from those who've been suicidal in the past.
In August, it announced a new one-day workshop specifically for pastors, church staffers and lay leaders in the Black church. The Soul Shop for Black Churches training works to address the recent rise in suicides among Black people. The suicide rate for non-Hispanic Black Americans jumped 3.5% from 2019 to 2020, even as the general population saw a 3% decline in the same period.
And in July, the national suicide prevention hotline got a new, easy-to-remember number: 988. This gives pastors another tool to use in crisis situations, Mason said. If someone calls expressing thoughts about suicide, a pastor can keep the person on the phone and they can call 988 together.
On what topics are you silent? What is the price of that silence?
In trainings, pastors learn to spot warning signs. Some are actions, such as giving away all of one's personal possessions, not showing up for work or nonstop sobbing. Others might be comments such as, "I think the world would be better off without me." Major setbacks in a person's life, such as a divorce, bankruptcy or public humiliation, can also be associated with heightened suicidal risk.
Then what? When a pastor learns that someone is contemplating suicide, next steps could involve removing the intended means, connecting the person to mental health services and promising to follow up with a check-in call soon. All are doable by pastors with no specialized suicide prevention training, experts say.
When clergy hear someone say they're considering suicide, they are not legally obligated to report the suicidal person or to take other preventative actions unless they live in a state that requires such steps, according to Mason. She added that she does not know of any states that require clergy such reporting.
How can you foster a sense of belonging in your congregation?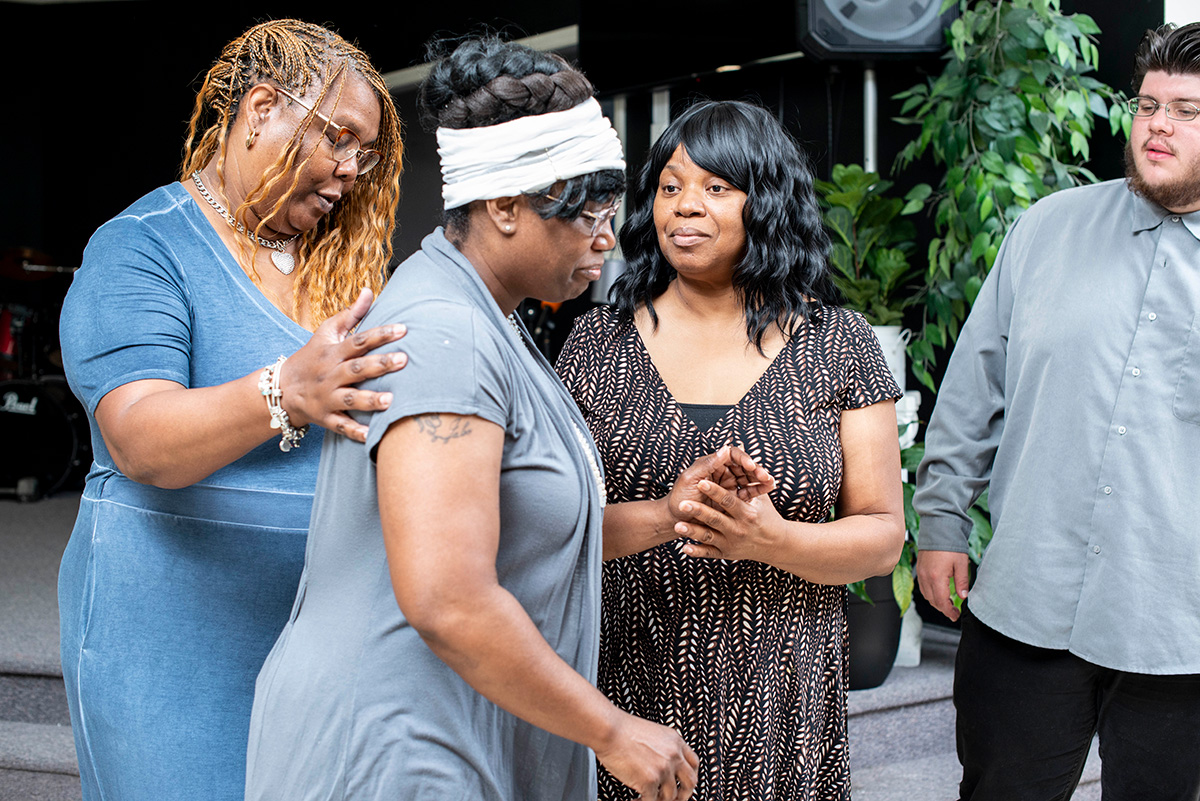 Guns and suicide
Removing the means that a suicidal person plans to use can be crucial, especially if the plan involves a gun. That's because guns are so lethal.
They're used in fewer than 5% of suicide attempts, yet they're responsible for more than half of all suicide deaths, according to CDC data. And 54% of gun deaths are suicides, according to 2020 data from the National Safety Council, a nonprofit focused on eliminating causes of preventable death.
Mason points out that guns are different from other methods because they don't allow a person to reconsider.
"If you were to swallow pills, you could say, 'Gosh, this is not what I wanted to do,' and you could call 911. But with guns, you don't get a second chance, and your reasons to live don't get a chance to emerge."
This is an area where pastors can make a difference.
Do the questions you ask invite honest responses?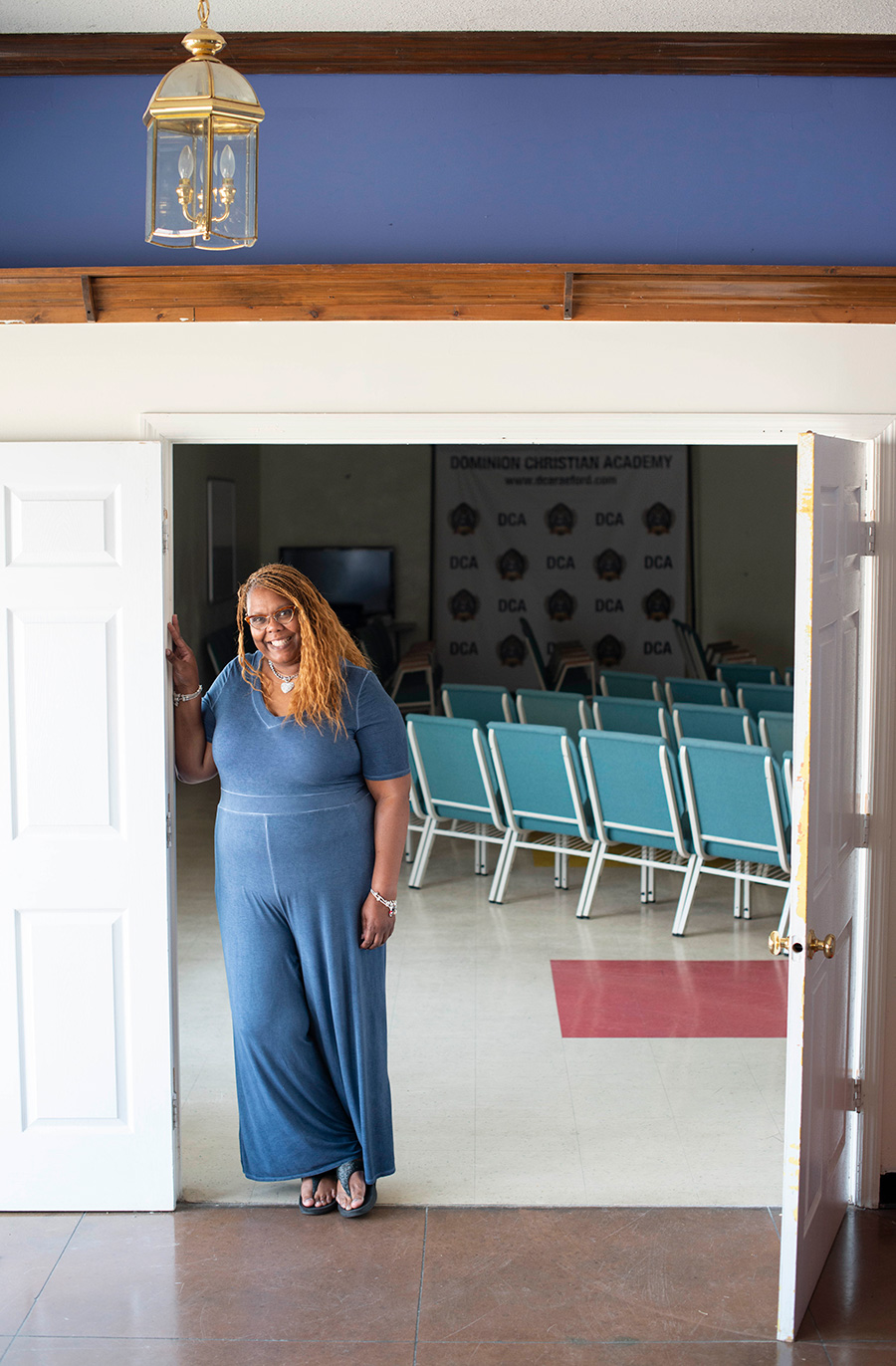 Being effective starts with asking directly, "Are you considering suicide?" That's a common question for the Rev. Kenya Procter to ask in her ministry as executive pastor at Ambassadors for Christ Worship Center in Fayetteville, North Carolina.
Raising the topic doesn't make suicidal thinking more likely, experts say, but rather creates a safe environment for people to express their desire for help. Procter also trains pastors in suicide prevention through the LivingWorks ASIST program, which emphasizes the need to be clear and direct.
The reason? If she were to ask something indirect, such as, "You're not thinking about doing something crazy, right?" she'd be prejudging the response, she said. Because a person who answered "yes" would be admitting to lunacy, he or she is apt to say "no" instead, even if the answer isn't sincere. Asking the question directly makes a clear and honest response more likely.
If a person answers "yes" and is a gun owner, Procter said, she might suggest storing the guns temporarily with the police department, which will return them when the person is ready. And for anyone possessing guns, whether presently in a crisis of suicidal thinking or not, she suggests keeping guns locked.
"The three seconds that it takes to unlock might be the three seconds that deter that person from using that firearm," Procter said. "Because then you have to get the key. You have to put the key in the lock. And people with thoughts of suicide are not always thinking rationally. … So those three seconds could make the difference."
Procter speaks as someone who's felt the pain of suicide's ripple effects. She and her husband, Fallon, had a mutual friend, Jay, whom they'd known when Fallon and Jay were soldiers stationed at Fort Bragg. Jay always seemed to have something about him that "never sat right, but I couldn't put my finger on it," she said. They later learned that Jay had been involved in another person's death and eventually killed himself.
When she got an opportunity to work in suicide prevention, she embraced it as a chance to help others do what she had not been equipped to do for Jay, such as know which warning signs to look for.
In talking with congregants, it's important to convey that God is near, according to Glen Bloomstrom, the director of faith community engagement for LivingWorks. Isolation can intensify thoughts of "My life is worthless; I don't belong" and needs to be met with messages of love.
"The healthy way to talk about this is …, 'We are here for you,'" Bloomstrom said. "'Don't isolate. Speak with us. We can get you help. You are very valuable to us. You are loved as part of our congregation.'"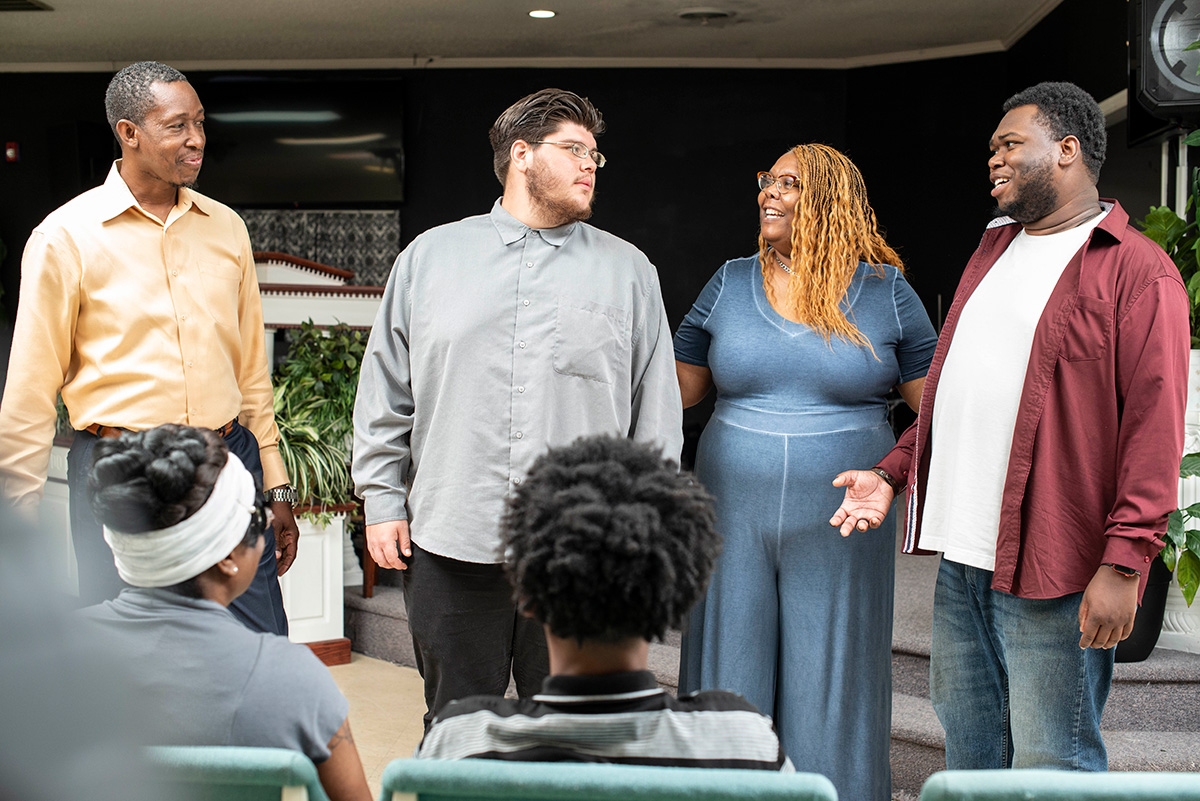 In these situations, pastors don't have to guess at what to say. The hotline can guide them in the moment as they speak with a suicidal person and conference in 988.
"Let 988 help the clergyperson or whoever is calling figure out the right thing to do next," Mason said. "The situations differ so much. It is hard to give advice [for faith leaders] that's going to blanket every situation."
Pastors can be most effective when they aren't acting as salvation agents but rather as equippers of a team effort to encourage life-affirming choices. For instance, a pastor who knows a responsible gun owner might ask, "If the situation arises, would you hold a gun for someone temporarily?"
Then if a crisis arises, the pastor can suggest to the suicidal gun owner, "How about if so-and-so, whom you know and trust, holds on to your guns for a while until you're ready to have them back?"
Cultivating community and hope
In crisis situations, disabling a suicide plan sometimes happens by moving the person to a new environment, such as a hospital emergency department, where mental health resources are available and firearms are not.
How can you form and equip a team to encourage life-affirming choices in a crisis?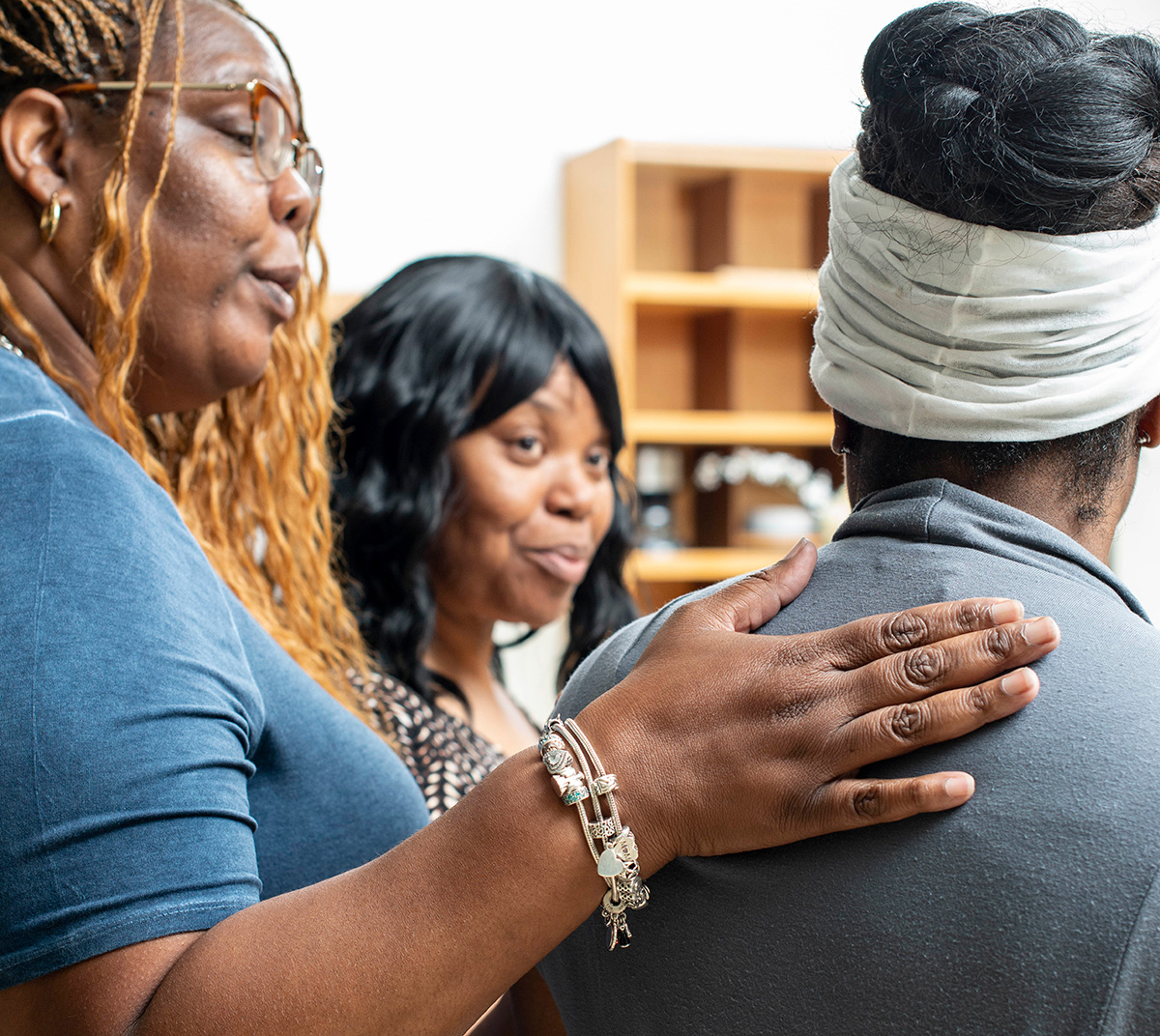 That's the approach used by the Rev. Leon Sampson, an Indigenous Episcopal priest at Good Shepherd Mission on the Navajo reservation in Fort Defiance, Arizona.
When they say they want to hurt themselves, "they want help," Sampson said.
"The first step we'll do is take them to the emergency room. We tell them, 'This person has said they want to hurt themselves.' Through the Indian health system, they will receive counseling and be able to get the resources they need."
But Sampson also knows that contributors to despair on the reservation are unfortunately common, including abuse, cyclical poverty and lingering effects from past traumas.
As an antidote, Good Shepherd hosts programs in which teens and young adults learn Navajo traditions, from agriculture and cooking to spiritual practices and the Navajo language. Sampson helps them proudly share their heritage and identity by inviting them to address church groups visiting on pilgrimage or mission trips.
As part of cultural pride building, Sampson lifts up appreciation for responsible gun ownership as a component of Navajo culture. He traces it to the tribe's long history of sending men and women into military service and having guns for protection and hunting.
With this honorable gun-owning tradition comes a duty, Sampson tells young Navajos, to store firearms and ammunition responsibly.
"Gun education and gun safety have been part of the community," Sampson said. "Very rarely do you hear of a teenager [here] self-inflicting harm with a gun. I think that's because of the history of families. … They have a deep understanding of how to handle and keep guns."
Theology, taboos and false assumptions
Shaping culture to support choosing life might look different on the reservation, on a Midwestern farm or in a coastal city. But in each setting, the pastor is drawing on a frequently used skill.
Pastors shape worlds by weaving narratives and elevating particular values in community life. In suicide prevention, that means grappling with how suicide has traditionally been viewed through a theological lens as well as parishioners' deeply ingrained taboos and assumptions.
Suicide is complicated for pastors, because it's loaded with theological baggage. It's been understood as sin, self-murder, cause for exclusion from Christian cemeteries, even an automatic ticket to hell. Such concepts presume that the final act was a grave misdeed and left no margin for repentance or forgiveness.
Such ideas trace back in part to Augustine of Hippo, the fourth-century African bishop who taught that life is a divine gift to be cherished and put to use, not something to extinguish in hopes of entering a better world in the hereafter.
New thinking about suicide and morality is needed to foster more compassion toward those struggling without hope, according to the Rev. Rhonda Mawhood Lee, an Episcopal priest in the Diocese of North Carolina. With support from a Louisville Institute grant, Lee is writing a book that develops a new theology of suicide.
Lee has been touched by suicide directly. Going back generations, several members of her family have taken their own lives. Her mother made multiple attempts at suicide while Lee was growing up before dying by suicide in 1995, when Lee was in her 20s.
She's careful with her terminology, using "died by" rather than "committed" suicide, because the latter connotes sin and crime.
"Saying that suicide and other complicated ills like substance use disorder reveal the fallen nature of our world does not have to mean assigning culpability to people who kill themselves, or sitting in judgment of them," Lee said in an email.
"It does mean we can lament suicides, have a range of feelings about them, and do what we can to prevent them."
In working through the repercussions of her mother's suicide, Lee has spent years researching her family history and noticing patterns that help her understand it.
A number of theological ideas about suicide need reexamining, she said. The one who dies by suicide shouldn't be seen as unsavable, she said, because that would "tie God's hands" and leave no room for grace. Instead, suicide, while always lamentable, should be seen in light of conditions that might have driven the person to desperation.
Taboos around suicide are tenacious, and today's work involves probing which ones, if any, still serve a useful purpose. The taboo describing suicide as self-murder is too harsh and diminishes compassion toward those struggling with suicidal ideation, Lee said. But the general cultural taboo against dying by suicide might help prevent suicide in some cases by marshaling social pressure to choose life instead, she said.
As pastors gain appreciation for how much they can do to prevent suicides, they're discovering how much needs to be done on fronts ranging from pastoral care and preaching to theology. Wherever they begin, it's with growing conviction that this is the church's work to do.
"We're trying to demystify the idea that [suicidal thinking] is somehow this untouchable thing that is so medical that it requires the professionals," Soul Shop's Snyder said. "In fact, what it requires is communities that can respond with community and with hope."
What do your congregation's theological ideas about suicide say about God?
Suicide prevention resources
Questions to consider
On what topics are you silent? What is the price of that silence?
How can you foster a sense of belonging in your congregation?
Do the questions you ask invite honest responses?
How can you form and equip a team to encourage life-affirming choices in a crisis?
What do your congregation's theological ideas about suicide say about God?
A few months ago, I prayed with a congregant, a Black woman, who was suffering from months of torrential criticism and verbal abuse from her boss, a white woman not much older than she is. My congregant was hurting, and the company's human resources department seemed content to look the other way.
At the end of the phone call, I asked her whether she was part of a union, following my standard set of questions for anyone dealing with workplace stress: Are you talking to your co-workers about what you're experiencing? Are you part of a union with a representative who can advocate on your behalf?
As the executive director of my church in New York City, I pray with my congregants about work more than anything else. They often don't have work, don't receive enough money from work to pay bills, or are experiencing incredible stress because of an exploitative boss.
Last month, we had a sermon series called "Work & Capitalism," which provoked an outpouring of stories from congregants about the difficulty of their jobs. Some told of being burned out by "mission-oriented" workplaces. Others had insecure bosses who made their jobs unbearable.
While I offer prayer to my congregants, I also recognize that their needs are material, not just spiritual and psychological.
Just as clergy rely on therapists and doctors to take care of our congregants' health needs that we can't address, so too we rely on labor organizers to meet their job-related needs that we can't. And that's why Christian leaders have a responsibility to support the efforts of those who help workers organize.
While our church does offer some financial assistance, I know that the most long-term solution for congregants with workplace issues is to ensure that they can organize with their co-workers to collectively pursue their demands. They might join a union that will help them advocate for their needs, and they might go on strike and withhold their labor to force management to listen to their needs.
The turning point for the congregant with whom I prayed came when she confided in a co-worker about her experiences. He assured her that she was not crazy. In fact, he had observed her boss treating other women of color similarly.
He was effectively operating as a labor organizer — connecting her to other co-workers with similar grievances so that they would know they were not alone and that they could take action together. He reinforced her dignity and sense of self in a way that I could not.
Clergy are sometimes reluctant to advocate for the interests of workers. It is partly practical: the bosses the clergy fear alienating are often the biggest contributors to a congregation's budget. Clergy will never be fully free to advocate for workers unless they are willing to confront their wealthy donors about their labor practices and take the risk of watching them walk out the door.
Other clergy may legitimately feel that it is "unchristian" to go on strike, saying that it sows disunity and discord, urging instead "loving, reasonable dialogue" between "both sides."
But calls for unity paper over the inequalities at play. Going on strike or speaking up against workplace abuses does not create disunity; it reveals it. Dialogue can only be successful when both sides wield equal power.
I do agree that even in an unequal situation, "both sides" are deserving of dignity; Jesus, after all, healed both the leper and the son of a Roman official. But that does not mean that as Christians we are called to treat each side equally. Rather, we are called to change the conditions of our world so that both sides are in fact equal.
Perhaps no one better exemplified that balance between treating all with dignity and advocating for equality than Dorothy Day, co-founder of the Catholic Worker movement.
In 1949, 240 unionized cemetery workers in the largest Catholic cemetery in New York City went on strike for better wages. They earned $59.40 per week for 48 hours of work, the same pay that other workers received for 40 hours of work.
When the archdiocese refused to negotiate, the workers went on strike. The strikers themselves were resolutely Catholic. They opened their union meetings with prayers, reciting the Our Father, the Hail Mary and a workers' prayer that began, "Lord Jesus, Carpenter of Nazareth, you are a worker as I am."
Day, along with staff at the Catholic Worker, supported the strikers by providing food for their families and joining the picket lines.
Seven weeks into the strike, Cardinal Francis Spellman broke the picket line with 100 seminarians, flanked by a robust police escort, and began digging graves. He accused the union of being influenced by foreign Communists.
Day wrote to Spellman following the events and urged him to consider the needs of the workers who merely wanted enough wages to raise and educate their children or even buy a home. In her letter, she appealed to his humanity, writing that she was "deeply grieved" to see that he had brought in seminarians to break the picket lines.
What was at stake for Day was not just material wages and hours, she wrote, but the strikers' "dignity" as men and as workers.
As clergy, our tradition tells us that all have dignity in the image of God. We hold a mirror up to our congregants every Sunday and say, "Look, you are worthy of dignity."
The question is whether the conditions in which our congregants work uphold the "dignity" of which we preach. If not, then following Day's example, we must support the work of labor organizers and unions to affirm the dignity of our congregants throughout the week.
By now, no concept or idea is too off-the-wall for the Rev. Barry Randolph and his congregation at Church of the Messiah in Detroit.
More than 200 affordable housing units run by the church? Check. Free internet for residents who didn't have access? Done. A growing list of incubated businesses with products ranging from tea to deodorant to a clothing line? No problem.
This innovative Episcopal church anchors the Islandview neighborhood on Detroit's east side. In a city with an estimated poverty rate of 36%, more than three times the national average, Randolph is driven by a desire to foster an equitable community whose residents have a stake in its success.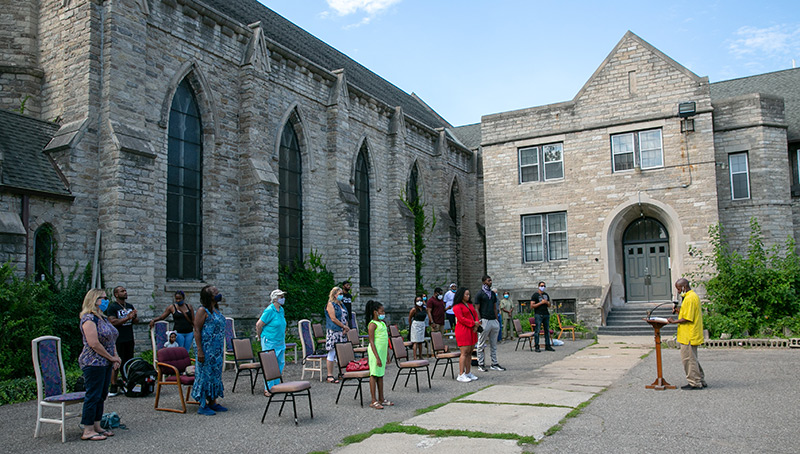 "You can't throw money at it. It's not about just getting somebody a job. Now you have to teach people how to keep the job," said 57-year-old Randolph. "And it's not about just bringing people up. Sometimes you gotta bring up the whole community."
What challenges does your congregation face that cannot be solved with money?
This approach helped Randolph transform the church, once on the verge of shuttering, to a community hub that's now more than 300 members strong, racially diverse and majority young.
Randolph and his parishioners see the church as an incubation center. At the church, someone with a business idea can team up with accountants and attorneys to get it off the ground, and many have.
"You need your phone charged? Here's a charging station," said Bishop Bonnie Perry of the Episcopal Diocese of Michigan, referring to Church of the Messiah's four solar-powered community charging stations. "The entrepreneurial spirit, that kind of spirit, is what our church longs for."
Leadership Education at Duke Divinity recognizes institutions that act creatively in the face of challenges while remaining faithful to their mission and convictions. Winners received $10,000 to continue their work.
People returning home from prison can seek help getting a job from the church's employment office. The church is also the home base for a marching band that secures college scholarships for teens who once thought they wouldn't graduate from high school.
To Randolph, it all ties back to providing people a path out of poverty.
A relatable approach
Ask members at Church of the Messiah their impressions of Randolph and his leadership and they'll likely say he's the "realest" pastor they know.
Before he became a priest, Randolph was a businessman. He co-owned a distribution company, dabbled in catering and managed the deli at a local market for a decade.
He doesn't write down his sermons. He doesn't preach from the pulpit, because he doesn't like to be elevated above his congregation.
He dresses casually, wearing a short-sleeved button-up and khakis during a recent outdoor service.
His congregation calls him Pastor Barry, not Father.
Of the Episcopal Diocese of Michigan's 90 active priests and deacons, he's one of six Black clergypeople.
Bucking the trend of the majority-white denomination, 60% of Church of the Messiah's members are Black men under 30. Randolph says 70% of his congregation is under age 35.
"It was kind of different for me seeing people exactly like me, the exact same mentality," said 22-year-old Samijai Blanks, a Black man who has been involved with the church since he was a boy. "A lot of people my age wouldn't even think about church."
Randolph lives at the church and doesn't take a salary. He has a large family — 11 brothers and sisters, and 31 adult nieces and nephews — who pitch in to support him financially. His relatives pay for his groceries and help with transportation, because he doesn't own a car.
Foundation funding, philanthropic donations, and a mix of spiritual and secular collaboration sustain the church's ministries. Over the years, the Ford Foundation, the Kresge Foundation and others have financed efforts such as the business incubation program and the employment office.
"We never do anything based on money. We do it, and then the money seems to follow," Randolph said. "People see the work, and then they come in and they help us to be able to build."
What could your church do if you pursued an idea first and trusted that the money would follow?
Church of the Messiah's work in the community has drawn interest from as far as Latvia and Uganda. The church is spearheading what it calls The Master's Plan, a coalition of 103 religious organizations seeking to rebuild communities and lift people out of poverty by drawing on the talents of their congregations. Randolph is leading churches in doing an asset assessment to identify members who work in the medical field, skilled trades, education and other professions to "help build the kingdom."
"We're trying to use other churches to be able to do it in their community and neighborhood with no excuses," he said. "It's worked for us."
The hardest aspect of this type of community building is for churches to shift their mindset from focusing on what people are missing to realizing what they have, said the Rev. Michael Mather, the pastor of First United Methodist Church of Boulder, Colorado, and a faculty member at the Asset-Based Community Development Institute at DePaul University.
What would it take to shift your church's focus from what's missing to what assets are present?
Mather is a former pastor of Broadway United Methodist Church in Indianapolis, where he revamped the church's approach to ministry by asking people what their gifts were and looking for opportunities around those talents.
"One of the rules that we followed and that we've tried to think about a lot was that money should always flow into the hands of the people who don't have much," Mather said. "In the past, what we've done is we would pay ourselves to run programs for people whose problem was they didn't have money. But we didn't see the irrationality of it when we were doing it."
Making the word of God tangible
Randolph first came to Church of the Messiah in 1991. He attended a service to hear his mother, a member, speak about faith.
He hadn't been to church in two years. Raised a Baptist, he'd always believed in God. "I just couldn't stand organized religion," he said.
He found the Episcopal service ritualistic and dry. He hated the chanting. The hymns reminded him of a funeral march. Bored by it all, he swore he'd never return.
But the church was looking for someone to tutor kids in reading, and Randolph agreed to it. The church's commitment to the community, demonstrated through efforts like the Church of the Messiah Housing Corporation founded in 1978, and his respect for the people behind those efforts, including then-rector the Rev. Canon Ronald Spann, eased his skepticism. Randolph eventually became a member.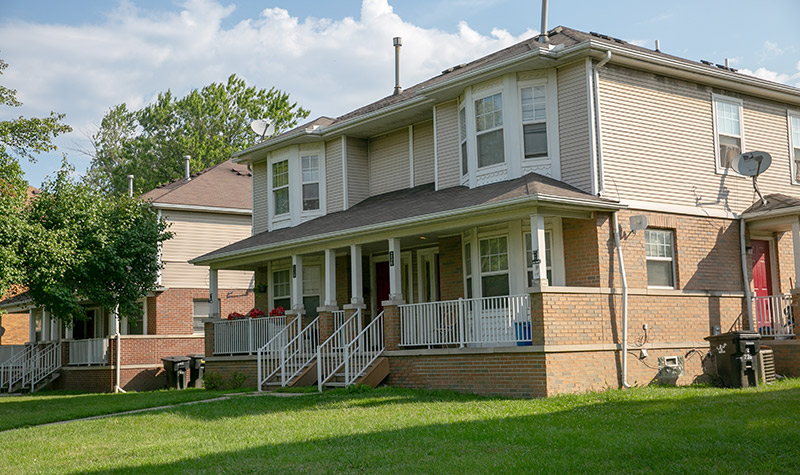 His relationship with the church deepened thanks to his love for working with kids. He became the Sunday school teacher, then the youth director, then the worship leader.
Randolph moved to the Islandview neighborhood in 1997 to be close to Church of the Messiah. He grew up six blocks away, but unlike Islandview, his childhood neighborhood had no concentrated poverty. When he moved there as an adult, he realized that while his upbringing had been more privileged, he felt more at home in tightknit Islandview. The residents were the jewels of the community — they just needed opportunity.
Becoming an Episcopal priest wasn't in Randolph's plans. But in 1998, God spoke to him and called him to bring more young people to Church of the Messiah as a priest.
The church's numbers had plummeted to 40 members by the time Randolph became ordained in 2002. The situation only worsened over the following years. With Church of the Messiah in debt and the building in disrepair, Randolph knew he needed to do something different.
"Church of the Messiah was always a community church in the sense that people knew that we did housing or summer camps or after-school programs," he said. "What they didn't get was how we worshipped. They didn't come to worship. They came to everything else."
The traditional service didn't resonate with the community, so Randolph redesigned it. He added a noon service to attract young parishioners. Mindful that some people might be illiterate, he got rid of the collective readings. The outline of the Episcopal service remained, but this new version was wrapped in a package that was accessible to first-time churchgoers.
"He attracted all these young people," said Kenyon Reese, 48, who has been a member nearly all his life. Reese recalls the service dwindling to just eight or nine people before Randolph switched it up. "He just changed the energy," he said.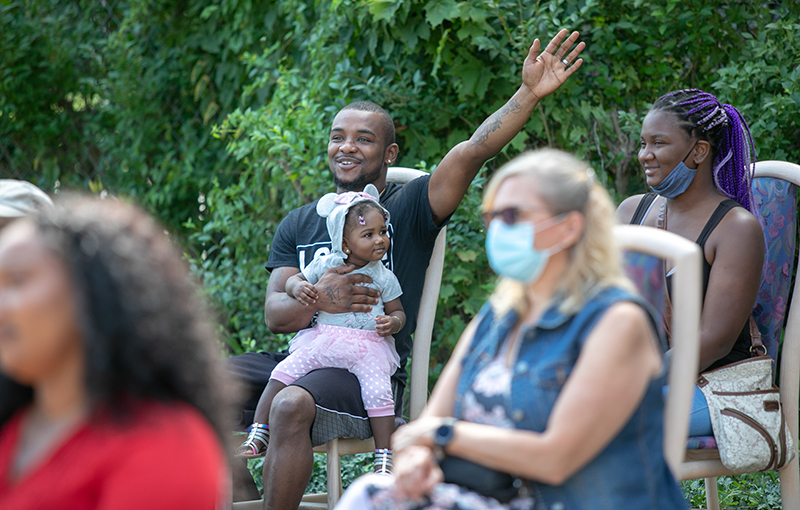 Randolph geared the service toward bringing out parishioners' greatness, with the church acting as the incubation center to help people realize their goals. Through the doors came formerly incarcerated people, former gang members and individuals who'd dropped out of school. These new parishioners wanted to know how to tap into the greatness Randolph preached about. What did greatness mean for them when they couldn't find a job? Randolph directed them to the church's employment office and entrepreneurship mentoring.
How might you make your church and its offerings more accessible to more people?
"We were putting things in place to where we were making the word of God tangible, regardless of your background," Randolph said.
Word traveled in the neighborhood and beyond. The buzz attracted professionals, doctors and attorneys curious about the church's growing reputation as a business incubator, an employer and a housing provider. The church's membership grew to 100 people within six months, Randolph said. Then to 200 the next year. Within three years, Church of the Messiah was home to 300 members.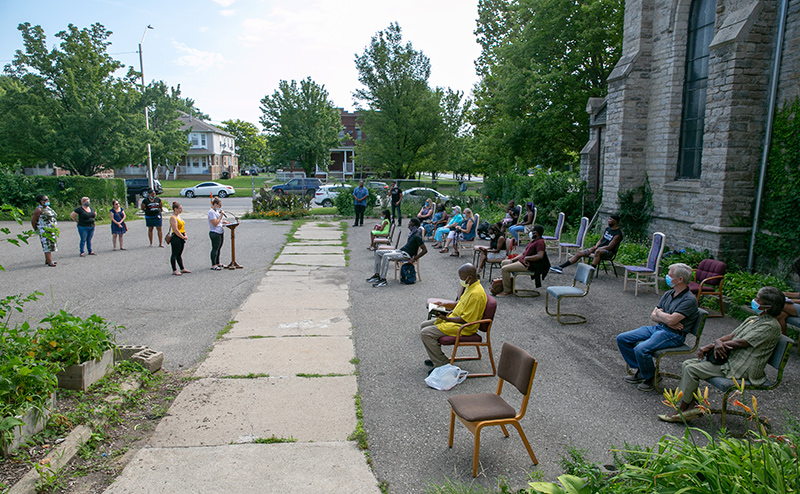 Investing in second chances
Some arrive at the church out of necessity and come to view it as a community center and a home.
That was 26-year-old Dwight Roston's path.
At 16, Roston said, he was getting into trouble — skipping school, fighting and stealing cars — a product of being young and bored and unable to find a job. He showed up at Church of the Messiah to do community service as a condition of his probation. He wasn't looking for guidance, but Randolph quickly noticed that Roston was artistically inclined.
How can you train your parishioners to notice and affirm the gifts of others?
Randolph asked him: Why was he stealing cars if he was this good at drawing?
So Roston stuck around. At the church, he learned to use a screen press to make and sell his own T-shirts. He recorded music. He worked for Nikki's Ginger Tea, the longest-running business incubated by the church, which showed him the ins and outs of wholesale and retail. He learned to install free internet in the neighborhood through the church's participation in the Equitable Internet Initiative. He learned video production, worked on a project with PBS and started his own company, I Am Productions.
The church service is only an hour on Sundays, but Roston finds himself at the church every day.
"It has all these different programs, and you can't find that anywhere else," he said. "They don't care about what kind of past you have or anything like that. Are you willing to be a productive person? Everybody has something to bring to the table, like a bunch of puzzle pieces."
Kimberly Woodson, 50, credits Randolph with helping her find a job and launch her own nonprofit after she served 29 years in prison for a murder conviction as a juvenile.
Woodson was pregnant and looking for housing when someone brought her to Church of the Messiah a few years ago. She shared her story with Randolph and later became a member.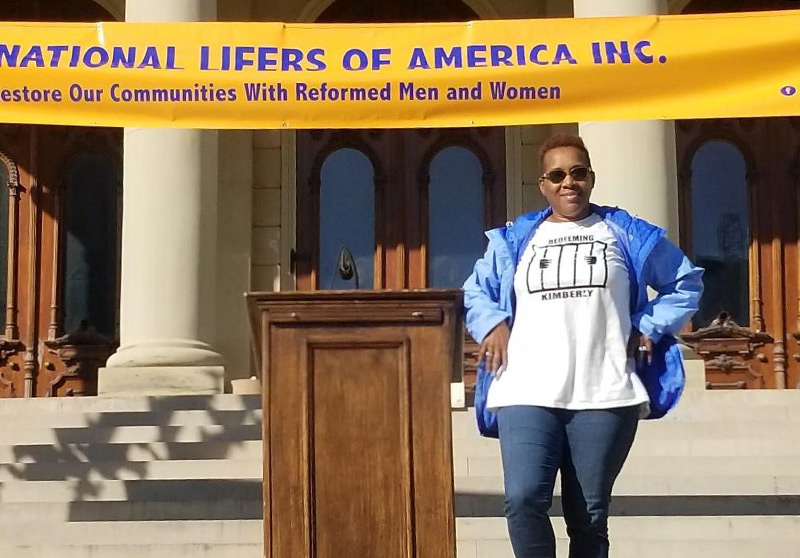 Woodson told Randolph that she wanted to help others reenter society after incarceration. He introduced her to a woman who works in prison ministry and could walk Woodson through the process of starting a nonprofit. She helped Woodson fill out paperwork for articles of incorporation and apply for an employer identification number, steps that Woodson said would have been overwhelming without guidance.
The ministry of introduction can be a simple act with profound repercussions. Is there someone you know who needs to be introduced to someone else?
Now Woodson's organization, Redeeming Kimberly, has been operating for a year and hosts events such as clothing drives and resource fairs at the church.
Randolph could help the community by simply giving away food and clothing, Woodson said, but instead, he chooses to invest in people and their ideas.
"He don't just give you a fish. He'll give you a fish and a fishing rod, tell you how to get to the water, the best methods to make the bait and how to catch the fish," she said.
Randolph believes that people have been blessed with talents from God. And at Church of the Messiah, he invites them to grow those gifts.
"We're created in the image of God," he said. "So we need to bring it into fruition. We don't want to waste that gift or talent."
Questions to consider
Questions to consider
The Rev. Barry Randolph says that you can't just throw money at a community in poverty to improve it. What challenges does your congregation face that cannot be solved with money?
Randolph's funding has largely come after he's pursued ideas. What could your church do if you pursued an idea first and trusted that the money would follow?
Changing from a scarcity mindset is difficult. What would it take to shift your church's focus from what's missing to what assets are present?
Randolph redesigned the service to allow the community to engage. How might you make your church and its offerings more accessible to more people?
Randolph saw how talented a parishioner was and encouraged that talent. How can you train your parishioners to notice and affirm the gifts of others?
The ministry of introduction can be a simple act with profound repercussions. Is there someone you know who needs to be introduced to someone else?
It was only after the death of her mother — herself a leader in the church — that the Rev. Gail Song Bantum's call to become a pastor became too loud for her to ignore.
"All of a sudden, I could hear my mom's voice and see her call as my call, too," Song Bantum said.
From then on, Song Bantum has been resisting and breaking norms. She is finishing her first year as lead pastor of Quest Church, a "multiracial, multiethnic and multicultural" church started by One Day's Wages founder Eugene Cho in Seattle, Washington.
She can tell, she says, that she doesn't match others' expectations of her as a Korean American woman. She is louder and bolder than they want her to be, and Song Bantum is 100% OK with that.
"I am who I am, and that is blessed by God," she said.
In leaning into her identity, she aims to help other women of color live into theirs, too, serving in mentoring cohorts with the RISE Together Mentorship Network run through Union Theological Seminary in New York.
I've been quietly following Gail's ministry career for a number of years now, but we connected and finally met in person at a small lunch gathering of Asian American clergywomen in Seattle in 2017. She is one of the few Asian American clergywomen serving in a lead pastor role, and serving a public-facing faith community.
I spoke with Song Bantum about her past year at Quest, her journey into ministry, and what is being called for from Christian leaders in this moment of national and global turmoil. The following is an edited transcript.
Mihee Kim-Kort: How long have you been at Quest?
Gail Song Bantum: We've been in Seattle and at Quest for 11 years this coming summer. I was on staff for 10 years serving in various capacities as a worship pastor, a young adult pastor, then most recently as the executive pastor, and now, coming to the one-year anniversary as the lead pastor.
MKK: What were some moments that clarified or solidified your call to be a pastor?
GSB: Dr. Renita Weems always talks about the cord, or the tether, that runs through the story of your life. So I can't talk about my call process without beginning first at my baptism. I was 8 years old, and my family and I were part of a Korean immigrant church in Chicago.
It was a Pentecostal church, so when a person comes up out of the water, a lot of times prophecies are spoken over him or her by the older saints of the church. I remember coming up out of the water and hearing the people say to me, "You're called to ministry."
This was a little strange and outrageous, because in that church, they didn't ordain women, so I didn't know what they meant exactly by "ministry." I asked my mother what she thought they were saying to me. She said, "It means you're going to serve God."
My mother was a pastor. "Young adult director" was her title, but she most definitely served in a pastoral capacity, even though the church refused to ordain her. She didn't give up on ministry, on her calling, on being a leader in the church. She was really unique, a bit of a unicorn, and because she went against the grain, she faced a lot of struggle and hardship. People just didn't get her.
But I didn't want ministry as my job. Even so, I stayed in the church and kept active. My family eventually moved to Tulsa, Oklahoma, where I joined a Black Pentecostal church. It became a huge part of my faith formation.
I went away to New York to a prestigious music school, because I was determined to become a professional musician. At the end of my freshman year in college, I went home for the summer and found out that my mom was diagnosed with stage 4 cancer. She died shortly after. It was so fast and unexpected.
It was a reckoning moment. Her death changed my perspective on my life. After a year of being angry at God and the world, I remember going to church one Sunday, and I realized I couldn't run away from the words spoken at my baptism or from my mom's belief in me.
Ministry wasn't something I wanted or imagined for myself, but it was one of those things I couldn't escape. I now can't see myself doing anything else. In the midst of my struggle to say yes, I experienced God's constant presence, and God's faithfulness in and through the uncertainty. That's why I go often to the moment of my baptism, because it's when God broke through in the most absurd circumstances to call me to this work. And it was my mother's voice, her life and her ministry, that solidified the call for me.
MKK: There's a saying that all pastors have one sermon in them, and they basically preach some form or variation of it weekly. What is that one sermon for you?
GSB: If there's one thing I'm drawn to and I always try to bring out in a sermon or highlight in a Bible passage, it's on the topic of belonging — what it means to not belong, to be an outsider, to be misunderstood or rejected or marginalized. I always try to preach to everyone but especially center the people who don't belong or who feel like they are on the margins in society and within the church. It's because I've felt this in my own life, and I see the ways that Jesus embodied this in his life and saw this in others' lives, too.
I want to connect a thread through to the promise that God sees us, no matter where we are, and that we are meant to belong. Each of us belongs! And once we can be convinced that we belong and are integral to the ecosystem of life, then anything is possible. We begin to see that God will always do more than what we expect. [My husband] Brian says that I also always include an element of participation. When we see that we belong, we see all the possibilities, then we are called to a response — and that is participating not only in our own flourishing but in others' flourishing, because there's more than enough space for us all.
MKK: What are some challenges you face as a female pastor, and specifically an Asian American female pastor?
GSB: It's challenging to talk about this because of the diversity of Asians represented in the U.S., so I hesitate to use a label like "Asian American." I try to be more specific, to be more personal and talk directly about being a Korean American female pastor, because I know Korean culture, including the gendered expectations, the hierarchies.
At the same time, I don't fit into the "normal" categories for people. Because I was brought up in a Korean immigrant Pentecostal church and then my formation later was in the Black Pentecostal church and community, I often don't fit people's — either Korean or non-Korean — expectations. Within the Korean community, by other Korean pastors, I always get asked, "Are you 100% Korean?" And then I would always hear, "Why don't you act like a Korean woman? Why are you so loud?" Which I knew really meant, "Why can't you be deferential and submissive?"
I know now I'm a lot like my mother. Strong, tenacious, resilient, a beast of a woman. When she died at 48, she died battling and struggling — she went down fighting. She fought to the end to be faithful to her call to ministry.
And so the challenge is to not conform to people's expectations of me, to not listen to those voices that refuse to speak directly to who I am at the core.
MKK: What does your leadership look like in a moment with so much national and global tension?
GSB: This moment of heightened racism against Asians due to COVID-19 and the perpetual realities of state-sanctioned violence against Black and Brown bodies and communities have all hit such a tender intersection for me personally, in addition to my role as a leader and pastor.
As an Asian woman married to a Black man, raising three multiracial sons and leading an increasingly diverse church community, it's not a matter of what we should do, but as most revolutions go, it's a question of why we can't stay where we're at.
To lead a larger church community that is multiracial, multiethnic and multicultural — the distinctions are intentional — is already a challenging space to navigate in general. But to feel such rage, pain, sorrow and fear in my own body and for the people who are closest to me takes a measure of control and discernment that many people won't or simply cannot understand.
While I've been praying and participating in protests here in Seattle and witnessing the solidarity for Black life erupt around the world, I'm reminded that these moments aren't new but are a renewed opportunity for White folks and non-Black communities of color to remember the words of Fannie Lou Hamer — "Nobody's free until everybody's free." With that, my leadership will continually work to magnify those who bear the weight of oppressive systems — anti-Black racism, patriarchy, LGBTQ+ exclusion, disability discrimination — making sure they are seen, heard, resourced and empowered.
MKK: What are your specific dreams for Quest Church?
GSB: I've actually been thinking a lot about farming. Regenerative farming, biodiversity, the constancy, the changes and shifts, the evolution of land, and what happens when we simply allow an ecosystem to do the work it was meant to do — it's all a really interesting image for the church.
At the beginning of this year, we did a sermon series on Genesis 1, focusing on creation. I truly believe nothing in this world that was created by God was or is a mistake. Every part of creation has a place, and should have a place, and that means even and especially we, as human beings, are meant to find our own role in creation. This has a lot of implications for the environment — climate justice, land stewardship and more. But for the church, it makes us think about, What is our role in the ecosystem of Seattle? What is our responsibility so all can thrive and flourish?
I want us to be a house of hope and possibility. There's a kind of urgency, and people feel that all around us. Our church is a place and community that wants to respond meaningfully to people's lives. And when new people show up, they feel it, too, and want to be a part of it. We've become a kind of hub and incubator for people to experiment. We're working on a leadership and justice center, and we've started a partnership with a local collective of therapists who are mostly people of color.
Being a place that creates the soil for sowing seeds for generations to come — again, I think about my mom and her legacy. We're not going to spit out the same story; we're going to be creators and makers of a different narrative. Maybe that means we don't see the impact of it right away, or in this generation or the next, or in our location or on our continent. I dream of people walking into Quest to feel the radical coexistence of so many different kinds of people together who are dreaming big, making space and scattering seeds.