Sharing a building leads to a shared mission for an AME church and a Latino congregation
On a bright Sunday morning in September, the congregation of Turner Memorial AME Church gathers at its Hyattsville, Maryland, building. A pastor is delivering an impassioned message. Applause crackles through the space as worshippers lift their hands under the sanctuary's vaulted ceiling.
But the person speaking from the pulpit is not the Rev. Dr. D.K. Kearney, Turner Memorial's pastor since 2015. The preacher is the Rev. Cesar Moreno, a minister originally from Guatemala, who is sharing the day's word — in Spanish.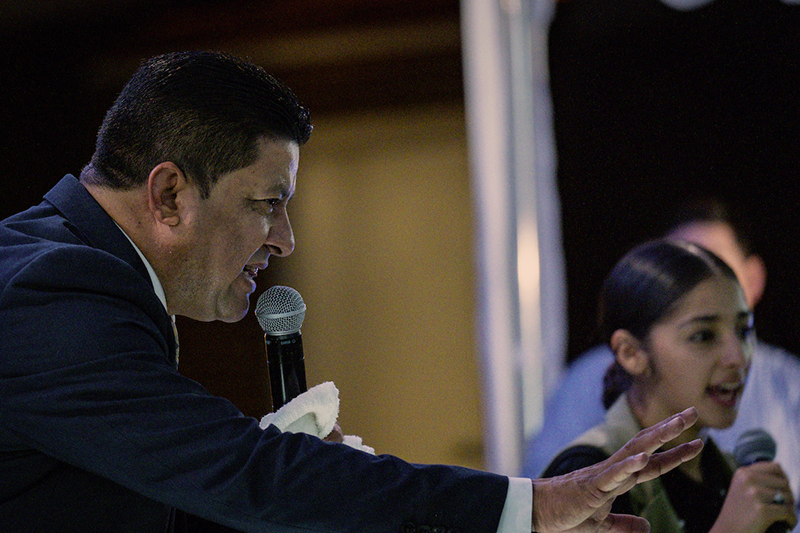 For nearly two years, the pastors' churches — one an African Methodist Episcopal (AME) congregation more than a century old, one a largely Latino nondenominational congregation established in 2010 — have been sharing the Turner Memorial building.
It's more than just a transactional arrangement. Church members have worked carefully and intentionally to build the relationship between the two congregations, which includes regular shared services and, this fall, the "Soul Saving September Revival," a four-week joint endeavor.
It involves the close friendship of the two pastors, as well as the efforts of 16-year-old interpreter Josary Moreno Mejia (a preacher in her own right and the granddaughter of Cesar Moreno).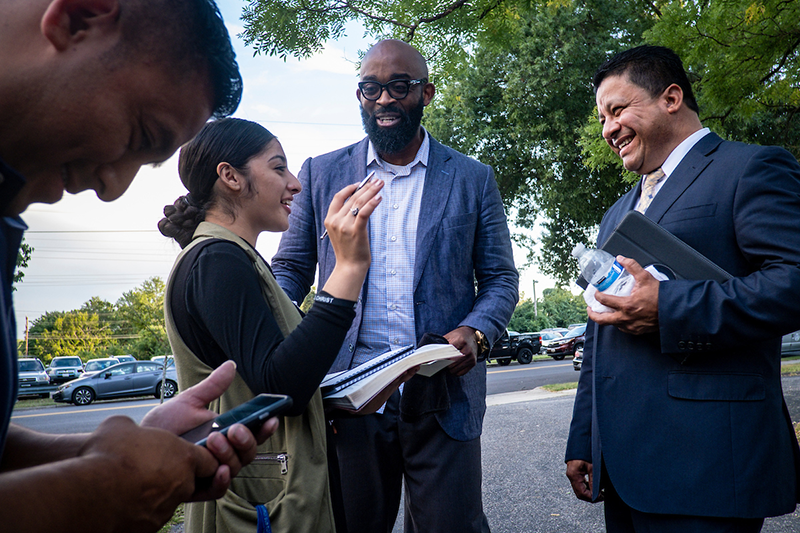 "In Christ, there is no Jew or Gentile. There is no race or color," Kearney says later that Sunday from the pulpit, after Moreno's message concludes.
The Turner Memorial pastor looks out on the congregation, which includes members of Iglesia Evangelica Horeb Asamblea de Dios (Mt. Horeb for short) — the church pastored by Moreno and his wife, first lady Loly Moreno.
"We cannot allow the world's culture of division to separate us. We cannot allow the enemy who comes to steal, kill and destroy to separate us," Kearney continues, getting louder. "We are one in Christ Jesus."
It is this focus on unity that exemplifies Turner Memorial's activities, efforts deeply rooted in the church's traditions — including, for example, its long-standing relationship with a local synagogue. Kearney is now working to unify the Turner Memorial and Mt. Horeb congregations under one roof, as together they reach out to the surrounding community.
This work is important to both pastors.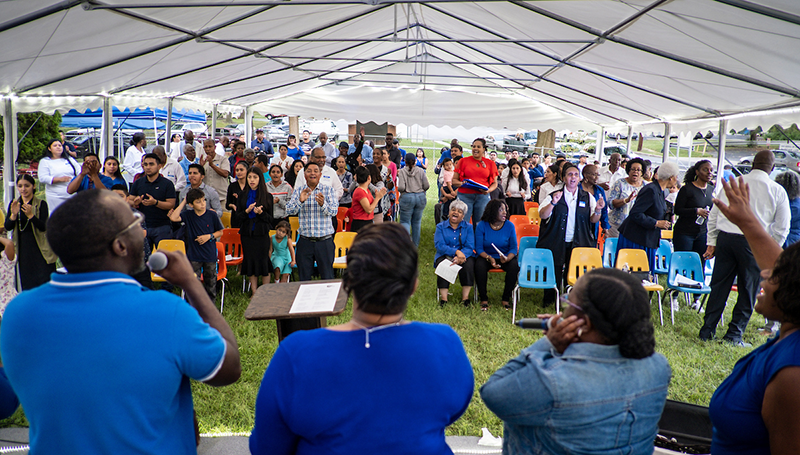 "As followers of Christ, we are to follow Christ's example. And the example which he laid out during his ministry here on earth centered, in my opinion, around community, and building community, and living in community," Kearney said. "As a church, that which represents Christ, we are to serve our community with the hope [that] by serving the community we win persons over to the family of God."
Moreno agreed. "Speaking spiritually, people need salvation. People need to be on a better path. This is the objective, to teach people the path of God, … so that new generations can have hope and live better," he said.
A 'God-ordained' relationship
When Kearney became pastor of Turner Memorial in 2015, he was working on his doctorate of ministry with a focus on liberation theology at Payne Theological Seminary. He found, through his research, that the church's surrounding community was in large part Latino.
He wanted to reach those community members and began considering different ways the church might connect beyond its walls. He also began leading the church in a series of workshops focused on deploying spiritual gifts to make an impact.
Time passed — Kearney calls it a period of "preparation" — and in 2017, Moreno and his granddaughter began attending Turner Memorial services while seeking a space for Mt. Horeb.
When the two pastors met, they realized they could create opportunities for their congregations — one English-speaking, one generally Spanish-speaking — to worship together. They began partnering in December 2017.
Are you open to opportunities that might come your way?
The two developed a friendship that Moreno's granddaughter Mejia describes as "a brotherhood."
"They both have said and shared that when one comes to preach to the other's church, they speak and help lift the other's spirit," she said.
Kearney elaborated: "It never fails that every time when we are together, even when we are meeting, I cannot help but to feel the presence of God. … It gives me the confirmation that what is happening is God-ordained."
Today, Mt. Horeb holds its own services in the Turner Memorial building. But on the second Sunday morning of each month, its members join Turner Memorial's. There, Moreno preaches in Spanish while his granddaughter interprets.
And on the fourth Sunday evening of each month, Turner Memorial members go to Mt. Horeb's service, where Kearney delivers a message that Mejia translates into Spanish.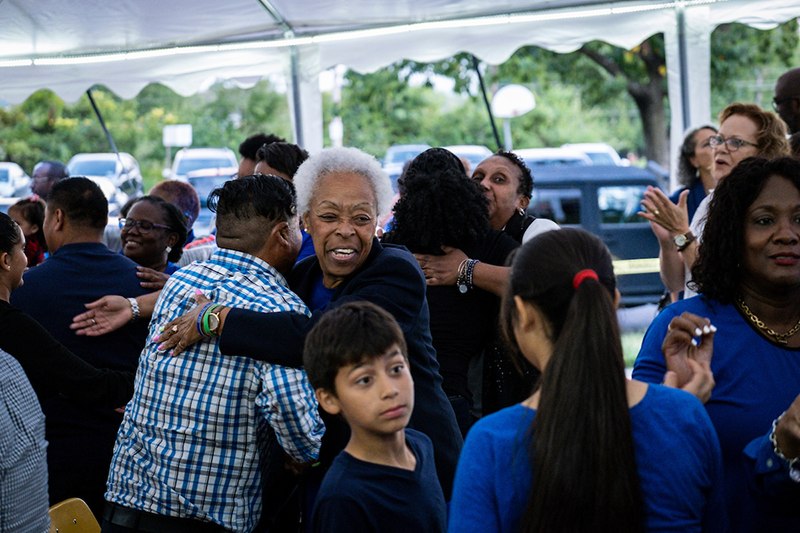 For Kearney, the combined worship reflects a core value of intentionally building relationships. Turner Memorial also has a partnership with the historic Washington, D.C., synagogue Sixth & I — located in the building that housed Turner Memorial for 50 years before the congregation moved to Hyattsville.
Kearney and Senior Rabbi Shira Stutman speak at each other's place of worship each year during the weekend of the Martin Luther King Jr. holiday.
"[Kearney] is amazingly generous with the pulpit God has assigned him to," said the Rev. Dr. Natasha Jamison Gadson, Turner Memorial's minister of leadership growth and development.
As long as Kearney senses that speakers have the Holy Spirit and that they are focused on the same goal of serving God, she said, "he is open with the pulpit for other pastors to come and share."
Being open to others — interacting with diverse communities — provides an opportunity "to learn something we don't know about God, our neighbors and the Christian life at large," said Ismael Ruiz-Millán, the director of the Hispanic House of Studies, Global Education & Intercultural Formation at Duke Divinity School. He also directs programs within the divinity school for non-Hispanic clergy and laity who want to serve the U.S. Latino population.
In what ways could your congregation expand its notion of Christian life, and act upon it?
"If we really believe that all human beings are made after God's image but we insist in keeping ourselves in circles with people who are just like us, then we really have an incomplete notion of who God is and what the Christian life is about," Ruiz-Millán said.
The community commitment
In general, both community and church members have responded to this outreach. For instance, on the Sunday before the first Friday revival in September, representatives from the two churches handed out more than 7,500 flyers to share information about the coming events.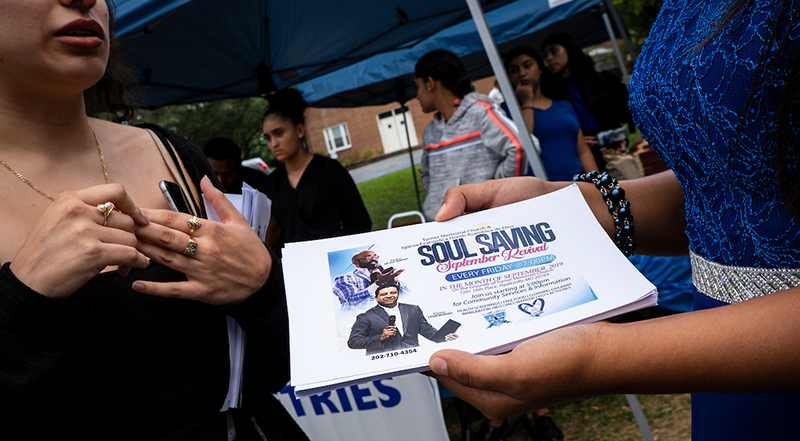 "I think it is such a great experience," said Joan Goodluck, a Turner Memorial member originally from Guyana who identifies as black. "I am seeing God's work being revealed, because he wants the nations of the world to come together."
Now 78, Goodluck grew up in a Christian home and attended church with majority-black congregations for much of her life. She said that hearing the word in both Spanish and English has been a learning experience for some worshippers, adding that the preaching of the word "helps me to grow more."
Mejia, who devotes her time to ministry while taking high school and college classes as part of her high school's dual enrollment program, is a big part of this growth.
She regularly interprets for services at both churches — including translating from Spanish to English at Mt. Horeb for young people who don't speak Spanish.
In this way, she provides clear messages to congregants and community members even as the pastors speed their cadences and raise their voices.
Are there ways in which you serve others that you could reframe as ministry?
"I thank God overall, because it's a blessing," Mejia said after one Sunday morning service at Turner Memorial.
She asks God to speak through her lips when she preaches as an individual and when she interprets for the pastors, she said.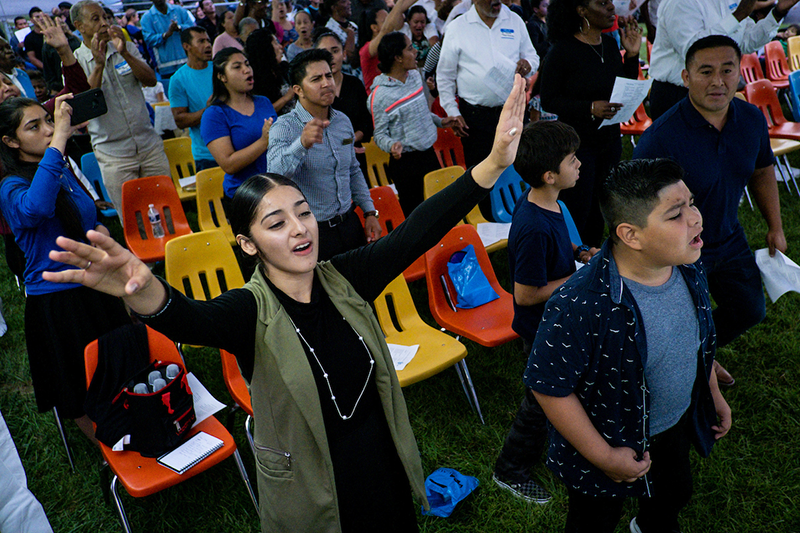 During the service, Kearney noted that Mejia does a "wonderful job" (a message she humbly interpreted).
And as Mejia stood outside the sanctuary afterward, people hugged her, with one woman telling her, "You are such a blessing."
Others too have positive thoughts about the churches' union.
"I think it's something really good — good because God calls us to be one body in Christ," said Evelyn Chávez, a Mt. Horeb member.
"We share the gospel, first. But we are not only sharing the gospel. … There are people with needs. They need clothes; they need many things," Chávez said.
A new kind of innovation
A pillar of the young partnership between these churches is the September revival series. In past years, Turner Memorial has held revivals featuring pastors from outside the community. But when planning this year's activities, Kearney said he felt he needed to go out to the people instead of waiting for them to come into the church.
He committed to having the two churches gather outdoors along with neighbors from the community. Members of both churches worked together to plan events.
On the first Friday in September, rows of colorful chairs were lined up outside the building, under a large white tent.
A band that included a singer, a keyboardist and a drummer played lively Christian music with Spanish lyrics as children toddled around in the grass and older attendees wearing everything from T-shirts and jeans to dress shirts and pants wandered among various outdoor booths.
At one booth, stacks of clothing ready to be given away were so plentiful that the church halted donations for the revival's second week. One booth offered voter registration; another, immigration information.
Reaching out together with Mt. Horeb, and having activities in both English and Spanish, including those offering community aid, may be an innovation on the traditional revival.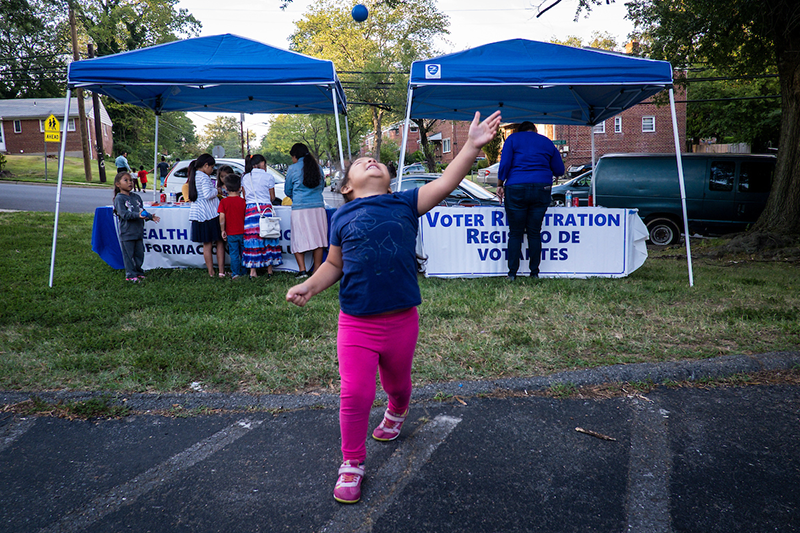 "When I look at tradition and the church, what we are doing is traditional," he said. "Because on the day of Pentecost, when the Holy Spirit fell, Scripture says that everyone heard the gospel being preached in their native language. And that day 3,000 souls were saved."
In what ways could you innovate on tradition in your context?
But people can allow personal preferences about language, race and social class to separate them from others, Kearney said.
"And I would dare to say, don't confuse one's preference with tradition. Because traditional church teaches us that all of God's children — regardless of language, race, class — gather together. And that when the Holy Spirit falls, everybody hears the good news," he said. "If this is innovative, it is traditionally innovative."
Light in the darkness
On the first night of the revival, attendees gathered under the tent as the service began, reading song lyrics from copied pages so they could worship together.
"Promise keeper, light in the darkness. My God, that is who you are," they sang before switching to Spanish. "Cumples promesas, luz en tinieblas. Mi Dios, así eres tú."
Have you worshipped or sung in other languages? If not, what might you learn from that experience?
"We have come to let the enemy know that no race, no language barriers will stop us. We are not trying to build walls, but we are building bridges," said Kearney, standing at the front of the tent, as Mejia interpreted.
Moreno then delivered a message in Spanish, telling those gathered that Jesus is the saver of their souls. At one point, his voice and his granddaughter's overlapped, the English and Spanish floating together, as the worshippers clapped their hands in response and the keyboardist played on.
After the sky went from pastel to dark, Moreno's message ended, and people came to the altar to receive prayer. As the prayer teams and respondents gathered, one woman stood with them, crying as she raised her hands.
When the altar call ended, Kearney addressed the crowd, declining to do a benediction, he said, because he wanted the revival's spirit to continue. He urged attendees to bring their friends and families to the next event.
"Thank you all so much for coming out," he said, with Mejia repeating his words in Spanish. "Bless you."
The crowd lingered, talking and embracing one another, as light continued to shine from the revival tent on the warm September night.
Questions to consider
Questions to consider
When the two pastors met, they recognized that they had a unique opportunity to build something together. Are you open to opportunities that might come your way?
Ruiz-Millán said that if Christians engage only with people like themselves, they have "an incomplete notion of who God is and what the Christian life is about." In what ways could your congregation expand its notion of Christian life, and act upon it?
Mejia said that when she interprets for others, she experiences God speaking through her. Are there ways in which you serve others that you could reframe as ministry?
Kearney calls this partnership "traditionally innovative." In what ways could you innovate on tradition in your context?
Have you worshipped or sung in other languages? If not, what might you learn from that experience?
When Chanequa Walker-Barnes was at Duke Divinity School pursuing her master's degree, she immersed herself in the conversation on racial reconciliation. But she was left with questions.
Part of her loved the conversation, but part of her had reservations. She sensed that something was missing in the dialogue.
"I eventually realized what was missing were the voices of women, particularly women of color," she said.
Most of the voices talking about reconciliation were men — white men, and to a lesser degree black men — and the emphases of the conversation showed that. While reconciliation emphasized relationship across racial divisions, black women had always been in close contact with white women and children in slavery. Emphasizing proximity made little sense for the black women Walker-Barnes knew.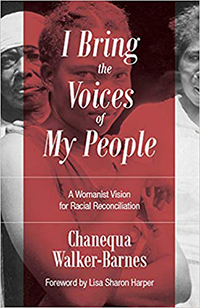 In her book, "I Bring the Voices of My People," Walker-Barnes aims to bring the voices of black women forward.
Without black women in the conversation, racial reconciliation will never "reach for the type of racial justice that women of color really need to see," she said.
Walker-Barnes earned her M.S. and Ph.D. in clinical psychology from the University of Miami and her M.Div. from Duke Divinity School. She is currently an associate professor of pastoral care and counseling in the McAfee School of Theology at Mercer University.
She spoke with Faith & Leadership's Chris Karnadi about the book, and why a womanist view of reconciliation matters for all Christians. The following is an edited transcript.
Faith & Leadership: You connect the evangelical church and the rise of the reconciliation movement. Can you talk about that connection?
Chanequa Walker-Barnes: Right. There is a 20-year history of the racial reconciliation movement in the evangelical church. It extended beyond that, but 20 years of really pumping money into this, to the point where many seminaries now have courses on reconciliation. There are conferences all over the place, publishing series devoted to reconciliation.
In terms of its history, a key moment was when the Promise Keepers movement started in the early '90s. Promise Keepers had racial reconciliation as one of the promises. It was the sixth promise, on unity.
What Promise Keepers was doing was huge in terms of naming racism and racial division as a problem, and saying that it was the church's role to address racism, and to an overwhelmingly white audience. So for Bill McCartney to name racism and reconciliation as one of Promise Keepers' core principles was really a watershed moment — and not just because of the talk around it, but the money.
Promise Keepers were serious in putting money and resources and programming behind that emphasis, so that many of the people who are leaders in the reconciliation movement today, who are recognized as leaders, got their start in those Promise Keepers rallies.
What we see is that the model of reconciliation that Promise Keepers built — white men and black men getting together on the National Mall and hugging it out and saying, "I'm my brother's keeper" — became the model for racial reconciliation within the evangelical movement. Then, because the evangelical church kind of leads the reconciliation movement in the U.S., that becomes the model nationally for what people are trying to do. It's about getting people of color and white people together in the same space and getting them to confess their racial sins and pledge friendship together.
F&L: So you are bringing a different view of racial reconciliation. What is a womanist view of racial reconciliation?
CWB: I think the womanist view of racial reconciliation is to first recognize the full complexity of racism. It does not see racism primarily as an interpersonal issue about a lack of friendships between white people and people of color.
It doesn't say that the problem of racism is too much separation between whites and people of color. Rather, a womanist view really sees racism as a systemic issue that is woven throughout our society, and it's also linked with other forms of oppression such that it impacts different people differently.
The other difference, I think, is that womanism centers the framework for reconciliation on the victims of racism.
Womanism is a school of thought that centers the perspective of black women in particular. So in racism, womanism says that the primary issue in racism is not white people feeling like they don't have black friends, but it's really about the harm that's been done to people of color, both external and internal.
One of the things that I also felt was missing from the reconciliation movement has been any discussion of how racism impacts my image of God, especially as an African American woman. And how does this image of God impact my image of myself?
Are we talking about issues of colorism? Are we talking about the way in which black women may be treated at work differently from black men because of stereotypes about black women as servants? The racial reconciliation movement was never focusing on those issues, but if you get women of color around, those are the things that you start talking about.
F&L: Can you say more about how the conversation of reconciliation has been male-centric?
CWB: One way is the focus on distance. Most of the reconciliation movement presumes that racism is evident in the distance and lack of relationship between white people and people of color. So it says that what we need is more proximity between — to reduce it to black and white — black and white people.
How that is misguided is pretty obvious, especially to women of color in the South.
When I talk to my family members, many of whom have never read anything on racial reconciliation, they chuckle at that automatically and say that's ridiculous, because as black women, we have always been in proximity to white women.
Throughout slavery and beyond, black women have been the caretakers. Women in my family are home health workers for elderly white people. They work in nursing homes for white people. They have been domestic workers in white homes, caring for white children and families. So the history of black women — who often in slavery had to sleep literally at the foot of the white mistress's bed so that if she woke up in the middle of the night and wanted something, they would be there — the issue is not proximity.
We understand that proximity alone isn't a solution, because proximity itself and relationship are still structured by power. You can be so close to someone that you can literally raise a child and nurse a child, and have that child grow up and continue to keep you in slavery.
That's one thing that's real obvious. The other is what problems of racism that we focus on. We have talked, and rightly so, about mass incarceration or substance abuse, both issues that affect more men, but we don't talk as much about the issues that hit women predominantly. Health disparities. Mental health. The gap between education and wages, how black women are highly educated compared with other segments of the U.S. population but still make less money. The extremely high rate of infant mortality among African American women, another one of those reminders that even as the educational levels and access to health care have risen for African American women, there is something else happening, and that something else probably has to do with racism.
F&L: Some people want to move away from the term "reconciliation" and talk more about "reparations." It sounds like you're still invested in the term "reconciliation." Why?
CWB: I have lots of friends in the movement who've talked about breaking away from that reconciliation language because of the way that it has been co-opted. I know many people who are more black liberation theologians, womanist theologians who also critique the evangelical use of the term and for that reason have not been invested in it.
But I also see reconciliation as — for me, it really is the central theme undergirding all of Scripture. I mean, from the garden on. It's this idea that what God is calling us to do is not just reconcile us to each other, but it's to reconcile us to God and to reconcile us to the creation, to the earth, which is even more important than ever.
So reconciliation is this larger call that has been watered down. But there are many things that have been watered down, so in some ways, I want to hold on to the word, because I think it is the fullest word. For me, reparations isn't enough. It doesn't go far enough, because reparations tends to be external. So I think reparations is part of reconciliation, but it's not all there is to reconciliation.
We're talking about God's shalom. That's a bigger issue than relationships. That's a bigger issue even than just racial justice. So for me, "reconciliation" is the word that when understood holistically, when understood as part of this way that we strive for beloved community, that's the word that still captures me. I can't find a bigger or better word for it than "reconciliation."
Rather than being avoided, conflict is, for Christians and the church, precisely what ought to be engaged, says Michael Gulker. Indeed, conflict and the energy that surrounds it can be harnessed for Christian discipleship.
Unfortunately, the church today has a poor record in helping navigate conflict, in many ways no better than that of Fox News or CNN, he said.
"We've been shaped the same way and draw members through polarization," said Gulker, the founding president of The Colossian Forum. "So pastors, despite their best intentions, often are caught in polarized congregations and are not equipped to negotiate the sticky, complicated situations they're in."
Through its Colossian Way program and other initiatives, The Colossian Forum addresses conflict as an act of worship and a practice of Christian discipleship.
"We wanted to recover modes of worship and faith practices that could help us engage conflict in ways that deepen love of God and neighbor," Gulker said.
When people gather to pray, study Scripture and discuss their differences in a setting of worship, conflict becomes not a threat but an opportunity for Christian discipleship, he said: "When people get together face to face rather than on Facebook, with the invocation of the Holy Spirit, their differences become occasions for grace and truth to burst forth."
Before helping launch The Colossian Forum in 2011, Gulker, an ordained Mennonite pastor, served for five years as a pastor in Des Moines, Iowa. He has a B.A. from Calvin College and an M.Div. from Duke Divinity School.
Gulker spoke recently with Faith & Leadership about The Colossian Forum, conflict and Christian discipleship. The following is an edited transcript.
Q: Give us an overview of The Colossian Forum.
The Colossian Forum was created out of a recognition that the church was facing serious problems but was responding, especially regarding controversial issues, in ways that are less than Christlike. We thought we could do better if we drew on the basic confessions and practices of faith.
So about eight years ago, I was invited to help launch an initiative to engage conflict as an act of worship and as a practice of Christian discipleship. We wanted to recover modes of worship and faith practices that could help us engage conflict in ways that deepen love of God and neighbor.
It was just a wild idea at the beginning — a sort of virtue project, trying to apply the work of Stanley Hauerwas and Alasdair MacIntyre to conflict for leaders in the local church. We started gathering people of different stripes around a variety of topics. We said we were going to worship and follow the structure of the liturgy and put an argument where the homily went and then ask at the end whether the Spirit had produced fruit.
If it did, then our love of God and neighbor is richer and deeper. And if not, then what do we need to repent of, lament, confess?
That's it in a nutshell. We believe that the conflicts in a culture are precisely the places where we ought to be and that the energy around conflicts can be harnessed for discipleship.
Q: What's the church's record in helping navigate conflict today?
It's the same record as Fox's and CNN's. We've been shaped the same way and draw members through polarization. So pastors, despite their best intentions, often are caught in polarized congregations and are not equipped to negotiate the sticky, complicated situations they're in.
Churches mimic the wider culture. We've been formed by the same seeds. The problem is that the church is mimicking a divisive culture while proclaiming the Prince of Peace. So in a culture addicted to authenticity, we're a cliche. But we're hypocritical cliches. And we're often willing to tear the church apart over it, which makes us super-critical, cliched idolaters, because these are political ideologies that we're ripping the body apart over.
This is not the whole story, of course. There are lots of good, faithful people, but this is the story that's out there. This is the brand that the church currently has.
Q: In articulating its mission, The Forum has said that the church in the West is declining, in part, because "in the face of today's messiest culture conflicts, the church just doesn't smell like Jesus." What do you mean?
That line came from a gathering of young folks early on. To get the conversation going, we asked them about their experience in the church.
A co-worker said, "I had mentors who guided me. Who are your mentors?"
And they said, "We don't have any. We don't have those relationships." They said they were interested in Jesus "but the church doesn't smell like Jesus."
They were saying that the church just smells like the rest of the culture. There's this sense of a gap between the Jesus proclaimed and the political ideology that's twisted it.
You have this enormous population, especially since Trump, that is [spiritually] homeless. Committed Christians have repeatedly seen Christianity lumped in with Trump, and they don't know where to go — and the church doesn't talk about it.
The church is certainly not monolithic, but the church's inability to talk openly about it — or when it does, [its taking] a political [approach], left or right — has left many people homeless. We had a conference in September, and I was overwhelmed by the gratitude that people expressed to be in a space that was left and right together for something greater than left or right.
This is basic Christian discipleship. We're doing nothing new. We're gathering in the name of Jesus; that's our primary allegiance.
We confess that all things hold together in Christ, not because of something we did, but because of something that has already been done, and we get to participate in that. To do that well, we know that we have to pray. We have to meditate on the Scriptures, together, across our differences. We need to have a good knock-down, drag-out fight and then come before God and see how we did.
This is The Colossian Way. It's coming together to worship and be honest and be willing to get it wrong together. As Stanley Hauerwas said, we worship a God that forgives, so we can tell the truth about our lives.
We can get it wrong. We can tell the truth about when we get it wrong because when we do, we can confess our sins and God is glorified. People have forgotten this. They forget it the moment they walk into a conflict. So to simply remind people of that is gospel. You can watch them light up and taste the gospel. They've forgotten it.
When I started this organization, I was a systematic theologian not sure of what I was doing, and now I am a fervent evangelist for the work of the Spirit. Because when we get together across these conflicts, we see the Holy Spirit do new things over and over.
Q: You contend that conflict can be, not a threat, but a "Christ-given opportunity for discipleship and witness." How so?
It's something that I've had to figure out from what I saw. When people get together face to face rather than on Facebook, with the invocation of the Holy Spirit, their differences become occasions for grace and truth to burst forth.
In making sense of it, I drew on my training. Conflict is Augustinian; conflict is nothing but disordered desire, and desire is what moves the stars. The desire between the different persons of the Trinity — the perfect self-giving love — is what brought everything into being.
When that self-giving love gets disordered, it becomes selfish, self-protective, wounded. That's what conflict is, but conflict is still desire and energy and love of God, however confused. So if you can walk into a conflict knowing that your love needs to be reordered and so does the other person's, it becomes the opportunity for discipleship.
What's the reformation of desire other than discipleship into the image of Christ? When that happens, the very laying down of your false desire witnesses to a greater desire. The moment when engagement moves from conflict to shared longing is beautiful.
Q: How do we do that? Don't we typically go into conflict thinking, "I'm right and you're wrong?" There's a lot of work just going into conflict with humility and realizing, "Maybe I'm wrong."
Sure. It is a lot of work, but we're increasingly motivated to do that work, because our entrenched warfare is not only not productive; it's not even interesting anymore. It's just cliche.
Even if I know absolutely that I'm right, if it doesn't help me in the relationships that matter the most to me, I might just stop long enough to listen.
We all have people in our lives we care about but can't talk to. Sure, in a casual conversation, I might talk to a social justice warrior or a hard right-wing conservative, and they're not talking [to each other]. But when you get to the kids or their grandkids or their spouses or their siblings, they know that being right isn't everything. To remind them at that moment that their faith is not only true but operative and beautiful offers them a way forward.
That can lead us to the humility that makes us open to the gospel afresh. When we're hurting and all of our stridency is getting us nowhere, it's in those moments of brokenness that people are willing to stop and listen.
Q: How do disagreements among people become an opportunity for formation in Christian virtues?
Relationships take time, and if you're going to engage someone you disagree with over time, you have to cultivate things like patience, humility, gentleness and forbearance. Those are the marks that Paul talks about as worthy of the calling we have in Christ.
This is what that life looks like. You don't cultivate those virtues hanging out with people you agree with. Paul is writing to a very diverse crowd — Jews/Gentiles, slave/free, male/female. If you want to cultivate those virtues, you don't Facebook with your clan; you spend time with people that you disagree with. It's something that comes over time by practicing the faith together, and we've been equipped with a number of practices that allow us to become those kinds of people.
Q: What practices help make it possible to navigate conflict?
There are lots of them, but The Colossian Way is basically the structure of the Christian worship service: gather in Jesus' name, name that you've been called to worship, invoke the power of the Holy Spirit, and spend time consciously reflecting on why we're here — to worship God and to come to a deeper love of God and neighbor.
That's the goal of any Christian gathering. Christians gather a lot, but they don't always gather as Christians. Sometimes, we happen to be together and we happen to be Christian but we didn't gather as Christians with the goal of glorifying God and edifying our neighbor and witnessing the resurrection. By simply naming that, you shift and create a new world. You just left the world of Fox and CNN and you entered the kingdom and said, "This is what it's about."
That does so much work. It opens up this huge theological horizon for who we think we are and how we relate to each other.
When Christians happen to gather together but not as Christians, we go in as Republicans and Democrats and we know where the land mines are. We negotiate from political ideology, and we know from our newsfeeds that anyone who disagrees with me is either uneducated, stupid or evil.
This is our mode of relating. But when you begin with a call to worship, you relate entirely differently. That's the first move.
The second practice is to ask, "What is the source of our unity?" And that is a reflection on Scripture, whether it's Ephesians 2 or Colossians 1 — "All things hold together in Christ." There are tons of passages that you can dwell in and say, "This is something God has done; we have the opportunity now to grow into it and to participate in it."
We realize that we don't have the capacity yet to participate in the reconciliation of all things, but we're on the way. So we pray Scripture together and spend time together.
And then the next stage is to engage the wicked problem, the adaptive challenge — the really complicated thing that we're divided over. And we try to bring the best scholarship and Christian theology into play and pick one facet of the problem and fight like crazy.
If you do that, recognizing that the other is your brother or sister in Christ created in the image of God, then that difference between the two of you is one of different modes of pursuing God. I may think you're wrong or driving the church off the cliff, but I recognize your goodwill and intent to be faithful, and [you] likewise, the same for me.
I can then be held accountable by you to say, "OK, you believe X. You're going to have to show me how X leads to a deeper love of God and neighbor, because from where I'm sitting, that doesn't work."
Those are real questions; they're not potshots. Those are real questions. To say, "We're here in the name of Jesus. I believe that you long to be faithful, so lay it out for me" — those conversations don't happen in the local church very often.
And then we end in this last stage of sending, with praise and lament and hope. We ask what did God do, what didn't God do that we need to lament or confess, and what's next.
If you practice this pattern over time, you begin to build a capacity to engage others in this different key, to see a human being not as stupid or evil but as somebody who's longing for God and is broken like you.
Q: What issues and conflicts do you see people most commonly wrestling with?
Politics. But with politics, it's not really politics. It's tribal warfare, and it has so many different manifestations. It can be immigration or climate change or gender, #MeToo, Black Lives Matter.
These things are all over the place, and they're geographical, too. New York City is different from Savannah, Georgia, and the issues are different, but what's not different is the alienation people are feeling, and usually as expressed through the political ideologies of the day.
Q: What successes are you seeing with The Colossian Way?
It's a long game. It's hard to measure virtue development. That in and of itself is its own conundrum, and we're working with a couple of folks on that.
But our best sign of success is that when we train folks, they keep going. They run one group and then another and another, and they ask for more material and more training, and they send more people to more training.
But also I want to get a hard, quantitative assessment. We're still trying to figure out how that works, but we get a lot of stories of people asking themselves, "What does love require here?"
This [assessment] question is important, because how do you measure success in the kingdom? Caesar Augustus or baby in Bethlehem? What counts? When are you really seeing a foretaste?
I wrestle with this a lot, because we're spending a lot of time and energy and money on this effort. But I'm reading the letters of Paul, and he's talking about dozens of house churches and about the whole world being upended with several hundred people.
What math are we operating here? I don't know. I can tell these stories, but I don't know. It's a long game.
Q: Is the goal to resolve conflict? Or do you just learn to live with conflict?
We're not going to resolve our conflicts, but we do need to learn to live together. So engaging conflict requires discovering the depth of our difference, and that is a gift, even though you may seriously disagree and think somebody is wrong. Once you discover that, the work of figuring out how to live together can only be done on the ground together.
This is traditioned innovation on the ground. This is where the faith happens, and it's very concrete. It has to do with the people sitting next to you. How are you going to live together? And then you've got to make those decisions knowing that not everybody is going to come out of it a winner, so how are you going to relate?
Doing all that work together does not resolve tensions. You can't, for example, both marry and not marry sexual minorities, gay folks. You can't do both, so what are you going to do? Communities are going to land in different places, and you have the choice to simply sort yourselves out or find other, more interesting ways of being together.
One of the most important issues facing the church in the United States today is the challenge of pluralism, says Gerardo Marti, a sociologist who has studied and written about multiracial congregations.
"Will the church be able to equip itself to engage with pluralism?" asked Marti, the L. Richardson King Professor of Sociology and chair of sociology at Davidson College.
"One option is simply to cut ourselves off and to create a sense of refuge among people we assume are our own," Marti said. "That explains some of the political dynamics that we see today. There are groups of people who still believe that we can and should become a Christian nation, [with a] Christianity that looks exactly like their own Christianity."
Although it's not yet clear, he said, what role churches will play in the lives of young people in the future, research suggests that younger generations are more likely to have a broader understanding of Christianity and a greater willingness to engage differences.
Marti said he admired the work that pastors and ministry leaders are doing "to craft a church that can bear the future."
"The church will continue," he said. "For us, it's really about how we're serving the breadth of people, especially people that we do not currently see — people who are not right in front of us."
Marti's scholarly work is focused on race-ethnicity, religion, identity and social change. His books include "A Mosaic of Believers: Diversity and Innovation in a Multiethnic Church," "Hollywood Faith: Holiness, Prosperity, and Ambition in a Los Angeles Church" and "Worship Across the Racial Divide: Religious Music and the Multiracial Congregation," which was recently rereleased in paperback by Oxford University Press.
Marti has a B.A. in communications and sociology from Pepperdine University and an M.A. and a Ph.D. in sociology from the University of Southern California.
He spoke recently with Faith & Leadership about his research and the impact of current U.S. politics on multiracial worship. The following is an edited transcript.
Q: Tell us about your work. Your faculty webpage says you're a sociologist focused on race-ethnicity, religion, identity and social change.
I've always been intrigued by how people work, act and think, and how that relates to broader patterns of social change. Eventually, I grew into being an ethnographer focusing on religion, race and social change.
I found congregations to be a very strategic place for studying social change. All my work has to do with understanding social change, with much of that work focused on congregational life.
Q: You've studied and written a lot about multiracial worship, including the role of music in multiracial worship. Tell us about that.
In the late 1990s, some churches, white-dominant churches — churches established, attended and led by whites — began to realize just how homogeneous they were.
They realized that schools, workplaces, even the local grocery store were more diverse than they were. And they started to ask deep questions: "Does prejudice lie at the heart of our churches? Are there limits to the love that we're willing to extend to our neighbor?"
That prompted a great deal of speculation about how to become more diverse. It quickly became a search for strategies and solutions, and the few churches that had some diversity — again, usually predominately white — became the most influential at providing formulas for how to diversify church life. A stream of talks, workshops, conferences and books came out asserting what they felt were the answers to creating greater racial and ethnic diversity in congregations.
Q: And as you note in "Worship Across the Racial Divide," it wasn't quite as easy as, "Here are five tips to have a multiracial congregation."
Yes. Unfortunately, the search for solutions led people to focus on stereotypes, and on essentializing the cultures of different racial and ethnic groups, and then suggesting that churches needed to align themselves with those different cultural preferences. They were sort of asking, "What are different racial and ethnic groups like? And therefore what do we need to do to make them feel welcome?"
Q: So basically, white churches were saying, "We need to be more X or Y; we need to be more black or Asian or whatever"?
Absolutely. In fact, that's a direct quote from a worship leader I spoke to, whose pastor told him, "We need to become blacker."
But that creates a scramble: "We don't have black people here. What are black people like? What do we think they should have? How many black people can we get in here, and how quickly?"
Most strategies were about restructuring worship, because very few other things can be changed deliberately. You can't change your neighborhood or people's attitudes overnight. So people focused on what they could change in the service, especially music.
Worship pastors became the ones most responsible for diversifying the congregation. If music was the answer, then they had to make sure that their churches showed diversity on the platform and encouraged musical diversity.
Q: But it wasn't like, "Here's a playlist you should use." You found it was as much about the practice of music as a particular type of music.
Yes. In my research, I visited a range of churches — from Pentecostal and charismatic to highly liturgical mainline congregations — that were already diverse, at least 20 percent nonmajority.
What's fascinating is that the leaders of churches that are already diverse don't necessarily understand how they got there. They have stories and legends, but there was a range of how intentional diversity was as a goal for their worship.
Some churches believe you have to be highly intentional and have a great deal of musical diversity to appeal to people from different racial and ethnic groups. In a sense, they have music for blacks, music for Latinos, music for white people — almost like turn taking — all within 15 or 20 minutes.
But that is difficult to do. It's difficult to play any single style of music, let alone be able to do multiple styles in a short period.
At the other extreme are churches that do not strive for diversity at all and don't have multiple versions of music. In fact, they were confused when I asked about their music. They see it as just worship music. It's music that they do, and it works.
And perhaps most interesting, there are those who believe that racial diversity matters, but they have decided that one particular style, whether gospel or rock or something else, resonates with all racial and ethnic groups.
So you have these radical contradictions and disagreements about what the solution is for touching people's lives and attracting them. Yet all of these churches successfully diversified.
Q: So what do churches do?
I found two things that became important. One, all the churches I spent time with had a profound conviction that African-Americans were the superior worshippers of all racial and ethnic types. For some, the only strategy they had was to hire a black worship leader. The assumption is that the black worship leader becomes a visible point of diversity, a conspicuous diverse presence.
The strategy for these churches was to show diversity on the platform. In all the churches, the diversity on the platform was greater than diversity in the congregation. Conspicuous and visible color was a central strategy, even if they didn't always recognize that they were doing that.
The second thing that was important was the experience of being in the choir. People loved being in the choir.
Because musical work requires practice and meeting together, they become enmeshed in a small and caring group — people who know their names, who keep in touch.
People are much more connected with their musical ministry group than with other aspects of the congregation. It draws them together, and in that context, color, race, ethnicity start to matter less.
Q: So to some extent, have any kind of music you want. The fact that you have diverse people doing music together is what changes a congregation.
That's right. The style of the music wasn't the motivator for people to come to a church, and it wasn't what kept them there. It is the practice of music that is more important than the singing or hearing of music.
Q: It's been more than 60 years since Dr. King pointed out that 11 a.m. Sunday is the most segregated hour in America. Why aren't we further along?
That's a challenging question. There is some good news. Diversity has gone up. Larger churches seem to have more capacity for diversity, because they can allow for different kinds of activities and ministries that allow different kinds of people to connect. They have some advantage at being able to draw a greater range of people into a ministry.
But diversifying a church is difficult. Ministry today is challenging. Leaders have to be attentive to so many different issues.
Diversity is usually nonurgent, and it's not a goal that every person in a congregation believes is important. In fact, it's very possible that church leaders who begin talking about diversity and race will create more conflict in their churches than they will a sense that, "I'm so glad we're doing this."
Q: What is the impact of the current political environment on multiracial worship? After Charlottesville and Black Lives Matter and Donald Trump's election, is diversity more or less difficult, more or less likely, for a congregation to achieve?
Scholars are finding, in the case of evangelicals, that nonwhite evangelicals are far more sympathetic to diversity issues than white evangelicals.
Also, some white evangelicals now believe that they are the ones being discriminated against and stigmatized. Research shows that the sense of persecution among white evangelicals is very significant. And once that takes root, there's no sympathy for being more attentive to the life experiences of people who are not white.
Many whites, particularly conservative whites, tend to minimize the difficulties or prejudices that blacks or other minorities face in the United States. White evangelicals tend to believe that America offers equal opportunity to everyone, and that if you cannot succeed, it's because of a character flaw.
Their solutions tend to be based on individuals. But the research for many years shows that larger, systemic, hard-to-see, nonobvious structures hinder advances in wealth, opportunity, education and even health among nonwhites.
Many white evangelicals, white Christians, simply do not know American history. They are unaware of the depth of what enslavement did to blacks; they're unaware of the Treaty of Guadalupe [Hidalgo], which annexed part of Mexico into America overnight, and how Mexican-Americans have been impacted by that; and they are unaware of how policies from Reconstruction through the New Deal may have helped poor whites but not poor blacks and other minorities.
Most Americans — not just white Christians — underestimate the power of long-term attitudes and societal structures both to enforce segregation and to do little to minimize the continued adverse effects among these huge populations.
Research has shown that many white congregations believe that they are not political — you know, "We don't talk about politics here."
I think that what they may mean is that they avoid trying to be partisan. But it is naive to believe that they are not political.
Even in the informal things that people do — like supporting a crisis pregnancy center and the way that's talked about or how they discuss gender or what crisis ministry looks like — these things all hint at a conservative political agenda that has been consistent for many years.
We know by historical research that conservative politics left the attempt to correct racial issues a long time ago. Republicans explicitly said that they were no longer going to be concerned about race as early as the turn of the 20th century.
History shows that much of our Christianity has been intertwined with racial attitudes, and the disentanglement is incredibly uncomfortable. We've just assumed that's what Christianity is.
But it is a Christianity infused with support or disdain for different kinds of attitudes. It's rooted in theologies that were crafted during the times of slavery. It's also rooted in anti-Communism by white Christians throughout the 20th century, when many groups that supported racially progressive legislation were seen as being socialist and/or outright communist.
Q: How will generational differences play out in multiracial worship? Will young people be more interested in multiracial and multiethnic worship?
The older you are, the more likely you are to be in a congregation and to be active in that congregation. So when we talk about younger people, the first question is, to what extent will congregations be central to the lives of younger white Christians?
We're starting to see a willingness of young people to be a part of less-formal, differently organized groups that are not what we would expect as a church. Many organizations and denominations are experimenting with church, and some people are rejecting our stereotypical sense of what church should be.
But we don't yet know what's going to happen. We've tended to think that once people have kids and settle into a family, church becomes a more central aspect of their life, but that may not be our future.
In terms of race, the younger you are, the more likely that you have experienced diversity as normal. America is already nonwhite majority, and every year there's more diversity among the youngest of our populations. School and work are much more likely to be diverse than the lives that my parents and grandparents had.
Young people, on average, have a more normalized experience with racial and ethnic diversity than their parents or grandparents did. They are also much more likely to encounter religious differences — not just belief or nonbelief but also Mormons and Hindus and Muslims, and people from other countries. That experience of diversity provokes things.
So the challenge, for much of the church, will be the challenge of pluralism. Will the church be able to equip itself to engage with pluralism?
One option is simply to cut ourselves off and to create a sense of refuge among people we assume are our own. That explains some of the political dynamics that we see today. There are groups of people who still believe that we can and should become a Christian nation, [with a] Christianity that looks exactly like their own Christianity.
It's a very particularistic sense of what Christianity means, and it has enough sway and enough power among enough people that it has political consequences.
But as we move into the future, the evidence shows that the younger we go, the less we see a particularistic definition of orthodoxy and a greater willingness to engage differences.
I admire the work that pastors and ministry leaders are doing to craft a church that can bear the future. The church will continue. For us, it's really about how we're serving the breadth of people, especially people that we do not currently see — people who are not right in front of us.
The people right in front of us will always demand a great deal. The needs are infinite.
The challenge of the church is not mere survival; the challenge of the church is, how far will we extend our arms and look for and touch those who are not right in front of us?
The model for that, for me, is Luke 10 and the sending out of the 70 — to really go out, not wait for people to come to us. But where are we going out?