Majora Carter: Don't leave! We can make low-status neighborhoods better
Low-status neighborhoods need talent retention. Instead, what they get is talent extraction, says Majora Carter.
"You are led to believe you need to leave — you need to measure success by how far you get away from there," said Carter, a real estate developer and consultant who does work in her hometown neighborhood of Hunts Point in the South Bronx.
Carter, whose own family has experienced some of the ill effects of gentrification and predatory practices, has dedicated her efforts to building up her neighborhood and others.
Her projects include a local park and a coffee shop. In 2001, she founded Sustainable South Bronx, which aims to "achieve environmental justice through economically sustainable projects informed by community needs." She also co-founded the Southern Bronx River Watershed Alliance and has been involved in numerous environmental and green jobs initiatives.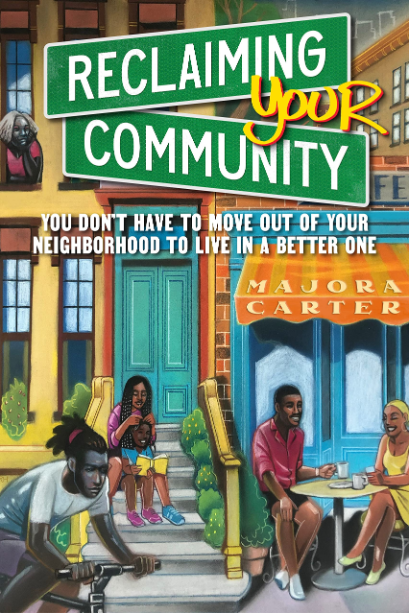 Carter wrote the book "Reclaiming Your Community: You Don't Have to Move Out of Your Neighborhood to Live in a Better One" — which was endorsed by Lin-Manuel Miranda and Seth Godin — and gave a 2022 TED Talk on the same theme.
She is president of the Majora Carter Group, which offers consulting services in environmental assessment, compliance and planning. She has received many awards, including a 2005 MacArthur Foundation "genius grant" that described her as "a relentless and charismatic urban strategist" and New York University's Martin Luther King Jr. Award for Humanitarian Service.
She spoke with Faith & Leadership's Sally Hicks about her work in the South Bronx. The following is an edited transcript.
Faith & Leadership: Talk a little bit about the neighborhoods you work in and write about. You use the term "low-status" rather than more typical descriptors, and you actually begin your book with a glossary. Why?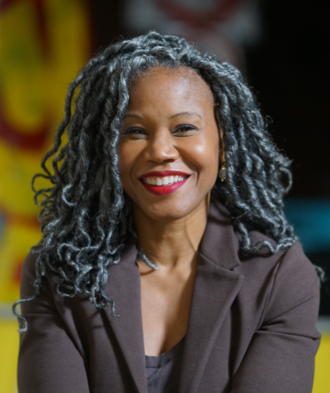 Majora Carter: Most folks, when they use "poor" or "underprivileged" or "underresourced," blah, blah, blah — it implies poverty is there. "Low-status" implies something much larger and deeper is at work. There's a high status and there's a lower status, and inequality is simply assumed.
It's the places where the health outcomes are lower, where the educational attainment is lower. Yes, poverty exists more frequently in those areas as well, and there's often a lack of hope in terms of the future of the community, both for people in the neighborhood and outside it.
And it can be anywhere. Urban, rural, suburban. It can be inner cities, Native American reservations, white towns where there was some industry and it's long gone.
What we see happening all the time is that the bright kids, the ones who are academically or artistically or even athletically inclined, are led to believe that they need to grow up and get out of those neighborhoods. That's really the underlying thing that just everybody gets. I don't care where they're from.
That's why our approach to community development is a talent retention strategy, really.
F&L: Part of this mindset is what you call the perception of "poverty as a cultural attribute." The community can't change — it isn't changeable — and therefore the only solution is leaving.
MC: It's baked in, this idea that poverty is part of the culture. So that's what you plan for, whether you're an elected planner, whether you're an elected official or part of the "nonprofit industrial complex." That is what you're planning for.
There are several industries essentially that profit off that, and that's what we're trying to work against.
F&L: You use the term "nonprofit industrial complex." What's your critique of investment done according to traditional means?
MC: It's a structure that was designed to take care of needs. But if we understand that and then we look at the money that's being spent and we don't see that the amount of money we spend is actually reducing all those social ills, then you kind of have to wonder, "Is it working?"
I'm not saying that [the nonprofit sector] doesn't play a great role. It does. I'm just saying let's just ask that question. Stop doing the exact same things over and over and over again.
Huge amounts of government-subsidized affordable housing [are built] for the lowest income bands. You're not building economic diversity in any of the housing.
Health conditions happen because of the environmental abuses in the same neighborhoods, and we don't address any of the underlying things but are managing the health conditions that are here, whether they're diabetes, obesity, heart conditions. Then we are surprised that those numbers stay the same?
We all seem to be surprised every single year. It's mind-boggling to me. I know I'm not the only person who sees this.
We're managing poverty. We have plenty of systems to manage people and their poverty. It's an incredibly paternalistic system that definitely has its roots in white supremacy that says, "You really will never be better, so we're going to help you — not that much, but just enough."
We keep seeing that over and over again, and yes, it does bother me very much.
F&L: What have you done in your own neighborhood, and what were you trying to accomplish with your projects?
MC: Ultimately, what I try to do is to help folks in my community, and communities like it, to not believe the narrative that our communities are places that are meant to be escaped from. We actually do have the capacity to revitalize our community from the inside out.
It started in my early work, when I was in the nonprofit sector for a number of years. I've always done project-based community development, because I've always felt the people needed to see and experience something different from what only screams poverty.
Again, the environment of our neighborhood literally often does say that. People know they need to leave their neighborhood in order to experience a nice park or a decent supermarket or a nice place to have a cocktail or a coffee with their friends.
What does it say about where you're from? It says, "You don't really need to be here if you have any sense of aspiration for yourself." And most people do.
What I've tried to show is that we have wonderful things to offer people within our neighborhoods. The projects range from spearheading the development of the first waterfront park our neighborhood's had in over 60 years. It was the only park — waterfront or not — that actually had grass and trees and the kind of places that made people feel, "Oh wait, this is a really special place to be."
Then we did some work where we helped people have both a personal and a financial stake in the improvement of their environment. So we've created green-collar job training and placement systems.
F&L: Tell me about the cafe; that you're sitting in right now while we're talking on Zoom.
MC: In the early days, our work was more focused on consulting, but then it didn't take us long to realize that it was really real estate development that we needed to be focused on.
We started in small multifamily [housing], and then we realized the other piece was lifestyle infrastructure. In part, we did that because it was nearly impossible for us to get the kind of financing that we needed to do larger projects. I didn't really know much about real estate development, frankly, at the time.
But when we realized that what people were leaving the neighborhood to experience was places like cafes and coffee shops and things of that nature, we actually sort of used our own good credit. We made relationships with some of the local landowners that had businesses and got very, very reasonable rents on a couple of spaces in the commercial storefronts of their buildings.
We really wanted a cafe, because, again, we did an enormous amount of market research in the form of surveys and focus groups to understand what was it that made people feel good about being in their own neighborhood or not. Why were they leaving the neighborhood to experience something good?
So we got a lease, and we realized that most of the folks who wanted to build a cafe did not have the capacity to do it. We went to Starbucks, actually, and they were just like, "Nah. Your market is too emerging."
That was really hard to hear, but then we ended up partnering with this awesome group called Birch Coffee, and we did a joint venture with them to open up our very first coffee shop. But it was also clear that we needed to be more about our own culture from the cafe's perspective, and so that's why we branched off into the Boogie Down Grind Café [in 2017] and rebranded ourselves.
It's like an homage to hip-hop. Where I'm sitting right now, you take off the cushion and it becomes a stage, with a great big plate-glass window behind me so people can see it, for open mics or all sorts of wonderful things.
The day we were protested, we were hosting a workshop in this space for people who wanted low and 0% interest loans for either homeownership or for business development. It was kind of tragic and sad but ironic. But that's what we did.
But those types of things — building out a space so that the community could come in and fill it and be seen in a cool place where people felt really good about how they looked — it was really fun, and we had a really nice time with it.
F&L: You mentioned a protest. You've gotten recognition for but also criticism of your work. Why do you think that is?
MC: Because Black girls from neighborhoods like this are not supposed to do this. I am acting way above my station, and I'm not supposed to do it.
We are just so duped into this idea that the only thing we can really be is just managed where we are, and that's why [the detractors] behave that way.
I don't know what they thought or what they think they're getting out of it, but I no longer wish to continue to allow the idea that only a few companies around the country, in any city that you're in, are the only ones. They're almost always led by white men.
That's why our communities are the way they are. I don't feel that's the only way our communities can develop — and why don't we have that conversation?
But yeah, being a Black woman just paints another target on my head from everybody concerned.
F&L: I wanted to ask you just to clarify one thing. Several times you've said, "We did this. We did that." When you refer to the "we," are you referring to a development company?
MC: My company, yes. It's interesting that I get that question. I really do think that it's still hard for people to believe that I do this as a Black woman from a neighborhood like this. Of course I have a company. It's small, but of course I have a company. I'm long on vision and short on balance sheet, but even functioning in that way, it's still us, still doing the work of a developer.
F&L: What projects are you working on now?
MC: We're redeveloping a commercial property, which is a former rail station. It's a feasibility study to do an assemblage, which would be roughly 1,000 units of mixed-income housing, including homeownership, and about 400,000 to 500,000 square feet of manufacturing and commercial space.
That's my dream. Literally, I want to be able to co-lead that project, and then I'll retire. I will show that it can be done by someone who looks like me, and then I'll walk. That is my prayer. Because I'm just too old. I'm going to be 60 in a few years, and I'm done. I'm not going to lie.
F&L: Even on Zoom, you do not look like someone who's talking about retirement.
MC: Oh no, I am. I swear I've aged a lot over these past few years. I'm grateful. I know I'm blessed that I have the ability to do what I do. I'm still here, despite being smacked around as much as I've been. I can still smile and laugh about most of it — it makes me super, super happy — so that's great.
F&L: If a congregation wants to do this kind of work, what would you recommend? I know you've worked with the Parish Collective organization.
MC: I was at the last Parish Collective [event]. I had actually been talking to a lot of them about, "What are the roles churches can play in development?"
If they do have property, how are they using it to support folks? More economically diverse communities are actually safer economically, socially. Spiritually as well.
But also really paying attention to predatory speculation. How do we support the homeowners that are already in those communities to keep them from falling victim to predators? I think churches can play a huge role in that, and so some of us are actually starting to have those conversations around it, which is great.
F&L: Do you come from a faith background?
MC: No, no. I am a Christian, definitely a follower. [But] I didn't become a Christian until years later. I do feel like this is my ministry. And my ability to love my neighbor — I feel like this is my contribution. This is how I can give, and I love it.
Some modes of innovation focus more on helping existing institutions survive changes in the world rather than changing the world into a more equitable place.
Such innovation, argues Kimberly R. Daniel, isn't Christian innovation.
"Christian innovation is a type of innovation that advances life," Daniel says. "It results in healing of the world."
Daniel and her co-author, Stephen Lewis, have written a resource titled "A Way out of No Way: An Approach to Christian Innovation" with this in mind.
In the book, they offer steps, lessons and examples from the many Christian social entrepreneurs they have met and trained over the past five years to show a mode of Christian innovation that does bring change.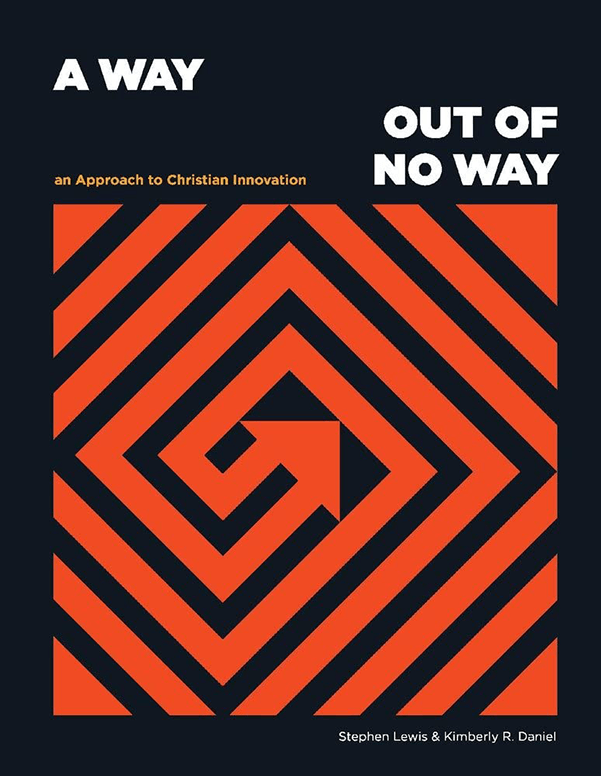 Lewis is the president of the Forum for Theological Exploration, and Daniel is the senior director of communications at FTE and co-founder of an Atlanta-based startup accelerator.
Daniel spoke with Faith & Leadership's Chris Karnadi about the resource and how readers can use it to identify what next steps might be for their ideas for Christian innovation. The following is an edited transcript.
Faith & Leadership: How did this book come about, and what inspired you to publish it?
Kimberly R. Daniel: Back in 2017, we began to host some small gatherings, which were really sparked by some questions that Stephen and I had. Questions like, "What do Christians from diverse communities think about Christian innovation?" or, "How have they been innovating?" or even, "What innovation have we and our ancestors experienced in our communities before this term was even coined?"
So at FTE, the Forum for Theological Exploration, where both of us are leaders, we hosted these small gatherings of entrepreneurs and asked them those questions — entrepreneurs, pastors, community leaders who were and still are designing and imagining new ways to help their particular communities, versed in their specific contexts.
By launching this five-city listening tour and launching a startup accelerator for early-stage, underrepresented entrepreneurs in 2017, we connected with more than 200 folks — innovators and leaders working at the intersections of faith, church community and business. In this, we learned that not all innovation done by Christians can legitimately claim to be Christian innovation.
Stephen and I both come from the Black community, which has lived on the underside of imperial progress and is well acquainted with frugal innovation, which we commonly call "making a way out of no way" — hence the title of the book.
So from these questions that we had to the small gatherings that we had to the accelerator program and our own lived experiences, we were inspired to write "A Way out of No Way," because we don't need any more innovation that gives economic opportunities that benefit just an elite minority.
We want this book to be pretty much a blueprint and a guide to practicing the type of innovation that addresses individual and systemic inequalities that fit the plight of everyday people, not the elite few.
F&L: In your view, what disqualifies something from actually being Christian innovation?
KRD: There are innovative and entrepreneurial endeavors that have nothing to do with the lived experience and the plight of people who are disenfranchised, who are socially vulnerable, who have minimal resources. These types of innovation just didn't meet what we see as coming from being rooted in Jesus' teachings and sticking to "the least of these."
There are a lot of people who are seen as Christian innovators, but a lot of times, they primarily exist to either help their institutions navigate the cultural shifts or to change their institutions to be relevant and responsive to changes in society. So in these cases, innovation is a practice for Christians for the primary benefit of the institutions, their traditions and their programing.
While there is definitely importance in this type of innovation, given all the challenges that people and religious institutions have faced, especially over the past several years, this is insufficient to be understood as Christian innovation.
I think it's a misconception that if Christian leaders effectively navigate their institutions through these difficult challenges and keep their institutions and people intact or they successfully transfer the institutions, that they're deemed innovative. Yes, they may be deemed innovative, but when we're talking about Christian innovation in particular, in our book we advocate for what's rooted in Jesus' teachings about God's preferential starting place — to benefit the disenfranchised, socially vulnerable, underresourced and undervalued.
F&L: What are some models you've found that are truly Christian innovation?
KRD: If we're talking about people who are doing innovation rooted in addressing these particular communities, that might be someone like Kit Evans-Ford, who went through the accelerator program in 2017 that Stephen and I co-founded.
She developed and launched and has a thriving business that she calls her ministry that is rooted in addressing women who are survivors of domestic violence and abuse. Her business ties into her own story and into her ancestors' stories and is helping create a healing community for these women who have often been overlooked and who have just been trying to survive.
She is giving them a place and a space to thrive, giving them an opportunity to create some economic value by employing these women, giving them free services to help them heal as they move through their journeys. So whether that's spiritual reflection or therapy or a chiropractor or coming together and having some studies with one another, she is providing this community center, and she's providing a place to employ these women.
That's one example. There are six steps in the book about how to do Christian innovation, and she's tied to the last step, which we name "Do it," when you're actually implementing your solution. That's the very last step. She has gone through all the steps, and she is doing the work for the benefit of a particular community.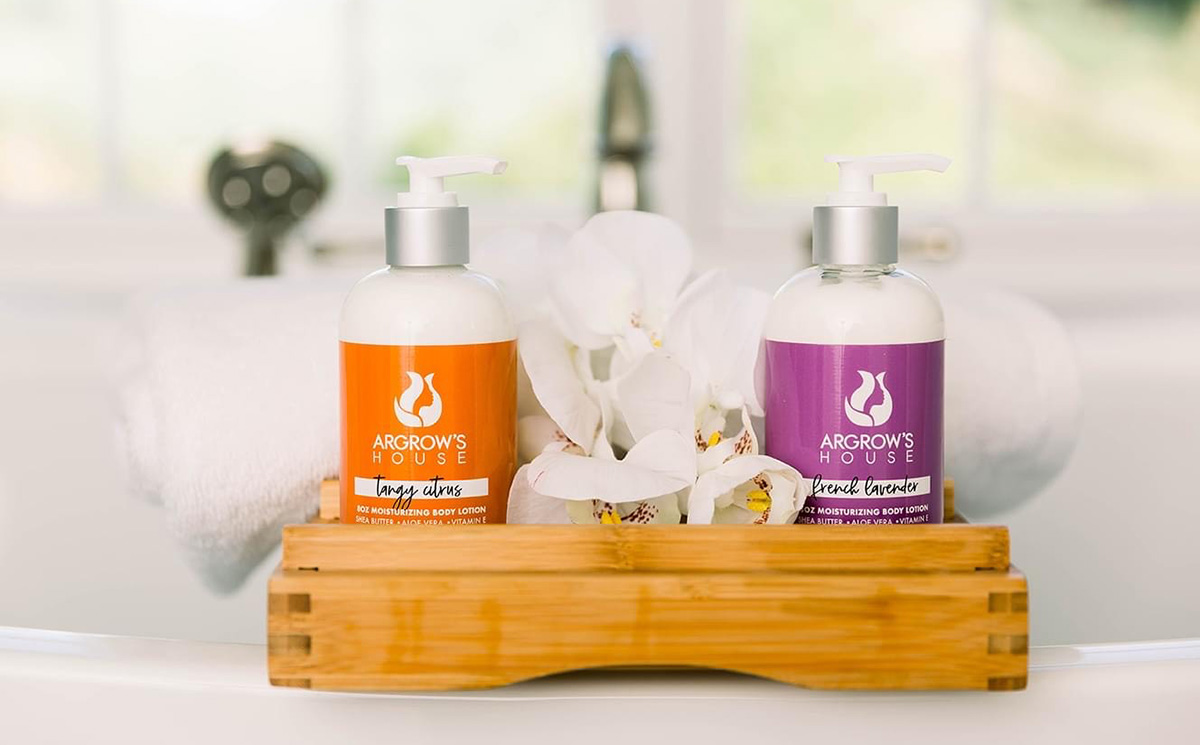 Or another example might be LivFul, which was co-founded by Hogan Bassey, who is a Nigerian-born man who was experimenting with a solution to a problem that his particular community faced, which was malaria.
He had been infected with malaria four or more times by the time he was 10 years old, and so he started testing out an insect repellent that soon became the seed for LivFul, which initially offered this award-winning insect repellent to heal his community and also provide them with an opportunity to have access to it, because repellents were [not readily accessible] to them at the time.
He provided easy access to this insect repellent so that he could save lives and hopefully help people flourish. LivFul offers a lot more now, but that's just a little highlight.
F&L: What do you hope readers would learn from the book?
KRD: We hope that through this book people are able to have concrete steps they can take and practices they can engage in to help them identify their next most faithful step in exploring innovation.
We want them to understand what Christian innovation truly is, and what we are advocating for, which again, like I've already said, is rooted in Jesus' teachings, addressing those who are disenfranchised, undervalued, vulnerable in our families, in our communities and in our society.
That is very important, and we hope that the book serves as a blueprint for innovators, for people who may be innovators, people who are leaders, educators, and for communities, to create a more just world by developing solutions to stubborn social problems.
This book is really for people who are innovators — innovators who are within the church context or other forms of faith communities, people who are drawn toward social entrepreneurship and driven by their faith to make a positive impact on communities.
This book is for educators who are teaching the innovators who will come into our communities. This book is for communities in and of itself. We want people to be clear about the ways that they can faithfully do innovation that meets the needs and provides healing and opportunities for flourishing and empowers everyday people.
F&L: How should a reader use the six steps that you outline in the book to identify Christian innovation?
KRD: In every chapter, it begins with an overview of that particular step. I think someone who is already working on some type of innovative ministry or has an entrepreneurial venture that they're trying to develop would get clear about whether that's the step they're at and the one they should focus on.
I think what is a benefit to this particular book is that in each step, you can go to the end with these interactive exercises that will give you some concrete and tangible practices and questions that you can consider that will help you refine what it is that you're doing to make sure that you're actually meeting the needs of people within your community. I would say to start there.
But in looking at the steps just broadly, it's pretty clear that when you "Get curious," you're really starting with a question. You're wondering why things are the way they are in order to develop a solution, whether it's a ministry or a business venture. You're getting curious about the problem, the need, the desire that you see within a particular community.
Then you're moving from that and you "Make meaning" of what is coming up — what came up in your curiosity and what that might mean for these insights. Then you need to "Be open" to what emerges from God, what emerges from your community in order to further build out your ministry.
Then you just need to try it, experiment with it, develop something. Even if it's not perfect, "Try this" to see if it even works, and then show that you can "Prove it" works, from hearing from the community. Ask and see if it's actually making an impact in the way that you hope it does.
Once you prove it, just "Do it." Looking at the highlights of each step, I think, will give people a sense of where they might need to focus, and then leveraging the interactive exercises that we have at the very end following Stephen's theological reflections can be very helpful.
Don't be misled by the makeshift counter and tent outside Humphreys Street Coffee Shop in Nashville, Tennessee. The business is here to stay.
That renovated green house is a symbol of permanence, commitment and determination. After all, helping people understand their value is not quick work.
As a social enterprise of Harvest Hands Community Development Corporation, the coffee shop serves up more than cold brew and lattes; it provides jobs, mentorship, discipleship and skills for teens from the community nearby.
"We don't hire students to make coffee," Harvest Hands executive director Brian Hicks likes to say. "We make coffee to hire students."
On a hot, humid August afternoon, local residents pull up or stroll over in a steady stream. One speaks of how he likes both the coffee and the aesthetic. On the edge of a recently gentrified neighborhood, it's charming, inviting. And powerful.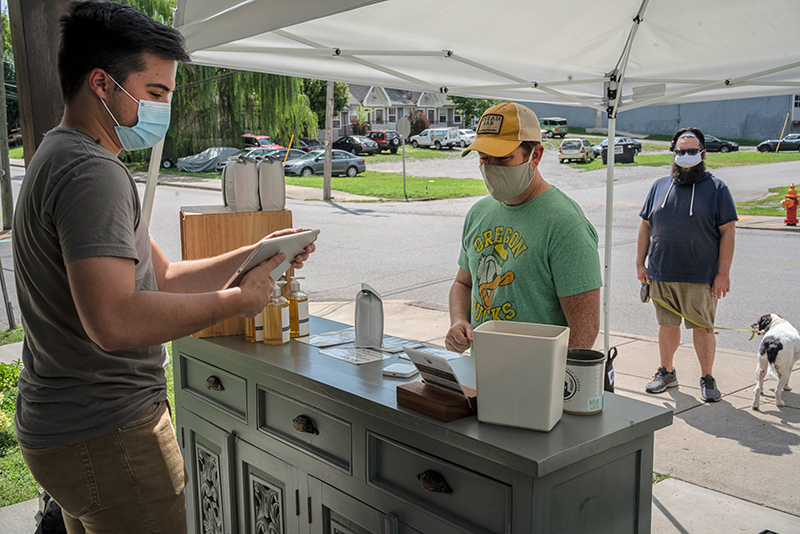 In a non-COVID season, Harvest Hands has met community requests for after-school activities, sports leagues, leadership training and more. Founded in 2007 by Hicks and his wife, Courtney, the organization has grown from a neighborhood gathering of a dozen or so kids to a nonprofit that brings in $500,000 a year in coffee roasting, brewed coffee and handmade soaps, in addition to gifts from individuals, churches and foundations.
Does your organization have empty spaces that could be re-imagined into a way to serve your community in this season?
There are typically 10 full-time staff and up to 50 more in various part-time roles — including those students. In the wake of COVID-19, the shop is currently curbside and delivery only.
After-school programs are shuttered for now, coffee and soap production continues with just a handful of students, and the once-bustling community center has transitioned to a quiet, safe and internet-ready space for younger children to take part in remote learning.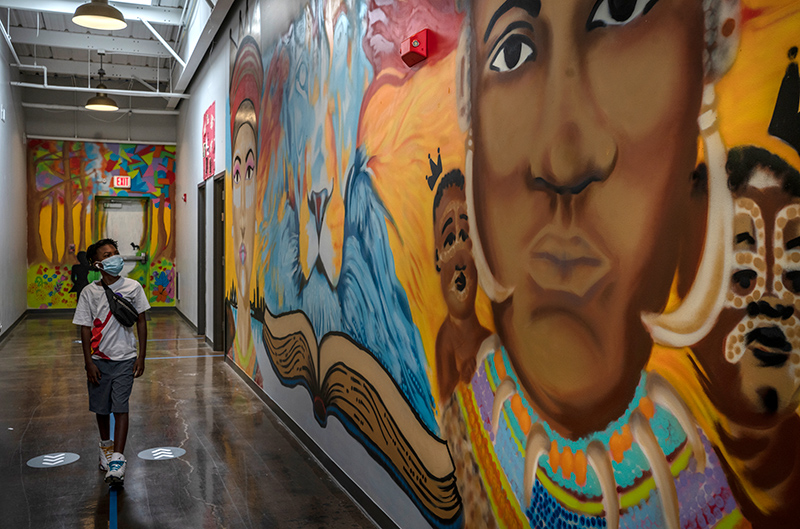 But the undercurrent of digging in for the long haul remains.
"Numbers are important," said William Parker, the Harvest Hands director of youth and mentoring. "But they don't dictate success."
'What do you love about your neighborhood?'
It was the Rev. Howard Olds who drew Hicks from Kentucky to the neighborhood. Olds was the longtime pastor of Brentwood United Methodist Church, an affluent congregation in an adjacent county. He was interested in neighborhood revitalization in South Nashville, not far from downtown; the church had the resources but not the manpower for the work.
Hicks, a seminary grad who cut his social activism teeth working in inner-city Philadelphia, Chicago's South Side and Louisville, was hired by the church to lead the nonprofit. As the organization grew, all other staff would be funded through Harvest Hands and represent a variety of denominations, experience and education.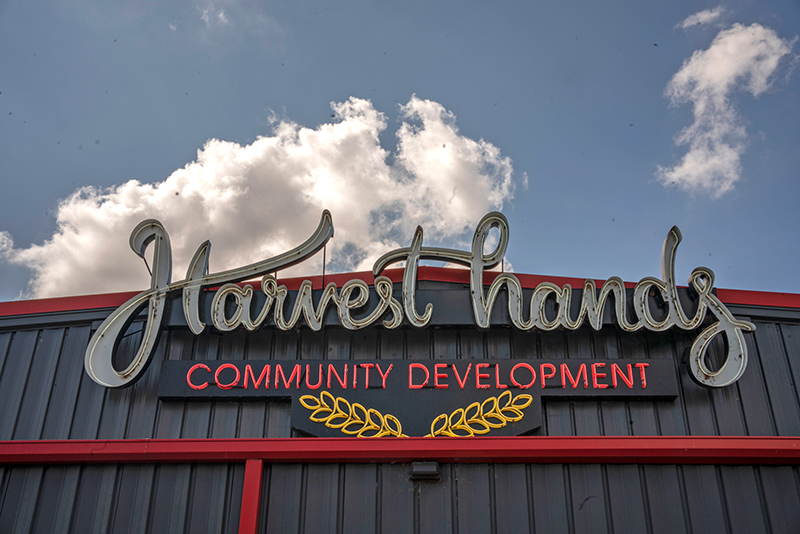 Hicks had been further inspired by the writings of John Perkins, co-founder of the Christian Community Development Association, and was ready to see communities empowered through true partnership rather than charity. He was ready to put down roots.
Olds, meanwhile, had attended a community meeting and was told that if he really wanted to make a difference, the church should buy the drug house on the top of a neighborhood hill.
Leadership Education at Duke Divinity recognizes institutions that act creatively in the face of challenges while remaining faithful to their mission and convictions. Winners received $10,000 to continue their work.
"So they did," Hicks said. "He didn't ask the congregation, which was made up of CEOs and leaders. He told them. And that became the entry point."
The house was torn down, and a fall harvest festival was held on the lot.
"The price of admission was a survey," Hicks said. "We asked them, 'What do you love about your neighborhood? And what would you change?'"
The residents were concerned about kids with nothing to do but get in trouble. An after-school program was a simple ask.
The newly formed Harvest Hands bought a small house and started working with children in 2008. It had outgrown that house by the following year, and the Methodist Church donated the building — the former Humphreys Street UMC — that would eventually become the coffee house. But things were just getting started.
Ruben Torres, an introverted middle schooler who would hunch over and fold into himself as if he didn't exist, was already part of the Harvest Hands program. Hicks saw promise in Torres and asked whether he might be interested in a new opportunity.
He could learn how to roast coffee, "a grown-up, adult thing that was super exciting," Torres said. Harvest Hands was looking for a social enterprise that would engage teens; a paycheck would be a definite draw.
Whom do you need to invite to get involved in your community's mission in a new way?
The church provided an introduction to one member in particular: Cal Turner Jr., former chairman and CEO of Dollar General. Hicks asked Turner for not only a Diedrich coffee roaster — a high-quality machine geared toward specialty batch roasting — but also a trip to the company's Idaho headquarters for himself and one other to learn how to use it.
"That's like learning to drive from Henry Ford," Hicks said. Turner told the then-30-year-old Hicks to write a business plan and he'd make it happen. Hicks enlisted the help of the teens. After a few tweaks here and there, Turner held true to his word.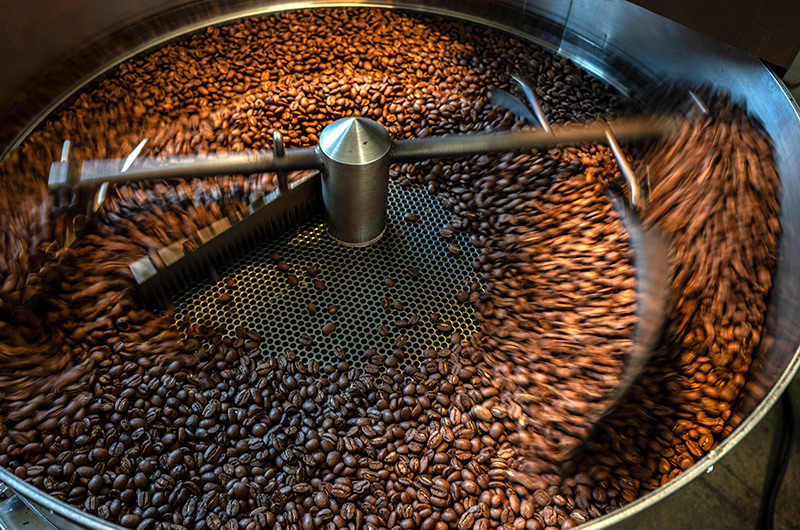 Torres was chosen for the trip. Today, he's production manager and head roaster, overseeing teens not unlike who he once was. Harvest Hands, he said, helped him learn about his value as a person.
"Something we very much believe in is that everybody in the community has the potential to be greater," Torres said. "There are also people who have the potential to be leaders. The talent is there. There's no need to bring a whole bunch of external factors."
It is easy to default to bringing in trusted external experts to start something new. What potential is already present in your community waiting to be invited to contribute?
He considers himself fortunate to have had an "awesome support system and great parents." His mother, Jael Fuentes, is now soap production manager at Harvest Hands. But Torres also understands he's in a position to model change, leadership and motivation for others. His own experience lends credibility.
"They take things to heart from me," he said. "As opposed to saying, 'You don't know my life.'"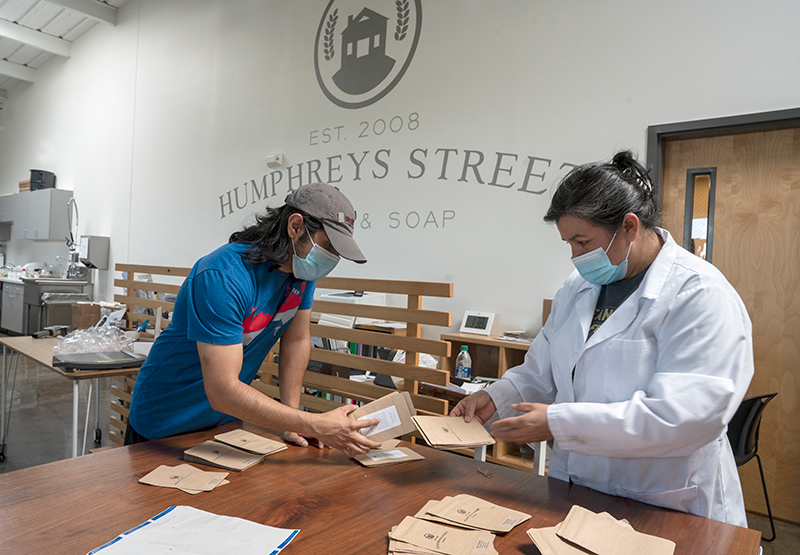 Giving it back to the people
As coffee and soap production grew, the Wedgewood-Houston neighborhood began to gentrify.
"The first thing we did," Torres said, "was to invite the community members in and say, 'What do you need? What do you see?'"
With housing costs rapidly rising, many were being forced out.
By 2015, Harvest Hands staff knew they needed to relocate. They met with members of the Napier-Sudekum neighborhood, less than a mile away, and learned of the need for after-school programs there, too.
Naturally, there were new challenges. Napier-Sudekum has more than 800 government housing units; crime rates and violence are high, and Harvest Hands notes that the average annual household income is $6,500. But it is also a community in which neighbors look out for each other and untapped talent is overflowing. Hicks found an old warehouse perfect for a community center and set to work.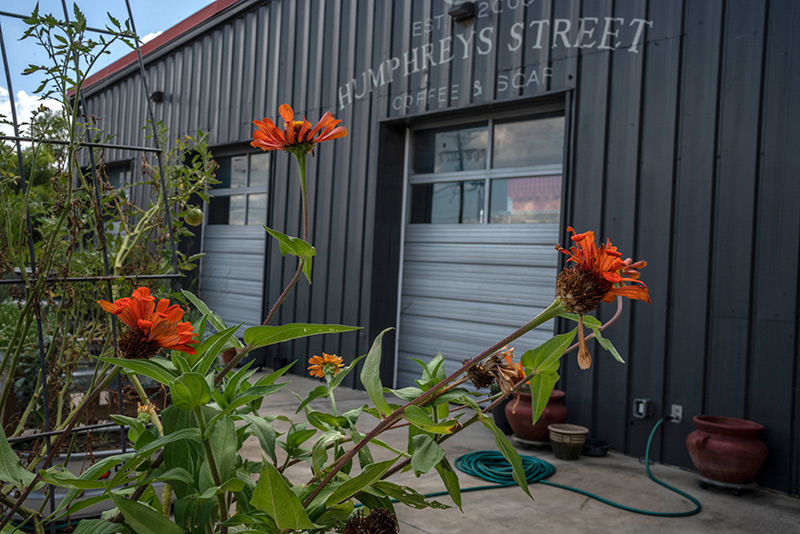 "It was the craziest thing," he said. "We beat the realtors and the developers to the building. As much as gentrification pushed people out, it drove up the price of that original crack house lot [in Wedgewood-Houston]."
The property that Harvest Hands had bought for $275,000 was sold to developers for $2.3 million, with plans to add shipping container units for "affordable" housing. The funds from the sale have been given back to the people, in essence, as Harvest Hands continues to expand its reach.
"It's creatively using gentrification for justice," Hicks said.
A call to reform
The bright and spacious community center in Napier-Sudekum officially opened in 2016. Named for Olds, who died in 2008, it is adorned with colorful murals and words like "integrity," "compassion," "love," "courage," "respect" and "wisdom." There's a playground and a large lab-like room that now houses two coffee roasters, stacked bags of coffee beans and packaged handmade soaps.
What do the spaces your organization inhabits communicate to others? How do you cultivate a space in which people feel valued?
As one of the first craft roasters in Nashville, Harvest Hands had steadily built a following that has helped sustain the organization through the pandemic. Online sales through its website include coffee from Africa, Central America, South America and Southeast Asia, in addition to liquid and bar soaps, laundry soap and a coffee sugar scrub. The brick-and-mortar coffee shop on Humphreys Street opened in 2018.
When people visit the Howard Olds Community Center, Hicks said, they often seem surprised at just how "amazing" it is. "Several things go through my mind — first, do you think these kids should not have a great space? Is it supposed to be a dump? We try to help kids believe that they are valuable and they are worth it."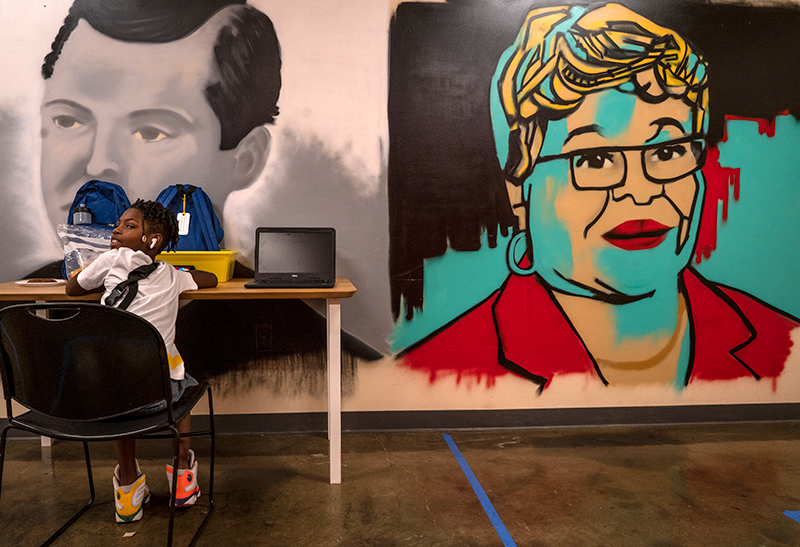 Jessica Holman, the organization's senior director of employee and community relations, grew up in the area and came to work at Harvest Hands while in graduate school at Vanderbilt University close to a decade ago. She knows firsthand that local residents have "inherent talents and skills," she said. "They just need opportunities to let them shine."
"I wish that people knew the people in these communities," she said. "There are some amazing people here. Intelligent. Creative. And I wish people knew about the sense of community here, too."
Consider Jarica Sanders, a self-employed artist, hair braider and mother of three. Her kids, ages 7, 8 and 10, have taken part in Harvest Hands programs for several years. They've played a variety of sports with the organization, participated in after-school programs, learned life skills, been encouraged in their faith and are now going to the community center for virtual learning. Sanders is hoping her oldest son, Lemy, will be able to gain work experience through Harvest Hands when he's older, too.
In her Napier-Sudekum neighborhood, she said, "if you don't know about Harvest Hands, I don't know where you've been." And it's not just the activities and opportunities for the kids. Sanders said the organization has a reputation for truly partnering with residents.
"We have parent meetings at Harvest Hands," she said. "They give us the chance to come in and tell them what's working and what's not working and what they could do better. They get the community involved, and I really like that. A lot of programs, they just come out and say, 'We have this, this and this.' But the people at Harvest Hands actually take the time to say, 'What do you need? What do you think can we add?' That's a very big help."
Harvest Hands follows the tenets of asset-based community development, which include focusing on those strengths, gifts and talents already present rather than just working to "fix" what's wrong.
How much of your organization's work is "fixing" what is wrong, and how much is building upon the strengths, gifts and talents already at work?
Parker, a Memphis minister who came to Harvest Hands in January, said those concepts had always been part of his story; he just didn't know them by that name.
Learning about the powers that systemically oppress communities — especially communities of color in urban environments — tugged at his heart. So did the opportunity to continue his work with teens.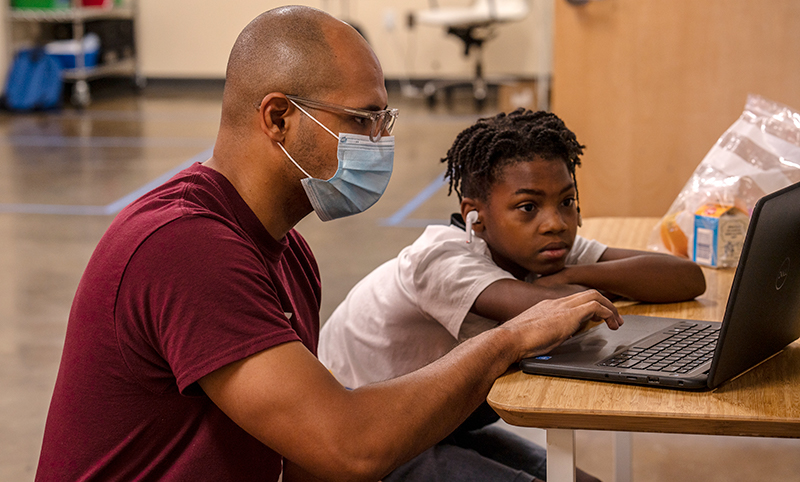 "It's not enough for me to just believe that Jesus Christ has changed the world through his actions," he said. "That same spirit that is in Jesus is in me, and it's calling me to bring reform, to change, to be with the community and say that it doesn't have to be this way. The gospel is more than just the theological ideology that we hold that sounds good on Sunday mornings. It calls for social reform to be in the mix.
"I'm just trying to lean into that social holiness piece and say, 'OK, justice is really close to the heart of God.' If I want to be able to understand how faith is played out in communities, I need to be in a position to hear stories and say, 'Where is God in that story, do you think?' … What drew me to Harvest Hands was to have space to ask the big questions without attempting to fix anything. That's where real healing takes place, where people are brought back to themselves."
Living Jesus out loud
That same hot day that customers were lining up for coffee at the shop, Parker was sharing a classroom in the community center with a middle schooler taking part in remote learning; the city's schools had not yet opened for in-person classes because of COVID-19.
Across the hall, Chartrice Crowley, the director of elementary programs, had a handful of younger students of her own. The kids have been on alternating days from 7:30 a.m. to 1 p.m., mindful of social distancing limits, with sibling schedules matched to ease the burden for parents.
This effort, too, came from going to the community and asking rather than assuming what was needed. It is the difference in saying, "We are here for you, not because of you," Parker said.
How might your organization's work be different if it existed "for" people rather than "because of" people?
In more normal seasons, Crowley plans after-school enrichment opportunities like African drumming and ballet, homework time, personal development, fun, and a faith component. Harvest Hands allows her to "live Jesus out loud" in a way that working in a public school would not.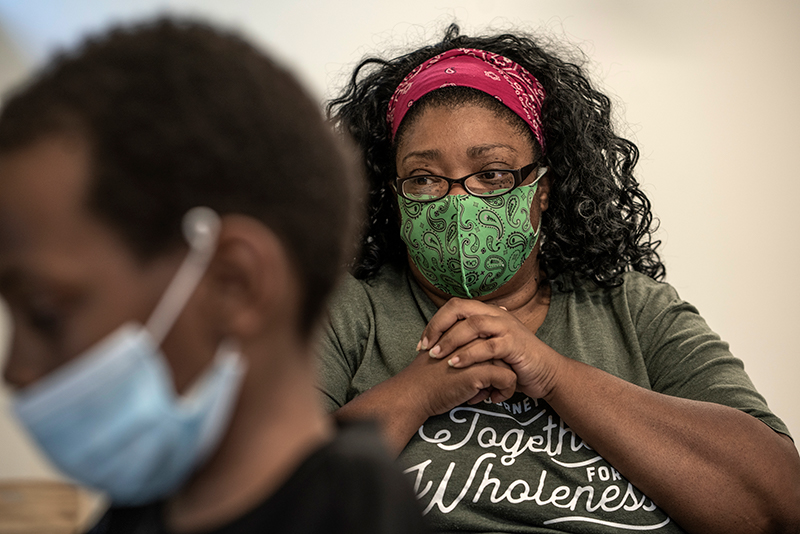 "The thing that makes me most proud about working here is that I get to see the fruits of the seeds that have been planted," Crowley said. "I get to see greatness every day. These kids are amazing. They're fun. They're witty. They're smart. They blow me away every day with what they know." Even when they're figuring out learning through a screen.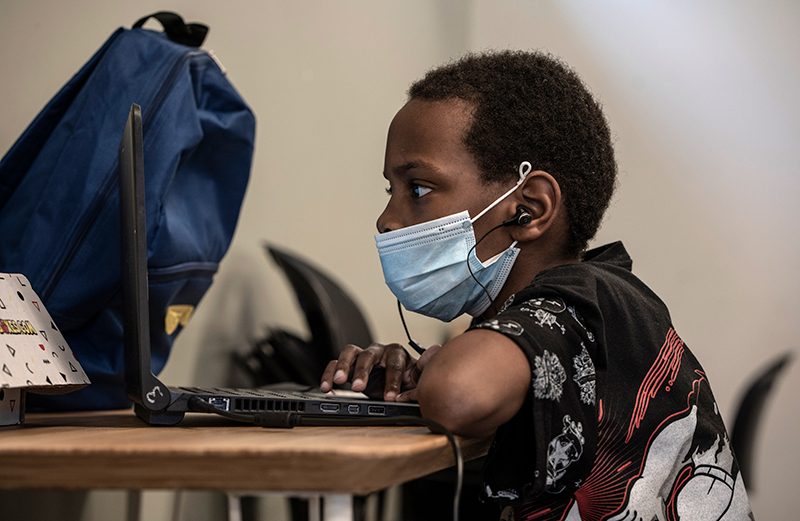 There's a cultural element to Harvest Hands, too, one that opens doors of opportunity, knowledge and respect for the predominantly Black community. Classrooms, for example, are named for historically Black colleges and universities, with those names changing each semester to increase exposure.
"Students are placed in their 'house' at the beginning of each semester," Holman said, "and they participate in house games throughout the semester, where they are able to win prizes. We think it's important for our students to know the history of HBCUs, why they were created, and that they are an option for them to further their education. It's important that they learn about Black excellence at an early age so that they grow up learning that greatness lies within them."
Local street artist Charles Key serves as another inspiration; his work can be seen throughout the community center (as well as at various Nashville sites). There are portraits of lesser-known Black leaders — many of them from the area — on the walls of the middle school classroom.
Overall, the ongoing uncertainty of COVID-19 makes some aspects of the future unclear. What is clear is that Harvest Hands will keep asking the community what it needs and endeavoring to incorporate the resources available to bring it about.
Torres hopes to develop a roasting certification program for the students he oversees. Hicks is looking forward to hallways full of kids once again. Parker is exploring pathways to success for high schoolers. And Holman will keep seeking opportunities to tell the story of long-term vision and sustainable success.
As for others hoping to do the same? Holman suggests that they'd do well to check their "why."
"Will you be there for the long haul, willing to relinquish power to the people within the community and let them shape it?" she said. "Our goal, at the end of the day, is to work ourselves out of a job. If we're doing what we aspire to do, that means the community will lead. Then they'll be the ones out there doing what needs to be done."
Questions to consider
Questions to consider
Does your organization have empty spaces that could be re-imagined into a way to serve your community in this season?
Whom do you need to invite to get involved in your community's mission in a new way?
It is easy to default to bringing in trusted external experts to start something new. What potential is already present in your community waiting to be invited to contribute?
What do the spaces your organization inhabits communicate to others? How do you cultivate a space in which people feel valued?
How much of your organization's work is "fixing" what is wrong, and how much is building upon the strengths, gifts and talents already at work?
How might your organization's work be different if it existed "for" people rather than "because of" people?