Leading joyfully and being led by joy
In a room full of Christian leaders, no one made eye contact when the convener asked, "Why does leadership so often feel joyless?"
A few folks chuckled nervously and shifted in their seats. "Is sustained joy possible for leaders?" he continued.
Conviction fell heavy in the space — reality juxtaposed with expectation. I could imagine the other attendees' thoughts swirling through the air, because I shared a number of them.
Leadership is hard enough as it is; now I need to have joy while leading?
I'm lucky to feel sparks of joy every once in a while, but sustained joy is pushing it.
"I have said these things to you so that my joy may be in you, and that your joy may be complete" (John 15:11 NRSV). Ugh. Please don't bring Jesus into this. It is so much more comfortable to sit in my personal pity party of busyness as a Christian leader. I don't have time to cultivate joy while I lead. I can't do one more thing.
As I was making a list of all the ways other people were stealing my joy, the convener asked another question: "What are you doing to block your own joy?"
Now it is my fault? I like joy! I want joy! As a leader, I teach people how to live into their joy all the time. I would never block my own jo… Oh.
I thought about the people and activities that help me experience joy in my work. With little effort, I made a list of 10 people who always prompt joy for me when I work with them, no matter what the topic or task. I made a list of tasks that bring joy — emails I like to send, calls I enjoy making, projects that are fun to plan or execute.
Then I looked at my calendar from the past year. The names and activities from those lists were glaringly sparse among meetings and tasks I recall avoiding, dreading and not wanting to repeat. I had been blocking my own joy.
The convener was asking what Ron Heifetz refers to as "balcony" questions. Heifetz espouses the need for leaders to spend time metaphorically on both the "dance floor" and the "balcony" of their work.
Out on the dance floor, our vision is confined to what is immediately in front of us. It is a challenge to get a sense of what else might be happening in the space and among the dancers. Reflecting on our work from the balcony allows us to see trends, patterns and collaborative possibilities, as well as larger and long-term challenges and opportunities.
Time on the balcony enables leaders to consider how our gifts and goals intersect with those of our organization. We may notice shifts in our vocation and where God might be leading. We can take stock of what work brings personal and professional joy, as well as what activities block our joy.
Getting on the balcony looks different for every leader. Depending on what I need from my balcony time, I might go to a beautiful, quiet, secluded space for a few days. Sometimes, my balcony companion is more important than the setting. Certain friends and colleagues are trusted conversation partners who will challenge as well as affirm my thoughts and questions, help me listen to God in new ways, and help me discern creative paths forward.
While a day or two on the balcony a few times a year is optimal for me, sometimes that isn't possible. Yet even stealing away for a few hours or an afternoon to think big thoughts and ask long-term questions is worthwhile, because I know that my joy depends on it.
I've learned that joy is hard to find when I feel relentlessly overwhelmed, burned out or unable to articulate my priorities because everything seems urgent and important. That is when the balcony beckons me to climb above the fray to spend time in conversation with God, reflecting on my past, present and future.
Prioritizing time on the balcony can be a challenge. Unreasonable and unachievable societal expectations lure us into believing that our time is best spent producing something that can be monetized and scaled. Initially, balcony time might feel selfish, frivolous or indulgent, regardless of how necessary it is for clear and effective leadership. But in fact, ironically, few feelings are easier to scale in leadership than joy.
We can take stock of what work brings personal and professional joy, as well as what activities block our joy.
Clearly articulating sources of joy is a fundamental step toward experiencing more of it. Getting on the balcony to prioritize the people and activities that bring joy follows. An effective next step is a conversation with supervisors and colleagues, discerning how we can do more work that brings joy to us and delegate or share other work that might bring joy to others.
When our vision, values and vocation are rooted in joy, and specifically God's joy made complete in us, our charisma as leaders is contagious. Creative, talented, resourceful and motivated people want to work with such leaders, because everyone wants to experience joy in their work. Knowing what it feels like to lead with joy makes it really challenging to lead without it.
It is easy to blame others for our lack of joy. Too often, though, we are the ones blocking it, through how we spend our time or with whom. Prioritizing balcony time to get clear about what work needs to be done, what work only we can do and what work sparks joy, enabling us to lead others into worthwhile work that is not only done joyfully in the short term but sustained with joy in the long term.
By late September 2022, as the senior pastor of Great Hope Baptist Church in Richmond, Virginia, the Rev. Melvin F. Shearin II had worked every Sunday since the beginning of the year.
Although he was hired as a full-time pastor seven years ago, and he views this work as a calling, he has found that his compensation does not fully cover health care and other essentials.
So in addition to his standing duties as senior pastor, Shearin has taken on additional employment. Over the years, he has worked as a call center manager and at a local gym and has even started his own travel business, to ensure that he can meet his financial obligations.
Bivocationalism is not a modern phenomenon, especially for pastors in historically Black churches and those that serve Latino and immigrant populations. According to the 2021 report of the National Congregations Study, one in three congregational leaders (35%) is bivocational, and one in five (18%) serves multiple congregations. And the number is growing as congregations shrink.
"Seeing pastors doing part-time ministry is nothing new. It goes back, of course, to biblical times and the apostle Paul being a tent-making pastor," said the Rev. G. Jeffrey MacDonald, the author of "Part-Time Is Plenty: Thriving Without Full-Time Clergy."
MacDonald, who himself works as a reporter, consultant and United Church of Christ pastor, pointed also to Peter and other disciples — fishermen who left their nets to follow Jesus but still continued to fish.
In fact, even in more affluent countries, it's only been during the last couple of centuries that it became more common to have one pastor full time in one local setting, MacDonald said. It wasn't affordable until congregations started to have more wealth in the late 19th and early 20th centuries.
These days, pastors may choose bivocationalism for personal reasons, such as pursuing a second calling or career by choice, but also for economic reasons, out of necessity. That can be difficult for pastors and congregations that regard bivocationalism as a sign of failure.
"An unstated concern is often stigma. North American churches are shaped by a full-time bias, supported by the beliefs that money equals success and bigger is better," noted the Rev. Dr. Darryl W. Stephens. He is the director of the Pennsylvania Academy of Ministry, an ordained deacon in the United Methodist Church and the editor of the book "Bivocational and Beyond: Educating for Thriving Multivocational Ministry."
"Even in traditions in which bivocational pastorates are the norm," he said, "people often measure themselves and their churches against a full-time ideal."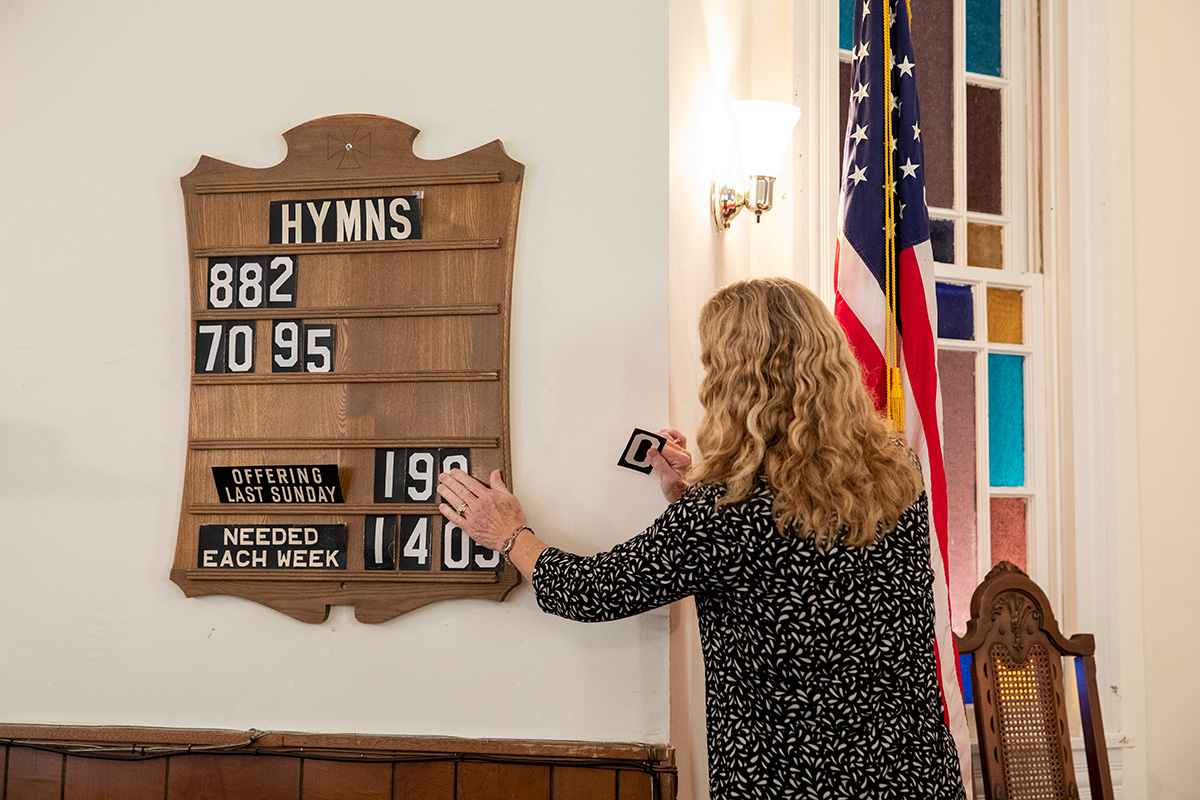 Bivocationalism as an economic necessity
The context for decisions to be bivocational can vary, but economic pressure is part of the picture.
In the United States, the mean annual wage for clergy is $57,230, and the mean hourly wage, $27.51, according to 2021 data from the U.S. Bureau of Labor Statistics. (Some mainline denominations set salaries for their clergy, while others do not.)
Pastors' salaries have remained stagnant or declined compared with those of other helping professionals like social workers and teachers, said Elise Erikson Barrett, the coordination program director for the National Initiative to Address Economic Challenges Facing Pastoral Leaders, an initiative of Lilly Endowment Inc., hosted by the Center for Congregations.
Church membership has continued to slip, and the pandemic has many church leaders feeling uncertain about the economic picture. At the same time, inflation has skyrocketed, with consumer prices seeing their largest increase in 40 years in June 2022, according to the U.S. Bureau of Labor Statistics.
Some churches have adjusted their budgets, and more pastors may find that a second or even third job is needed. But context for these decisions varies.
Do you think of bivocational ministry as "less than" full-time ministry? If so, what might change your mindset?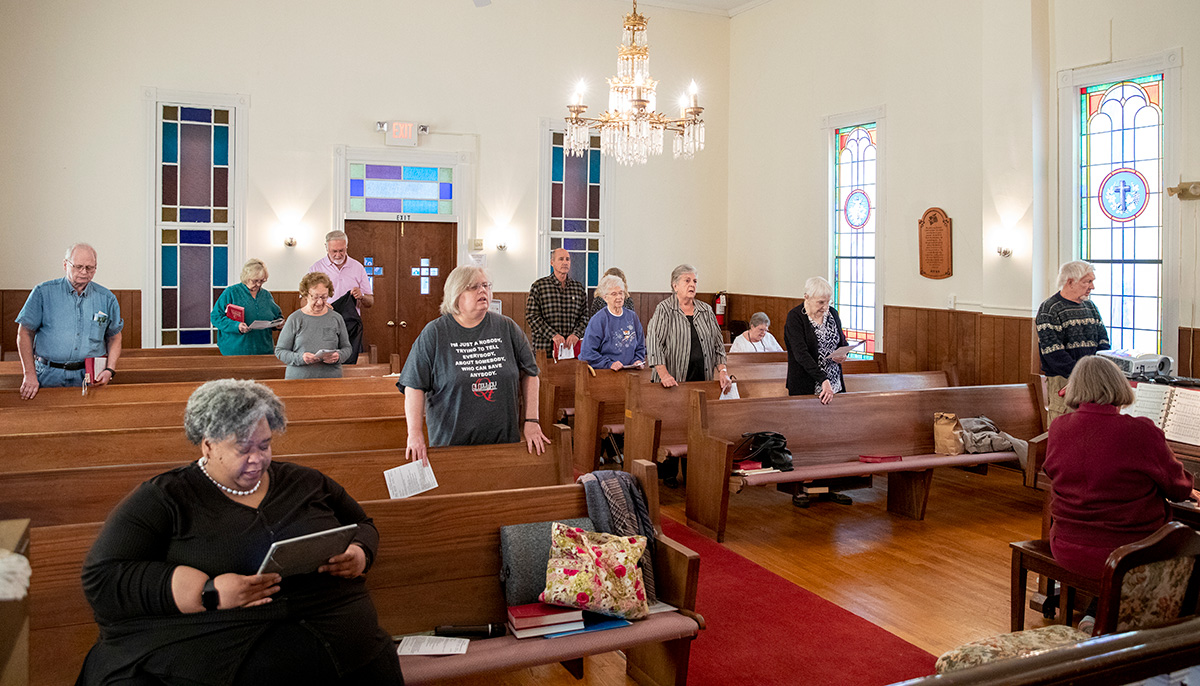 For instance, in a setting where divinity school is required for ordination, seminary debt can be the pressing economic issue, Barrett said. While concerted efforts are being made to reduce the cost of a theological education, the U.S. student debt crisis can affect pastors in the same ways it affects the rest of the population, she said.
In a setting where a master's degree isn't required but a church's budget doesn't offer a benefits program, "it may be medical debt or health care that's the presenting economic issue," she said.
And pastors who are female, as well as pastors of color, are more likely to be in low-income, small or rural congregational settings, Barrett said.
How might having a bivocational pastor benefit both the clergyperson and the congregation? What might be the losses?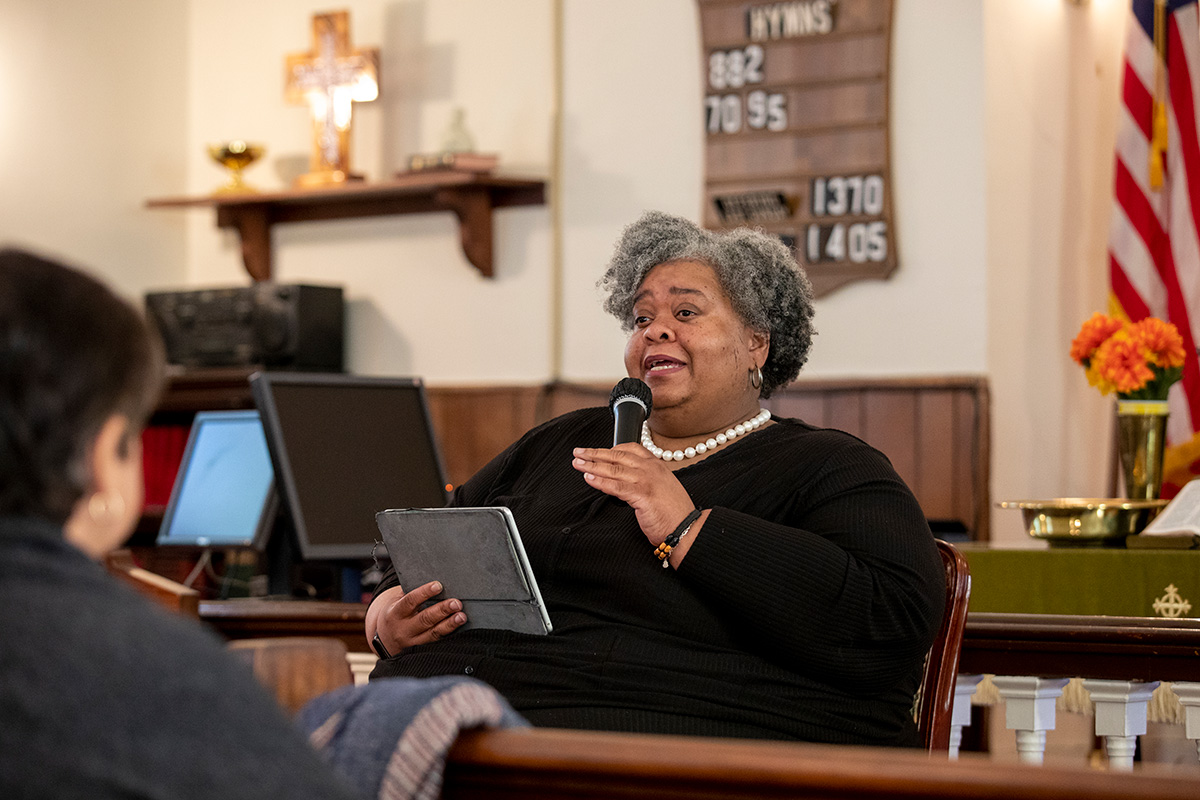 The Rev. Rochelle S. Andrews is the senior pastor at Pleasant Grove United Methodist Church in Ijamsville, Maryland, as well as the associate director of the Center for Public Theology at Wesley Theological Seminary.
She said she appreciates both of her jobs, because they appeal to her passions, but acknowledged the economic side of bivocationalism for many Black pastors. Andrews, who is ordained in the African Methodist Episcopal Church, noted that redlining and other systemic racism is a reason many Black churches still don't have the same resources as some of their white counterparts.
Given this history, white churches would do well to look outside themselves for guidance in considering bivocational ministry, MacDonald said. "This is an extremely rich area for predominantly white churches to learn from churches that have a different racial and ethnic mix, because the experience and know-how is largely vested in the Black, Asian and predominantly immigrant churches."
Mindset matters
Many long-term bivocational pastors do consistently manage and balance their roles. But for pastors accustomed to being fully funded through singular positions, bivocationalism can feel like a shock.
These pastors' challenges can be emotional and psychological when they move from only serving at church to having to clock in elsewhere, said the Rev. Dr. Ira E. Antoine Jr., who works as both an ordained Baptist minister and the director of the Bivocational Pastors Ministry for the Baptist General Convention of Texas.
Still, people considering bivocationalism should look at what they are gaining, Stephens said, and not regard it as a loss.
"In some ways, [bivocationalism] is liberating. Freeing. I get to set my own schedule in many ways. In other ways, I'm constantly running up against that full-time bias in my own mentality," Stephens said.
"I have to remind myself that I'm good at what I do, that I'm called to teach — in my case, my ministry is teaching, research and writing — and that I'm not defined by my paycheck. And I have to keep reminding myself of the advantages of being bivocational, the flexibility and things like that."
And though pastors may sometimes feel "less than" if they are bivocational, or that a congregation is somehow "less than" because its pastor has to have two jobs, "we're trying to change that course and that mindset," Antoine said.
The Christian Reformed Church in North America has begun offering one of many experiments in bivocational ministry, in this case providing a yearlong Bivocational Growth Fellowship to folks considering a change. It provides financial support, resources and a peer group to help with the discernment process. The fellowship is part of a larger CRCNA project called Financial Shalom, funded by Lilly Endowment Inc.
The first cohort convened in 2021. Thirty-five pastors have taken part so far. Monthly gatherings on Zoom, hosted by a longtime bivocational pastor, offered participants a chance to talk with entrepreneurs, people pursuing a "side hustle" and financial planners, among other guests.
Some participants were already working and planting a church, some were right out of seminary, and others were considering a switch from full-time ministry.
"[Bivocationalism] doesn't work for everybody, but for those who did it, having the group of peers together was the big win," said Zach Olson, ministry vocational consultant at the CRCNA.
Who in your life could advise you about managing a transition to bivocational ministry? Are there people within or outside your denomination or tradition who could share their wisdom?
Advice for pastors considering bivocational ministry
For pastors considering bivocationalism, whether it's by necessity or because they feel called to it, there are key steps to take, experts and practitioners say.
Secure a flexible second vocation. In today's digital world, where so much work can be done remotely, there is room for bivocationalism for pastors, said MacDonald, the pastor and journalist.
Pastors should understand that carving out a second vocation is possible, but they should also ensure that it fits into their lives. For instance, if a pastor prizes being physically present at church on a regular basis, a second job with a long daily commute may not be a good fit.
In addition, if pastors are seeking an outside job where they would report to a supervisor — as opposed to setting their own tasks or hours by working as an entrepreneur, consultant or freelancer — they should ask questions about expectations, duties and the work schedule during the interview process.
Shearin, the pastor of Great Hope Baptist Church, said this is an important step because there may be tasks that aren't included in the general job description. Shearin also advises asking whether the job will provide "wiggle room" to do funerals, weddings or other church events.
He said the crucial question for pastors is, "Can you find a job that's willing to work with you?"
Communicate with the congregation. Oversight of second jobs can vary, with hierarchical churches potentially requiring approval of the bishop if the pastor or priest is to work outside the parish, MacDonald said. But whether or not pastors need this approval, communicating with the congregation about the situation — and getting buy-in — is a good idea.
"So much of this going well relies on a healthy, mutually respectful and mutually caring relationship between a pastor and the congregation, where economic issues can be discussed honestly and openly and without blame and shame," said Barrett, the coordination program director for the National Initiative to Address Economic Challenges Facing Pastoral Leaders.
There are many ways that bivocationalism can work, but adaptation can be hard, she said. "The thing that can make it life-giving is that healthy relationship and a shared vision for why we're even doing this in the first place."
Acceptance from the congregation can be essential to a good experience.
"The success of bivocational pastorates hinges, in large part, on the ability of the congregation to embrace an understanding of ministry that differs from what they may have been taught to expect, at least in predominantly White, mainline Protestant traditions in North America," Stephens wrote in "Bivocational and Beyond."
Setting clear boundaries is also a good idea, MacDonald said, noting that churches can confirm expectations by drafting a new contract to describe the responsibilities of both the pastor and the congregation.
"In a church where they really understand that you are their part-time pastor," Andrews said, "they recognize that you have a life outside, other than them, and you just find a balance."
How might you approach your congregation about discerning whether to move to bivocational or part-time ministry? Would they embrace an understanding of ministry that differs from what they might have expected?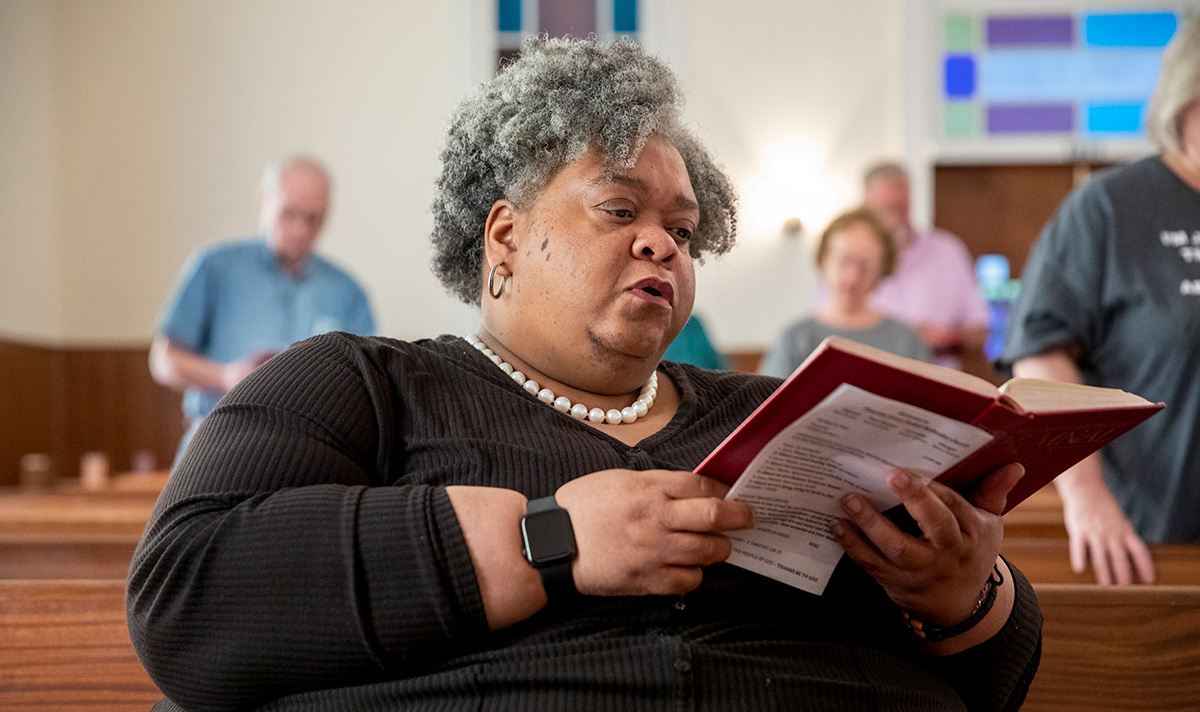 Plan ahead and practice good time management. When pastors have two (or more) sets of professional obligations, planning and time management are essential — especially since a second job can be exhausting.
To help with organization, Antoine, who has two full-time jobs, said pastors should plan their calendars as much as a year in advance, blocking out key professional and personal events such as vacations, holidays, scheduled commitments (when known) and more.
They should also determine how much time, on average, they need to dedicate to each job to do each one successfully, then plan their days accordingly. And though unexpected events do happen, it can be helpful to talk with church staff and members about their desired schedules, said Antoine, who is with the Baptist General Convention of Texas as well as serving as a pastor.
Embrace remote work, self-care and help from others. All can be important to avoid burnout.
Andrews said a difference for bivocational pastors is that they may not physically be at the church office every weekday. But there are other ways these leaders can show care for their congregations.
For instance, Andrews said her church members can call her cell anytime (she texts back if she can't answer). She does Bible study Tuesday nights via Zoom, and she continues to preach in person on Sundays.
"As a part-time pastor, find the ways you can be present for them, so that when there may be times you can't because something comes up, they don't feel it," Andrews said. "Hearing them, listening to them, really, really goes a long way."
Pastors also can do tasks like planning sermons and the order of worship (as Andrews does weekly) while off-site.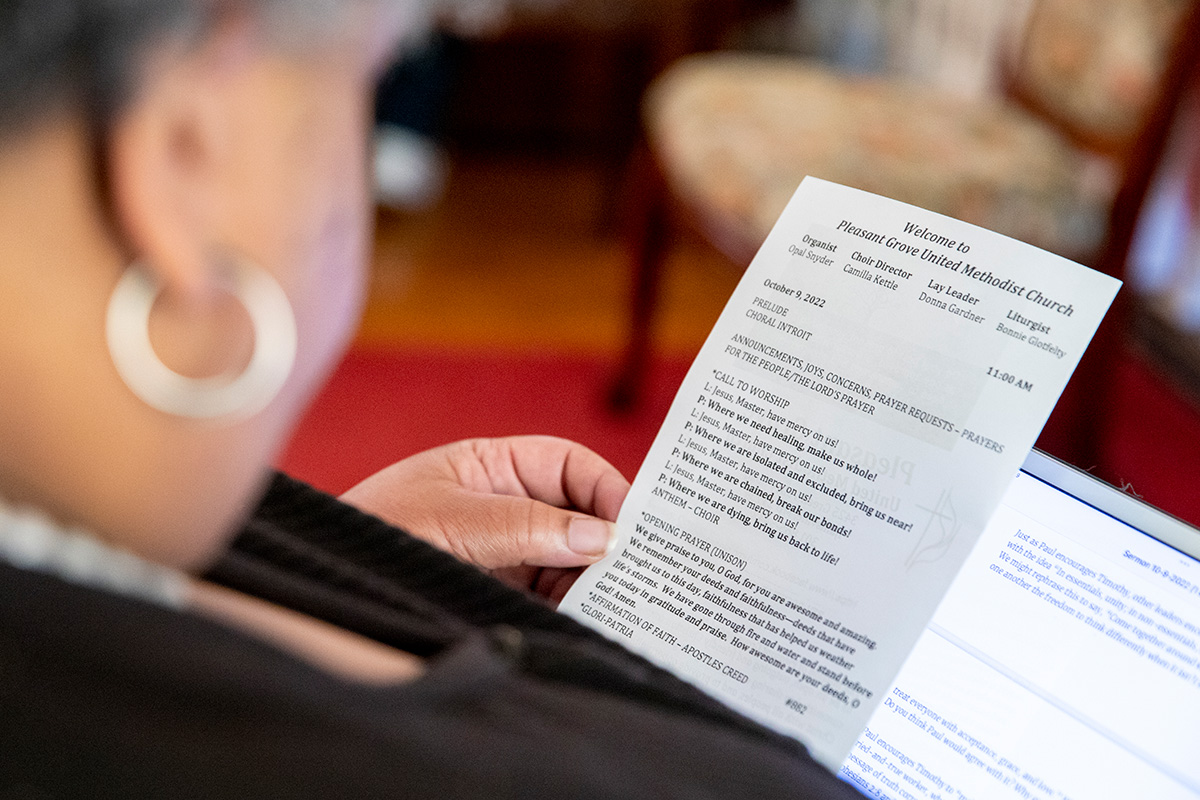 Pastors don't have to be all things to all people, Antoine said, noting that it's OK to delegate some tasks. After working 40-plus hours per week at his staff job and 32-40 hours per week on the church side, he planned a sabbatical from church this July and synced it with two weeks of leave from his second job.
"Self-care must be intentional, and you have to overcome the guilt," he said.
Depending on the activity, laypeople, elders or other church staff can pitch in. Perhaps a layperson can do certain outreach activities, or a church elder can select hymns. Some theological or sacramental duties are those of pastors alone, MacDonald said, but clergy certainly don't have to do everything themselves.
Be open to the joys and benefits of bivocationalism. Of course, this orientation may be easier if the pursuit of bivocationalism is a choice as opposed to a necessity. But either way, benefits can be more than economic. They also can include being in a position to help more people, widening a professional knowledge base and living out a calling — or callings.
For example, MacDonald, who has worked as a pastor and journalist for more than two decades, has been able to both research bivocationalism and practice it, he said. When he learned he could serve a church and continue his prior profession, it was exciting, he said.
"I learn stuff in journalism all the time that I will refer to in a sermon, and it's a blessing. It's a benefit to the congregation," he said. "I'm a more interesting pastor because I move around and interview interesting people."
Andrews also said that her job offers new chances to connect with community members and leaders. And seeing a pastor with a second job can help community members better relate to these faith leaders, she said.
"This is a real opportunity that's opening up," MacDonald said. Instead of limping along, he said, bivocationalism can be a liberating way for laypeople to spread their wings in ministry and for the church to establish community partnerships.
And, he said, it can allow pastors to become "more stable, more stimulated, more creative, have more to offer to your church and really find that this may be a great blessing to the pastor as well as to the congregation."
Burnout is an issue for pastors, whether they have one job or more. How might you manage bivocational ministry so that you don't burn out?
Questions to consider
Do you think of bivocational ministry as "less than" full-time ministry? If so, what might change your mindset?
How might having a bivocational pastor benefit both the clergyperson and the congregation? What might be the losses?
Who in your life could advise you about managing a transition to bivocational ministry? Are there people within or outside your denomination or tradition who could share their wisdom?
How might you approach your congregation about discerning whether to move to bivocational or part-time ministry? Would they embrace an understanding of ministry that differs from what they might have expected?
Burnout is an issue for pastors, whether they have one job or more. How might you manage bivocational ministry so that you don't burn out?
A pastor from a small Methodist congregation in Indiana has to borrow a smartphone from one of her elders. She watches a quick tutorial on Facebook livestreaming, then films a makeshift service from her living room.
And there's the pastor of a rural Presbyterian church who discovered that the church did not own a tripod — moments before recording his first online service. He fastened his iPhone to a ladder with duct tape.
These are just some of the stories coming out of the Tech in Churches During COVID-19 research project, a two-year study on how churches and their leaders have adopted — and adapted to using — digital technology in ministry.
Funded by Lilly Endowment Inc. and working with the Center for Congregations, a team from Texas A&M University is investigating 2,700 congregations that received grants to purchase technology resources during the pandemic to enable them to move their services online.
Before 2020, many churches had never considered the importance of having Wi-Fi connections in their church buildings, let alone internet-enabled cameras or livestream setups. In fact, most American pastors likely never even considered holding worship services online.
Yet the COVID-19 pandemic, ensuing lockdowns and social-distancing regulations quickly showed congregations that having access to up-to-date digital media technology was not simply a novel ministry opportunity but a necessity.
The forced migration of worship services online in March 2020 brought with it many stories of churches being caught off guard by these new technological requirements.
Nearly two-thirds of pastors in this study felt that of all the new things they were asked to take on during the pandemic, it was technology work and decision making they felt the most unprepared for.
Through conversations with 500 church leaders, we heard responses like, "This wasn't the job I signed up for as a pastor"; "I have no training in 'putting on the tech hat'"; and, "I am a novice at tech — but the only one willing to try and get the church online."
Leaders' widespread lack of technology skills, knowledge and experience was further complicated by the digital divide, which many churches encountered for the first time. The digital divide describes the gap between individuals and groups that do and do not have access to technology, especially the internet.
The experience of the pandemic revealed for churches the challenge of what it means to be among the digital have-nots. Smaller and rural congregations in particular discovered that being in a community with limited internet access was not just a disadvantage but often a major barrier to acclimating to or addressing changes in gathering.
Yet the struggle was often more than churches simply not having key technologies on hand or the funds to purchase them. Many congregations battled self-imposed limitations on technology and roadblocks they created for themselves.
This we describe as digital reluctance, an unwillingness among leaders and/or members to embrace technology due to fear or lack of familiarity.
This was expressed by senior members of congregations as well as by church leaders, and this digital reluctance often prevented them from innovating worship and adapting to public gathering limitations.
For example, one leader, who described his congregation as "very anti-tech" and said that he personally "never had an interest in going online," felt that these factors created significant obstacles for his church during the pandemic. In his view, the congregation's initial reluctance to consider or even experiment with technology-driven service solutions created unnecessary tensions during already uncertain and tense times.
In other cases, congregational resistance toward technology often corresponded with a church's general unwillingness to change its liturgical practice or re-envision the church. As one pastor said, "For some, getting on board with online worship was seen as giving up on the core of their faith."
Digital reluctance also created friction in some churches between the generations. Younger and more digitally fluent members, excited about the possibility of re-imagining the church through digital platforms, often found themselves in conflict with older members or those less familiar with digital media.
Some leaders said the generational digital divide, and the tensions created around it, contributed to the slower return of some younger members once face-to-face services resumed.
"Some of those folks haven't returned. … Our seniors were taught that you were here every Sunday, so they're ready to be back. But that's not the case with our younger people and those who were willing to try to go online from the start," one pastor told researchers. "Time will tell what impact online tensions created."
As a grand experiment and learning opportunity, the digital transition many churches underwent during the pandemic provides us with several valuable lessons.
First of all, our research found that pastors who had a positive and open mindset toward changing worship practices and/or engaging technology had a less stressful experience adapting to the challenges of the pandemic. This shows that attitude can greatly influence one's outlook in times of forced change.
Second, congregations and their leaders who were willing to experiment with technology and learn from mistakes made in the process found that moving to online services opened up the possibility to reconsider the very nature of church.
Congregations are asking questions, for example, about whether church is primarily defined by its Sunday worship service, its community outreach, its technology use or something else. This is a challenging and tiring task, but pastors who felt empowered to be creative in their problem solving seemed to demonstrate greater resilience when handling pandemic stressors.
Third, pastors who used difficulties with technology to facilitate conversations about the nature of the Christian community helped create space for new perspectives to be shared.
This helped refocus the discourse from what was lacking in online worship to one centered on exploring new opportunities for community building, such as reinventing how small groups meet, how leaders perform pastoral care and how hybrid Sunday school can redefine religious education.
While the digital divide continues to be a challenging reality for many churches, the pandemic revealed important traits church leaders need to prepare for future cultural disruptions and technological shifts. Duct tape and an online tutorial won't solve all church tech problems, but they do demonstrate creativity and a willingness to try — which can go a long way in moving churches forward.
A team of people keeps me healthy in ministry. Spiritual director, colleague group, friends inside and outside the church, therapist — each of these companions plays a part.
But it had been a while since I had a mentor.
In my 40s, having been ordained for several years, I became that person less experienced colleagues sought out for guidance on navigating the ordination process and leading a parish. I knew how "the system" worked. I had witnessed enough conflicts, made enough mistakes, midwifed enough new ministries to feel qualified in offering encouragement, coaching and timely cautions.
Then about a year ago, I found myself in my 50s, contemplating what I expect to be my final decade of active, full-time ministry. Newly vaccinated against COVID-19, aware that it was impossible to predict all the ways this pandemic would reshape the church, and seeing glimmers of hope in coalitions forming to seek justice and offer mutual aid, I knew I needed a different kind of companion. I needed someone to help me navigate the new landscape. Someone less invested in shoring up what had been and more open to imagining what could be than was the tendency for "experienced" people like me.
I needed a mentor. Specifically, a mentor younger than myself.
What is sometimes called "reverse mentoring" has been around the business world since the 1990s. First introduced so that younger workers could bring older executives up to speed on the internet, the practice is now valued for less technical reasons. Younger mentors are now sought out for their perspectives and insights, not just their technical expertise.
That was the case for me. I wasn't looking to be coached on optimizing social media or setting up breakout rooms on Zoom. I wanted a conversation partner to help me imagine sustainable ways to pastor and encourage disciples of Jesus at a time when the relationships at the heart of the church, wounded by pandemic separations, were more precious than ever.
My mentor, Caleb, is a person I mentored about a decade ago, before he was ordained. We both like to wonder out loud; we are fond of asking, "Why?" "What if …?" and even, "Why not?"
In addition to being separated by a generation in age, we have enough differences in gender expression, ethnicity and class background that our perspectives vary in fruitful ways.
We live close enough that it's easy to meet once a month for coffee, although we've used Zoom when inclement weather and COVID restrictions have required it. Usually, I have something in mind I want to discuss; often, I'll start thinking about a topic a week or so before we meet.
Sometimes I ask about his ministry with young adults. Learning what they're doing is instructive for me as the interim priest-in-charge of a medium-sized parish of mostly older adults. Like our 20-something friends, we're also facing a new stage of life.
Caleb emphasizes practices, like teaching mindfulness and contemplative prayer, rather than institutionalized "programs" that may not be sustainable. And he consciously sets aside time for his ministry partners to ask open-ended questions about faith, the Christian tradition, and how Jesus and the communion of saints can be their daily companions.
My parishioners are just as hungry as his to reconnect with God and each other; if they weren't pondering deep and challenging questions before the spring of 2020, they certainly are now. So my mentor reminds me to open up spaces to pray together and to offer our grief, hopes and questions to God and each other.
He also reminds me to make time for fellowship, simply to enjoy each other's company. A remark Caleb made early in our relationship, "Consider the lilies," has become a refrain for me. It's a reminder not to let anxiety dominate my ministry but to rest and trust in God, who creates beauty and delights in it.
We know that our arrangement is still relatively unusual. As Caleb has said, "It is often our culture's approach (especially in the church and government) to presume that the world belongs to those who have accumulated the most of something, whether degrees, dollars or years of experience" — and further, to presume that these same people have "all the best insights regarding how to be in that world." In subverting these assumptions, we believe we're being faithful.
Caleb has reminded me that "overturning unhelpful cultural norms in the pursuit of Christ's community and wisdom" is actually a part of our faith. Having entered adulthood during the Great Recession, he learned early that the quest for material security can be pointless and that our relationships are often our greatest wealth. Jesus teaches the same thing, and we keep having to relearn the lesson.
Our conversations move me to question assumptions. When I tell him my parish is aging — as are many churches — my mentor reminds me that a congregation filled with people in their 50s and older can be dynamic and that local retirement communities are a mission field.
When I share my congregation's desire to incorporate younger adults, he asks how far they're willing to go to be in community with 20- and 30-somethings. Is anyone talking about helping younger siblings in Christ retire their student debt?
If we typically think of a mentor as someone who helps you learn a system, mine does the opposite. He helps me get comfortable with the reality that some systems are breaking down, see the potential in the newness, and get real about what kinds of changes I'm willing to propose and guide.
That our relationship isn't focused on him has brought my mentor some unexpected benefits. "Exploring the questions and concerns of a person with a longer career than me," he has said, "gives me a fuller picture of what it means for a person to be in that stage of life and vocation."
Engaging in conversations where we're both vulnerable is more valuable for him than receiving whatever pieces of advice I think to dole out. Our conversations bless us both, in ways we hoped for and in ways we couldn't have imagined. That sounds like the Holy Spirit on the move; that sounds like church.
He helps me get comfortable with the reality that some systems are breaking down, see the potential in the newness, and get real about what kinds of changes I'm willing to propose and guide.