A healing friendship in the aftermath of gun violence
The rabbi of the Tree of Life congregation and the pastor of Mother Emanuel AME talk about their relationship, their shared spiritual heritage and what lies ahead.
Rabbi Hazzan Jeffrey Myers and the Rev. Eric Manning have an uncommon bond, born out of unspeakable tragedy. Both faith leaders minister to congregations wounded by mass gun violence.
Myers had been at Pittsburgh's Tree of Life congregation "just a pinch over a year" when a gunman opened fire during Sabbath services, killing 11 and injuring six, Oct. 27, 2018.
Manning arrived at Mother Emanuel African Methodist Episcopal Church in Charleston a year after the massacre that killed nine church members, including the senior pastor, in 2015.
As the Tree of Life community prepared to mark the second anniversary of the Pittsburgh shooting, both leaders spoke with writer Stephanie Hunt about what they have learned from their experiences and about their friendship. The following is an edited transcript.
Stephanie Hunt: Rev. Manning has talked about how his role at Mother Emanuel has entailed being in the public eye more than he might be otherwise. Being a rabbi and a congregation leader is always a public position, but you're now, in a way, rabbi to the nation, which is what seems to happen in the aftermath of something like this. How have you balanced that?
Jeffrey Myers: There are really three pieces to balance. There are my responsibilities to my congregation. There are the continued asks from those outside my congregation. But then I also have my family.
Balancing all of those is challenging. There are no training classes, no books to read on how to do it. It's gut instinct. I try to surround myself with people who can give the right forms of advice, including media professionals who help filter and organize, help determine the best ways to share what the message might be. Media requests can be overwhelming, and there's only so long your battery can run before it just gives out.
My priority is my congregation. Then when I can, I fit in the things that are outside the purview of immediately focusing on my congregants and their needs. In the end, most likely my family suffers, because time with family is often the only time left to take from.
SH: Along those lines, Rev. Manning has become one of those offering helpful advice. He reached out to you via email after the shootings, but my guess is other ministers did the same. What was it about his email that made you respond?
JM: I remember sitting down on my living room sofa, I think it was that Tuesday after the massacre was that previous Sabbath [Saturday]. I hadn't really looked at any media or the news; I didn't need to, because I was the news. I was living it. I just sat with my family and happened to pick up my phone, open it up and look at my emails -- which blew me away. Thousands upon thousands of emails.
You know when you scroll through email with your finger? Well, I was just scrolling, and like the moment when the one-armed bandit in the casino is rolling the numbers, then it stops and rests somewhere -- well, eventually my finger stopped, and it rested right on his email, like it was the finger of God. Right?
I saw the email header, which mentioned Charleston, and because I knew of the massacre there, I opened it. Rev. Manning had written a beautiful note and in essence said he wanted to come into town. But you can't know how many hundreds of people were coming to town or asking to come to town. So my initial response was, "I've got so many people, I can't figure out where to fit this in." But he was insistent.
So I agreed and found time Friday morning, before the last of the funerals on Friday afternoon. Somewhere there was just some push. Maybe God was saying, "Go meet with him. Go. Go."
SH: Rev. Manning, what compelled you to reach out to him?
Eric Manning: When I came to Mother Emanuel, I realized that there were not a lot of people I could talk to about what I was processing, what I was dealing with, how to respond to media -- all these things that no one prepares you for.
I think we at Mother Emanuel had not necessarily gotten it all correct right off the bat, so I wanted to share what we had learned. I just reached out to let them know that we're praying for them, that we're here as a resource if they need it, and that was it. Did I ever expect a response? No. But I did know early on that I was going to make my way to Pittsburgh.
SH: So in addition to hoping to support Rabbi Myers, it was also in part your need for a comrade who was going through the same thing as well?
EM: I wanted to be a support for Rabbi, because when I came to serve Mother Emanuel, there weren't that many people I could talk to about how to deal with the congregation, about all the things that I've prayed through and learned as I took the congregation through the trials.
I didn't want the rabbi to have to go through all the growing pains, so to speak, that I went through. I wanted to be a ministry of presence, to be there to let them know that we're with them.
SH: I'd love to hear about the ecumenical aspect of your friendship. Were there barriers you had to cross?
JM: As a rabbi, I had no other synagogue to turn to, because this had never happened. Thank God it's a small club when it comes to clergy, but alas, there is a club.
Though we come from different points of view, far more unites us than separates us. The things that make us different aren't barriers; they're just places where we can learn from each other.
EM: Exactly. Rabbi has heard me say this a number of times -- if I can meet people in Genesis chapter 1 and chapter 2, we're rock solid. From the ecumenical perspective and from a Jewish faith perspective, we can meet in sacred text in the book of Psalms. That's the beauty of it.
When you have a desire to meet people on the basis of our common humanity, you do the work to ensure that you are not going to superimpose your faith tradition on anyone; you're just there as a fellow human.
When there are these hateful acts, it's up to us who are survivors, as Rabbi is, and those who are serving congregations where mass trauma and tragedies have taken place, to do the work, to just say, "Let me first be there" and then say, "We will get through this together."
I don't think our faith traditions have ever been a barrier. It's a beautiful thing when all of God's children can come together to comfort, inspire and help each other through the trying seasons of our lives.
JM: From a different point, I was talking with Wasi Mohamed, whom I think you met when you were in town?
EM: Yes.
JM: He was the former executive director of the Islamic Center [of Pittsburgh]. We'd spoken about how the sons of Abraham were able to come together. Because as Jews and Muslims, we're both children of Abraham. We have common parentage, and we are called to be our brother's keeper. It's imperative.
SH: Rabbi, you mentioned areas where you've been able to learn from each other. I was hoping you both might speak more about that. What are things that you've learned from your relationship with Rev. Manning and others as a result of this, in terms of leading a congregation and in your own spiritual life?
JM: That this strength of faith that runs through us is a powerful force to be reckoned with. It's the closest thing to what the Star Wars pantheon calls "the Force." This force that flows through us is an indescribable source of constant support. I've found that to be so powerful, whether when I'm in Rev. Manning's presence or in Wasi Mohamed's presence.
It's almost like some sort of nuclear reactor, an energy source, constantly humming, constantly going. The challenge as a faith leader is to find how I can help reassure and instill that feeling in my own congregants, particularly ones whose faith has either lessened or those who have totally lost their faith because of what happened to us.
There's nothing that says a Jewish clergyperson can't help those of a different faith find ways to restore their own faith. The faith that flows through all of us is the same, and I think that's an incredible thing to realize.
SH: Rev. Manning, care to add anything about what you have learned?
EM: I'm reminded that though we serve very different congregations, though we may have different faith traditions, we can find ourselves battling the same issues. I'm reminded, too, of the importance of sympathy, empathy and compassion.
I do think it's interesting, though -- and this happened at the supermarket just yesterday -- someone will approach me to say, "Well, the way your church responded was so inspiring." I understand that response, but no one talks about the hatred that led to the event. We focus on the tail end.
From my perspective, that's very concerning. We don't want to deal with the hate. Rabbi, I know, doesn't use the word "hate" -- instead he says "H-word." But I think that's something we need to continue to unify and rally around.
In Charleston, I partner with the Jewish community in [an initiative called] Stamp Out Hate South Carolina, because it's important, and I think we need to focus on that.
SH: How often do you interact, and is it casual, like sending each other a text, or are there orchestrated meetings?
EM: Everything is very choreographed; I don't call Rabbi unless I need something. No, I'm kidding. It's very casual.
JM: It's like two friends who pick up the phone and talk. And it's reassuring to know that while sometimes two, three or four weeks might go by when we haven't spoken, that doesn't mean we're not on each other's minds. It's this continued chronology that flows.
SH: How would you say your congregations are doing today? Are there patterns that you can recognize, a shared sense of "here's what to expect"?
JM: We're the younger sibling, so to speak, so watching and eagerly following the goings-on at Mother Emanuel allows us to grow from their experiences in terms of things to look for and things to expect, things to watch for, challenges that are yet to come. They've got a more vast playbook, which is helpful.
For example, they have already started a campaign for a memorial. That's interesting for us to observe as our victims' families are beginning to meet and talk about the same thing. We've watched Mother Emanuel start a campaign to work on their building, and we're on the cusp of doing that as well.
We're learning things that might help us along the way, help us heal and also maybe help us avoid a mistake. We're able to say, "OK, why would this not work for us?"
EM: To Rabbi's point, there may have been things that we didn't get right, which I shared very candidly when I first visited with them. I was called to Mother Emanuel a year after the shootings, and there were things that had been done that if I was there, well, we may have made different choices. I think that was helpful to discuss. Rabbi, from what I understand, you all are getting ready for the trial here soon.
JM: Actually, it was supposed to originally be starting soon. Due to the pandemic, it's been deferred to, I believe now, sometime the early part of next year.
EM: Unfortunately, we went through the same thing -- delays after delays after delays. Then when it finally started, I remember the anxiety that was there. There will be opportunities for me to share with Rabbi about getting through the trial, from a post-five years perspective.
Five years later, you have people who are finally ready to trust you to talk about how they feel. You have to wait for others to be ready to talk, for them to trust that you do care, and trust that, though you can't go back and change things, you're willing to listen and to share and be there.
It's like anything else -- it takes time. Last year, I got an opportunity to go to 16th Street Baptist Church [in Birmingham] and interact with some of the survivors. And much to my surprise, they are still trying to process it.
SH: Rabbi, is there something that the two of you are working on that you want to drop any hints on?
JM: Well, I can mention one thing. In addition to being an ordained rabbi, I'm also an ordained cantor -- the trained musical pastor who leads the congregation in worship. Our professional organization is called the Cantors Assembly, an international organization of over 700 ordained cantors who serve congregations throughout the world.
We're getting ready to launch a wonderful video project created with roughly a hundred voices of both cantors and Black church music ministers based on the piece "Total Praise" by Richard Smallwood. We're releasing that as a message to the world about the power of music.
Later today, Pastor Manning and I are going to be meeting once again on Zoom to record a short conversation about this project, as well as the ancient history that goes back between the Jewish and Black communities.
SH: Is there anything else that you would like to share about the power of your relationship, the power of healing, what it means to have a ministerial friend from a different faith tradition throughout this process?
EM: I would say never allow various traditions, faith traditions, to prohibit you from getting to know people. We had a memorial last year for the attack that took place in New Zealand, and I went to our local imam, who is another great friend, and said, "Today, I am Muslim."
Now, that may make some of my seminary colleagues cringe, but from an ecumenical perspective, I have embraced, as Rabbi said, that as children of Abraham, we must meet in places that we can draw strength from. At the end of the day, we draw strength and encouragement to continue on this journey that God has placed us in.
JM: I was just thinking that horror thrust the two of us together, but that's not what kept us together. There's a brotherhood -- not in a sexist sense, but in terms of a connection that continues beyond being sons of Abraham. We're all children of Adam and Eve, and there are too many people on this planet who have forgotten that.
The vast majority of humanity, I still believe, is made up of good, decent people. The balance is just off. We have too much reporting on all the bad, all the evil, and it makes people think that humanity is headed in the wrong direction.
I think, respectfully, the media needs to do a midcourse correction and improve that balance. If we continually read bad news, how can we not be depressed -- which makes our job as clergy even harder.
We must seek out these powerfully good, important, wonderful things that are happening throughout the world. We need to give people uplift, particularly during a pandemic. As clergy, we can't do that all by ourselves.
How will Tree of Life mark the second anniversary of the shooting?
Rabbi Jeffrey Myers: We have a commemoration committee working with the Pittsburgh version of a resiliency center -- I think there was a similar center in Charleston. We call it the 10.27 Healing Partnership, and they are helping with engagement with the victims' families -- representatives from each of the three congregations that were in our building at the time of the shooting -- to craft what the second-year commemoration will look like.
The focus will be community service, to whatever degree we can do that during a pandemic. Judaism always finds the study of texts important, so there'll be Bible study as part of that.
Also, from a Jewish perspective, when we observe the annual date of death of someone, the Jewish faith follows the lunar calendar, not the solar calendar, so that means the dates don't coincide. This year, the date that we observe to commemorate their deaths on the Jewish calendar is Nov. 5.
We'll continue to also observe Oct. 27, because that's the date that the general public will always remember. In essence, we observe two dates. One is the grander, more public commemoration on the 27th, and the other, a more private commemoration.
A pastor whose church in Washington, D.C., was vandalized by white supremacists urges his fellow Christians to avoid feel-good responses and instead act in community to disrupt systems of oppression.
I am sitting at my desk opening mail. Stacks of it.
A business envelope from Ohio containing five handwritten pages. High-end, heavyweight stationery from Connecticut. A holiday card from South Carolina with a photograph of children standing before a Christmas tree holding a Black Lives Matter sign. A postcard from Pennsylvania with a big heart drawn in red crayon.
We have been flooded with support since our church, Metropolitan African Methodist Episcopal Church in Washington, D.C., was vandalized by white supremacists in December. Two Black Lives Matter banners -- one at our church and another at Asbury United Methodist Church -- were destroyed during a violent demonstration.
Good people have sent checks, money orders and cash to encourage and to strengthen us. Emails, calls and messages have cascaded in from around the globe. The light of God burns brightly in the hearts of so many. That light has indeed put some of the shadows that mark these perilous days to flight.
I have opened the mail. Now comes the real work. I must open myself.
I must stop resisting and yield to the powerful energy of the spiritual stirrings inside me. These stirrings occur when the dust, from which we were made, is persistently beckoned by the divine.
When we attune to them, when we shun distraction, when those silent stirrings are so loud that they can no longer be ignored, we can travel to the place where humanity and divinity meet in us.
Sometimes our humanity and divinity dance. Often our humanity and divinity wrestle.
People wrote that when they heard what happened to Metropolitan, they had to do something. When we hear of the violence, the exploitation, the oppression and the pain in our world, our spiritual stirrings move us. I'm sure the recent mob attack on the Capitol building will only intensify this feeling.
I appreciate every gesture and am thankful for every kindness that has been shown to our faith community. At the same time, I have grown weary of the impulse to quiet deep spiritual stirrings by acting sentimentally.
Sentimental responses assuage our discomfort as much as they share light and love with those who have been harmed. Doing something sweet for people who have suffered, especially in response to spiritual stirrings, can teeter on the edge of escapism. It can shield us from doing the hard work of figuring out why people suffer and how we can alleviate that suffering.
We turn the page feeling better about the situation and ourselves, but the systems that make suffering possible remain unchanged.
The mystical energy roiling inside us demands a response. But many will never respond with anything other than kind gestures. Some of us must admit that no matter how deep the awakening we experience or how vast the pain of others, we will not commit to anything but the nice response, the easy response, the feel-good response.
I have been there. I have felt the impulse to take out my William H. Lamar IV stationery and write my way out of my responsibility to the world. I am sure you have, too.
I am convinced, however, that these "sighs too deep for words" (Romans 8:26 NRSV) stir us for more than kindness. We are being called to disrupt this world and to co-labor with God as God inaugurates the new heaven and the new earth.
The church, Christian organizations and seminaries are largely agents of ecclesiological, institutional and theological sentimentality. Too often, people leave worship feeling close to God and good about their neighbors but unmoved to disrupt the visible oppression outside their sanctuaries.
People volunteer at Christian agencies and deliver food and visit the infirm, but they will not disrupt the exploitation that renders people hungry or sick.
People graduate from seminary convinced that their orthodox sermons and successful stewardship campaigns will usher in God's realm, but they will not challenge the racialized, capitalist economic orthodoxy that extinguishes hope among the struggling people in their communities.
The gospel puts us on notice that sentimentality is not the aim of God's reign. In Luke 4, Jesus is said to be full of the Spirit, full of those spiritual stirrings and that mystical energy that demand a response. After he reads from Isaiah, he declares, "Today this scripture has been fulfilled in your hearing" (Luke 4:21).
This is not sweet. This is not someday there will be justice, equity and peace, so I'll just wait around for it to happen. This is incarnate, fully human, fully divine disruption.
And this is not profitable. It's not the kind of disruption that makes money. This disruption values humans more than capital.
According to Luke, Jesus intends to disrupt systems that cause poverty, imprisonment, sickness and oppression. Jesus intends to disrupt how economies and relationships are ordered.
As I look at our damaged property, our damaged city, our damaged democracy, I have to ask: Where is this Jesus? Where are his followers?
Disruption requires community. This is not solo work. Jesus called to himself disciples, a fellowship of disrupters-in-training. The great disrupters in our history moved within robust communities that loved them and stretched them.
The spiritual stirrings you feel -- the ones that prompt you to write lovely and heartwarming letters -- are in fact moving you to more challenging action. They are calling you to be in fellowship with others who share God's vision for the world.
Disruption also requires confrontation. In Luke 4, Jesus is full of the Holy Spirit and led by the Spirit into the wilderness.
I will never forget a masterful class that I had with Ronald J. Allen, professor of preaching and the Gospels at Christian Theological Seminary. Allen said that the Spirit drove Jesus to pick a fight with the devil.
Imagine that -- Christians are called to pick fights with the demonic, not just to feel bad about evil.
My humanity and divinity dance when I disrupt the powers and principalities within myself, within the church and within the world. My dance partners make it all so much funkier. We have joined with God in co-creation and have seen oppressive systems weakened and lives transformed.
The mystical, spiritual energy inside us is calling us to move beyond sentimentality and to move to the music of disruption. Shall we dance?
The calls to work for justice and to make room for rest are significant and difficult to balance, writes a pastor and denominational executive from Michigan.
Near the end of every December, as I consider new trajectories and intentions for the coming year, the idea of reclaiming rest is always on my list. Each year, I boldly declare that I will experience deeper rest, find better rhythms of rest, not wait to rest until I'm bent with exhaustion.
I will play more! I will unplug! I will read for fun!
Truthfully, I don't know whether I want to pay the price for rest. Not real rest -- the kind where you actually lose yourself in the stillness of mind, body and spirit.
Each layer of who I am challenges regular rhythms of rest: full-time minister, mom and wife, woman of color, student, mentor. Those bump against each other in a cacophony of competing demands. On my best days, they fall in line. On my worst, I am behind. I can't afford long stretches of catching up, especially in seasons like this one.
Rest becomes expensive. It feels irresponsible and wrong.
During the holidays, I watched as social media accounts that I follow -- those of brave leaders holding high the banner of biblical justice -- hinted at rest. The posts were curious. Laptops put away. Mugs of tea, glasses of wine, fireplaces. Yet no pictures of them actually resting. No pictures of them curled up, reading. Accounts where I am used to seeing faces and arms raised behind the dais became just tableware.
It is very possible that this is truly what rest looks like. But I suspect that people simply do not want to see us rest. As people of color, championing our causes, we are not afforded the liberty of public rest.
People depend on the public expression of who we are -- sharing our tweets, our images, our hashtags -- to help further their own public spaces. Our defiant act of rest gives them nothing to move the cause forward. Pictures of rest are incongruent and feel counterproductive.
I can hear you yelling, "This isn't healthy!" But there are realities you need to consider.
Rest can feel like a waste of resources. As a person who grew up in poverty and now dedicates my work to ministry, I know this well: rest feels like a waste of money.
For those of us in fields that are constantly hunting for money, doubly so. We mentally convert personal plane tickets and restaurant meals into salaries for our teams and essential food for the underserved. It is a constant internal exchange rate -- every dollar or minute we spend on ourselves is a self-centered currency. It could and should go to the cause.
Opportunities -- like the loan of a vacation house where we can decompress  -- don't come up for us often. When they do, we find ways to host a board meeting there, a staff retreat, a volunteer gathering. We are constantly aware that the people around us are giving, too, so we most likely will not use such a gift for personal rest. For ourselves, we will find a cheap space. We will pack our own food and drive our own cars.
We don't have generational spaces to fall back on. When I first began full-time ministry, I was amazed by the number of people who simply disappeared in the summer.
In the neighborhood where I grew up, parents had to continue working during the summer. Neighborhood summer programs and camps were a necessity while kids were out of school. No one was going anywhere. There was consistent noise and clamor until the streetlights came on.
For the current world I find myself in, that is not the case. Family cabins and lake houses are passed down for generations.
This is not a disparagement. But amid the challenges of lockdown that so many of us experienced this past summer, I was surprised by how many around me packed up and headed to the generational oasis. It was hard to hear their bitter complaints of being confined as they rounded up swimsuits and sunscreen.
Rest produces guilt. Every minute I spend away, every minute I spend with my guard down, is an invitation to return to more work and more worry.
My absence risks the people I serve, the core of who I am. What if something happens to them while I am gone?
Rest often requires money. The money I spend to fill my tank is often the money that's truly needed somewhere else.
Once, on a work trip, I got myself ready early and sat outside the inexpensive hotel. Back home was cold, so the California sun was a warm invitation to sit and relax.
I snapped a selfie, captioning it that I was soaking up the sun waiting for my ride. When I returned home, our head of donor relations went in hard, reminding me that contributors did not pay for me to sit in the sun and that my message could jeopardize the funding for the organization. They were not paying me to relax.
We, as people of color, remind ourselves often that we cannot always carry the ball for the systems we are in. We sometimes must let the ball drop. I courageously say those things, affirm those things and repeat those things.
However, when I return to the daily reality of my work, I see places where the ball was dropped, and the inbox is twice as full the next day with more meetings, more pain, more work. Gripping the ball, at least for a little longer, keeps our souls safer.
The media and the Scriptures remind us to rest. I feel my shame creeping in as I realize that my body, mind and soul say they need rest. I am not a martyr by any means. I am, however, a pragmatist. The times feel hopeful and hard, and there's work to be done.
This year, my personal hope is for something new. With all the baggage and blowback that may come, I plan to choose extravagant rest.
It will be the slow art of baking in the middle of my work-from-home days. It will be bold pictures of me soaking in the sun, playing cards and reading books. It will be weekend retreats that are not filled with uninterrupted work and prayerful discernment but with goofy pictures, my mouth wide with laughter, my heart wildly unburdened and unbothered.
This year, rest will be resistance so that the strongest me can be restored to take on the demands of the work.
In the second edition of her book, the author of "Dear White Christians" reiterates that listening and responding to calls for reparations precedes the possibility of reconciliation.
When Jennifer Harvey wrote her book "Dear White Christians: For Those Still Longing for Racial Reconciliation," she couldn't have imagined the context in which it would be published.
Just weeks before the book came out in 2014, Michael Brown was killed in Ferguson, Missouri, and a powerful advocacy movement burst onto the national scene with a simple message: Black Lives Matter.
In the wake of the protests, some white churches were confused, even shocked, at the "grief-filled rage" shown in Ferguson, Harvey said.
And some of those churches turned to Harvey and her book for education.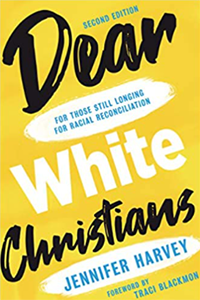 "The book is for white Christians … who are asking the questions, 'Why are our churches built so white? Why don't we have more multiracial communities? Why do we seem so divided and alienated still?'" she said.
Her book, the second edition of which was released last summer, helps white Christians understand how the history of Black Power movements informs current organizing efforts and calls to redistribute resources.
Understanding and heeding this history, she says, is a prerequisite to moving toward the Christian vision of reconciliation.
Harvey is a professor of religion at Drake University and an award-winning author and public speaker. She is also the author of "Raising White Kids: Bringing Up Children in a Racially Unjust America."
Harvey spoke with Faith & Leadership's Chris Karnadi about the importance of knowing the history of Black Power movements and the differences between the paradigms of reconciliation and reparations. The following is an edited transcript.
Faith & Leadership: How important is it to know and teach history that doesn't whitewash civil rights?
Jennifer Harvey: One of the things I excavate in the book is the degree to which Black Power movements are obscured in how we remember history. What I explore in the book is that these power movements were not only part of the civil rights movement but they also had Christian elements.
It's critically important that we know these histories that many white communities, and in this case, white Christians, either haven't been taught, have ignored or have been taught to ignore.
I was raised in the church. I've been a Christian my whole life. I didn't learn any of these histories until I was doing my Ph.D. at Union Seminary. I had even gone through an M.Div. program without learning this history.
F&L: Can you describe the importance of Black Power movements?
JH: The history of power movements helps us reckon differently with what came out of the civil rights movement. It wasn't wonderful progress where white Christians and Americans started doing better around Black demands for racial justice; white Christians started to reject and step back from civil rights when it made progress.
We have to learn this history, because Black Power movements made different kinds of demands from calls for integration. They demanded power and resource redistribution, and part of the crisis we're in today is directly related to how deeply we have -- not just white Christians but white America -- ignored and rejected those calls for power and resource redistribution.
Knowing that history is important for that reason, because our actual racial story is not the story we often tell in the white church. So that's one piece of the reason why it's so important.
The other reason that it's so important to excavate and remember these histories is that the erasure of those histories is itself a form of racial harm.
It's not just an accident that we don't know the history of Black Power movements inside the white church -- the way James Forman and other activists, including Black clergy, for example, made calls for reparations to white communities in 1969.
It's actually a site of sin, is how I would talk about it. We actively rejected the history of Black clergy in Black Power movements, and then we pretended those calls had never been made.
There's been this kind of amnesia from white Christians; we don't even know the sins that we've committed, and so we're stuck in our calls for equity and reconciliation and diversity. These calls are so hollow, but we don't even know that, because we haven't named and confessed the erasure that we actively committed moving out of the civil rights movement era.
I say this in the book, but it's critically important to see that many of the things Black Power advocates were naming and predicting about the reality of racial relationships is what we're seeing right now. In the last five years, this beast we have never repented from or repaired has created our national climate. I feel very clear about that.
It's past time to confess what we've done and pick up partnership with those communities who have never stopped making those same demands.
F&L: Were Black Power movements prophetic?
JH: I think "prophetic" is the right word to use. They were telling us that integration -- or reconciliation, which is the way we talk about it in the church -- was going to fail without massive resource redistribution.
To be clear, I long for reconciliation. I do think that's the space to which we are called, but just making integration the solution to racial injustice and racial violence is misguided. You need to change the systems of exploitation.
Black Power movement leaders and the diverse communities that were organizing with them were calling for things like reparations to enable resource redistribution that would enable Black self-determination, Black business cooperatives, Black media networks and outlets.
They called for a radical transformation in how we thought about public education. If you have inequitable school systems, where Black children don't have access to high quality education because of segregation and racial injustice, just integrating kids is not a solution. It's important to reject segregation, but simply putting some Black children in a white classroom with a white teacher who doesn't even know how to love Black children is not necessarily better.
You need Black teachers. You need Black principals. You need to shift all the power structure so that resources are distributed differently.
They also called for a radical rethink on policing. Police violence in the '60s was creating these instances of just community rage and grief because of the way policing happened in Black communities, which is still very relevant today.
We cannot be siblings to one another in a genuine, mutual way if we haven't repaired the harm and the exploitation that were not only present in the foundation of the United States but are actively constructed even today.
We need to repent and repair those things in order to even begin to talk meaningfully about beloved community. What I'm trying to get us to think about as white Christians in the book is that history had prophetic things to say to us about who we actually are and how we could be converted to become something different.
F&L: You make this delineation in the book between a reconciliation paradigm and a reparations paradigm. Can you explain both of those?
JH: The reason I use the word "paradigm" is because I think that helps us think about what kind of lens we are using. I believe as a Christian that reconciliation is a state to which we are called, but the framework of reconciliation is a problem, because of what it teaches us to be.
For example, a reconciliation paradigm is universal. It would say things like, "We need to come to the table and celebrate and embrace our differences. We need to come together across our diverse experiences and learn to love each other more fully and truly."
The problem with reconciliation as a paradigm, again separate from actually being reconciled, is that it assumes that our differences are equally problematic. A reconciliation paradigm assumes that I as a white person need to better come to love Blackness, Nativeness and Latinoness and also implies that Black, Native and Latino people should better love my whiteness in order for all of us to reconcile. But it's not a moral parallel. Blackness and whiteness are not moral or cultural or political parallels.
White people owe something different and distinct if we are going to be reconciled. So a reparations paradigm says that the crisis of racism and racial injustice is a multiracial crisis and we each have a different location in it.
In particular, it says historically white communities, whether actively or passively, have engaged in perpetrating harm. We have unjustly reaped economic benefits from that harm, and we've also been spiritually and morally malformed by our participation in that harm.
So if we want to be at a multiracial table, then we name that and repair that as the way we come to the table. There's no responsibility of Black people learning to better appreciate and understand white people. It's about, "How do we together address and redress the structures of harm, violence and unjust benefit that exist between us?"
If we can redress those and redistribute resources from white communities to communities of color, that actually might make us beloved to one another. But the repentance and the repair piece is how white folks show up to the table in a reparations paradigm.
F&L: You say that you've seen progress since 2014. Can you talk about ways in which you've seen white Christians moving forward and how some of the gaps remain?
JH: I tried to include in the book's appendix some anecdotal examples of reparations-informed movements that have begun to emerge in the last four years. They're scattered all over the place, but they're worth naming, because it's an energy and sort of responsive kind of percolation that is starting to happen.
The Minnesota Council of Churches is starting to unroll a 10-year project of reparations relative to Native communities in a central way, but there is also language for reparations toward African American communities.
The Fellowship of Reconciliation has a national reparations and truth telling campaign that has gotten underway. I'm seeing in my local community in Des Moines in the last year all kinds of white clergy who have -- not just as individuals but speaking in the name of their church -- have been not just putting signs for Black Lives Matter on their churches but have been out organizing with Black Lives Matter movement leaders.
They are organizing by asking, "OK, what do you need us to do? What role do you need us to play? How do you need us to hold the police authorities accountable?" That's another example.
It's just new for white communities. I think a lot of people are still asking for a model out there that we can just implement here in our church -- but there's no universal model out there.
We are actually the ones who have to do the thing. There are some landmarks, some language, some principles we need to try to embody, but we haven't corrected this injustice before, and so we literally are the ones who have to figure out what it means. And it's going to look different in each local context.
It's new to white people, but there is a different kind of sharing that is happening. And it's because, I think, of the leadership and insistence and ongoing tenacity of Black Lives Matter movement leaders over the last seven or eight years that we're getting to this inflection point.