Sharing good news about our ministries makes a difference
In the early days of the pandemic, a highlight each day at my house was pulling up John Krasinski's "Some Good News" as dinnertime viewing. My laptop joined us at the table each evening to provide a few bright spots amid the dire headlines. The stories of COVID patients being discharged from the hospital to cheers and applause, Zoom singalongs with the cast of "Hamilton" — in the spring of 2020, these bits of brightness felt like a lifeline to me.
And I'm not alone: a recent study from psychologists in the U.K. dug deeper into the "why" behind the seemingly obvious phenomenon of the positive effects of good news on our well-being.
The implications of that "why" should spark our imaginations for the way we tell stories about our work in the world. Your ministry might be changing lives in all sorts of ways — but the stories you share about your ministry might be doing that, too.
Research has long confirmed the effects of seeing bad news on our minds and our health. On the one hand, it makes us feel worse — but on the other, thanks to evolution, we're wired to pay attention to anything that might threaten us.
This particular study, though, looked at the effects of seeing good news stories after bad news stories, as a kind of counteractive antidote.
"The group that was shown negative news stories followed by positive ones fared far better than people who were only shown a negative news story," writes one of the researchers on the study. "They reported less decline in mood — instead feeling uplifted. They also held more positive views of humanity generally."
The good news that made the biggest difference for this group? Stories of kindness, of human beings showing up for each other.
The researchers tried out other kinds of positive news, seeing "how people exposed to a negative news story followed by an amusing one (such as swearing parrots, award-winning jokes or hapless American tourists) fared." But when it came to overall uplifting effects on participants' mood and hope for humanity, parrots and tourists were no match for acts of kindness — stories "such as acts of heroism, people providing free veterinary care for stray animals, or philanthropy towards unemployed and homeless people."
The research pointed to several reasons why seeing stories of kindness may help counteract the doom and gloom of the 24-hour news cycle — for example, the writer notes, it can "remind us of our connection with others through shared values" and can act as a kind of "emotional reset button, replacing feelings of cynicism with hope, love and optimism."
In the conclusion to her news piece on this study, the researcher writes, "Perhaps including more kindness-based content in news coverage could prevent 'mean world syndrome' — where people believe the world is more dangerous than it actually is, leading to heightened fear, anxiety and pessimism."
Of course, the world is incredibly dangerous for many, many people — and positive headlines are no match for the harsh reality some of our neighbors have to face each day. The simple act of reading good news is not, in itself, the way to a better world. I think, though, that the researcher's article on this particular study intends to critique the way news coverage takes advantage of our threat-detection wiring. The researcher wants to push those working in news media to consider balancing their coverage and including true stories of kindness along with the bad news.
I think, too, that there is a challenge here for all of us who work in Christian institutions, whose job it is to share the good news we've been given.
"The Good News Jesus embodied was news. Something to share, to proclaim," writes Debie Thomas in a piece for The Christian Century provocatively titled "Reclaiming the E word" (the "E," in this case, being "evangelism"). "We've become so adept at articulating who we are not and what we reject. But can we also articulate who we are? What we affirm?" she asks.
Can we share the good news of how we strive to embody the good news?
Of course, we should be thinking about the logistics, the concrete results, the returns on investment, the actual tangible work that we are doing and the difference that we are making. There is something, though, that I don't want us to lose sight of — the fact that the way we share about our ministries matters, because the effects on the people who see our stories might be greater than we can imagine.
I have the immense privilege and joy of getting to work with various teams here at Leadership Education at Duke Divinity and hear about the impact our grantees and partner organizations are having in the church and the world.
Seeing their inspiring stories, acknowledging the hope they give me, stirs up in me a greater urgency and a heightened awareness of the stakes in my communications work. How can I help get the word out about these incredible ministries, not to boost web traffic, but to help change hearts and lives?
The stories we tell about our ministries matter. We never know who might be listening, watching, hoping for the relief of seeing an act of love on a loveless day.
Here's what I want to know: How do you share the stories of kindness and care that come out of your ministry? Send me a note — I always enjoy more good news.
A world made out of love: Creation
When we talk about the Trinity, we talk about love: the three persons of Father, Son, and Holy Spirit in an ever-moving, ever-giving dance of love.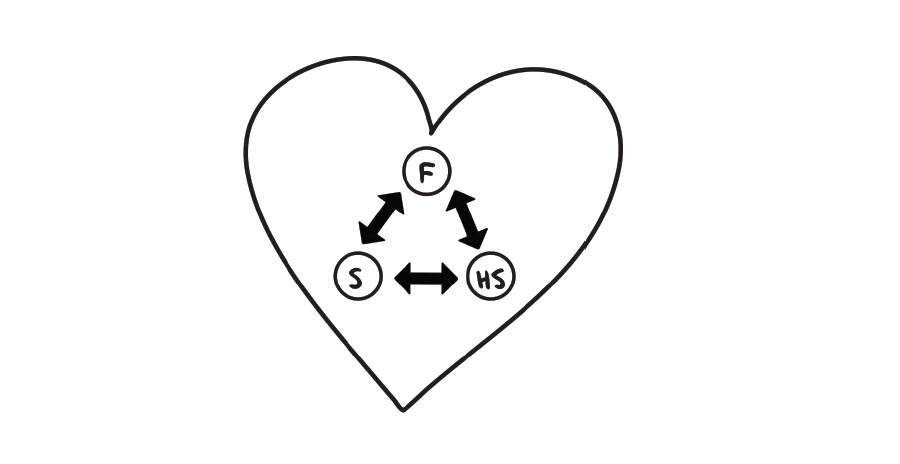 When we talk about creation, we also talk about love: the love amongst the three persons that spilled out into sun and sea and you and me.
Theology has a couple different terms to talk about these loves and how the Trinity works in relation to itself and in relation to what has been created.
When we think about that dance of love that Father, Son, and Spirit spin and move in, the inner life of these three persons, we are thinking about the immanent Trinity. When we say "immanent," we mean "internal," "innate," "inside." This is a pretty mysterious concept, because there's only so much we can know and say about what goes on inside the Godhead apart from what we can see in the world around us.
But we can say a few important things. The apostle John put it neatly in his first letter to some early Christians: "Whoever does not love does not know God, for God is love" (1 John 4:8). God does not simply have love, or give love. Love is not simply an attribute of God; it's God's whole being.
And God chose to allow that love to burst out of God's very own self.
'When God began to create the heavens and the earth …'
This is where we begin to see the economic Trinity at play — the Trinity in its relation to what is not God, in relation to what God has created. God could have chosen to just remain as the immanent Trinity forever, having nothing to do with that which is not God. The love flowing freely between the persons of the Trinity would have been enough for God. Father, Son, and Spirit were not sitting around sulky, moping, in need of praise and adoration.
Creation wasn't necessary.
Our world did not need to exist. Everything we see and smell and taste is excessive: an outpouring of God's love. God didn't need to create humans or frogs or planets to satisfy some whim or to appease some lack. God didn't need us.
But God wanted us.
There's a phrase attributed to St. Augustine: Amo; volo ut sis. Translated from Latin, it reads: "I love you; I want you to be." Imagine, for a moment, God whispering this as the heavens and the earth began to take their shape, as Adam was formed from the dust and breathed into life. "I love you; I want you to be."
God needs nothing — but God wants us to be. And in creation, God wanted to share the love that is God's own self and being. In creating, the love within the Trinity flooded over into every nook and cranny of the cosmos, every inch drenched in it.
'… the earth was complete chaos, and darkness covered the face of the deep …'
So God didn't need to create, but God chose to, freely. That's a statement we need to make when we talk about creation. There's another piece to it, though: that God created out of nothing.
When we humans "create," we use paints, bricks, computers, thoughts in our minds: things that already exist. When God created (in the truest sense of that word), God used … nothing.
The term theologians use to describe this concept is (you guessed it) a Latin phrase, creatio ex nihilo, which translates to "creation out of nothing." This sets God apart from any one of us, and it sets God far beyond the reaches of any technology or tool we might develop. Only God can take nothing — a void of voids — and create.
The scholar Janet Soskice puts it like this: "Creatio ex nihilo affirms that God, from no compulsion or necessity, created the world out of nothing — really nothing — no preexistent matter, space, or time." This concept of "really nothing" is essentially impossible for us to fathom. How can we imagine this kind of emptiness? What creatio ex nihilo does is force us to confess just how transcendent, just how "other," God is.
But it also shows us another key thing about God.
Many centuries ago, in an English town called Norwich, a woman lived inside a church.
The woman, who became known as Julian of Norwich, lived the life of an "anchoress," voluntarily secluding herself in a cell within the church walls so she could devote herself to prayer and worship.
She spent many years there, sifting through and making sense of some remarkable things that had happened to her. She wrote a book, "Revelations of Divine Love"— the first book written by a woman in the English language — about a series of "showings" she had received from God during a severe illness. These showings were often dramatic and graphic, showing the suffering Christ in vivid detail, but one of them included a simple image.
And in this vision he also showed a little thing, the size of a hazelnut, lying in the palm of my hand, and it was as round as a ball, as it seemed to me. I looked at it and thought, "What can this be?" And the answer came to me in a general way, like this, "It is all that is made." I wondered how it could last, for it seemed to me so small that it might have disintegrated suddenly into nothingness. And I was answered in my understanding, "It lasts, and always will, because God loves it; and in the same way everything has its being through the love of God."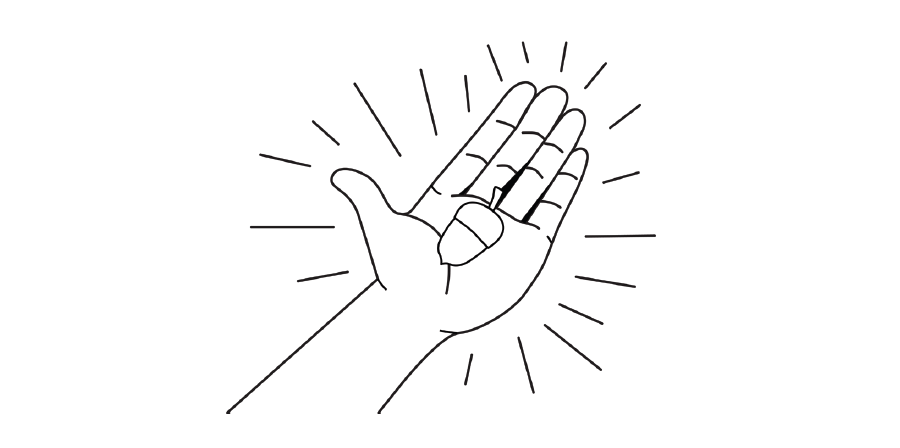 God is transcendent and "other," yes. But God also knows us and sustains us in a profound and personal way. This is not a watchmaker God that some philosophers have spoken of: a God who puts together a watch and then steps back to let it tick away. God is not aloof. We last because God loves us. We couldn't exist without that love — the enveloping love of a God who is both utterly beyond us and beside us.
To emphasize that God sustains us and all of creation, theologians often reference the idea of creatio continua, another fancy Latin phrase that means that God constantly upholds all of creation.
God did not simply, at one time, desire to create the world. God always wants the world; he consistently calls what he made "good." God actively re-creates the world in every single moment. God always wants us, and everything, to be.
What happens when we start to forget some of these ideas about creation?
Much of Christian theology ends up being centered around the person and work of Jesus Christ — which makes sense, considering the name "Christian." The attention we give him is well-deserved, after all. But sometimes the way that focus plays out results in some long-term damage — like when the doctrine of creation starts getting squashed.
A weak theology of creation is bad news for creation. If we focus so much of our energy on ourselves as humans, on what God has done for us, and we don't pay much attention to the rest of the universe that God made, we end up staring at a tiny piece of the big picture that is God's love and care for the world.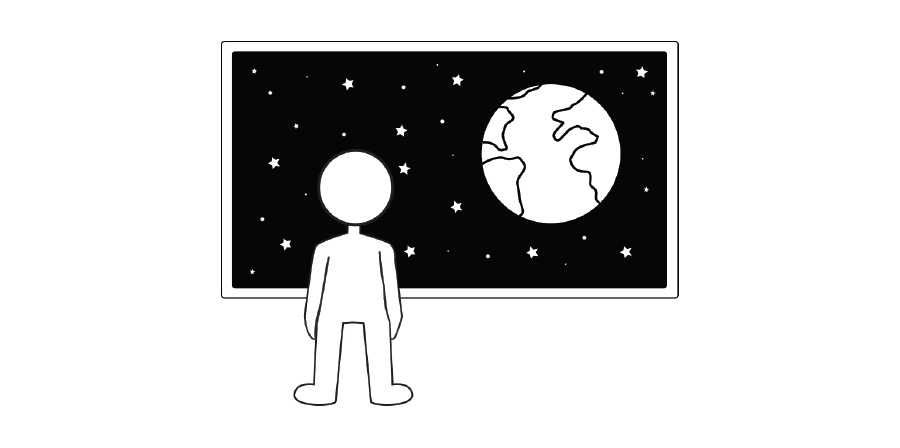 A Native American theologian named George Tinker knows this all too well. He writes about the ways Christian missionaries preached the gospel to Native Americans, giving it the usual Western-church spin of humanity's fall from grace, their sinful nature, and their need for redemption. For traditionally oppressed and marginalized peoples, however, the emphasis on humanity's sin and their need for a savior doesn't sound like the best news. "Unfortunately," Tinker writes, "by the time the preacher gets to the 'good news' of the gospel, people are so bogged down … in [their] internalization of brokenness and lack of self-worth that too often they never quite hear the proclamation of 'good news' in any actualized, existential sense."
Tinker calls for us to start sharing the good news from, well, the beginning of it all: that first "in the beginning." He asks for us to "take creation seriously as the starting point for theology rather than treat it merely as an add-on to concerns for justice and peace."
When we begin to neglect the significance of creation — what it says about God and God's love — we can find ourselves getting so wrapped up in our own lost-ness and need that we forget just how loved we have always been, just how valuable everything and everyone around us is. When our theology becomes centered on "just Jesus and me," our sisters and brothers — our whole planet — suffers.
What might it look like to take creation seriously, then — to remember how God holds us tight and close, wanting us to be?
What might it look like to remember that we live in a world that God wants?
God's creation is vast and expansive. God does not choose to be God only for God's own self — God is the One who delights in extending love and life to others. God's good world — created and sustained by God's loving-kindness — is worth knowing and celebrating and protecting.
Luckily for us, God chooses to reveal to us more of what we, creation, and God are like. That's what we'll look at in the next chapter.
From "Napkin Theology," by Emily Lund and Tyler Hansen. Copyright © 2023 by Emily Lund and Tyler Hansen. Excerpted by permission of Wipf and Stock Publishers. All rights reserved.
We celebrate Women's History Month in March with reading lists, social media campaigns and presidential proclamations highlighting the accomplishments of women across the centuries. But while we honor progress on many fronts, we must also lament all that remains to be done and undone.
These intertwined realities ring especially true for women in ministry. Many of us serve in congregations under or alongside female pastors, priests, deacons and lay leaders who faithfully proclaim the Lord's word and work. Movements like #ChurchToo have dragged some of the darkest abuses of women into the light, amplifying the stories and the steps toward healing of survivors. Women preach, teach and testify with bigger platforms and influence than ever.
But tensions, divisions and injustices remain. According to the National Congregations Study, women made up only about 13% of Christian congregational leaders in 2018-19. And that number has likely decreased over the course of the pandemic.
Writing for Faith & Leadership in August 2021, journalist Yonat Shimron noted that the pandemic "has wreaked havoc on working women," including women clergy.
There are no good figures on the number of clergywomen who have quit as a result of the pandemic, but Christian leaders say the coronavirus has exacerbated the already-stressful lives of women clergy. Many have reported exhaustion, burnout and decision fatigue from the prolonged struggle to care for their congregations, their households and, in many cases, communities combatting racism and anti-Asian violence that arose in response to the illness.
On top of these pandemic stressors, women faith leaders face a continued onslaught — within their own communities and in the headlines — of reminders that they and their ministry may not be taken seriously or viewed as legitimate. Just weeks ago, the Southern Baptist Convention made national news when they kicked out five churches (including Saddleback, a prominent California megachurch) for having female pastors.
The SBC example is extreme, but even women who work in churches and denominations that claim to celebrate their gifts have to (at best) carry this news around with them and (at worst) experience their own slights and judgments.
These issues will not disappear overnight. But I wanted to offer a few ideas on caring for and advocating for the women ministry leaders in our lives. These are practical, concrete actions — many of them drawn from the wisdom shared with Faith & Leadership over the years — that can help female leaders in the church know they are valued and respected.
Don't assume that you know exactly what the women in ministry in your life need. Instead, invite them to talk freely — and listen to them. In 2019, we interviewed Manuela Casti Yeagley, who served as the lead researcher for a study of early-career clergy in the Flourishing in Ministry project. As Yeagley pointed out, "Church organizations have become more vocal about speaking against sexism, but clergywomen often lament that it mostly happens during big organizational gatherings. These women would like to not just have men onstage telling them what sexism is about but to be invited to speak about their experience in very real terms."
How often do we extend this kind of invitation? What if we pushed discomfort and defensiveness aside and committed to listening? Yeagley recommended that we "focus on congregational culture, to empower women to speak about what life as a female pastor really looks like." In what ways can your congregation do this kind of empowering?
Find out what your church and/or denominational policies are on matters like parental leave or time away to care for a sick family member. Unfortunately, you may discover that your church or denomination does not even have these policies in place. As minister-nonprofit leader Susan Rowland Miller and minister-nurse Pamela Graf Short reminded us in 2022, "Many churches and denominational bodies have no parental leave policies. Those that do often have inadequate policies: too little paid leave (6-8 weeks), paid leave at a reduced rate (such as a percentage of full pay), or no paid leave at all (allowing only unpaid time away)."
What systems of support are in place for your ministry leaders who need to step away for a season? Researching the kinds of policies in your context — and acting when what's available is inadequate — is a way to put your care for all ministry leaders, not just women, into practice.
As Miller and Short put it in their argument for churches' parental leave policies, "As denominations continue to seek ways to retain women clergy and address the wage gap between male and female clergy in similar positions, birthing a supportive parental leave policy would be a significant advance toward a larger comprehensive strategy."
Working toward just systems of care for female clergy and leaders is a step toward more fair treatment of clergy and leaders overall.
Increase your church's funding for spiritual resources for leaders. As we seek to support women leaders, we need to pay attention to their spiritual needs in addition to their physical and economic ones.
A friend of mine recently began a half-time role as a co-pastor of her church. When I asked her what has proved most helpful and encouraging, she told me that the congregation has given her a large allowance covering spiritual direction, conferences, books and other spiritual retreats "to make sure I am taking care of my spiritual needs and not burning out."
Does your church offer a similar kind of fund? What sorts of resources are available because of it, and could it expand? In the words of one of our "questions to consider" regarding women clergy and the pandemic, "How are you planning for your long-term health and restoration?"
Remind women faith leaders that they belong. Yeagley observed, "The cumulative effect of sexism in the church is that it undermines women's confidence and ability to trust that they belong in leadership roles."
An encouraging note or a few words of affirmation after a sermon aren't going to build that confidence back up single-handedly — but they won't hurt, either.
You can also remind women leaders that just by standing at the pulpit, just by giving communion or wearing vestments, they are providing a witness and an example to future women leaders. There's data to back this up: "Research shows that girls who have significant interactions with a female church leader have higher levels of self-confidence and significant advantages in terms of educational and career achievement," Yeagley said.
She continued: "It's what we see every week at church that influences how we behave in society and who we see as suitable and not suitable for certain positions."
What do our people see at church each week? How do we communicate to our sisters in Christ that they are more than just suitable for leadership in the church — that they are called to it, too?
These are practical, concrete actions — many of them drawn from the wisdom shared with Faith & Leadership over the years — that can help female leaders in the church know they are valued and respected.
In this photo, we're somewhere along the boundary of Rocky Mountain National Park. The air smells of pine and juniper as we walk and talk and laugh. This particular hike is just about 3 miles long, but we're up at nearly 8,000 feet, and our breath sometimes needs a minute to catch up to our legs. I keep thinking, "It is so good to be here."
"Here" is Colorado, and "here" is a long-expected gathering of women from various Christian institutions across the U.S. We are a group of peers, all of us in similar career phases, all of us committed to the work of the church and the ways of Jesus.
As we met in this beautiful place, I felt that these few days together summed up so much of what the past few years have shown us — about the ways we all need each other, and about the many ways, traditional and not, we can show up when needed.
This peer group was very much a product of the pandemic. It came out of an idea I had in the fall of 2020 and spring of 2021, when I participated in the first-ever virtual cohort of Foundations of Christian Leadership. My idea was to gather a small group of women who had jobs like mine, the kinds of ministry-adjacent roles where it was sometimes difficult to find resources and support.
I'm not a pastor, and I don't work at a church, but the faith-based work I do means that the usual nonprofit or higher ed resources don't always seem to speak to my context. I proposed this group as a place for emerging female leaders in Christian institutions to come together and learn from each other. Colleagues recommended various women who fit my description — women who'd advised us on our programming, participated in our grant activities. Ultimately, 10 of them said yes.
We met on Zoom for the first time in July 2021 and continued to meet that way monthly. A virtual setting was the only way these particular participants, scattered across the country, could gather. There were 11 of us in all, spread out over seven states (plus D.C.) and three time zones. (To this day, all 11 of us have not been on one call at the same time!)
For as much talk of (and experience with) "Zoom fatigue" as there has been throughout the COVID-19 era, this online-only group was a boost and a gift each month. I realized fairly early on that we didn't need much of an agenda for conversation — really profound conversation — to thrive. We saw the promise and wisdom in one another, and more often than not, I was able to just sit back from my screen and drink it all in.
We'd met online for eight months before I even brought up the possibility of gathering in person, an idea my supervisor and co-workers nudged me toward. Ultimately, seven of us found ourselves meeting at the Denver airport in October 2022, 15 months after we'd first met via computer screens. We made our way into the mountains and ate takeout pizza for dinner while sitting on the floor of my hotel room.
The next morning, a member of our group led us through a time of confessional Bible study, where we examined stories of women in the Bible and pondered them and the questions they stirred up in us.
That afternoon, another group member led us in a circle exercise, where each of us would have a few uninterrupted minutes to muse on questions like, "What does a favorite quote of yours mean to you?" and, "Who are you carrying with you this week?" Someone in the group brought out a box of Kleenex — which we would all need over the next hour.
Over a couple of shared days, we spotted elk and watched them through binoculars. We went for walks; we window-shopped; we popped into a bookstore and bought books we'd been recommending to each other ("Braiding Sweetgrass," "Gilead"). We went out for dinner and split entrees that looked good but that we couldn't decide on for ourselves. We marveled at the golden brightness of the aspen trees and their quaking leaves. We said we would do this again next year.
At dinner on the last night, we tried to figure out whether any of the seven of us had actually met in person before — had none of us ever run into each other? The answer was no.
The pandemic forced institutions and organizations to be pretty creative when it came to what was being done in person that could also be done online, whether schools or churches or offices. Now, as we emerge from the age of lockdowns and figure out how to live with COVID-19's ongoing presence, we are rightly relieved that so much of our lives doesn't have to be lived virtually anymore. But I also wonder what we might lose if, in that relief, we run too quickly away from the possibilities of online fellowship.
This Colorado gathering was so wonderfully embodied — when we all first rendezvoused at the airport, a common refrain was "You have legs! You're more than just a head and shoulders!" — but the whole reason the gathering even happened was because we had built up connections beforehand, via (dare I say it) Zoom.
While together in person, we talked about how valuable this group was — and how safe it felt — precisely because none of us lived in the same place. We could bring concerns about our day-to-day lives in confidence, knowing that none of us would happen to run across the person or place being discussed. We could offer support in person because we'd built up the proper trust virtually, and that rhythm of support, in person and on screen, will continue.
I wrote in early 2021 about how the pandemic showed us how much we truly needed each other. Nearly two years later, that remains true — and we've also seen, in our COVID-era creativity, how we can forge and foster true community in so many ways. I don't want to look back on the months of Zoom calls and say that it somehow wasn't as real or as meaningful as it would have been if we could have met in person. I wouldn't know these women if it weren't for the tools that provided us a community in COVID-19's darkest days.
I can't wait to see them again on my laptop screen — and I can't wait to go on another hike with them in person next year.