Pastors are uniquely positioned to help people contemplating suicide
If you or someone you know is in crisis, call the Suicide & Crisis Lifeline: Call, chat or text 988, a national, 24-hour service.
When psychologist Karen Mason managed the Colorado Office of Suicide Prevention in the early 2000s, she wanted to engage faith leaders to help educate the public and respond to warning signs of crisis.
But her research since then has revealed a paradox. Though pastors are uniquely positioned to help prevent suicides, they're often hesitant to embrace the role.
"Clergy are very reluctant to talk about the topic because they don't know what to say and they're afraid to say the wrong thing," said Mason, now a professor of psychology at Gordon-Conwell Theological Seminary and the author of "Preventing Suicide: A Handbook for Pastors, Chaplains and Pastoral Counselors."
Faith leaders' silence, no matter how well-intentioned, comes at a price. It can reinforce stigma associated with suicidal thinking, Mason said, including the assumption that contemplating suicide signals a weak faith. When people feel that their struggles can't be disclosed, even at church, social isolation and risk of suicide can increase.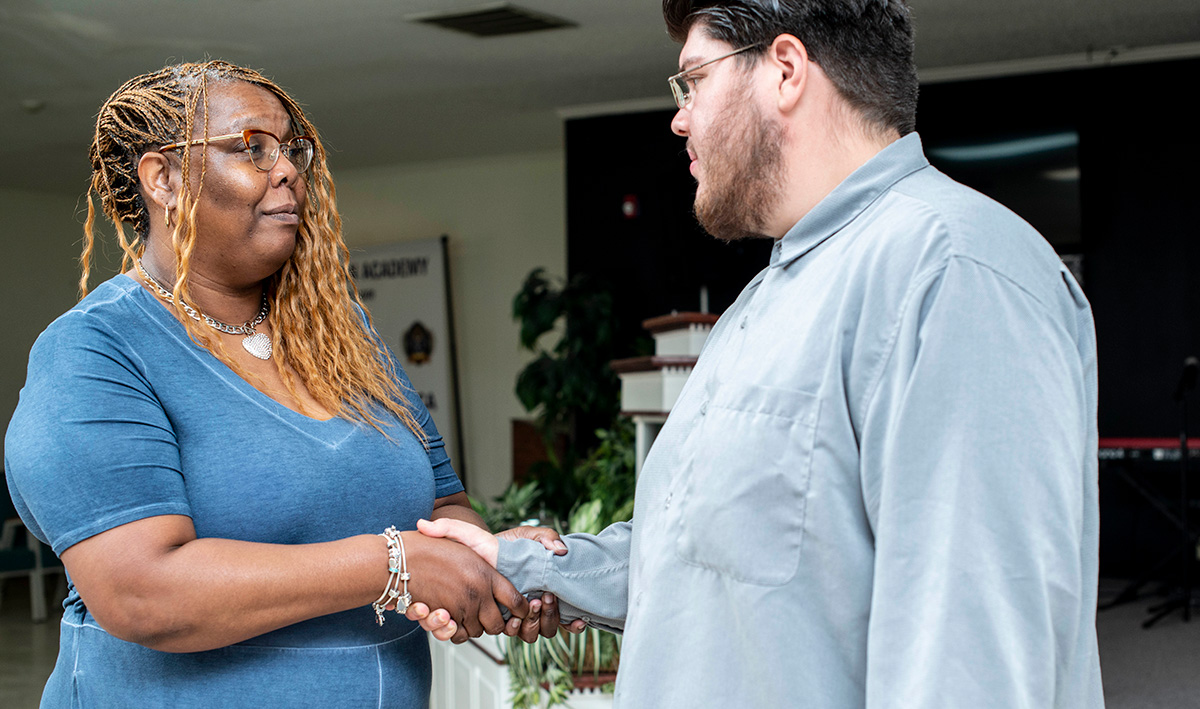 Pastors have "a moral responsibility to help this person sort through, 'What other options do [I] have besides death?'" Mason said.
Suicide is increasingly recognized as a prevalent and largely preventable problem. The U.S. suicide rate increased by 30% from 2000 to 2018, according to the Centers for Disease Control and Prevention. It's now the nation's 12th leading cause of death, responsible for the loss of almost 46,000 lives in 2020.
When clergy look out at the pews and see middle-aged faces, they're looking at the group most likely to need help: 80% of suicide deaths occur among men and women ages 45 to 54. Rates across age groups are especially high for certain demographic groups, including men, Native Americans, LGBTQ folks, rural dwellers, farm workers, military service members and veterans.
Efforts are now proliferating to help pastors rethink assumptions, prepare for conversations about suicide, and recognize that they don't have to be therapists in order to discuss people's hopeless feelings and influence their life-and-death choices.
Many pastors express a feeling of powerlessness, said Michelle Snyder, the executive director of Soul Shop, a nonprofit that equips faith leaders to train congregations in ministering to those pondering suicide.
"To which I say 'no'; I reject that. I think pastors have the power of persuasion," she said. "So leverage your position for suicide prevention."
Resources and training
Resources have been expanding to help pastors do that leveraging. For example, in October 2020, the LivingWorks company launched LivingWorks Faith, a self-paced online program that guides faith leaders in how to intervene, minister to the bereaved post-suicide and promote purposeful living.
Those seeking to go deeper can attend the company's two-day in-person program in Applied Suicide Intervention Skills Training (ASIST), which has been used by the U.S. military for more than 20 years.
Soul Shop offers a one-day in-person workshop for faith leaders that covers how to help congregants have conversations about suicide and how to solicit testimonies from those who've been suicidal in the past.
In August, it announced a new one-day workshop specifically for pastors, church staffers and lay leaders in the Black church. The Soul Shop for Black Churches training works to address the recent rise in suicides among Black people. The suicide rate for non-Hispanic Black Americans jumped 3.5% from 2019 to 2020, even as the general population saw a 3% decline in the same period.
And in July, the national suicide prevention hotline got a new, easy-to-remember number: 988. This gives pastors another tool to use in crisis situations, Mason said. If someone calls expressing thoughts about suicide, a pastor can keep the person on the phone and they can call 988 together.
On what topics are you silent? What is the price of that silence?
In trainings, pastors learn to spot warning signs. Some are actions, such as giving away all of one's personal possessions, not showing up for work or nonstop sobbing. Others might be comments such as, "I think the world would be better off without me." Major setbacks in a person's life, such as a divorce, bankruptcy or public humiliation, can also be associated with heightened suicidal risk.
Then what? When a pastor learns that someone is contemplating suicide, next steps could involve removing the intended means, connecting the person to mental health services and promising to follow up with a check-in call soon. All are doable by pastors with no specialized suicide prevention training, experts say.
When clergy hear someone say they're considering suicide, they are not legally obligated to report the suicidal person or to take other preventative actions unless they live in a state that requires such steps, according to Mason. She added that she does not know of any states that require clergy such reporting.
How can you foster a sense of belonging in your congregation?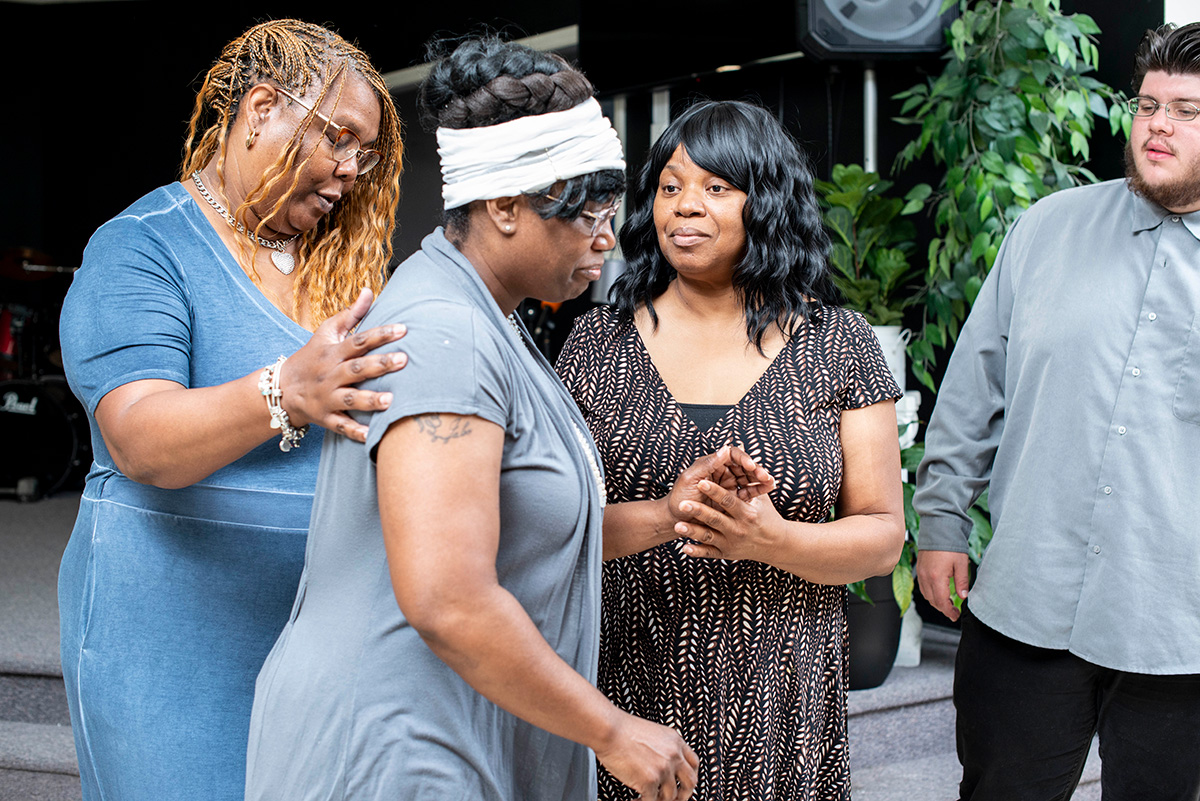 Guns and suicide
Removing the means that a suicidal person plans to use can be crucial, especially if the plan involves a gun. That's because guns are so lethal.
They're used in fewer than 5% of suicide attempts, yet they're responsible for more than half of all suicide deaths, according to CDC data. And 54% of gun deaths are suicides, according to 2020 data from the National Safety Council, a nonprofit focused on eliminating causes of preventable death.
Mason points out that guns are different from other methods because they don't allow a person to reconsider.
"If you were to swallow pills, you could say, 'Gosh, this is not what I wanted to do,' and you could call 911. But with guns, you don't get a second chance, and your reasons to live don't get a chance to emerge."
This is an area where pastors can make a difference.
Do the questions you ask invite honest responses?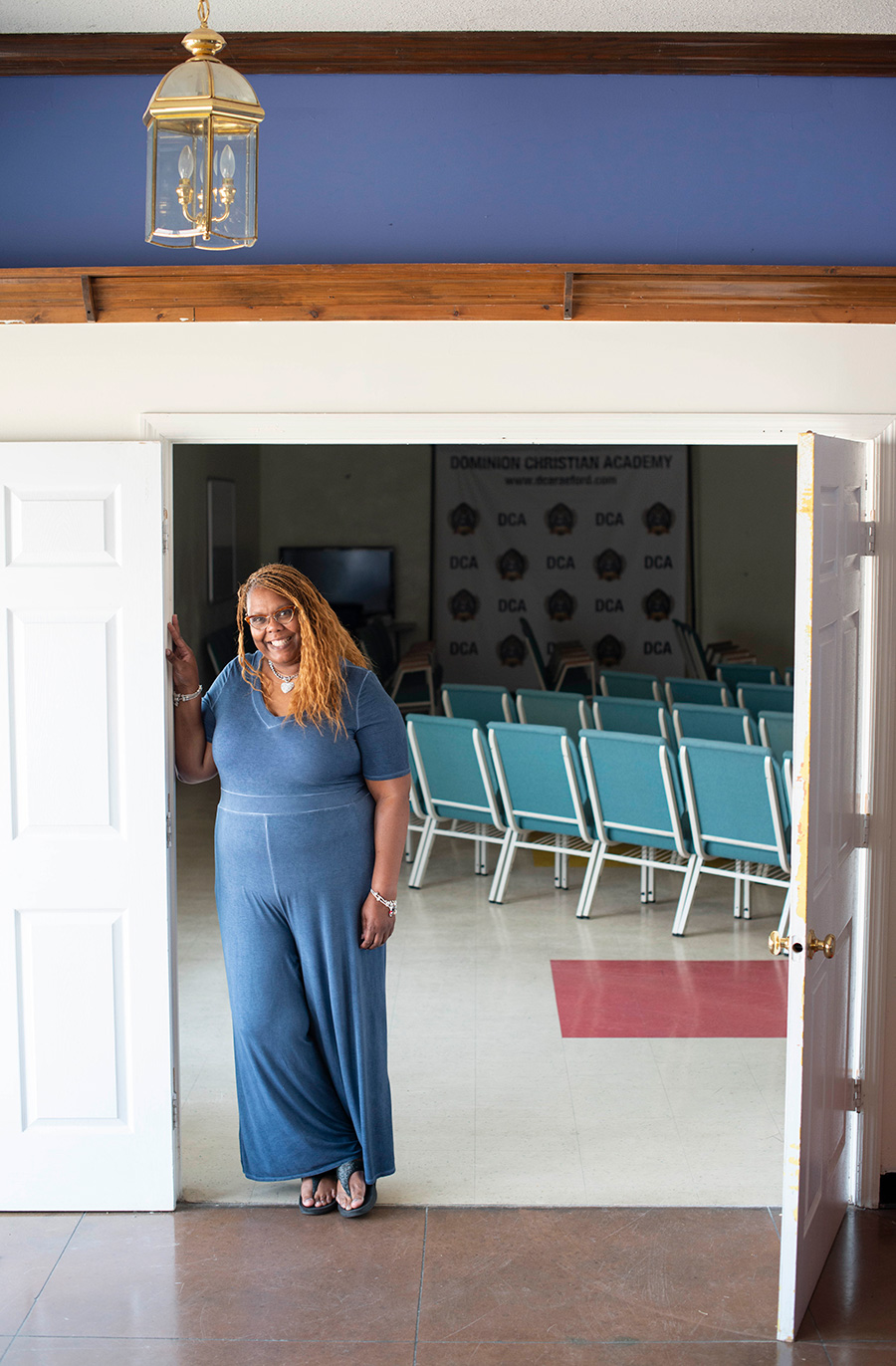 Being effective starts with asking directly, "Are you considering suicide?" That's a common question for the Rev. Kenya Procter to ask in her ministry as executive pastor at Ambassadors for Christ Worship Center in Fayetteville, North Carolina.
Raising the topic doesn't make suicidal thinking more likely, experts say, but rather creates a safe environment for people to express their desire for help. Procter also trains pastors in suicide prevention through the LivingWorks ASIST program, which emphasizes the need to be clear and direct.
The reason? If she were to ask something indirect, such as, "You're not thinking about doing something crazy, right?" she'd be prejudging the response, she said. Because a person who answered "yes" would be admitting to lunacy, he or she is apt to say "no" instead, even if the answer isn't sincere. Asking the question directly makes a clear and honest response more likely.
If a person answers "yes" and is a gun owner, Procter said, she might suggest storing the guns temporarily with the police department, which will return them when the person is ready. And for anyone possessing guns, whether presently in a crisis of suicidal thinking or not, she suggests keeping guns locked.
"The three seconds that it takes to unlock might be the three seconds that deter that person from using that firearm," Procter said. "Because then you have to get the key. You have to put the key in the lock. And people with thoughts of suicide are not always thinking rationally. … So those three seconds could make the difference."
Procter speaks as someone who's felt the pain of suicide's ripple effects. She and her husband, Fallon, had a mutual friend, Jay, whom they'd known when Fallon and Jay were soldiers stationed at Fort Bragg. Jay always seemed to have something about him that "never sat right, but I couldn't put my finger on it," she said. They later learned that Jay had been involved in another person's death and eventually killed himself.
When she got an opportunity to work in suicide prevention, she embraced it as a chance to help others do what she had not been equipped to do for Jay, such as know which warning signs to look for.
In talking with congregants, it's important to convey that God is near, according to Glen Bloomstrom, the director of faith community engagement for LivingWorks. Isolation can intensify thoughts of "My life is worthless; I don't belong" and needs to be met with messages of love.
"The healthy way to talk about this is …, 'We are here for you,'" Bloomstrom said. "'Don't isolate. Speak with us. We can get you help. You are very valuable to us. You are loved as part of our congregation.'"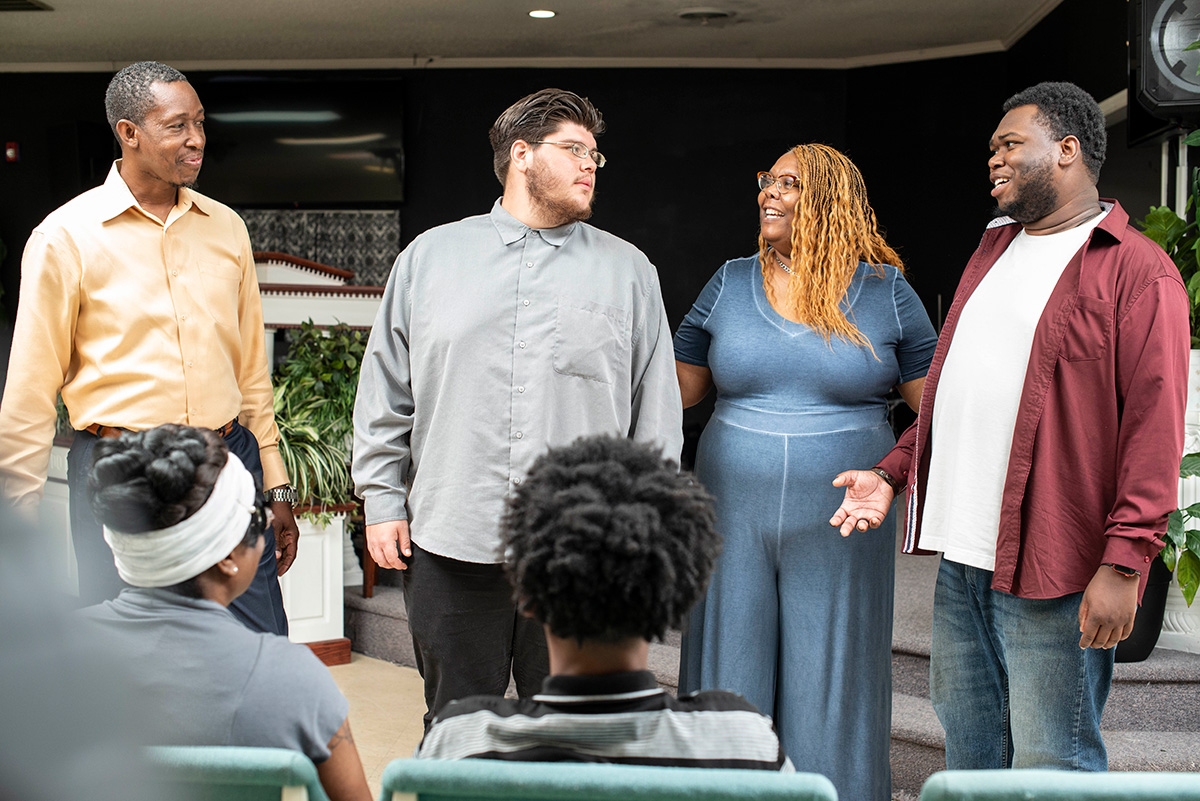 In these situations, pastors don't have to guess at what to say. The hotline can guide them in the moment as they speak with a suicidal person and conference in 988.
"Let 988 help the clergyperson or whoever is calling figure out the right thing to do next," Mason said. "The situations differ so much. It is hard to give advice [for faith leaders] that's going to blanket every situation."
Pastors can be most effective when they aren't acting as salvation agents but rather as equippers of a team effort to encourage life-affirming choices. For instance, a pastor who knows a responsible gun owner might ask, "If the situation arises, would you hold a gun for someone temporarily?"
Then if a crisis arises, the pastor can suggest to the suicidal gun owner, "How about if so-and-so, whom you know and trust, holds on to your guns for a while until you're ready to have them back?"
Cultivating community and hope
In crisis situations, disabling a suicide plan sometimes happens by moving the person to a new environment, such as a hospital emergency department, where mental health resources are available and firearms are not.
How can you form and equip a team to encourage life-affirming choices in a crisis?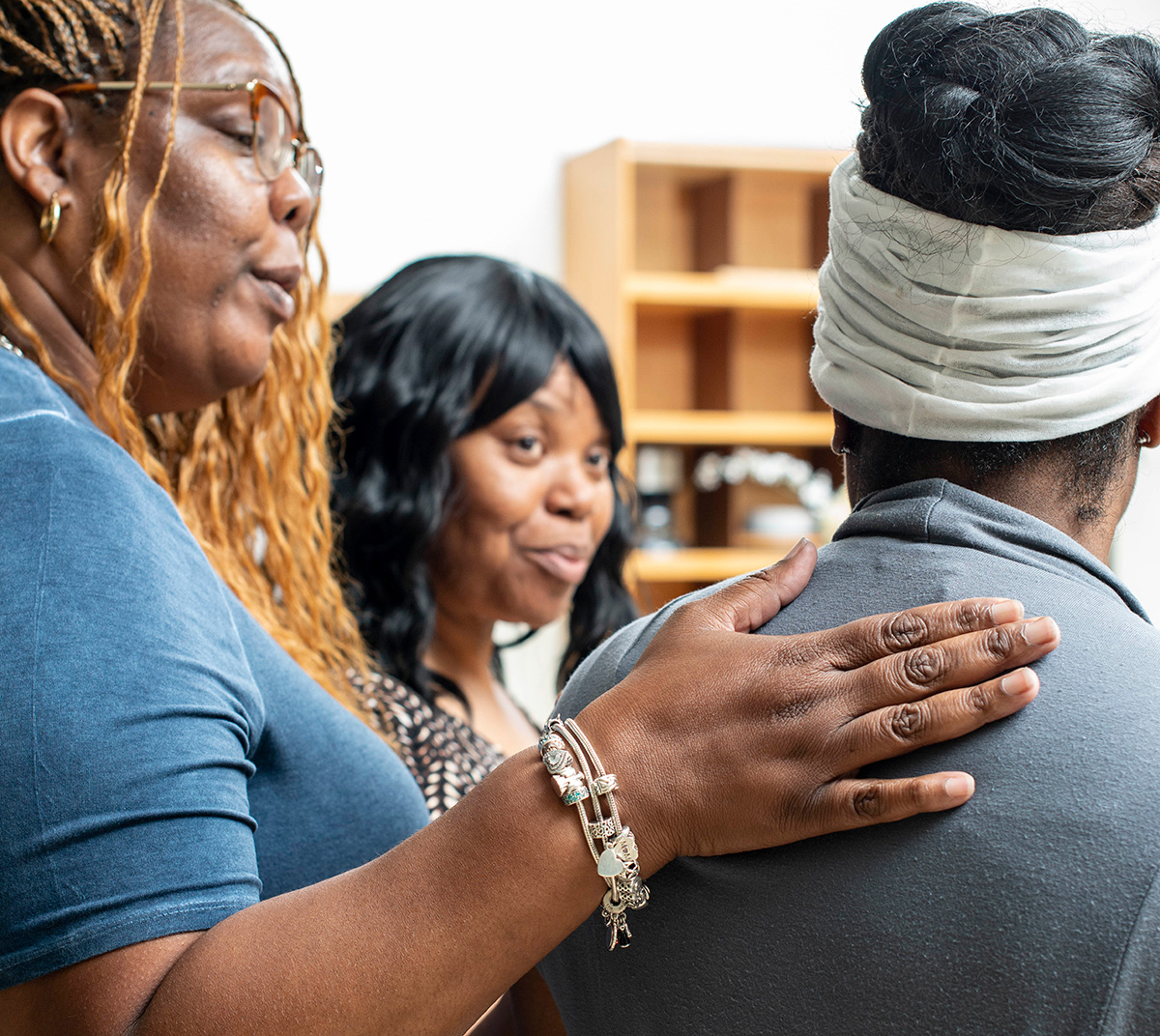 That's the approach used by the Rev. Leon Sampson, an Indigenous Episcopal priest at Good Shepherd Mission on the Navajo reservation in Fort Defiance, Arizona.
When they say they want to hurt themselves, "they want help," Sampson said.
"The first step we'll do is take them to the emergency room. We tell them, 'This person has said they want to hurt themselves.' Through the Indian health system, they will receive counseling and be able to get the resources they need."
But Sampson also knows that contributors to despair on the reservation are unfortunately common, including abuse, cyclical poverty and lingering effects from past traumas.
As an antidote, Good Shepherd hosts programs in which teens and young adults learn Navajo traditions, from agriculture and cooking to spiritual practices and the Navajo language. Sampson helps them proudly share their heritage and identity by inviting them to address church groups visiting on pilgrimage or mission trips.
As part of cultural pride building, Sampson lifts up appreciation for responsible gun ownership as a component of Navajo culture. He traces it to the tribe's long history of sending men and women into military service and having guns for protection and hunting.
With this honorable gun-owning tradition comes a duty, Sampson tells young Navajos, to store firearms and ammunition responsibly.
"Gun education and gun safety have been part of the community," Sampson said. "Very rarely do you hear of a teenager [here] self-inflicting harm with a gun. I think that's because of the history of families. … They have a deep understanding of how to handle and keep guns."
Theology, taboos and false assumptions
Shaping culture to support choosing life might look different on the reservation, on a Midwestern farm or in a coastal city. But in each setting, the pastor is drawing on a frequently used skill.
Pastors shape worlds by weaving narratives and elevating particular values in community life. In suicide prevention, that means grappling with how suicide has traditionally been viewed through a theological lens as well as parishioners' deeply ingrained taboos and assumptions.
Suicide is complicated for pastors, because it's loaded with theological baggage. It's been understood as sin, self-murder, cause for exclusion from Christian cemeteries, even an automatic ticket to hell. Such concepts presume that the final act was a grave misdeed and left no margin for repentance or forgiveness.
Such ideas trace back in part to Augustine of Hippo, the fourth-century African bishop who taught that life is a divine gift to be cherished and put to use, not something to extinguish in hopes of entering a better world in the hereafter.
New thinking about suicide and morality is needed to foster more compassion toward those struggling without hope, according to the Rev. Rhonda Mawhood Lee, an Episcopal priest in the Diocese of North Carolina. With support from a Louisville Institute grant, Lee is writing a book that develops a new theology of suicide.
Lee has been touched by suicide directly. Going back generations, several members of her family have taken their own lives. Her mother made multiple attempts at suicide while Lee was growing up before dying by suicide in 1995, when Lee was in her 20s.
She's careful with her terminology, using "died by" rather than "committed" suicide, because the latter connotes sin and crime.
"Saying that suicide and other complicated ills like substance use disorder reveal the fallen nature of our world does not have to mean assigning culpability to people who kill themselves, or sitting in judgment of them," Lee said in an email.
"It does mean we can lament suicides, have a range of feelings about them, and do what we can to prevent them."
In working through the repercussions of her mother's suicide, Lee has spent years researching her family history and noticing patterns that help her understand it.
A number of theological ideas about suicide need reexamining, she said. The one who dies by suicide shouldn't be seen as unsavable, she said, because that would "tie God's hands" and leave no room for grace. Instead, suicide, while always lamentable, should be seen in light of conditions that might have driven the person to desperation.
Taboos around suicide are tenacious, and today's work involves probing which ones, if any, still serve a useful purpose. The taboo describing suicide as self-murder is too harsh and diminishes compassion toward those struggling with suicidal ideation, Lee said. But the general cultural taboo against dying by suicide might help prevent suicide in some cases by marshaling social pressure to choose life instead, she said.
As pastors gain appreciation for how much they can do to prevent suicides, they're discovering how much needs to be done on fronts ranging from pastoral care and preaching to theology. Wherever they begin, it's with growing conviction that this is the church's work to do.
"We're trying to demystify the idea that [suicidal thinking] is somehow this untouchable thing that is so medical that it requires the professionals," Soul Shop's Snyder said. "In fact, what it requires is communities that can respond with community and with hope."
What do your congregation's theological ideas about suicide say about God?
Suicide prevention resources
Questions to consider
On what topics are you silent? What is the price of that silence?
How can you foster a sense of belonging in your congregation?
Do the questions you ask invite honest responses?
How can you form and equip a team to encourage life-affirming choices in a crisis?
What do your congregation's theological ideas about suicide say about God?
Editor's note: The following is adapted from "Part-Time Is Plenty: Thriving Without Full-Time Clergy," by G. Jeffrey MacDonald (Westminster John Knox, 2020).
As the coronavirus shutdown of 2020 takes a hefty toll on the coffers of congregations, many will soon have to ask whether they can still afford a full-time clergyperson. Shifting to part-time clergy can save tens of thousands of dollars — enough in some cases to keep open a church that otherwise would have to close.
Yet mainline Protestant churches routinely resist going part time, even when they're between pastors and taking a fresh look at the position. They've heard from pastors and from their denominations that part-time ministry all but guarantees further decline. But that's not true.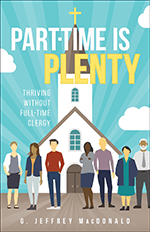 In the course of researching part-time clergy in 10 states, I've visited 20 mainline Protestant congregations that have found more vitality, not less, in key areas from worship to mission after cutting back from having full-time clergy.
They've done it by empowering laypeople to use their gifts and fulfill ministry passions that never got traction under a full-time pastor with an impossibly vast set of responsibilities.
In today's tough economic environment, we can no longer afford to maintain the belief that the only churches with bright futures are those with full-time clergy. We must shed the thinking that dismisses the part-time ministry option — a mentality that may in fact hasten the demise of local churches.
In my work both as a reporter and as a pastor, I've found that mainline congregations tend to begin with an assumption that full-time ministry is always the ideal. I found this in my own church, First Parish Church of Newbury (UCC). Prior to my arrival as part-time pastor in 2013, parishioners had clung to a full-time pastorate until the endowment was depleted, deficit spending was devouring cash flow, and the prospect of disbanding was suddenly on the table for a congregation founded in 1635. The small flock had so equated going part time with giving up that congregants, for a long time at least, would rather have gone broke trying to retain a full-time pastor.
They weren't alone.
"We were afraid we wouldn't be a real church" if the pastorate were to go part time, said Ron Bookbinder, a ruling elder at Clarendon Presbyterian Church in Arlington, Virginia, whom I interviewed for my book.
He realizes in hindsight that this belief was unfounded; Clarendon made the switch and is thriving, with growing membership, more participation in outreach and fresh, creative uses of their flexibly redesigned sanctuary. But letting go of the bias and trusting in God to water and bless a thoughtfully structured part-time arrangement took time.
The failure to view part-time clergy as a viable way to structure ministry can lead churches to unwittingly stack the deck against a successful part-time pastorate.
Judicatory staffers may urge congregations to keep clergy full time for as long as possible, for example, because they regard part-time as the kiss of death. But that's a mistake. Churches that wait too long to go part time and then poorly structure the ministry all but guarantee an inward-facing collapse.
If they're blessed to have endowments, as my church was, they may deplete those coffers by paying clergy salaries they can't afford. They use up monies that could have enabled future investments in ministry, with no new flourishing to show for it.
What's more, congregations have by then used up precious time. A membership that was once young and energetic enough to take on more ministry responsibilities in a part-time rubric is severely diminished in size and energy by the time the switch happens.
At that point, fiscal margins are razor thin or the church is hemorrhaging cash. Laborers fit for the harvest alongside a part-time pastor are now few. On their knees and fearing closure, congregations in this situation reluctantly go part time at the last possible hour. But by then, their continued decline is virtually a fait accompli.
When they fizzle out, they often hear, "I told you so. Part-time is the kiss of death." That mistaken analysis misplaces blame and perpetuates the full-time bias in mainline church culture. The cycle of death unfortunately and unnecessarily continues.
In some cases, congregations inflate assumptions about how much in church life must be done solely by clergy. Convinced that only clergy can effectively preach, administer sacraments, pray with the dying, visit the sick and represent the church around town, congregations will shrug and concede: "Oh, well. Too bad. Wish our church could do more for members, friends and the wider community. But without full-time clergy, our hands are tied."
That mentality distinguishes congregations that keep declining from those that take steps to empower laity in new ways and thus thrive. Learning that roles don't have to be so rigid, that laypeople have more authorization than they realize, that ministry in all its profundity and blessings is meant to be shared — all of this requires a concerted mental shift.
Congregations that thrive after going part time have made that mental shift. The ones that keep declining after going part time either haven't made it or made it too late to be successful.
To help congregations to make the shift, we must redeem part-time ministry from stigma. That process will need to include heightened appreciation for the important, normative role that part-time ministry has played through most of the church's history. And it will need to dispel the dismissive contemporary attitude toward part-time work — not just in ministry, but in all segments of American culture.
In many circles, "part-time" unfairly conjures negative associations, as though it were a synonym for halfhearted, not really committed to the job. But why?
"Full-time" refers to working 40 of the 168 hours in a week. That's less than 25% of the week, yet it's valorized as if it were a complete commitment, in contrast to, say, that of a part-timer who gives 18% of his or her entire week to a 30-hour job.
In other words, we all give only a fraction of our lives to work, even those of us who are salaried and put in more than 40 hours. "Full-time" is a misnomer that seeks to carve out a separate, elite class of worker. If our lexicon were more precise, we would acknowledge that everyone works part time.
Dedication is a qualitative measure of commitment to work that gets done in an allotted time frame, no matter how large or small that window of time happens to be. It is not a quantitative measure based on the time frame's size alone.
Hence, those engaged in ministry on a part-time basis (under 35 hours per week) can be every bit as dedicated as their full-time colleagues. The part-timers are just working on the right scale for the faith communities they serve.
The reluctance of mainline cultures to view part-timers as every bit as dedicated as full-timers is akin, it seems, to America's cultural resistance to working mothers in the 1950s.
The mothers of that era who worked outside the home were looked down upon, pitied or both. Because they did not spend all their working hours solely on homemaking, they were scorned for being insufficiently dedicated to the children and husbands who were presumed to need their full, selfless attention.
This attitude was inherently classist, as only middle- and upper-class households could afford to live such a lifestyle, and glamorizing it only reinforced a premise equating wealth with moral wholesomeness.
Mainline denominations, despite championing progressive public and ecclesiastical policies, have remained largely stuck in a 1950s idea of a dedicated clergyperson. Expecting that the church must be the clergy's sole professional focus is as dated as insisting that every mother must stay at home and forgo paid work in order to raise her kids.
These days, some mothers still choose to stay at home when doing so fits their families' needs and resources. Likewise, some clergy still work full time when doing so meets their congregations' needs and resources.
But just as millions of today's mothers need and want to work outside the home, countless numbers of today's clergy also need and want to work outside the church. This does not mean they are bad mothers or uncommitted pastors.
Just as America has embraced working motherhood, mainline churches need to embrace part-time ministry as a legitimate, holy, every-bit-as-dedicated calling.
Editor's note: Research for this story was funded by The BTS Center, a Maine-based think tank focused on 21st-century faith communities. It included visits to nearly two dozen vital mainline congregations that have shifted from full- to part-time clergy.
Adjusting to life without a full-time pastor has become a pressing challenge for thousands of congregations in mainline Protestant denominations across the country.
Shrinking attendance and ever-leaner budgets have forced churches to pare back the pastorate, and many wonder how effective ministry can happen when clergy are working just 30, 20 or 10 hours a week for the church.
Relearning how to do effective congregational ministry with part-time clergy is no easy task, and denominational officers have no easy answers. The traditional model for mainline churches relies on full-time clergy, and it can be difficult to envision a thriving congregation with a part-time pastor.
"It's the white, old-line that is having to make the adjustment," said E. Brooks Holifield, professor emeritus of American church history at Emory University and the author of "God's Ambassadors: A History of the Christian Clergy in America."
"The transition is being felt most deeply by churches that had an expectation of a full-time clergyperson who devoted all of his or her time to the church. In other groups and other traditions, that expectation was not always there."
More and more congregations are likely to face this issue. According to the National Congregations Study, nearly 40 percent of mainline Protestant congregations had no full-time paid clergy in 2012.
In your role, how can you encourage congregations to view considering a transition to part-time ministry as an opportunity for renewed ministry rather than as a defeat or failure?
Yet not all congregations struggle after transitioning to a part-time pastor. Dozens have found vitality by avoiding pitfalls that have caused other churches to stumble when making the shift. As more churches go part time, instructive stories are emerging.
"They recognize their reality that they can't afford a full-time pastor, but that doesn't mean they're not going to have a ministry," said Darren Morgan, the associate conference minister for the Maine Conference of the United Church of Christ, where 68 percent of the 156 congregations have no full-time clergy.
"The leadership within those churches is strong. They say, 'We're not going to be a weak church. We'll be a strong, small church.'"
Some see it as recovering an ancient tradition for a new time.
"We're doing things kind of the way the early Christians did before they built churches," said Mark Raymond, a member of New Sharon Congregational Church (UCC) in New Sharon, Maine, where a handful of laypeople take turns leading worship around a table each week. "There's more of that spirit," he said.
The research for this story shows that vitality in those "strong, small churches" doesn't look the same in every congregation.
Signs of vitality can include growing average Sunday attendance, increasing engagement in ministries, expanding community outreach or some combination. All the congregations featured here have stabilized church finances since going part time and have taken steps to reinvigorate ministries.
Three models have emerged that illustrate how vital churches are making the adjustment: the pastor as equipper of laypeople, the pastor as ambassador and the pastor as team member.
Pastor as equipper of laypeople, not provider of services
With part-time ministries, denominational leaders see a common problem. The pastor has diminished capacity for ministry, and parishioners don't pick up the slack. Much of what the church once had to offer gets lost or hollowed out.
Vital churches, however, head off this problem by rethinking the pastor's role. She or he becomes less a provider of religious services and more an equipper of laypeople to perform duties that had previously fallen to clergy.
What might this broader shift to part-time clergy contribute to our understanding of the ordained ministry and of lay ministry?
These congregations are reclaiming dormant threads in their denominational traditions and finding meaning in the process.
Consider the Episcopal Church, where 48 percent of congregations have no full-time paid clergy, up from 43 percent five years ago. Lay Episcopalians are reclaiming ministries they've long been authorized to do but seldom did when full-time clergy were around.
If part-time clergy encourage laypeople to take responsibility and experiment, congregants can learn to spread their wings.
At St. Columba's Church in Kent, Washington, for example, average Sunday attendance has grown 44 percent (from 55 to 79) since its pastorate went part time in 2014. New ministries to raise vegetables for the hungry and shelter homeless men have taken off since then, parishioners say, in part because part-time vicar the Rev. Alissabeth Newton doesn't try to "run the show," as founding church member Bob Ewing put it.
"What I found," said Micah Kurtz, a young father who used to attend a nearby megachurch, "was an openness to let people own things and say, 'Hey, why don't we try this? It might meet your skills. Give it a shot.'" Kurtz is now an active member at St. Columba's, where he oversees the Just Garden ministry.
In vital churches, priests may defer to laypeople to carry out some traditionally priestly functions. At St. Timothy's Church in Henderson, Nevada, laypeople sometimes preside at funerals and always at the two weekday Eucharist services.
Laywoman Muriel Dufendach distributes elements consecrated the prior Sunday by the congregation's priest-in-charge, the Rev. Carol Walton, who sits in a pew and receives with everyone else.
"Laypeople can do an awful lot of stuff in the church," Dufendach said. And Walton, who serves 24 hours a week, is happy to accommodate.
"I'm not going to take over something that a layperson has been doing, because I think that's part of vitality: having ministry that people want to do," Walton said.
Sometimes laypeople have gifts just waiting for an outlet — and for permission to use them. At Christ Church in Bethel, Vermont, 10 of the 20 members of the congregation take turns preaching. That lightens the load for their volunteer priest, the Rev. Shelie Richardson, who works full time as an insurance agent and preaches just a few times a year.
Not every church has such a stable of talent ready to go, but some congregations are addressing this by making the part-time pastorate into a trainer's role. This works especially well in a three-quarters-time arrangement, where the pastor can satisfy some congregational needs and still have time to train laity to do parts of his or her job.
For example, at Christ the King Lutheran Church in Tacoma, Washington, the Rev. Peter Mohr uses a portion of his three-quarters-time role to equip laity for functions he used to fulfill.
He meets with Bible study leaders once a month and then leaves the teaching to them. Rather than preaching every Sunday, he meets with congregants who fill in, answering questions they might have about texts or interpretations.
At St. John's Episcopal Church in Gloucester, Massachusetts, full-time priests used to maintain an active presence around town, inviting people to church, but times have changed.
At 30 hours a week, the Rev. Bret Hays lacks the time for that. Instead, he has trained congregants in a multiweek workshop to be lay evangelists. And like many coping strategies, this approach yields additional benefits.
"It's not just a strategy of equipping the laity," Hays said. "It's also a strategy to respond to the phenomenon that makes an invitation from a layperson count for much more than an invitation from a priest."
Pastor as ambassador through strategic use of time
A second type of challenge arises when churches cut clergy hours back to part-time and then fall, sometimes unwittingly, into an insular chaplaincy situation. Pastors spend the little time they have leading Sunday worship and visiting the sick, so that they're left with no time for anything else.
"But what we know for vital congregations — those that are having an impact on their communities, are growing and have increased access to resources — is that a pastor needs to be doing less visiting and more leading and engagement externally with their local community," said the Rev. Sara Anderson of the New England Synod of the Evangelical Lutheran Church in America (ELCA).
Some congregations have avoided the chaplaincy model by counterintuitively revamping the part-time pastorate to make sure it includes more time, not less, for community engagement.
Since switching to part-time five years ago, St. John's Lutheran Church in Lakewood, Washington, has doubled average Sunday attendance, from 25 to 50. It's seeing newcomers from nonfaith, Buddhist and Mormon backgrounds, among others. The church has boosted mission giving from zero to 7 percent of the budget over that period.
The Rev. Joe Smith envisions his three-fifths-time pastorate as St. John's ambassador. And he gets creative with it. He sometimes stands at the curb at rush hour and waves to commuters passing the church. He visits Boy Scout troops as they meet at St. John's and organizes Scout Sundays, which bring dozens of scouts and their families to worship.
"There was no playbook at all" for how to do part-time ministry effectively, Smith said. "Without it being a circus or too much of a publicity stunt, you do whatever you can to have people in the church, because the critical mass is important. If people come into what feels like an empty space, they won't come back."
Down the road in an East Tacoma public housing development, Salishan Eastside Lutheran Mission gathers a self-reliant flock of 15 or 20 for worship in the Holy Family of Jesus Cambodian Episcopal Church.
For worship, the group needs nothing from its pastor, authorized lay minister Lauren Vignec, except a sermon (and sometimes the Cambodian priest covers that part, too). Congregants handle everything else. Therefore, when he's not on his day job as a financial adviser, Vignec can pour his ministry time into community outreach.
He finds plenty to do. One day he's delivering emergency food from World Vision to homes in the neighborhood. The next day he's visiting one of three local casinos, where he tells people he's a pastor and lets the conversations flow.
Several times a year, Vignec organizes a Salishan "dance church" called Fear No Evil, where street dancers compete before a judging panel. It draws more than 100 dancers and spectators, including many young African-American, Latino and Native American men.
Vignec is on a dance team and takes his turn competing. Between rounds, he delivers Scripture readings and a sermon, usually about resolving conflict or managing mental illness.
"The really cool stuff we're doing here, like with dance church — I don't think this would be possible in a normal relationship between a normal pastor and a normal church board," Vignec said. "The reason why I'm capable of even trying this stuff is because they just told me, 'Lauren, do whatever you want to do to revitalize this church. Just try it.'"
In Vignec's experience, mainline churches often get the part-time model wrong.
"They think of it like, 'We can have a 15-hour-a-week pastor, because it will take 15 hours to do all the things we want the pastor to do.'
"No, no, no, no, no," he said. "The church should do those things and let the pastor do something to bring in new people to the church, however that is going to work. And there are a ton of different ways to make it work."
Sometimes, new experiments require letting go of what had been expected duties. Unlike her full-time predecessors, the Rev. Linda Brewster of Tuttle Road United Methodist Church in Cumberland, Maine, doesn't attend committee meetings. And once a month, laypeople take over preaching.
With that carved-out time, Brewster, who works full time as a nurse practitioner, tries new types of outreach. Overall, the approach is working. Average Sunday attendance at Tuttle Road has doubled, from 30 to 60, since the church went part time three years ago.
One successful outreach experiment: Messy Grace. Around 5 p.m. on Saturday afternoons once a month, families with young kids who don't otherwise go to church stop by for a 10-minute taste of worship, followed by music, supper and an environmental lesson, such as gardening or composting.
For parents and kids who attend, Messy Grace has become their church.
"We had a wonderful baptism," Brewster said. "We had a pool of water with some white ducks in it. People sang 'Wade in the Water' and danced down the aisle. They wouldn't have done that during Sunday morning worship, but for some reason they would do it on Saturday afternoon."
Pastor as team member, sharing the pastorate with other part-timers
When cash-strapped congregations do whatever it takes to retain a full-time pastor, they sometimes court a burnout situation. A disproportionate share of the budget — and consequently, the ministry expectations — land on one person who can become overworked and unhappy.
In such situations, switching to part-time clergy, where the pastorate is joyfully shared among multiple part-time staff, can be enlivening.
Clarendon Presbyterian Church (U.S.A.) in Arlington, Virginia, for example, can afford a full-time pastor but has strategically opted not to do so.
Before Clarendon made its pastorate part-time in 2012, burnout was a real problem.
"Everything fell on the pastor's shoulders, from running copies of Sunday morning bulletins to changing burned-out lightbulbs," said the Rev. David Ensign. He said he told his board the model wasn't helping the congregation, and "it was killing me."
The solution: Ensign volunteered to go half time and let the savings go toward hiring a part-time administrative assistant. The change has renewed Ensign's ministry by delivering less clerical work and more time for family, guitar and other creative pursuits.
The arrangement has helped the congregants as well. The new staffer handles administrative issues related to rental units owned by the church, a job that congregants once had to do.
Are you aware of congregations considering this transition for missional reasons as opposed to economic ones?
With more time for what's fun and meaningful, people like Ron Bookbinder are more engaged in the Clarendon ministries they care about, such as writing pastoral care letters and going on a mission trip to help flood victims in West Virginia.
"The message I get from the change is that we can be open," said Bookbinder, a ruling elder in the church. "We can do new things. We can focus on what we're really good at. And we can explore — try something different."
Other congregations are trying a similar approach. Since First United Methodist Church in Hudson, Massachusetts, went part time in 2015, 10 new members have joined, and lay-led classes are thriving.
With those successes and others, some hope the pastorate will become full-time again soon. But the Rev. Rosanne Roberts, a retiree on Medicare, said hiring another part-time employee to work with children and families would be better stewardship.
"As soon as it became clear that we would be ending the year in the black, someone on the finance team said, 'Oh, great! We can move you up to three-quarters-time or back to full-time,'" Roberts said. "I said, 'No! You're forgetting it's not just the salary.'"
Having a full-time pastor would put the church on the hook for health insurance premiums, she pointed out. "And we'd be in trouble all over again."
Willing and able laity
One key to all three models is the congregation. Motivated laypeople are instrumental to both the vision and the execution. From leading worship to pastoral care, their new roles are inextricably linked to their congregation's destiny.
"In order to be successful, the laity have to be willing and able to do this," said Morgan of the UCC's Maine Conference.
How might denominational structures and assumptions have to change to recognize the increasing number of part-time or non-paid clergy?
They're proving they can step up, learn and lead. In the process, pastorates are becoming more distributed across entire congregations and less confined to one individual.
Whether growing vegetables for the hungry, reaching out to the church's neighbors, presiding at services or sharing administrative duties, the clergy and laity of successful congregations are working together in new — or rediscovered — ways. They are reframing the part-time pastorate, allowing new vitality to emerge. And their stories hold lessons for congregations across the country.
Questions to consider
Questions to consider
In your role, how can you encourage congregations to view considering a transition to part-time ministry as an opportunity for renewed ministry rather than as a defeat or failure?
What might this broader shift to part-time clergy contribute to our understanding of the ordained ministry and of lay ministry?
How might denominational structures and assumptions have to change to recognize the increasing number of part-time or non-paid clergy?
Are you aware of congregations considering this transition for missional reasons as opposed to economic ones?
What support do part-time clergy need to sustain their vocations? What support do laity need during and after such transitions? Is your organization able to offer these resources?