Creating our future is a group effort
We were fumbling with the coffee maker.
Standing in our church's newly renovated, post-pandemic-lockdown kitchen, we were thrilled by the much-needed additional space, by the thoughtfully repositioned appliances and fixtures, by the opportunity to open new cabinets and drawers on a treasure hunt for tablecloths and votive candles.
But on this particular morning, as our group prepared to set up for coffee hour, the process of how to do that with equipment we couldn't recall stumped us for a moment. We had collectively prepped for this between-services social time on dozens of occasions before COVID-19 — tables, snacks, coffee, tea and a big jug of reconstituted lemonade powder for those who partake. Now, some parts of those rituals had changed.
Then someone stepped forward who had never made coffee in the old system before — someone who was comfortable following the directions because there was no comparative "not quite how I remember it" to block progress. Our group's hosting of the weekly hospitality proceeded.
By combining the wisdom of those grounded by where things were with the ingenuity of one unrestricted by where they'd been, we were able to co-create several excellent pots of coffee.
Let the church say, "Amen."
That is a simple (but real!) example of where I think churches are right now. Headed into the first Advent in three years with few to no restrictions anticipated in most houses of worship, faithful people have been drawing on the experience of the pandemic years to reevaluate our communal life. The last few months in particular, as programming has picked up and more activities have returned in person, we have been remembering what we've forgotten while discovering what we still need to know.
Which keys have been changed, and who needs replacements?
When did we start using this church school curriculum, and why?
How do we regather when we are still frayed, frightened and in some cases irritable? How do we reclaim the soft skills required to be together?
In response, our first instinct might be to create something new. There is little that church people love to do more than to "fix it," whatever "it" is. (There are also folks who don't mind breaking things, and we're seeing some of that too.) But that first instinct, often out of a combination of love, responsibility and discipleship, is to create what is needed.
That raises challenges. First, too often in our Western culture, creating is seen as a solitary endeavor, an "I'll fix it myself!" mindset that focuses responsibility and concentrates authority in the hands of one (or a very few). There are obviously times when we create alone, sometimes because the work is personal or because the medium doesn't lend itself to the task of an eager committee.
But the hierarchical models of many institutional churches can perpetuate the pattern in which a single person takes over work that would be better done by a group.
Second, we're often focused on re-creating. When we set out to re-create what we had — another option for making the coffee, planning the mission trip or leading the meeting — we presume on some level that nothing has changed and that our way is still the best.
Same pot and brewing system, except it's not.
Same number and types of kids going on a mission trip with the same checklist of needs, wants and concerns, except they're not.
Same format of dear faces gathering at a conference room table with a pile of mints and chocolate candies to share, except the tables are our own, separately, and the faces are on our screens. For reasons of convenience, safety and efficiency, the meetings will continue this way indefinitely.
Re-creating ignores these realities. It glosses over what we've all been through with COVID-19, racial pandemics and political disruption and ignores what remains ahead of us. Rather than building on the hard lessons of the pandemics, it assumes that we're gearing back up to do what we've always done, much as we always have.
But our world has fundamentally changed.
Maybe, just maybe, this kin-dom season is calling us instead to co-creation — the beautiful, intentional, messy and incremental work of envisioning and growing together. Indeed, it's already happening! One of the delights of my work is that I get to see the wonder of co-creation all the time.
Even in COVID's darkest moment, even as our nation was shaken to its racist underpinnings, the stories of faithful people working in spaces of collective liberation and collaborative wonder were flashing across my screen.
Every two weeks, my colleagues hear me say that this story or this issue of Faith & Leadership is my favorite, and I mean it every time. Many of the efforts we have highlighted started before March 2020, but what they accomplished in a time of great uncertainty has only reinforced their work in partnership with others and with an openness to what newness offers.
Maybe, just maybe, this kin-dom season is calling us instead to co-creation — the beautiful, intentional, messy and incremental work of envisioning and growing together.
Sometimes they knew that what was next needed to be different. Sometimes they listened, open to what next might be.
Just before COVID shut down churches for Lent 2020, for example, we posted the story of stained-glass windows that New Mount Pilgrim Missionary Baptist Church has installed over the course of years to more fully represent the community, its history and its present.
From Nashville, the story of former churches that became boutique hotels and now provide funding for agencies working with the unhoused. From Minneapolis, how New City Church and Holy Trinity Lutheran Church were alert and responsive after the murder of George Floyd.
When leaders in Black churches assessed COVID's impact in the communities they serve, the response was significant and successful. When a Massachusetts congregation wanted to do right by the debt owed to the creators of Negro spirituals, they put their money where the music was.
The work done by and with young people has been astounding, from feeding their community to building a community beyond ministry walls.
From big, multiyear projects to slow, intentional internal work to community-inclusive crisis response, co-creation is a worthy model for generating growth and renewal. The examples we see at Faith & Leadership so often embody a deep commitment to beloved community and to collective transformation.
A new church year is upon us, and this liturgical season is marked by watchful waiting and anticipation. It is also a time for reflection. Our regathering with intentionality is a counterbalance of sorts to the pandemic's forced isolation.
What might this next year hold? Can we be open to the possibility of newness rather than tethered to the ways that worked (or perhaps really didn't), given the existential reset of the last three years? How might the coming year be different if we faithfully enter into partnerships and collaborations that draw on the experiences and wisdom of many rather than a few?
What will happen if we take the time to build what's next together?
By now, no concept or idea is too off-the-wall for the Rev. Barry Randolph and his congregation at Church of the Messiah in Detroit.
More than 200 affordable housing units run by the church? Check. Free internet for residents who didn't have access? Done. A growing list of incubated businesses with products ranging from tea to deodorant to a clothing line? No problem.
This innovative Episcopal church anchors the Islandview neighborhood on Detroit's east side. In a city with an estimated poverty rate of 36%, more than three times the national average, Randolph is driven by a desire to foster an equitable community whose residents have a stake in its success.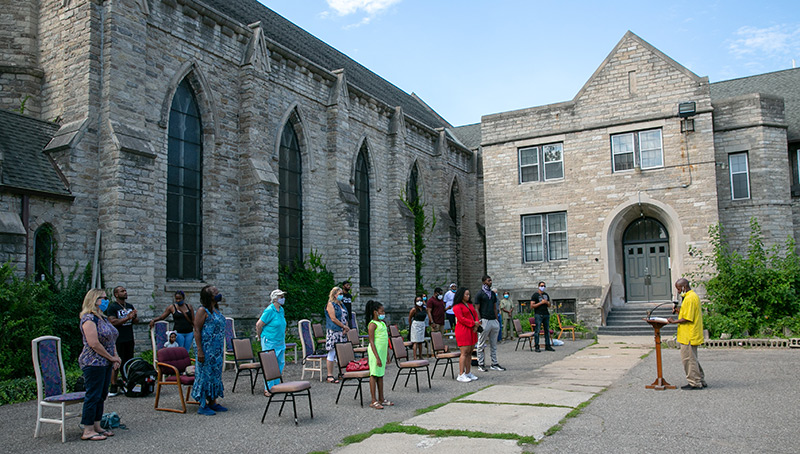 "You can't throw money at it. It's not about just getting somebody a job. Now you have to teach people how to keep the job," said 57-year-old Randolph. "And it's not about just bringing people up. Sometimes you gotta bring up the whole community."
What challenges does your congregation face that cannot be solved with money?
This approach helped Randolph transform the church, once on the verge of shuttering, to a community hub that's now more than 300 members strong, racially diverse and majority young.
Randolph and his parishioners see the church as an incubation center. At the church, someone with a business idea can team up with accountants and attorneys to get it off the ground, and many have.
"You need your phone charged? Here's a charging station," said Bishop Bonnie Perry of the Episcopal Diocese of Michigan, referring to Church of the Messiah's four solar-powered community charging stations. "The entrepreneurial spirit, that kind of spirit, is what our church longs for."
Leadership Education at Duke Divinity recognizes institutions that act creatively in the face of challenges while remaining faithful to their mission and convictions. Winners received $10,000 to continue their work.
People returning home from prison can seek help getting a job from the church's employment office. The church is also the home base for a marching band that secures college scholarships for teens who once thought they wouldn't graduate from high school.
To Randolph, it all ties back to providing people a path out of poverty.
A relatable approach
Ask members at Church of the Messiah their impressions of Randolph and his leadership and they'll likely say he's the "realest" pastor they know.
Before he became a priest, Randolph was a businessman. He co-owned a distribution company, dabbled in catering and managed the deli at a local market for a decade.
He doesn't write down his sermons. He doesn't preach from the pulpit, because he doesn't like to be elevated above his congregation.
He dresses casually, wearing a short-sleeved button-up and khakis during a recent outdoor service.
His congregation calls him Pastor Barry, not Father.
Of the Episcopal Diocese of Michigan's 90 active priests and deacons, he's one of six Black clergypeople.
Bucking the trend of the majority-white denomination, 60% of Church of the Messiah's members are Black men under 30. Randolph says 70% of his congregation is under age 35.
"It was kind of different for me seeing people exactly like me, the exact same mentality," said 22-year-old Samijai Blanks, a Black man who has been involved with the church since he was a boy. "A lot of people my age wouldn't even think about church."
Randolph lives at the church and doesn't take a salary. He has a large family — 11 brothers and sisters, and 31 adult nieces and nephews — who pitch in to support him financially. His relatives pay for his groceries and help with transportation, because he doesn't own a car.
Foundation funding, philanthropic donations, and a mix of spiritual and secular collaboration sustain the church's ministries. Over the years, the Ford Foundation, the Kresge Foundation and others have financed efforts such as the business incubation program and the employment office.
"We never do anything based on money. We do it, and then the money seems to follow," Randolph said. "People see the work, and then they come in and they help us to be able to build."
What could your church do if you pursued an idea first and trusted that the money would follow?
Church of the Messiah's work in the community has drawn interest from as far as Latvia and Uganda. The church is spearheading what it calls The Master's Plan, a coalition of 103 religious organizations seeking to rebuild communities and lift people out of poverty by drawing on the talents of their congregations. Randolph is leading churches in doing an asset assessment to identify members who work in the medical field, skilled trades, education and other professions to "help build the kingdom."
"We're trying to use other churches to be able to do it in their community and neighborhood with no excuses," he said. "It's worked for us."
The hardest aspect of this type of community building is for churches to shift their mindset from focusing on what people are missing to realizing what they have, said the Rev. Michael Mather, the pastor of First United Methodist Church of Boulder, Colorado, and a faculty member at the Asset-Based Community Development Institute at DePaul University.
What would it take to shift your church's focus from what's missing to what assets are present?
Mather is a former pastor of Broadway United Methodist Church in Indianapolis, where he revamped the church's approach to ministry by asking people what their gifts were and looking for opportunities around those talents.
"One of the rules that we followed and that we've tried to think about a lot was that money should always flow into the hands of the people who don't have much," Mather said. "In the past, what we've done is we would pay ourselves to run programs for people whose problem was they didn't have money. But we didn't see the irrationality of it when we were doing it."
Making the word of God tangible
Randolph first came to Church of the Messiah in 1991. He attended a service to hear his mother, a member, speak about faith.
He hadn't been to church in two years. Raised a Baptist, he'd always believed in God. "I just couldn't stand organized religion," he said.
He found the Episcopal service ritualistic and dry. He hated the chanting. The hymns reminded him of a funeral march. Bored by it all, he swore he'd never return.
But the church was looking for someone to tutor kids in reading, and Randolph agreed to it. The church's commitment to the community, demonstrated through efforts like the Church of the Messiah Housing Corporation founded in 1978, and his respect for the people behind those efforts, including then-rector the Rev. Canon Ronald Spann, eased his skepticism. Randolph eventually became a member.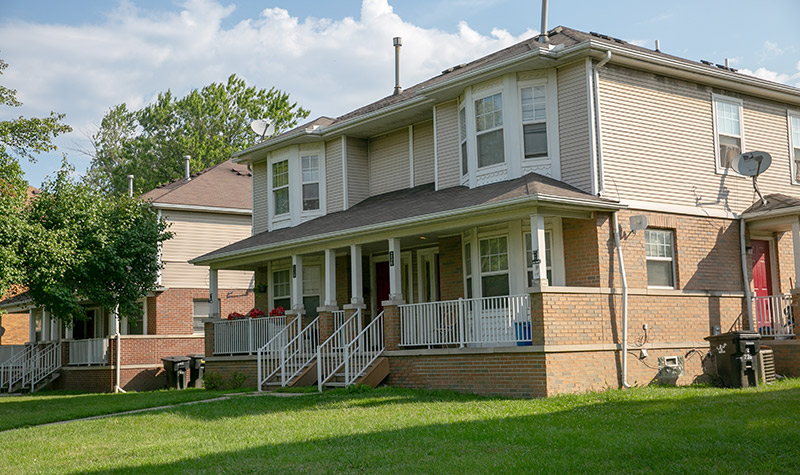 His relationship with the church deepened thanks to his love for working with kids. He became the Sunday school teacher, then the youth director, then the worship leader.
Randolph moved to the Islandview neighborhood in 1997 to be close to Church of the Messiah. He grew up six blocks away, but unlike Islandview, his childhood neighborhood had no concentrated poverty. When he moved there as an adult, he realized that while his upbringing had been more privileged, he felt more at home in tightknit Islandview. The residents were the jewels of the community — they just needed opportunity.
Becoming an Episcopal priest wasn't in Randolph's plans. But in 1998, God spoke to him and called him to bring more young people to Church of the Messiah as a priest.
The church's numbers had plummeted to 40 members by the time Randolph became ordained in 2002. The situation only worsened over the following years. With Church of the Messiah in debt and the building in disrepair, Randolph knew he needed to do something different.
"Church of the Messiah was always a community church in the sense that people knew that we did housing or summer camps or after-school programs," he said. "What they didn't get was how we worshipped. They didn't come to worship. They came to everything else."
The traditional service didn't resonate with the community, so Randolph redesigned it. He added a noon service to attract young parishioners. Mindful that some people might be illiterate, he got rid of the collective readings. The outline of the Episcopal service remained, but this new version was wrapped in a package that was accessible to first-time churchgoers.
"He attracted all these young people," said Kenyon Reese, 48, who has been a member nearly all his life. Reese recalls the service dwindling to just eight or nine people before Randolph switched it up. "He just changed the energy," he said.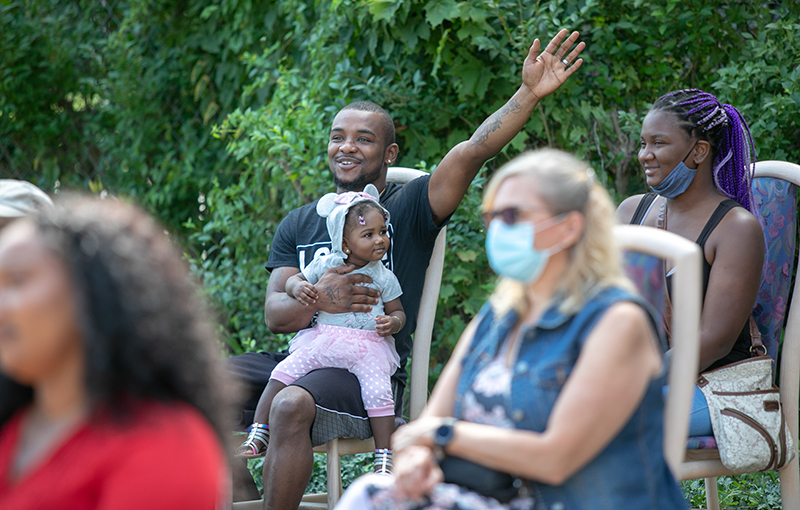 Randolph geared the service toward bringing out parishioners' greatness, with the church acting as the incubation center to help people realize their goals. Through the doors came formerly incarcerated people, former gang members and individuals who'd dropped out of school. These new parishioners wanted to know how to tap into the greatness Randolph preached about. What did greatness mean for them when they couldn't find a job? Randolph directed them to the church's employment office and entrepreneurship mentoring.
How might you make your church and its offerings more accessible to more people?
"We were putting things in place to where we were making the word of God tangible, regardless of your background," Randolph said.
Word traveled in the neighborhood and beyond. The buzz attracted professionals, doctors and attorneys curious about the church's growing reputation as a business incubator, an employer and a housing provider. The church's membership grew to 100 people within six months, Randolph said. Then to 200 the next year. Within three years, Church of the Messiah was home to 300 members.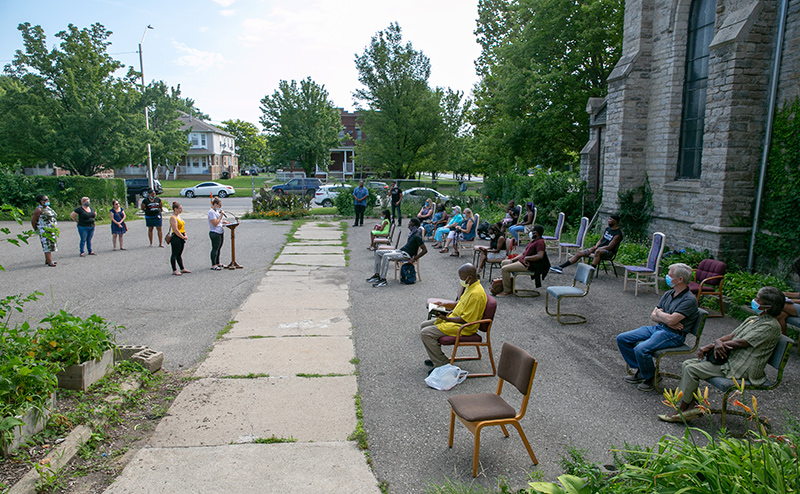 Investing in second chances
Some arrive at the church out of necessity and come to view it as a community center and a home.
That was 26-year-old Dwight Roston's path.
At 16, Roston said, he was getting into trouble — skipping school, fighting and stealing cars — a product of being young and bored and unable to find a job. He showed up at Church of the Messiah to do community service as a condition of his probation. He wasn't looking for guidance, but Randolph quickly noticed that Roston was artistically inclined.
How can you train your parishioners to notice and affirm the gifts of others?
Randolph asked him: Why was he stealing cars if he was this good at drawing?
So Roston stuck around. At the church, he learned to use a screen press to make and sell his own T-shirts. He recorded music. He worked for Nikki's Ginger Tea, the longest-running business incubated by the church, which showed him the ins and outs of wholesale and retail. He learned to install free internet in the neighborhood through the church's participation in the Equitable Internet Initiative. He learned video production, worked on a project with PBS and started his own company, I Am Productions.
The church service is only an hour on Sundays, but Roston finds himself at the church every day.
"It has all these different programs, and you can't find that anywhere else," he said. "They don't care about what kind of past you have or anything like that. Are you willing to be a productive person? Everybody has something to bring to the table, like a bunch of puzzle pieces."
Kimberly Woodson, 50, credits Randolph with helping her find a job and launch her own nonprofit after she served 29 years in prison for a murder conviction as a juvenile.
Woodson was pregnant and looking for housing when someone brought her to Church of the Messiah a few years ago. She shared her story with Randolph and later became a member.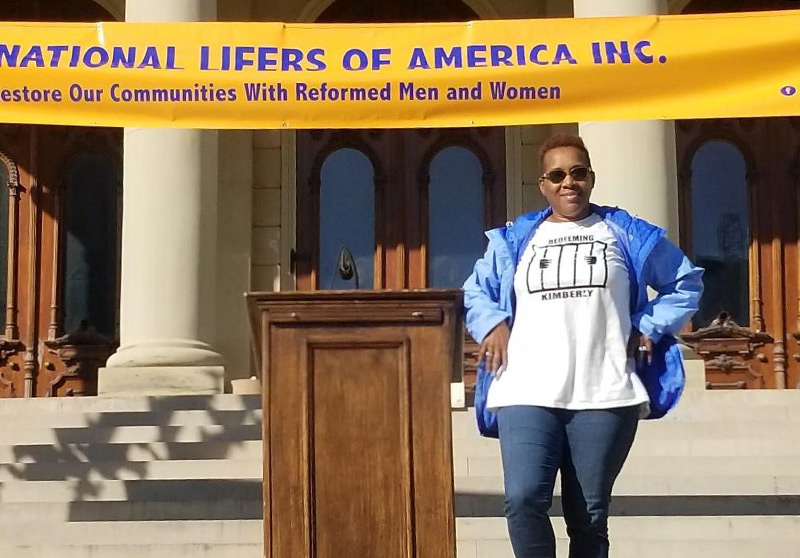 Woodson told Randolph that she wanted to help others reenter society after incarceration. He introduced her to a woman who works in prison ministry and could walk Woodson through the process of starting a nonprofit. She helped Woodson fill out paperwork for articles of incorporation and apply for an employer identification number, steps that Woodson said would have been overwhelming without guidance.
The ministry of introduction can be a simple act with profound repercussions. Is there someone you know who needs to be introduced to someone else?
Now Woodson's organization, Redeeming Kimberly, has been operating for a year and hosts events such as clothing drives and resource fairs at the church.
Randolph could help the community by simply giving away food and clothing, Woodson said, but instead, he chooses to invest in people and their ideas.
"He don't just give you a fish. He'll give you a fish and a fishing rod, tell you how to get to the water, the best methods to make the bait and how to catch the fish," she said.
Randolph believes that people have been blessed with talents from God. And at Church of the Messiah, he invites them to grow those gifts.
"We're created in the image of God," he said. "So we need to bring it into fruition. We don't want to waste that gift or talent."
Questions to consider
Questions to consider
The Rev. Barry Randolph says that you can't just throw money at a community in poverty to improve it. What challenges does your congregation face that cannot be solved with money?
Randolph's funding has largely come after he's pursued ideas. What could your church do if you pursued an idea first and trusted that the money would follow?
Changing from a scarcity mindset is difficult. What would it take to shift your church's focus from what's missing to what assets are present?
Randolph redesigned the service to allow the community to engage. How might you make your church and its offerings more accessible to more people?
Randolph saw how talented a parishioner was and encouraged that talent. How can you train your parishioners to notice and affirm the gifts of others?
The ministry of introduction can be a simple act with profound repercussions. Is there someone you know who needs to be introduced to someone else?
Not too long after I joined the pastoral staff of a church, another team member gave me some feedback from our senior pastor's wife.
"The pastor's wife is uncomfortable with you sitting in the chair next to her husband," the staff member told me — she feared that congregants would think I was his wife.
I sat in the pulpit's second row for the next five years. Hyperaware of my presence as a single woman on the pastoral staff, I never spoke about this conversation again.
I often felt alone and misunderstood, and I wondered, do other Black clergywomen experience such challenges? I resolved to find out, and applied for a Reflective Leadership Grant to conduct an ethnographic study of Black clergywomen.
I wanted to explore the challenges, but I also wanted to talk to women who were flourishing and cultivating space for other women in ministerial leadership. I focused on the question, What makes Black clergywomen thrive?
I interviewed 11 Black clergywomen and 25 congregants, along with scholars whose work includes areas of Black women and religious studies. There were seven denominations represented.
During my research, I came to realize that I was not alone in my challenges.
The Rev. Dr. Renita J. Weems aptly articulated the shared experiences of a majority of interviewees when she told me, "Black women, especially single ones, make the best work mules — grossly underpaid and obscenely overworked. We forget our boundaries because Christianity and ministry have elevated sacrifice and silence in women as a virtue. Women have to learn the importance of boundaries, saying no and saving parts of themselves for themselves."
Yet that's not the whole story. In spite of the opposition that Black women have faced for centuries, I saw that they are dismantling that which is destructive, oppressive and seeks to limit their thriving.
I heard many hopeful stories. Women are refusing to give most of their time and energy to demanding respect or legitimizing their work, instead devoting themselves to preaching in pulpits, writing books, transforming communities through social activism, traveling abroad and living dreams that would have seemed impossible to their ancestors.
I am sharing some of the findings of my project, from which I identified three key factors that contribute to the flourishing of Black clergywomen.
Intentional self-care
Black clergywomen who flourished were not only committed to providing care for communities; they prioritized it for themselves. They were committed to rituals, rest, friendships and activities that nourished their souls.
"We [Black female pastors] try to bear [the] whole world and lose ourselves. … Joy has to be our active form of resistance," said the Rev. Cece Jones-Davis, who serves on the pastoral staff at The Table in Oklahoma City.
She said that part of her routine was watching a comedy show before going to sleep, "even stuff that's not good, because I need the lightheartedness before I can rest."
Clergywomen said they exercised, received regular massages, cooked meals and went on vacations.
Others learned to ask for what they needed to thrive, including sabbaticals, therapy sessions and, in some cases, travel funds for a spouse or a child to accompany them to ministry engagements.
Congregational ethos of care
Black clergywomen flourished in congregations that had an ethos of caring for them. In these spaces, they were paid well, and their contributions were valued and respected.
Elders and other congregational leaders understood the importance of supporting their well-being, including paying for professional and personal development.
Yet even where Black clergywomen were flourishing, they were often carrying more than their share — and suffering for it. Some churches claim to be progressive and egalitarian, but when you examine the roles, responsibilities and organizational charts, those ideals are not borne out in practice.
For those who hire and work alongside Black clergywomen, consider it your responsibility to assist in dismantling practices that silence, harm and prevent them from being able to speak up and show up as their full selves.
Congregational openness to new approaches
I also found that Black clergywomen thrived in places where congregations and their leaders showed an openness to dismantling systems and practices that hindered their expression of their whole selves.
In some churches, leaders were willing to re-envision and restructure hegemonic leadership and worship practices destructive to Black clergywomen — and the wider community.
Congregants at St. Paul's Baptist Church in Philadelphia told me about changes that happened when the Rev. Dr. Leslie D. Callahan became the senior pastor in 2009. Among them: learning to use inclusive language.
"The God-talk is different here. It is not what we were raised with or accustomed to," an associate minister at St. Paul's told me.
I found that Black clergywomen who were flourishing had been encouraged and permitted by denominational and congregational leadership to re-imagine new ways of leading and loving themselves and their congregations.
Their churches tended to show more signs of collaborative leadership; people in the decision-making circles did not all look alike, think alike or share the same educational and socioeconomic backgrounds.
Through making changes in liturgical practices, church governance and teachings that expand the imaginations of their congregants, Black clergywomen are modeling what it means to invite others into their liberation.
Their very work shows promise in that the life-giving traditions that have sustained Black people for centuries can be amended and overhauled to give more possibilities for the flourishing of wider communities.
What will it take for churches to consider other models, beyond the personality of one (usually male) person in the pulpit and the work of women behind the scenes?
It was not until I had the space and time to listen to the stories of Black clergywomen that I allowed myself to wrestle with the problematic situation I encountered in my previous church setting.
Why did I feel I had to stay silent? Why did we as a staff not teach people that a woman who holds power and is next in line to the pastor does not have to be his wife? Why did I move to the second row instead of working with my congregation to dismantle the prevailing assumptions about a woman's role in the church?
I was heartened to talk with Black clergywomen who are doing just that — taking care of themselves while changing the church. My hope is that they will not be left to do this work alone.
As the son of an itinerant Baptist minister, Ambrose Carroll moved with his family from city to city as his father felt called to serve new churches: Atlanta, St. Louis, Compton, Santa Ana and finally, Oakland, California.
But there was one constant in the lives of the six Carroll siblings. Summers and holidays were spent back on the family homestead in the tiny community of Holly, Louisiana.
In that African American hamlet, 30 miles south of Shreveport, Carroll's grandfather plowed the land, grew vegetables and raised livestock. It was a hardscrabble life — the family had no running water until 1979 — but it was rooted in conserving resources and caring for the Earth.
Years later, when Carroll began his own itinerant Baptist ministry, the memory of his family's ecological roots tugged at him.
"Even though we grew up in the inner city and experienced blight and areas of disconnect, we grew up with a certain respect and reverence for the land," he said.
In his own ministry — he now lives in Oakland, California, and pastors The Church by the Side of the Road in Berkeley — the Rev. Ambrose Carroll has made care for the Earth his signal calling.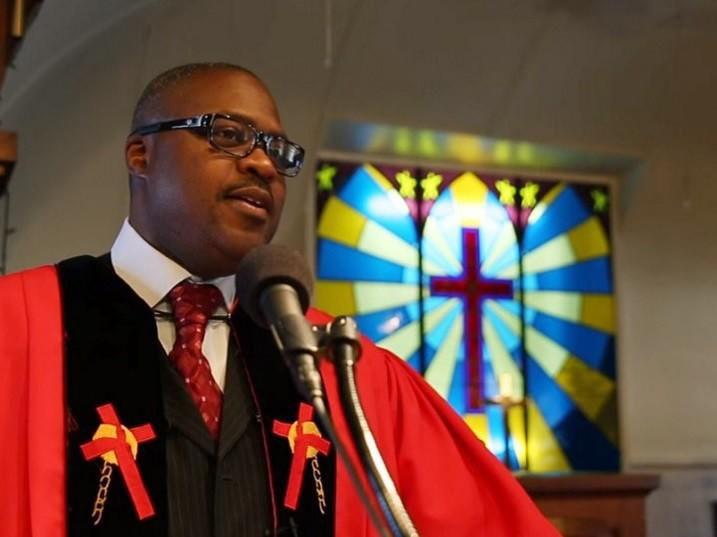 Through his nonprofit organization Green The Church, he and his siblings, three of whom also are ministers, encourage African American congregations to commit to an environmental theology that promotes sustainable practices and helps build economic and political change.
With a small annual budget of about $150,000, the organization has helped some 1,000 churches consider taking small steps toward environmental healing, mostly through its annual summits and its continued work to build a core of advocates promoting green theology in African American congregations.
Environmental awareness has sometimes taken a back seat to other issues in Black communities, including economic and health care disparities, Carroll and others acknowledge. Those have been especially evident in the COVID-19 pandemic, which has affected African Americans in disproportionate numbers.
But pastors such as Carroll and a growing cadre of others point out that many racial disparities are rooted in environmental degradation, from exposure to lead paint and mold to an absence of nearby supermarkets — a phenomenon some have labeled "food apartheid." National leaders such as the Rev. William J. Barber are supporters of the growing movement.
How might understanding the connection between racial disparities and environmental degradation inform your understanding of the Black Lives Matter movement?
Through its national summits (this year's has been postponed to 2021 because of the pandemic), Green The Church is educating Black congregations about ways they can strengthen their communities by performing energy audits, installing solar panels, starting healthy food programs and lobbying for green jobs and investments in poor communities.
One way to do that is to connect to the African American experience.
"I got so tired of people saying, 'African Americans don't engage in nature or don't appreciate the great outdoors,'" said Veronica Kyle, the statewide outreach director for Faith in Place, an Illinois-based interfaith organization that works on environmental stewardship and has partnered with Green The Church.
"No one ever talks about our bittersweet relationship with nature," she said. "We have been both picking the fruit and strange fruit."
Reconnecting African Americans with their personal and often traumatic history with the land lies at the heart of Carroll's ministry, too. Often, he has found, those stories begin or end with the Great Migration that led some 6 million Black people to leave a life of sharecropping in the Jim Crow South for industrial jobs in the North, Midwest and West.
"Our ability to tell these stories is what I'm excited about," said Carroll, 51. "The stories are here for us. We want to spend time building a repository of them."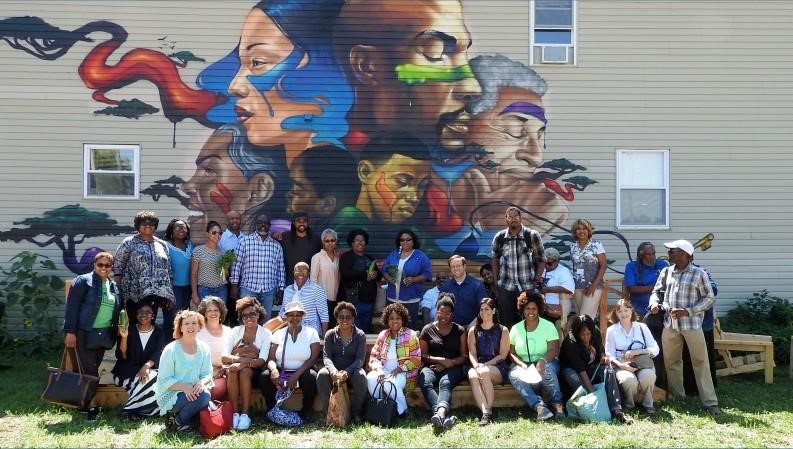 The pain of dislocation
Like many African Americans, Carroll himself has a story rooted in the pain of dislocation.
Before being called to the ministry, Carroll's father, Benjamin Carroll Sr., was an agriculture major at Southern University and A&M College in Baton Rouge.
The elder Carroll planted gardens wherever the family lived, enriching their meals with homegrown vegetables. He kept a freezer stocked with beef or pork he bought through local farmers to avoid the industrial meat chain.
Using Isabel Wilkerson's "The Warmth of Other Suns" as a resource, how might your organization fruitfully discuss the "pain of dislocation" with the land during and after the Great Migration?
One day, Ambrose Carroll remembered, his father walked through the door with live chickens.
But when the Carrolls left the South, they relocated to mostly poor, urban neighborhoods. By the time Ambrose was a teen, they were living in Oakland in the shadow of the Granny Goose potato chip factory.
Apart from summers back in Holly, Louisiana, the Carrolls had become city dwellers. It took a toll on their health. In 1983, Benjamin Carroll traveled to Memphis, Tennessee, to attend a National Baptist Convention and collapsed in the pulpit of First Baptist Church. He died at 44, having suffered a stroke. In later years, his wife, Ambrose's mother, was treated for cancer. (She has since retired in Louisiana.)
Ambrose Carroll followed his father into the ministry, earning a master of divinity from the Interdenominational Theological Center's Morehouse School of Religion in Atlanta, as had his father. It was there in the early 1990s that Carroll first heard about creation care, the theological approach that emphasizes the restoration and conservation of the Earth and its ecosystem as a central teaching of the Christian faith. Carroll believes that creation care can also reconnect Christian communities with the healing cultures of Native Americans and with humanity more broadly.
He returned to Oakland, was ordained in an American Baptist church, served in various churches and then completed a doctorate in ministry at United Theological Seminary in Dayton, Ohio.
"I learned much about liberation theology and the battle for justice," Carroll said. "But I always wondered, what would be the issue of our day?"
He was aware of the growing use of the term "environmental racism." The idea began to crystalize in the 1980s in recognition of how communities of color are disproportionately affected by government or corporate rules, regulations and policies that deliberately or through neglect expose Black people to environmental hazards.
Where are the well-paying green jobs in your community, and who holds these jobs? What kinds of training are required for access to this work? Could your organization help people obtain that training?
But what brought the issue home for Carroll was a book he picked up while serving a church in Denver, Colorado. The 2008 volume is called "The Green Collar Economy," by former Obama administration adviser and now CNN political contributor Van Jones. In it, Jones argues for solving the ecological crisis in a way that lifts people out of poverty by creating well-paying green jobs in their communities.
Jones' clear-eyed urgency about the ecological crisis is coupled with a conviction that a new green economy should provide equal opportunity and protect workers' civil rights.
For the first time that Carroll could see, this was an attempt to bridge the divide between affluent, mostly white people who cared about saving polar bears and rainforests with working-class Black communities whose needs were far more immediate: living wages, good schools, a lower prison population.
"The language of environmentalism always seemed like something other," Carroll said. "The book helped me to see it was not something we had to learn externally but internally, as a part of our identity."
In taking up the cause of environmentalism, he would try to show his flock — then in Denver — how caring for the environment was part of their story, too.
'The Black church needs its own voice'
It was at a meeting in Washington, D.C., in 2010 that Carroll's vision grew.
Carroll had been accepted for a fellowship with Green For All, a training program started by Jones to cultivate leaders of color who could advocate for equitable green solutions in low-income communities. (Green For All has since merged with Dream Corps, an organization that works to close prisons.)
As part of his fellowship, Carroll met in the nation's capital with a group of people strategizing how to bring environmental awareness to their communities.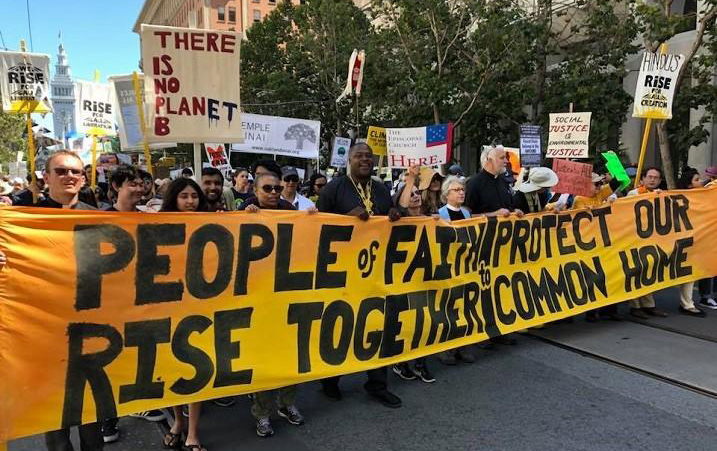 Someone from West Virginia talked of "greening" the coal-mining community. A Native American man talked of "greening" the reservation. That's when Carroll decided he would found an organization called "Green The Church."
"When I was working with Green For All, there were a lot of people of color working on environmental issues, but there were not a lot of Black church leaders," Carroll said. "The church is seen as conservative and not forward thinking."
What was missing was clear, he said — "the Black church needs its own voice on the issue." And he would provide it.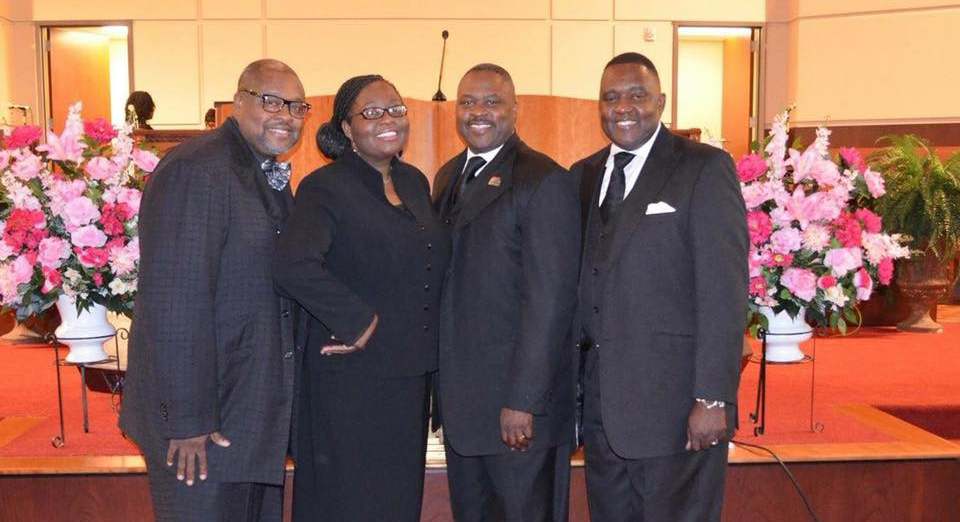 Green The Church, which was set up under the auspices of his family's nonprofit, Carroll Ministries International, works with several state affiliate chapters to encourage church projects that strengthen the local food economy, plant community gardens, conduct energy audits and install rooftop solar panels and rainwater cisterns.
It now wants to move beyond its annual summits and start an online "ambassador's course," which will train 100 church members to help form "green teams" in local congregations and develop a core of 500 allies in those churches.
Already, it has seen some Black churches take bold green initiatives.
In Baltimore, the Rev. Heber Brown III has started the Black Church Food Security Network out of his Pleasant Hope Baptist Church. It works with Black farmers to deliver their bounty to the city's hard-hit neighborhoods.
In Chicago, Trinity United Church of Christ has retrofitted its building to make it environmentally sustainable, and in 2017 the church dedicated the site of a 27-acre "green" intergenerational community called Imani Village.
The project already includes a medical center and will eventually offer affordable housing, a healing garden and a 5-acre farm.
The Rev. Dr. Otis Moss III, Trinity's pastor, said he believes liberation is directly connected to creation care. As a result, the church has a commitment to awarding jobs to minority contractors who will hire the formerly incarcerated and commit to green practices.
Carroll's own church has taken steps to change the culture. The Church by the Side of the Road offers water stations for Berkeley bikers. It composts, recycles, uses silverware instead of plastic utensils and serves lean, nutrient-rich foods at its congregational meals. It is transitioning away from printing programs and bulletins and is planning to build an herb garden. Photos of the natural world hang on the church walls.
The work of "greening" can be demanding, and making the case for the environment may be especially hard in the current context, as Black communities struggle with biased and violent policing and systemic racism.
"It's a very tough area," said the Rev. Gerald Durley, the national board chair of Interfaith Power & Light and a longtime Baptist pastor from Atlanta. "We have so many other priorities. But Ambrose is good at showing all of this is interconnected."
Where is environmental degradation on your list of societal evils? Might it need to move up, especially as you work for racial justice?
Recently, the Rev. William J. Barber's Poor People's Campaign listed "ecological devastation" as one of the top societal evils behind its demands for change (alongside racism, poverty and militarism). Barber, one of the nation's foremost civil rights leaders, sees the threat of climate change as one of the main injustices affecting the nation's poor.
Sharing the stories of connection and dislocation
One way to break through, Carroll is convinced, is to engage with people's own personal stories.
"Ambrose has recognized the need to culturalize the conversation so it would have more impact in the African American community," said Kyle, the Chicago-based activist with Faith in Place.
By "culturalize," Kyle means to make the conversation relevant to an American Black context, a strategy that has also worked with her Migration & Me program, which encourages African Americans to share their migration stories — often out in nature.
What stories can you share that root your faith, experiences or ancestors in the land? How can you share them so that they become formative?
Moss said he also tries to make these connections.
"I share with people, 'Your grandmother had a garden in the back. Your grandmother made quilts, which is a form of recycling. Our ancestors created gumbo, which is a creative use of things people thought could not be used,'" he said.
"When you explain those pieces, people are like, 'Oh yes. We came from Mississippi and Arkansas. We were people connected to the land and to the soil, and coming into an urban environment disconnected us from the soil.' We're seeing a reemergence of people reconnected to the soil in Northern urban environments."
Carroll doesn't flinch from the pain of those stories. He has often spoken of how his ancestors bought their land in 1878, only to lose it during the period following Reconstruction when they became sharecroppers tilling other people's land.
Still, his ancestors' legacy of good stewardship, thrift and hard work was part of the inheritance they passed down to their descendants.
Carroll hopes that in time, other African Americans might see their stories as part of a longer narrative about care for the Earth.
"The more you tell the story," Carroll said, "the more others can come alongside you."
Questions to consider
Questions to consider
Ambrose Carroll and others point out that many racial disparities are rooted in environmental degradation. How might this history inform your understanding of the Black Lives Matter movement?
Using Isabel Wilkerson's "The Warmth of Other Suns" as a resource, how might your organization fruitfully discuss the "pain of dislocation" with the land during and after the Great Migration?
Where are what Van Jones calls the "well-paying green jobs" in your community? Who holds these jobs? What kinds of training are required for access to this work? Could your organization help people obtain that training?
The Rev. William J. Barber's Poor People's Campaign lists "ecological devastation" as one of the top societal evils fueling its demands for change. Where is the environment on your list? Might it need to move up, especially as you work for racial justice?
Carroll teaches Black churchgoers that caring for the environment is "part of their story, too." What stories can you or your organization share that root your faith, experiences or ancestors in the land? How can you share them so that they become formative?