Terry LeBlanc: A seminary teaches how to be authentically Indigenous and Christian
When the seeds of the North American Institute for Indigenous Theological Studies (now NAIITS: An Indigenous Learning Community) were taking root in the 1990s in Canada, becoming an accredited graduate school seemed like a far-off goal. The group of Indigenous scholars began having conversations, which blossomed into an annual symposium, an academic journal and graduate curricula.
"But when we held our first symposium, I don't think any of us imagined that we might want to, never mind get to that point," co-founder Terry LeBlanc said.
It wasn't the main objective for NAIITS to receive formal ATS (Association of Theological Schools) accreditation, but when it did arrive in spring 2021, LeBlanc says it felt "vindicating."
NAIITS is the only accredited Indigenous-led graduate theological school in North America. It offers four master's degrees, together with an experimental accredited Ph.D. program.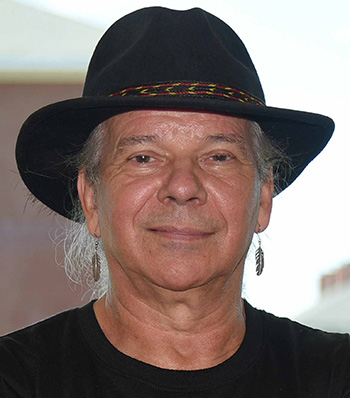 LeBlanc is CEO and director of Indigenous Pathways, a corporate entity comprising NAIITS and its sister organization, iEmergence, which focuses on leadership development in Indigenous and tribal communities. He completed his Ph.D. at Asbury Theological Seminary.
LeBlanc spoke with Faith & Leadership's Chris Karnadi about NAIITS' accomplishments so far and what the future might look like for the school. The following is an edited transcript.
Faith & Leadership: Can you tell me the story of NAIITS?
Terry LeBlanc: The idea of it began back in the late '80s for some of us, mid-'90s for others, and came about as a result of the continuing challenges raised by varieties of individuals in the Christian church, both Indigenous and non-Indigenous alike, who criticized the idea that Indigenous culture and faith could be brought together in some fashion — or put another way, that one could be authentically Indigenous and authentically Christian in the same way that one could be authentically Euro-American or Euro-Canadian Christian.
So it began with conversations about how to address that, which led to hosting annual symposia on Indigenous theology and mission, which in turn led to the publication of a journal and the creation of a faculty and curriculum to teach our own programs in the broad compass of divinity.
F&L: Recently, you were accredited by ATS. How did that feel?
TL: Vindicating. I'm not sure that we had it in mind when we launched our formal programs, first in Canada in the late 1990s and then in the U.S. in 2001. But when we held our first symposium, I don't think any of us imagined that we might want to, never mind get to that point.
F&L: What kinds of degrees do you offer?
TL: We offer four master's degrees in North America: an M.A. in intercultural studies, an M.T.S., an M.A. in Indigenous community development and a newly framed M.Div. program. We also offer an experimental Ph.D. program accredited by ATS.
And in Australia, we offer an M.T.S. program, along with a grad certificate and a grad diploma, as well as the Ph.D.
F&L: How does the teaching work, with so many different people from so many different places?
TL: We had determined that we needed to do something to address the issue of many Indigenous students being reluctant to leave their home communities or territories to go for lengthy periods of time to study. So we had already determined that we needed to offer some of our programming in a virtual format, online within learning management software, as well as with Zoom and virtual videoconferencing.
But we also wanted to be sure that we created an in-person community experience, so we went to a trimester system, with two semesters, the September and January semesters, being offered in a virtual format, synchronous and asynchronous, and then the summer semester, which wrapped around our annual symposium on Indigenous theology and mission, being offered as an in-person intensive set of courses.
We've been doing that from the beginning, so going virtual with COVID wasn't an issue for us.
F&L: What have you seen your students be able to do with their training in their communities?
TL: Varieties of things. Some have gone into spiritual care work as chaplains, some, in urban environments, doing street work or urban-based advocacy and ministry. Some have gone into pastoral ministry.
Others have become or are becoming community scholars in their communities or have gone on to do further study to advance their academic skills.
All of the graduates thus far have gone into vocations that connect to the disciplines within which they received their degrees.
F&L: Why is NAIITS so important?
TL: At this juncture, it's important because it's the only Indigenous-designed, developed, delivered, and wholly governed Indigenous graduate and postgraduate theological educational institution that is ATS-accredited in North America.
While there are other institutions teaching at the undergraduate level, and some at the graduate level, they are either teaching under the auspices of non-Indigenous governance or teaching under the auspices of other denomination-institutional environments.
NAIITS is unique, and that in itself makes it essential, since to be able to govern our own theological education, albeit within the parameters that ATS and the new standards of accreditation require, is critically important for us to advance our notion that one can be authentically Indigenous and authentically Christian.
F&L: In terms of the governance being Indigenous, how does that make the education qualitatively different for your students?
TL: Well, you could have the same course title, say New Testament Introduction. Offered from a Euro-Canadian or Euro-American seminary or divinity college, it will use mostly standard approaches to New Testament study, even though some will be more contemporary than others. They'll use materials that are largely written by or taken from a Western philosophical and hermeneutical approach.
Whereas a New Testament introduction course that we offer will come from an Indigenous epistemology and Indigenous ontology and worldview and will use Indigenous frame materials, in addition to individuals from the Indigenous community who come in to provide community perspectives.
When we do a course, irrespective of what the course may be, it's offered from an Indigenous perspective as the first order of business, not as a supplement.
F&L: How does theological education that is done by and driven by Indigenous people avoid some of the blind spots for the traditional Euro-American-centric theological education?
TL: Well, whether intended or not, by default, given the trajectory of the Western church, Euro-American as well as Euro-Canadian and Australian (or wherever it may be) approaches to theology have largely assumed that a singular worldview is the appropriate worldview through which to approach the Scriptures, through which to approach the ideas, the principal ideas of Christian faith and life.
As a consequence, this theology is not only blind in certain areas but oblivious to the fact that Christianity, or Christian faith — or, if you will, the following of Jesus — doesn't originate in the Western environment.
There's an imposed notion that Jesus was an American or Jesus was a Canadian, and the images, of course, tend to bear out the Eurocentric nature of Christianity down through the centuries.
There's also certainly the idea that a theology rooted in the Western Enlightenment is an engagement with faith that provides a context for science and faith to coexist. And yet, at the same time, it doesn't provide a place or a context where that coexistence can have a mutuality about it; it's more that there are boundaries between the two, and on occasion, there are semipermeable membranes — but on other occasions, they're completely separate.
Whereas with an Indigenous context, there is not an either/or epistemology at play but rather a both/and, so that impacts how we view not only the text of the Christian Scriptures but also other stories of experience and tradition of the pursuit of God.
F&L: What do you think the future looks like for NAIITS?
TL: Oh, goodness, I wish I were good at prognostication. Given that we'll celebrate 25 years next year, and seeing what we're able to accomplish with our partnerships and support, I foresee greater numbers of partnerships of differing sorts.
I can certainly see us creating perhaps a chair of Indigenous studies, which will have a Christian framework available for study but won't be specifically a theological chair. It will be a chair of Indigenous studies that neither excludes nor centers Christian faith but rather sees Christian faith as one aspect of Indigenous life throughout our history.
F&L: Speaking of the partnerships, how can people who aren't Indigenous support or partner with Indigenous theological development?
TL: Our partnerships with existing non-Indigenous institutions have been extremely supportive and beneficial.
We do provide up to 25% of our seats in any given degree program or course for non-Indigenous students — first, for non-Indigenous students who are engaged with Indigenous community, and then second, for non-Indigenous students who are wanting a non-Western approach to theological education.
Certainly financially, where we're a not-for-profit, we are essentially people-funded. We're tuition- and fundraising-driven — not that that isn't the case for many other institutions — but we have a constituency that, as you might imagine, given the history of Christianity in treating Indigenous peoples, aren't necessarily at the top of the list for Indigenous peoples support, and through no fault of our own.
At an airy school site in southeast Washington, D.C., several children gather around an outdoor planter filled with espresso-colored dirt. It's about 3:30 on a bright summer afternoon, and the students have been there since morning.
They began the day with harambee, a high-energy ritual that lets students pull together and celebrate themselves, before going into a sewing exercise and then a nutrition lesson. Now comes the gardening, where they learn a handy fact — how lavender can repel mosquitos — and start to grow their own plants.
As these students — known here as scholars — congregate, a college-age instructor (also known as a servant leader) watches over them while parents and other site staff linger outside and inside the school.
All of this is part of a Children's Defense Fund Freedom Schools six-week summer session. And since CDF's mission is "to ensure every child a healthy start, a head start, a fair start, a safe start and a moral start in life and successful passage to adulthood with the help of caring families and communities," this program is key.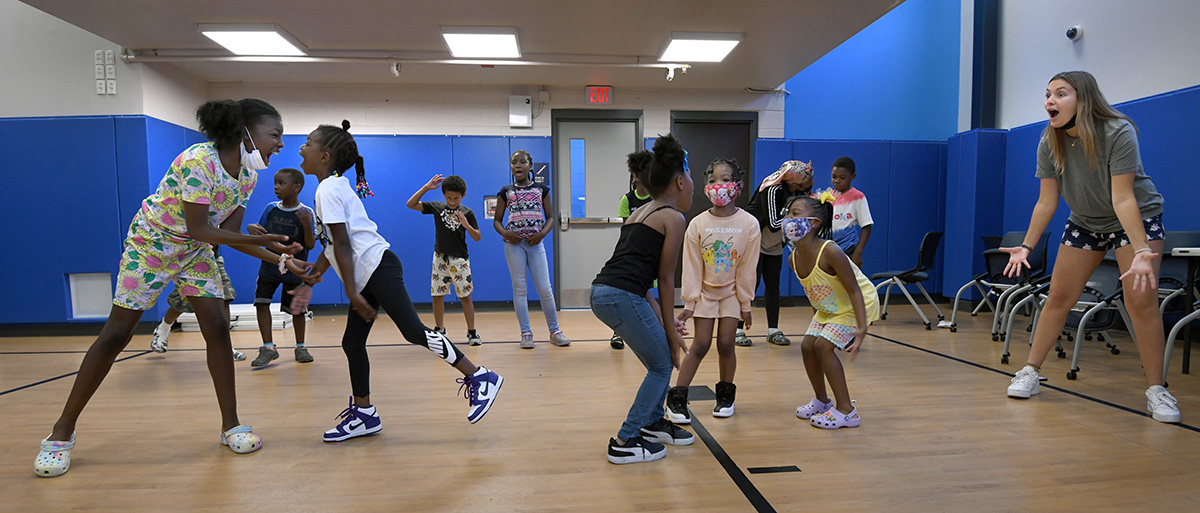 In fact, CDF Freedom Schools, also offered as after-school programs, are the "heart and soul" of what the Children's Defense Fund is doing for children and their well-being, said the Rev. Dr. Starsky Wilson, CDF's president and chief executive officer. Through CDF's partnerships and work with children, families and communities, Wilson said, the program "helps us to prioritize what we're speaking about, what we're advocating around, and the policies we believe families need to create the conditions for their children to thrive."
A program with history
CDF has a record of helping communities. Civil rights pioneer Marian Wright Edelman, credited as the first Black woman admitted to the Mississippi Bar, founded the nonprofit in 1973 after dedicating her early career to defending the civil liberties of people who faced poverty and discrimination.
Today, the CDF Freedom Schools program is offered to students in kindergarten through 12th grade around the country in community centers, schools, juvenile justice centers, churches and other settings. In 2021, more than 7,200 scholars participated in programs in 26 states and 75 cities.
Freedom Schools have their origin in the Mississippi Freedom Summer project of 1964, which gathered college students to work for justice and voting rights for Black citizens. Back then, these college students volunteered to teach younger students traditional subjects like reading, math and science, along with Black history, constitutional rights and other topics not covered in Mississippi public schools, said Kristal Moore Clemons, the national director of CDF Freedom Schools.
How does your congregation nurture the holistic well-being of children and families in your community?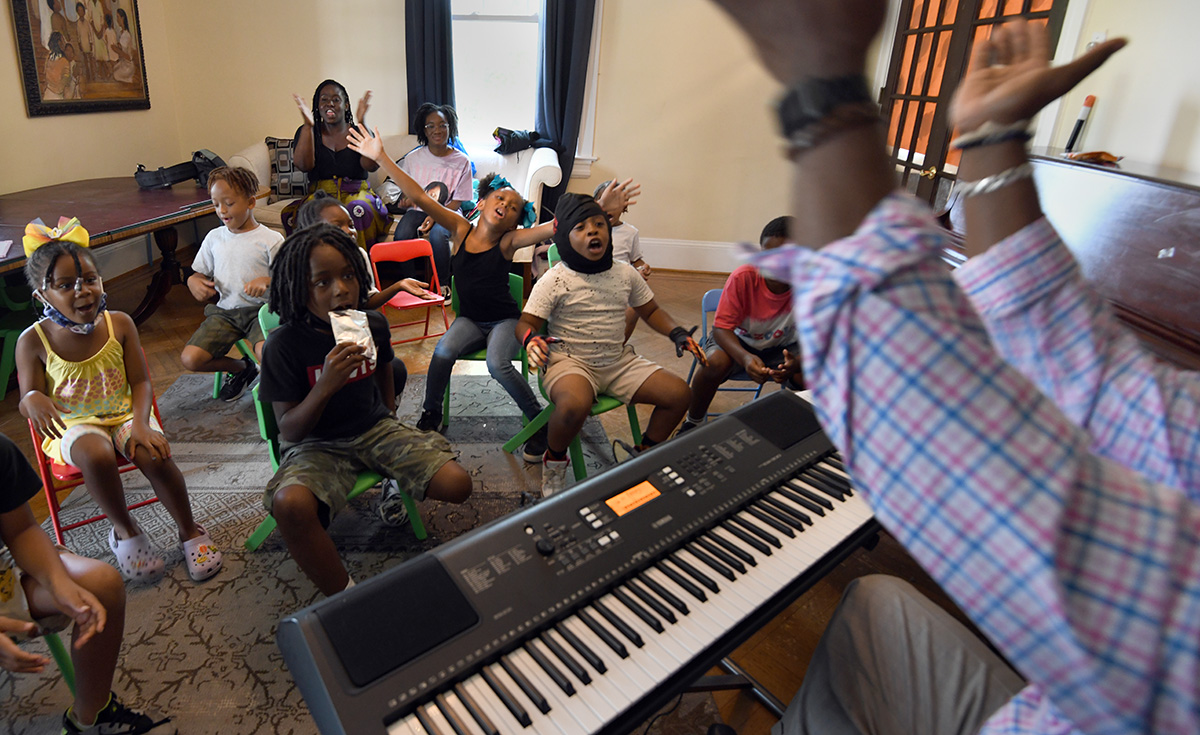 The early Freedom Schools were established to build the next generation of voters, Clemons said, noting that leaders thought that if they could "crack" Mississippi, they could do the same with other Southern states.
"Our faith-based partners have always played a role in the movement," she said, explaining that most of the original Freedom Schools operated in churches or community centers.
CDF started its Freedom Schools program in 1995 to help children who lacked access to high-quality literacy programs. Each year, many students — especially those from historically disadvantaged groups — experience summer learning loss. Recent literature on this loss has been mixed, according to a 2017 Brookings Institution report, but one theory cited in the report suggests that lower-income students might learn less over the summer because "the flow of resources slows for students from disadvantaged backgrounds but not for students from advantaged backgrounds."
To support students, the CDF model has five components: high-quality academic and character-building enrichment; parent and family involvement; civic engagement and social action; intergenerational servant leadership development; and nutrition, health and mental health.
How can partnering with a large national project like CDF's Freedom Schools empower your faith community's commitments to the young?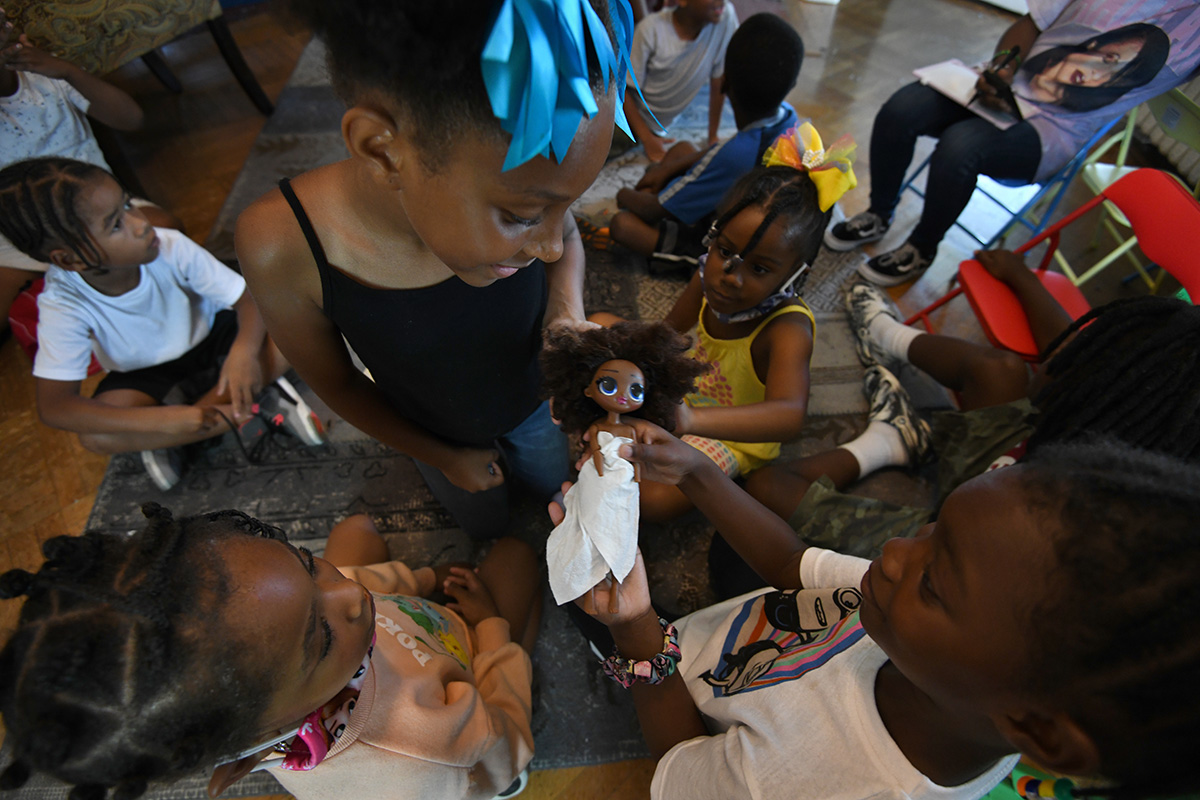 Since its start, more than 169,000 children have experienced Freedom Schools, and more than 19,000 young adults and child advocates have been trained on the model, which offers a research-based and multicultural curriculum. The majority of students in 2021 identified as Black/African American (68.4%), with the second-most represented group identifying as Hispanic/Latino (13%).
Because the schools are free to families, parents and guardians don't incur the expenses they might otherwise have for child care, camps or academic programs. This can be especially helpful in low-income communities.
A vital part of a big mission
School systems vary state to state, and there can be battles over what is offered in the classroom. For instance, some schools now are dealing with banned books and debates about critical race theory, among other issues, Clemons said.
Children also continue to face changes within the system, such as periods of distance learning and isolation, because of the COVID pandemic. Some students are dealing with news of school shootings and racial injustice as well.
"Every year, we choose a different issue that scholars across the country will organize around and take action on," said Wilson, the CEO. "This year, we've chosen climate justice, because we recognize that the planet is a place that our young people will inherit and that climate justice is racial justice."
How do the five components of CDF's model speak to your faith community's theological understanding of discipleship and the formation of children?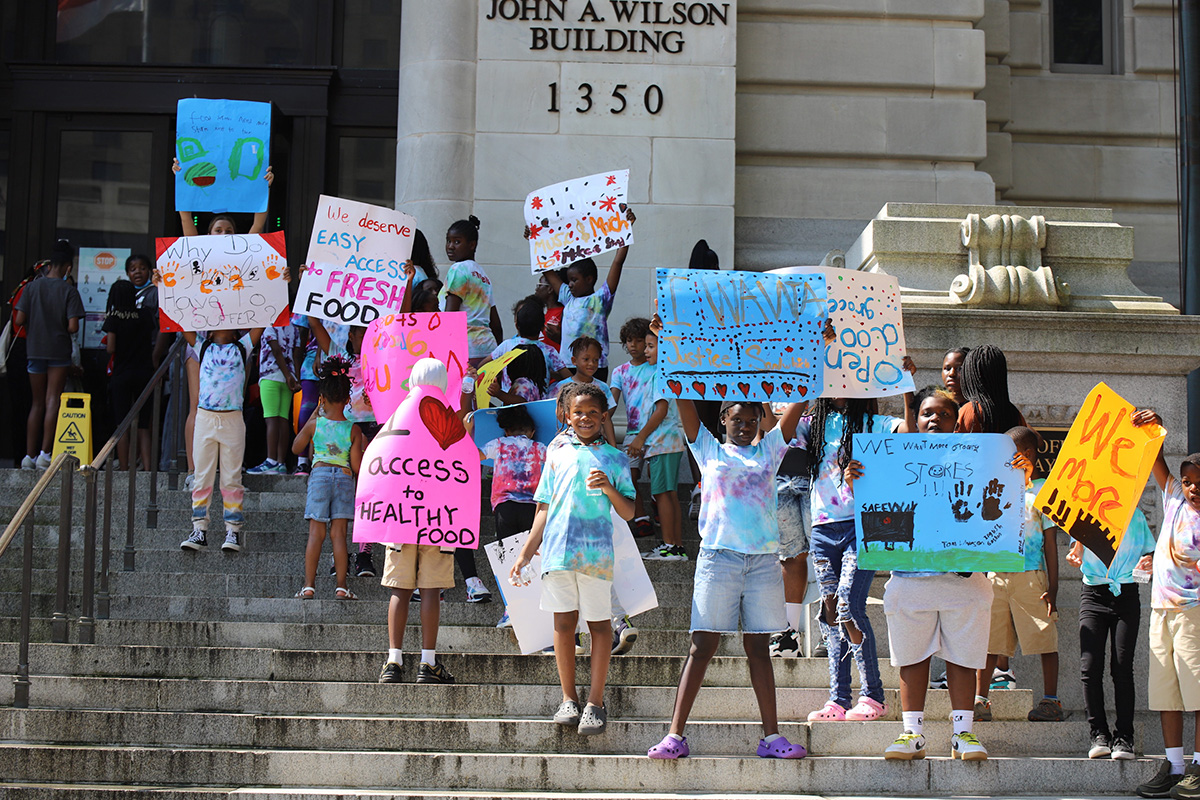 Scholars come together, discuss the issue and share their ideas for solutions on coordinated National Days of Social Action — and they're allowed to dream, said Joy Masha, program director for the Washington, D.C., CDF Freedom Schools. Scholars might propose a rally, a call to action to a state council member or the creation of more programs for children in their community, among other means of advocacy.
Because educators may not be able to deviate from state curriculum requirements tied to testing, Freedom Schools historically have supplemented content that traditional teachers could not offer, Clemons said. That includes books featuring people of color — important since fewer than 27% of children's books published in the United States feature nonwhite children, according to CDF — and educating scholars about figures in history.
How does the Freedom Schools model activate young people on issues that matter to them? Why might this matter to your church?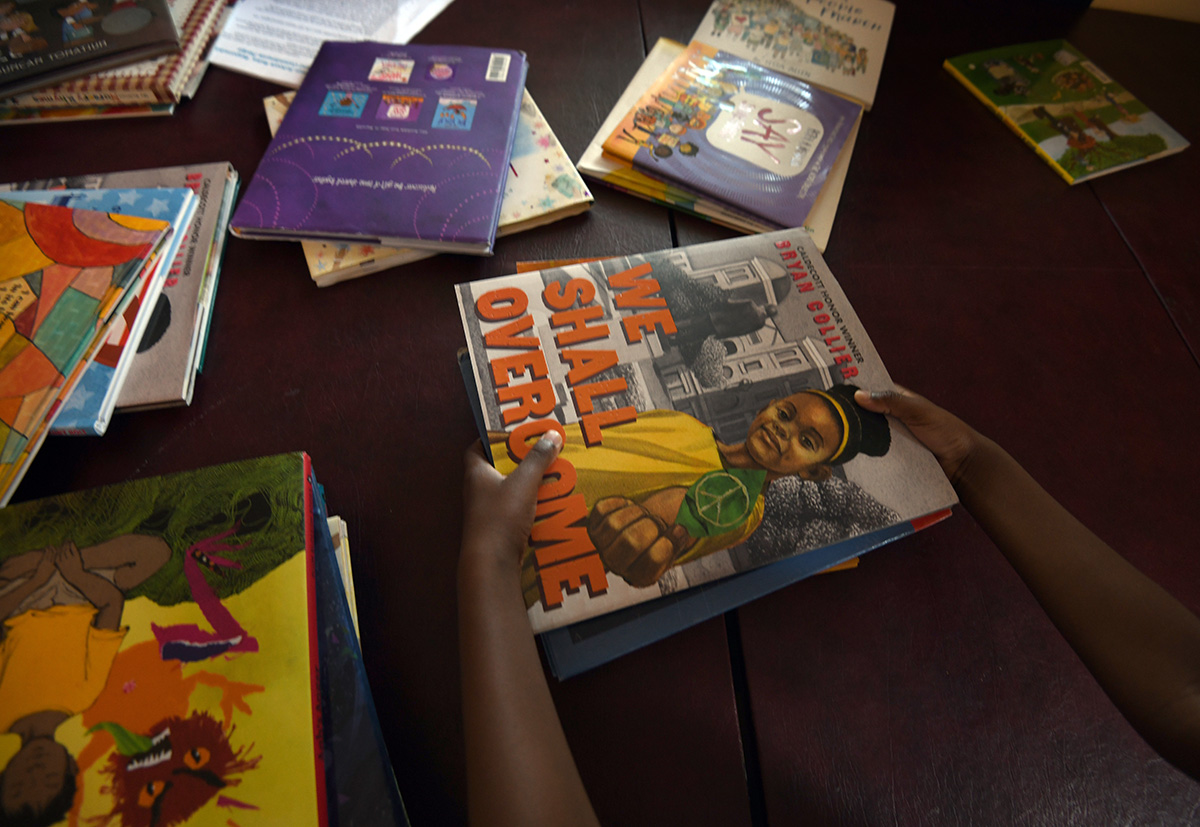 "We don't want to be controversial. Freedom Schools are not here to break down the status quo. We're here to be in community with people," Clemons said.
"We're here to show children that [if] you want to be a scientist, great. If you want to be a yoga instructor, great. If you want to be the next vice president — because we have books on Kamala Harris — you can do that."
Some parents say they appreciate the programming and the ability to participate via weekly meetings. Rochelle Gibbons has two children enrolled in the D.C. summer program. If she were to send them to camp instead, they'd simply play, she said. But here they read and build relationships as scholars.
Another D.C. parent, Ashley Jones, said she also appreciates the model. Freedom Schools staff care about the children and the environment that families live in, she said, and teach children that they're not too young to make a difference.
That lesson is big. Because children are listening. Processing current events. And sharing their thoughts.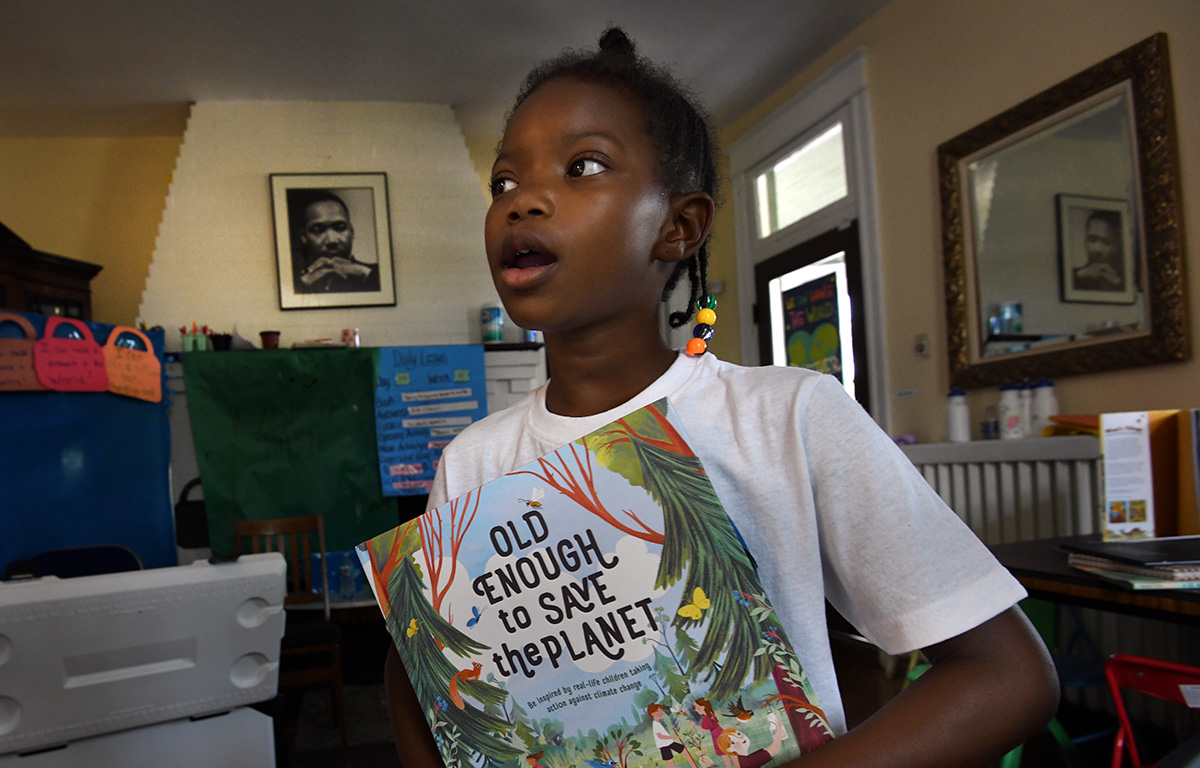 Gibbons' daughter, Dyllon-Rose Gaskin, did just that after her mother spoke at a recent parent meeting in the classroom. The 10-year-old scholar said the program allows her to read books every day and discover new words.
"I learn a lot," she said, explaining that she's finding out "interesting stuff" in a fun way.
"Miss Joy has a strong voice, and it helps me speak up sometimes," she said of Masha's work at the site.
So what exactly would she speak up about? Dyllon-Rose simply said, "I would speak up about, like, gun violence and different things around the world, like homeless[ness]."
How does it feel to know about these issues as a child?
"People are getting killed … every day, and that's sad, because people are losing their lives for no reason," Dyllon-Rose said.
Looking toward a happier future, she shared her desire to be a teacher, a hand model, the vice president, a mayor and "a lot more."
This kind of exchange, where scholars discuss a range of subjects, is not unusual.
After years of working in the space, Masha said she understands that age does not necessarily determine a child's experience. Gun violence was the scholars' issue for 2021.
"As we see more gun violence here in D.C., we know that we can have these conversations with our young people, because our model allows us to do that," she said. "So if gun violence is a topic that young people want to not only talk about but address, then we explore that solution with them and help them put it into action."
Within integrated reading curriculum lessons, Freedom Schools use books to explore particular issues and allow scholars to analyze each plot and connect it to the community. Schools also offer parents resources for talking with children about these issues.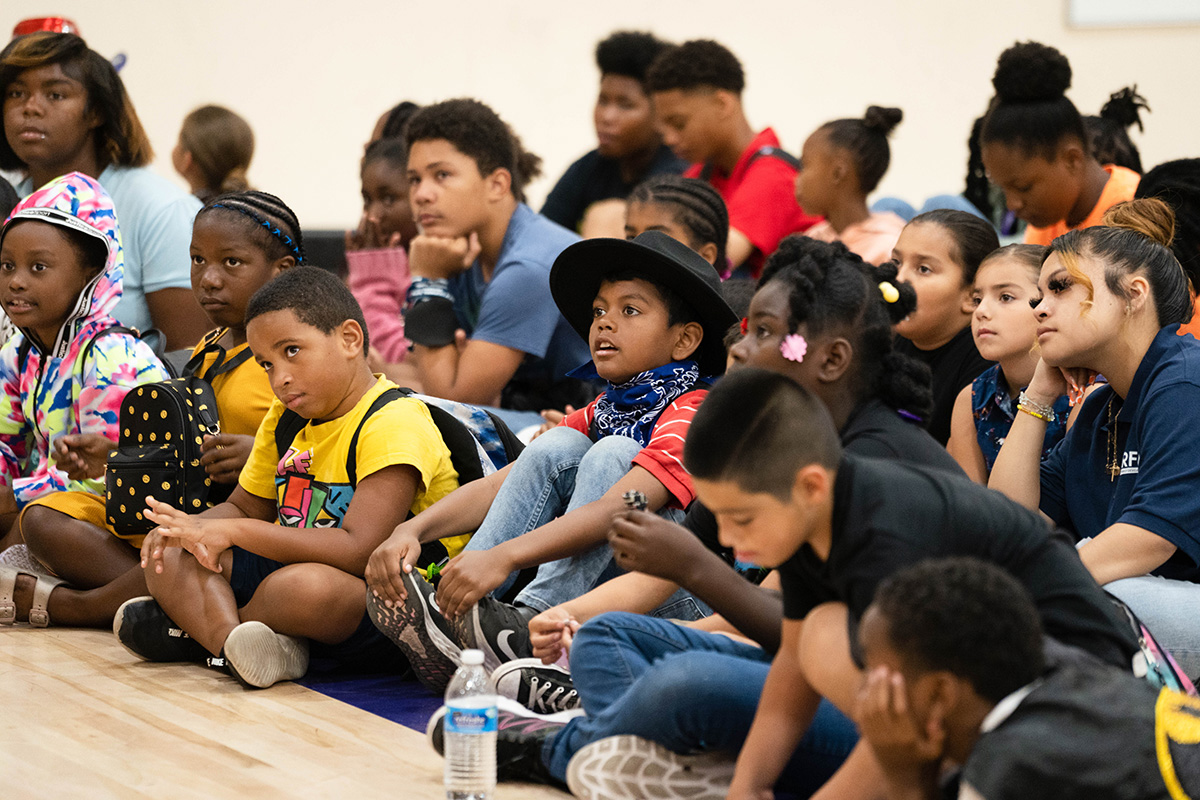 The faith connection
To make an impact, CDF partners with various institutions and organizations. To run a program, would-be executive directors apply on CDF's website and learn about the training, fiduciary and programmatic requirements that accepted sponsor organizations must maintain.
CDF recommends that, at a minimum, facilities be licensed to serve children. Programs then do their own fundraising to bring Freedom Schools sites to fruition, with CDF recommending that programs cover costs for at least 30 scholars.
Since faith communities have a long history of social action and advocacy work, this connection continues to resonate.
Wilson, who also serves on the Duke Divinity School board of visitors, references Jesus' words with respect to CDF's work and notes that defending children is "a religious commitment that is resonant with the call of the Christ."
"For an audience of clergy, I say, 'If Jesus did not walk among us, then Jesus has less capacity to connect with us,'" he said. "The God that I serve is one who took up flesh and walked with humanity."
It is this walk that others also highlight.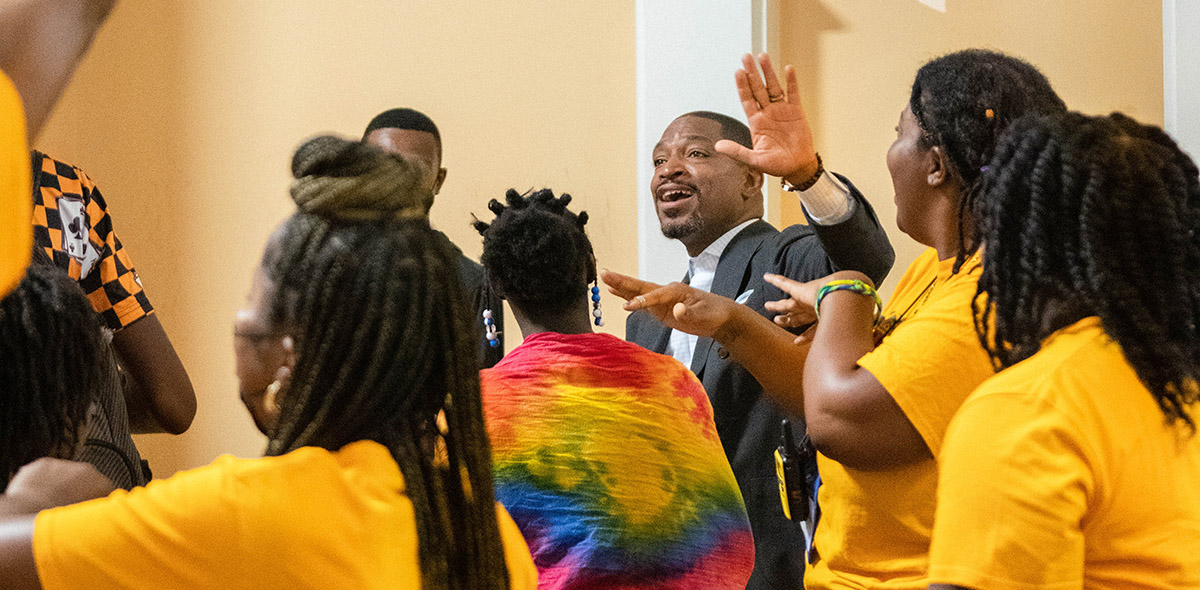 The Rev. Dr. Van H. Moody II, founding pastor of The Worship Center Christian Church in Birmingham, Alabama, said his church has offered Freedom Schools for several years. He said children in communities of color may not have access to early childhood education, which can put them "behind the eight ball" when they start school. Added to this, summer learning loss can have cumulative effects. But Freedom Schools can help.
"It's a beautiful program that really checks a lot of boxes that we're passionate about," Moody said, noting that it helps kids grow academically, helps them become more well-rounded because they gain a historical foundation, and helps empower them to become conscious changemakers.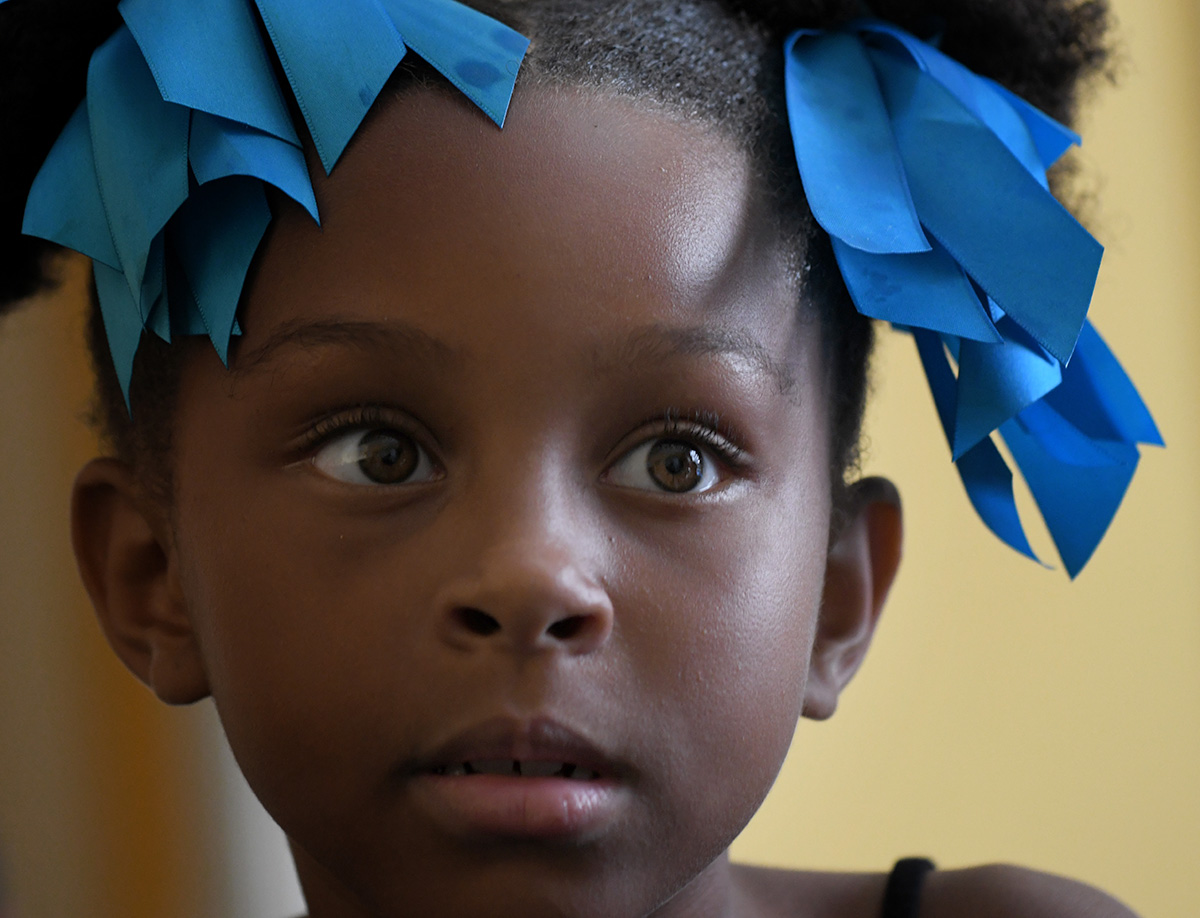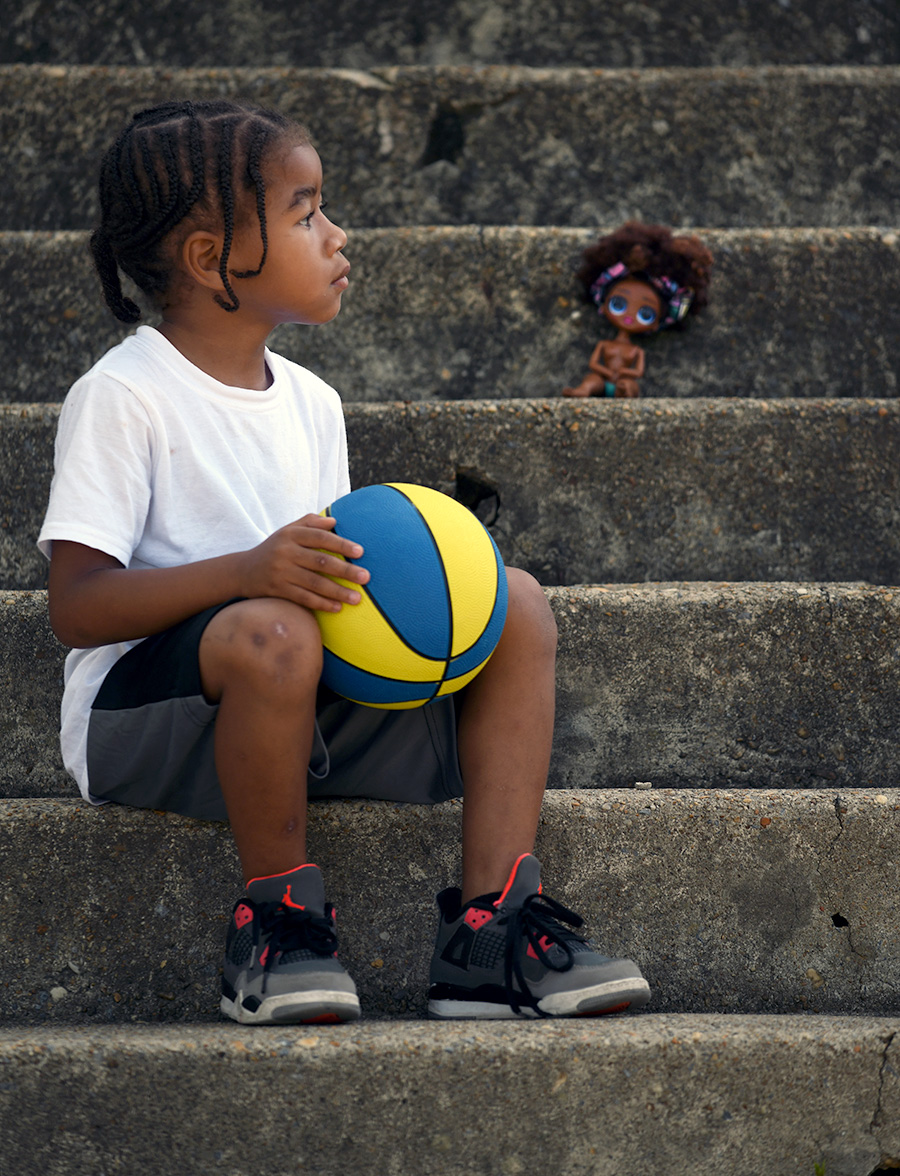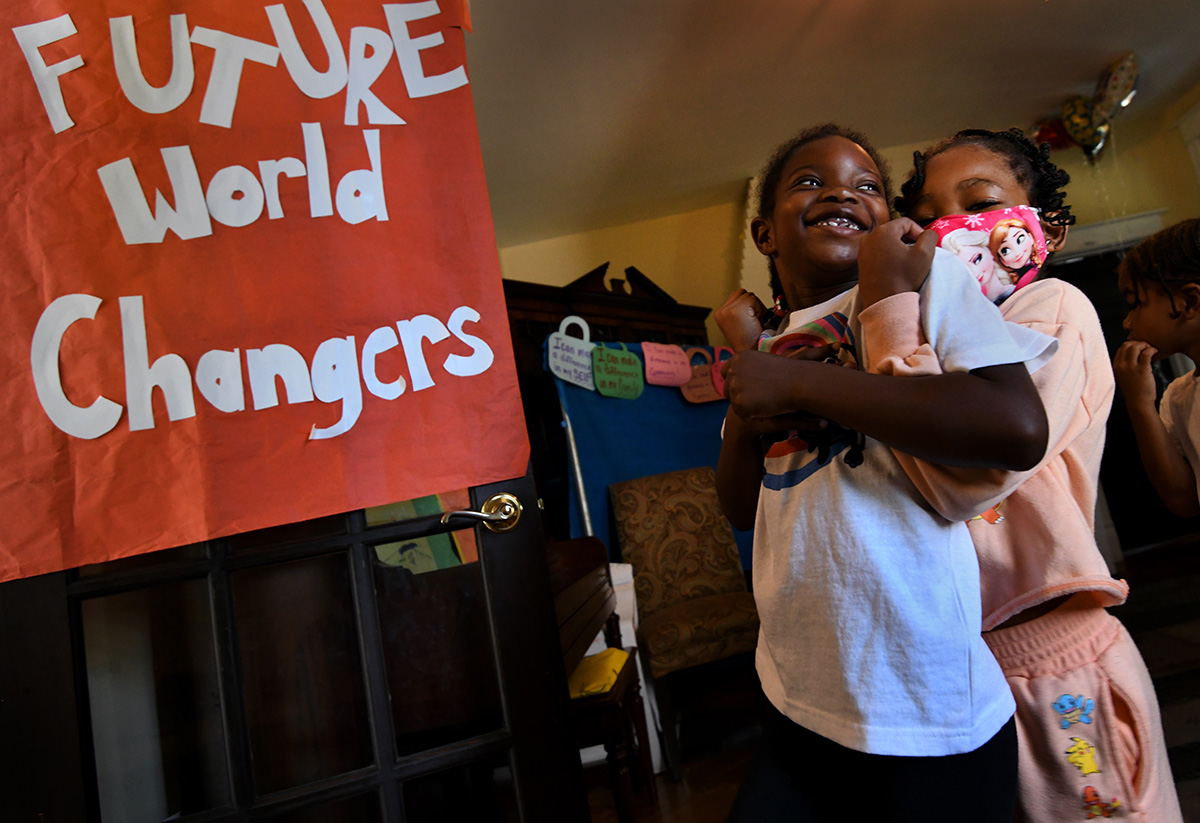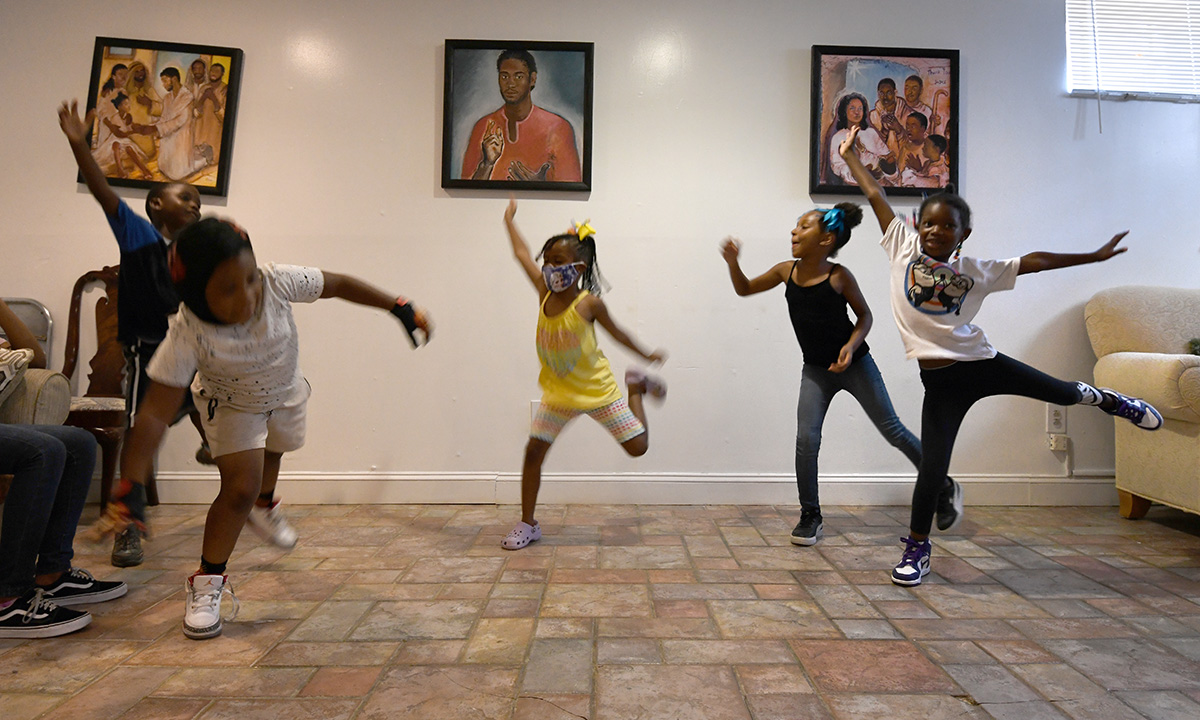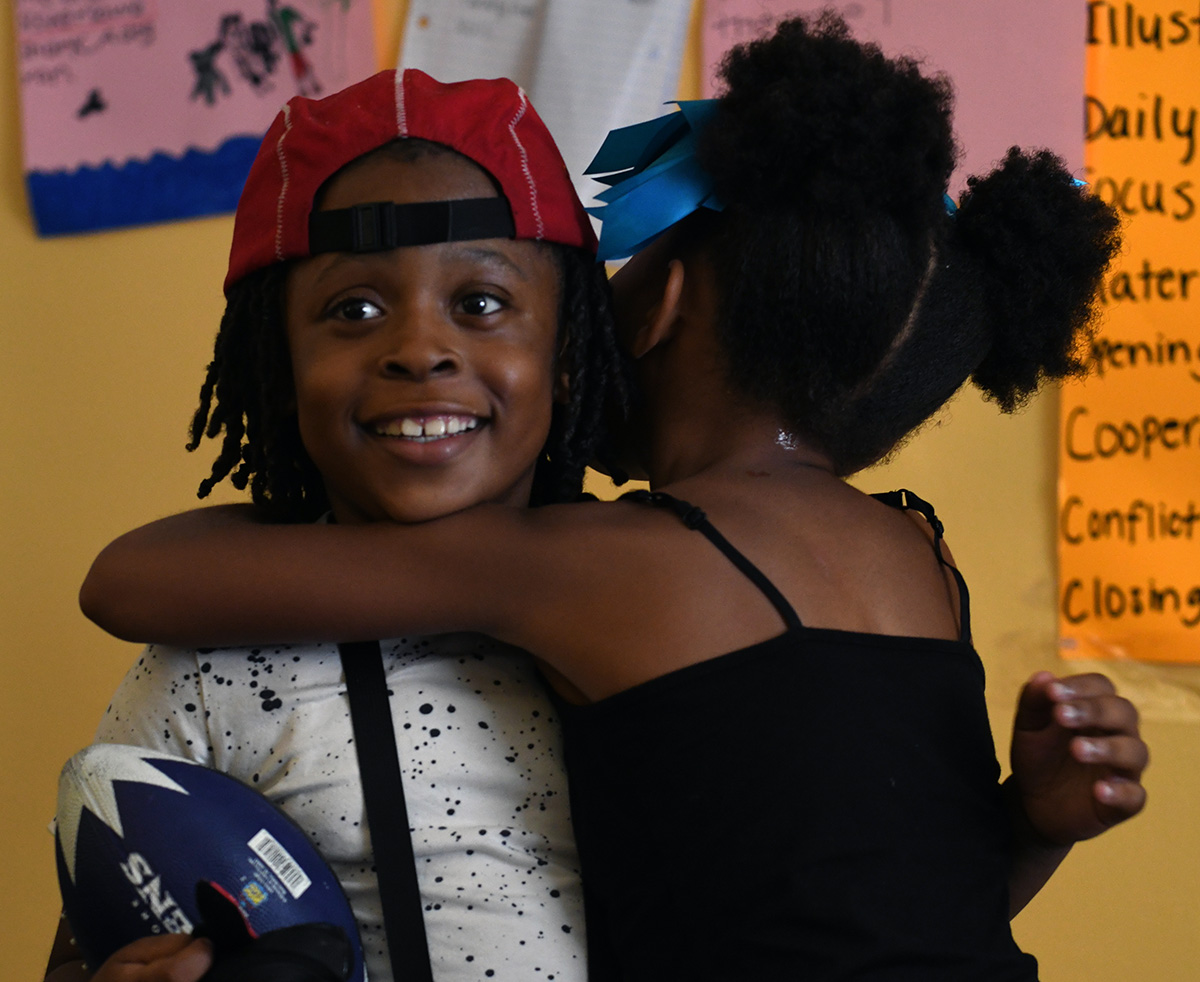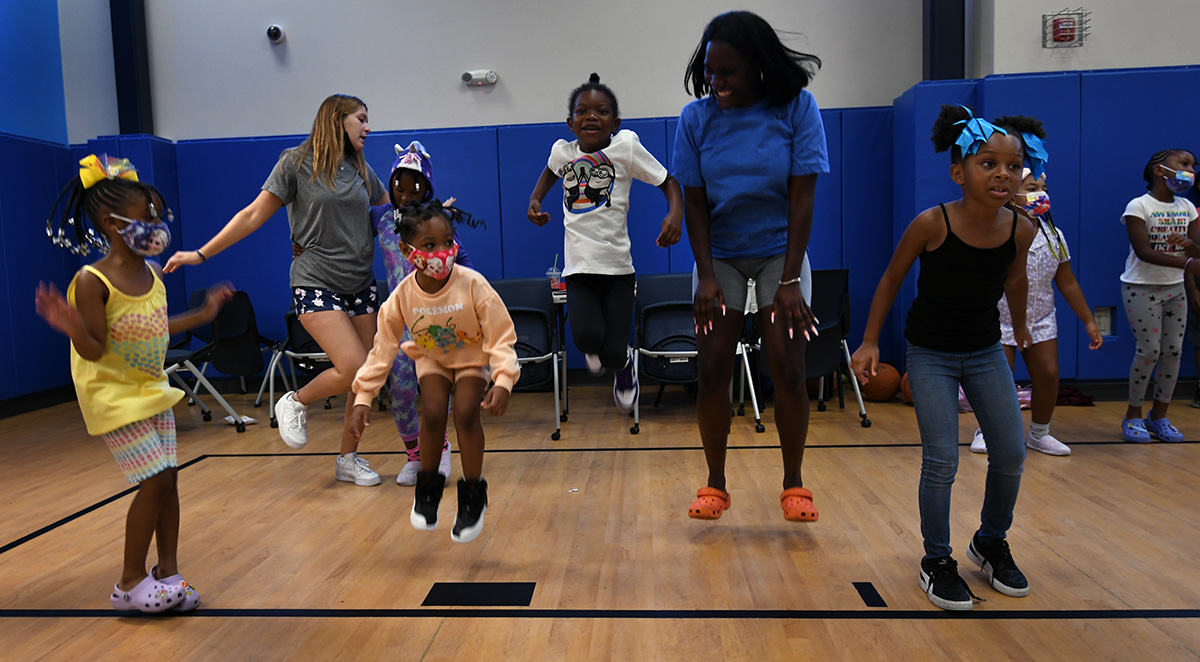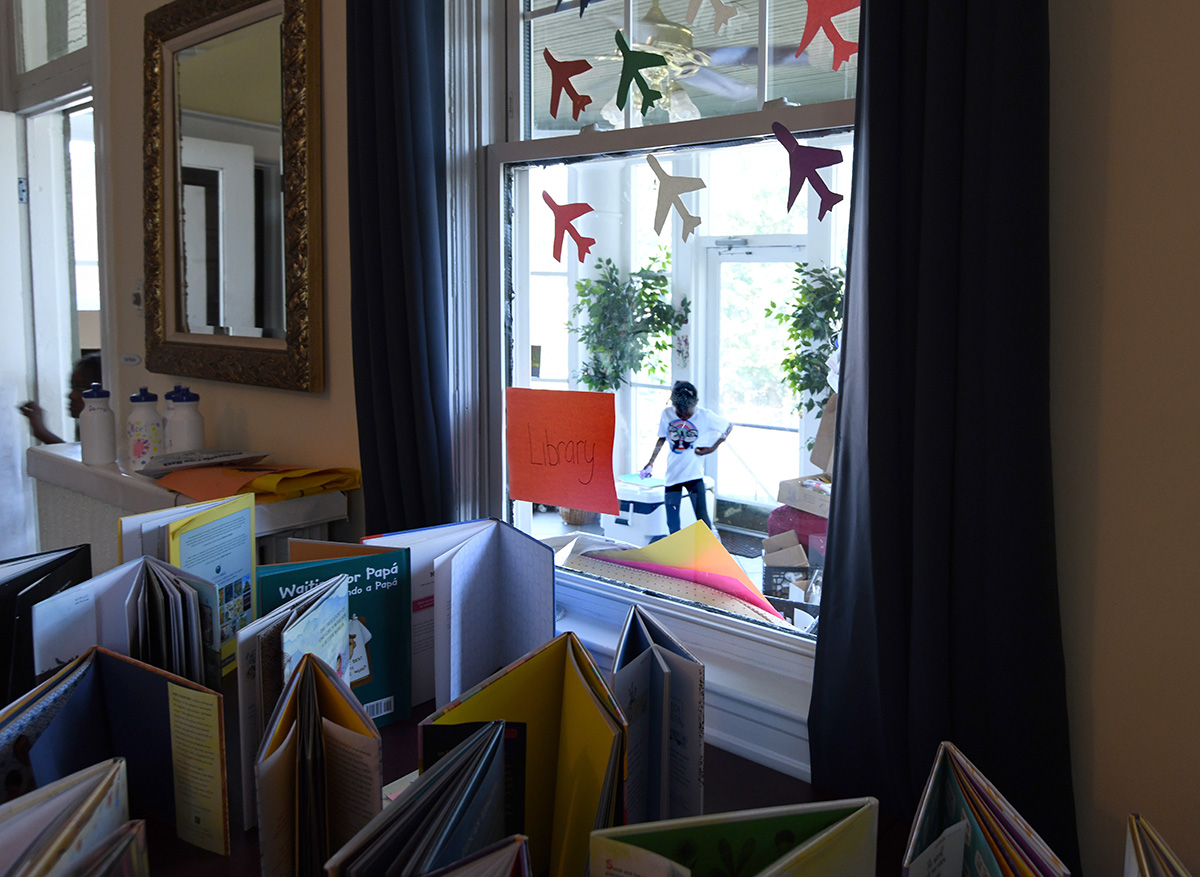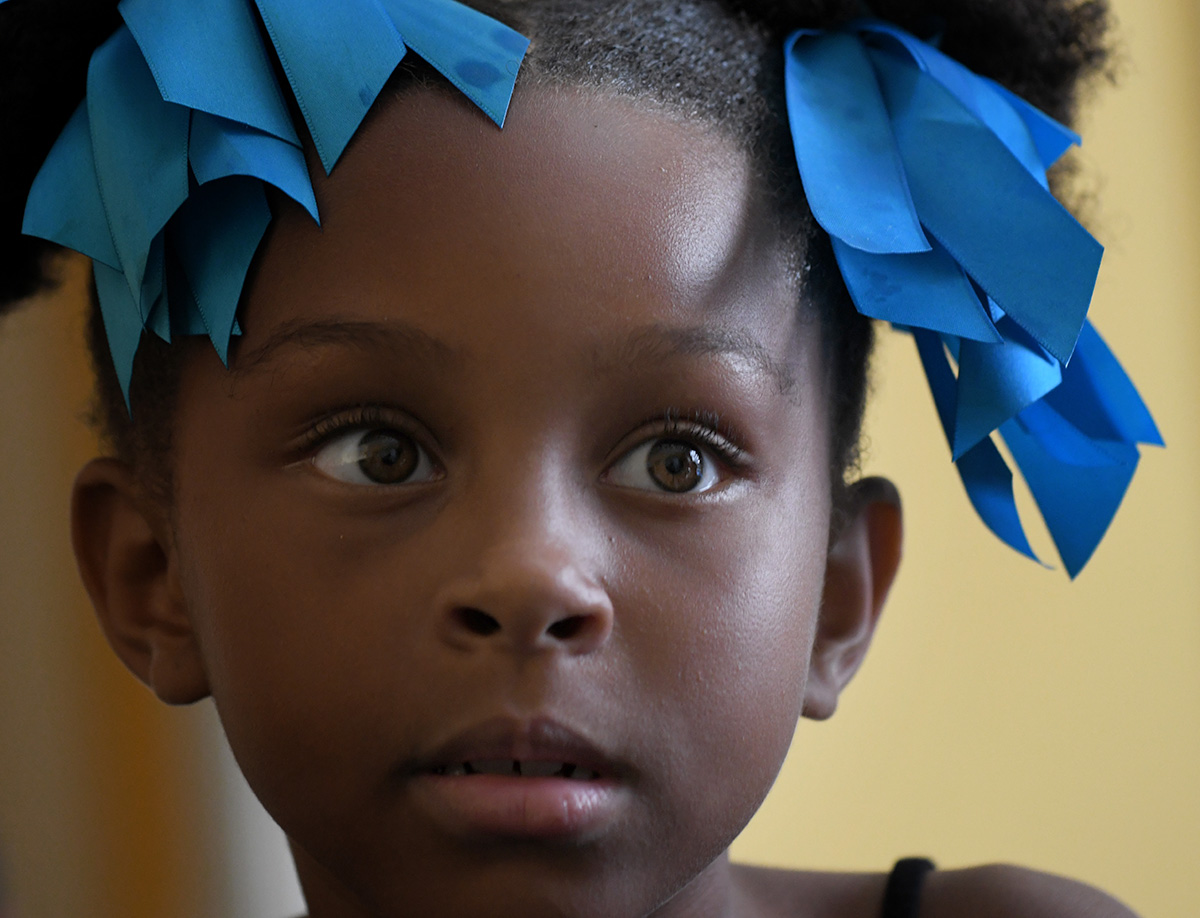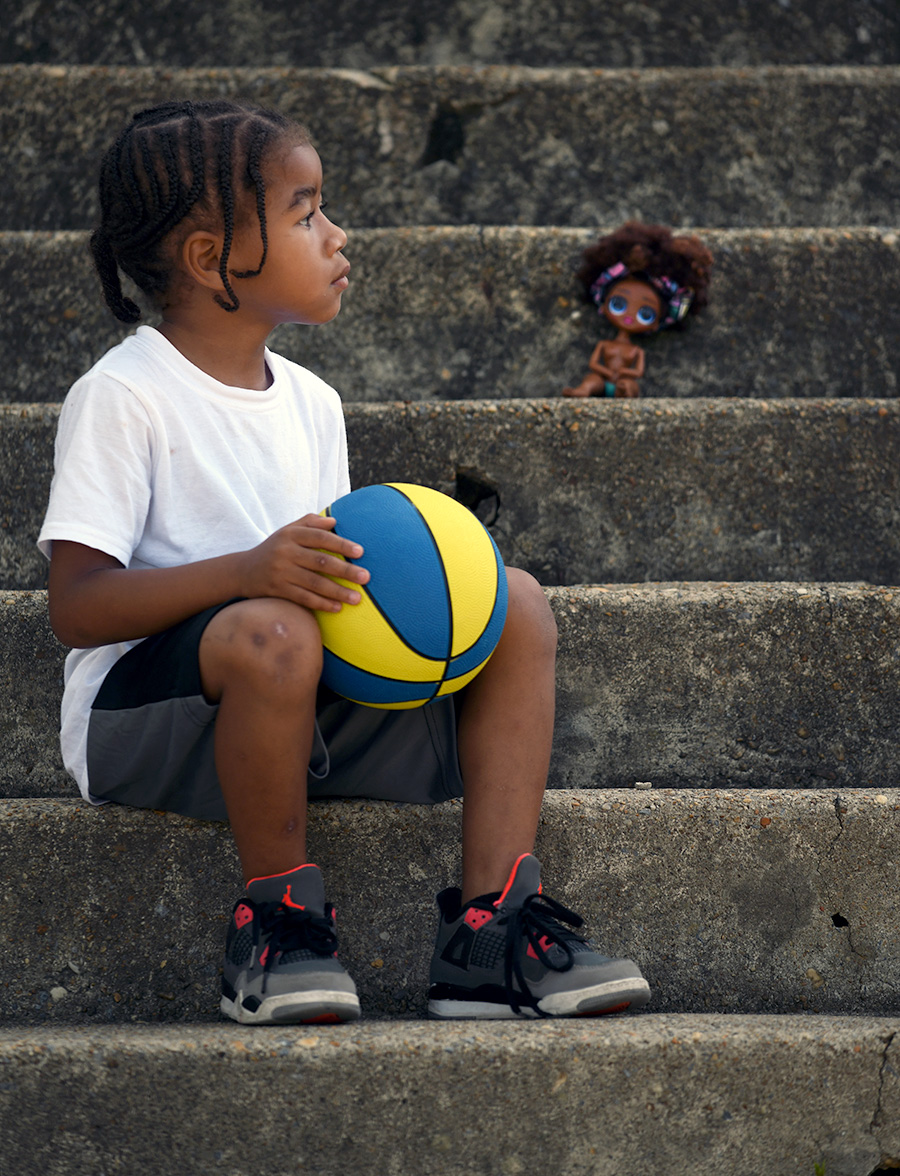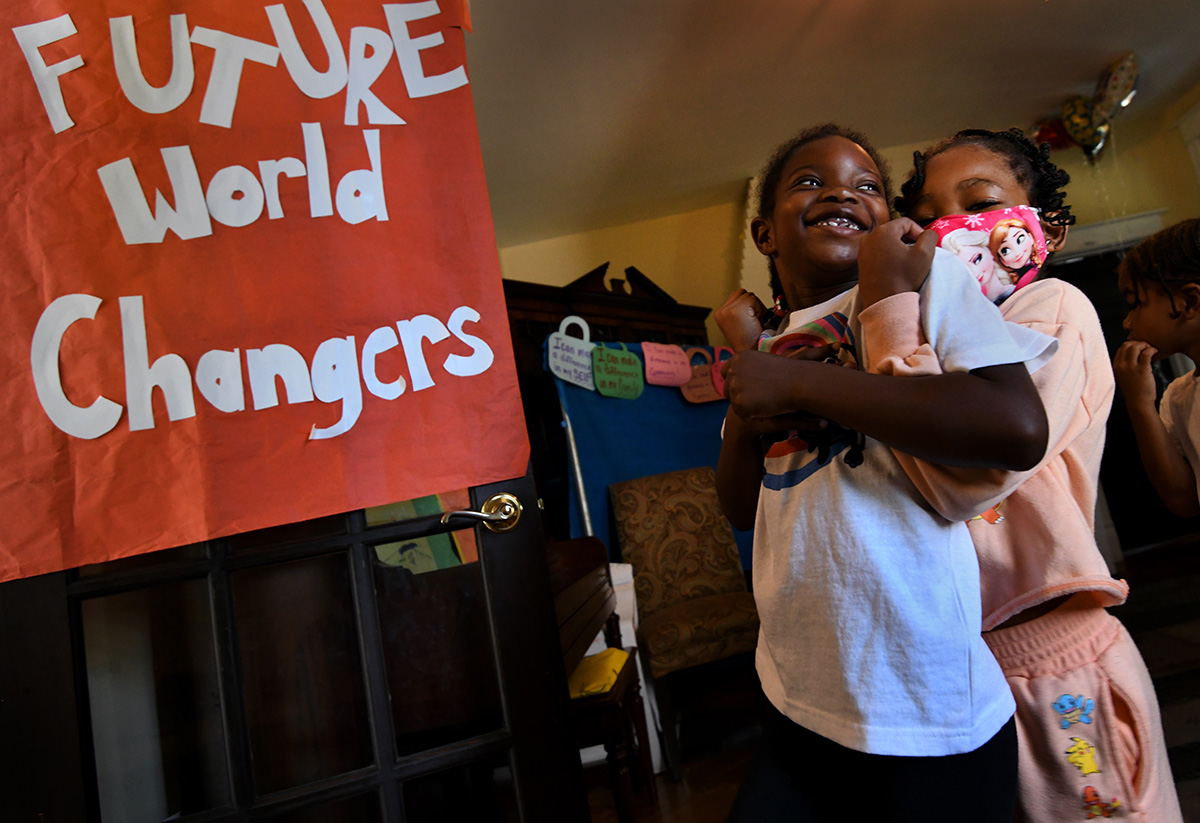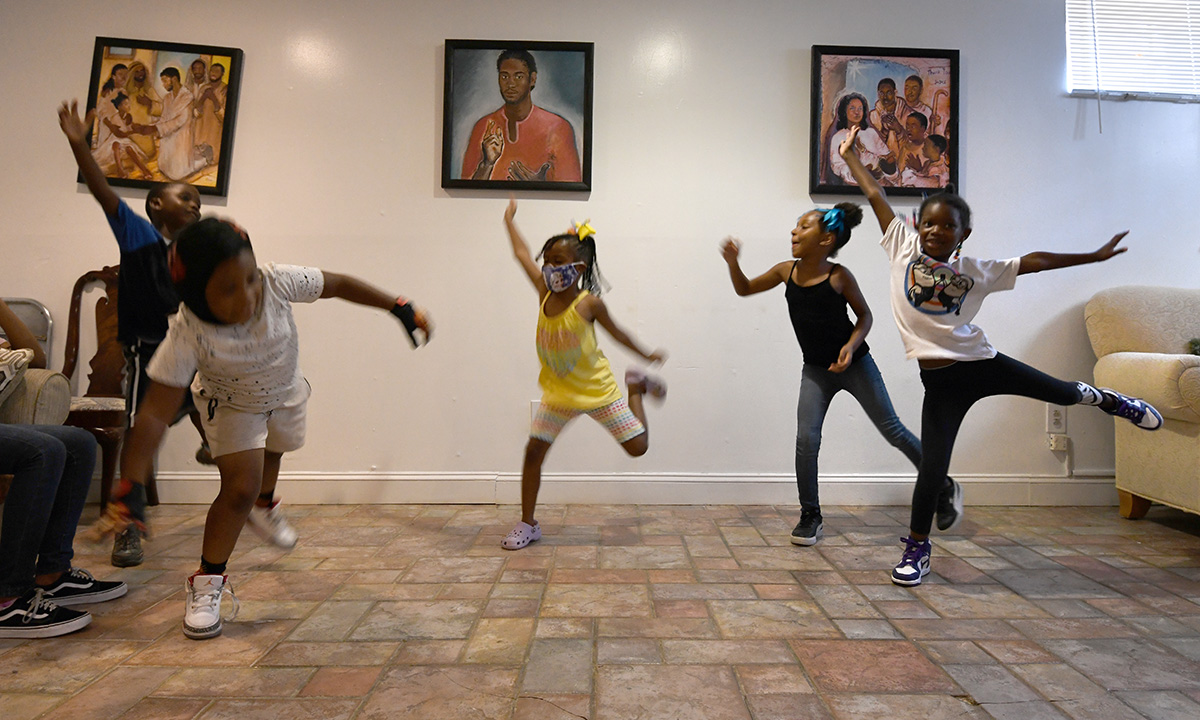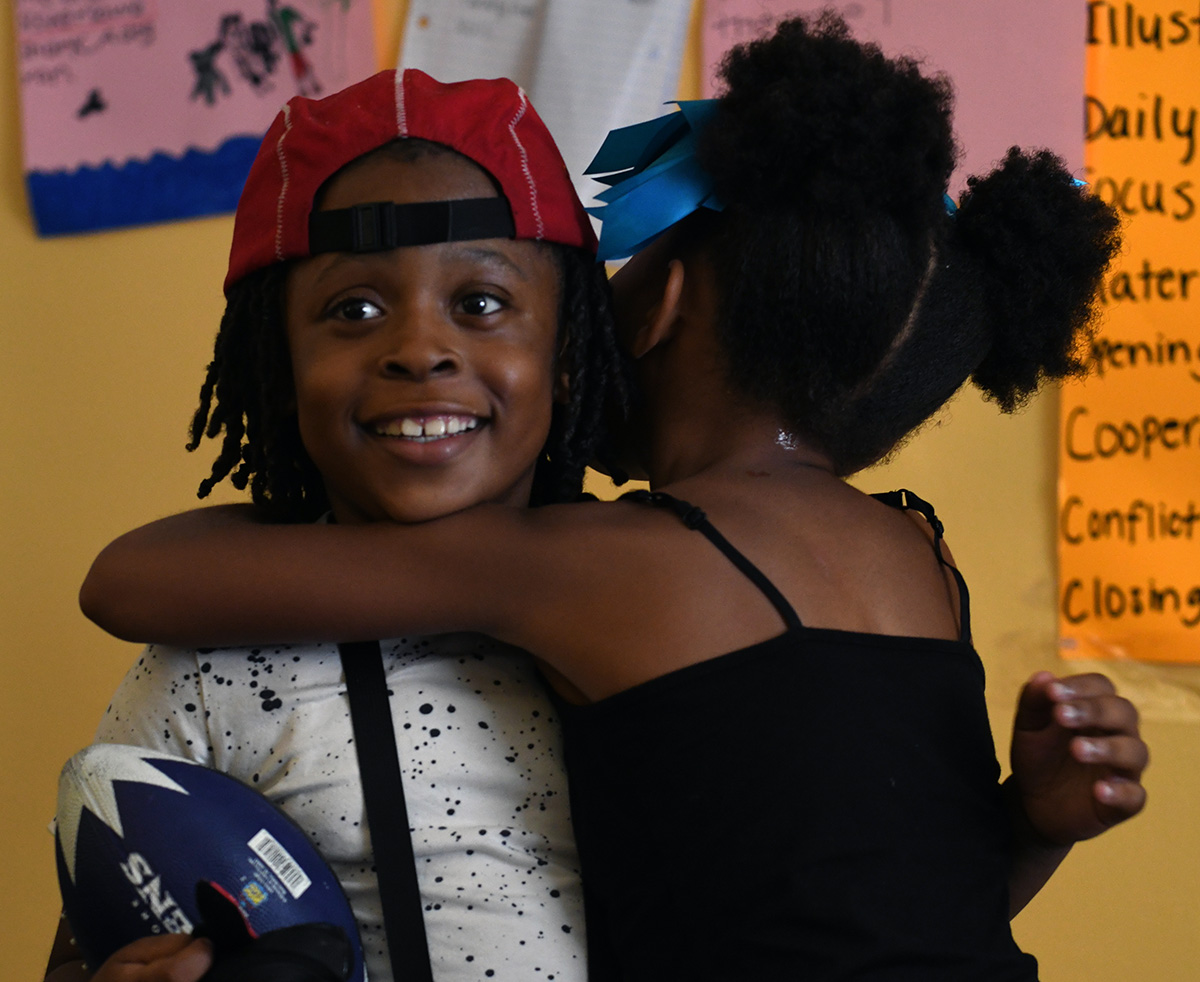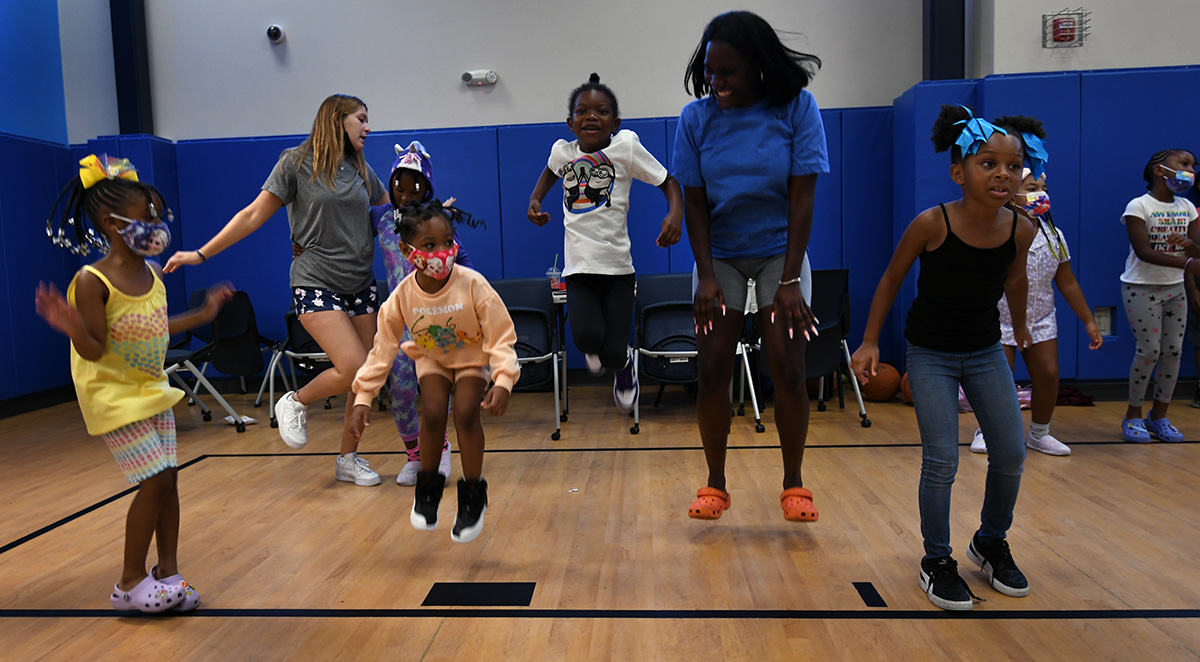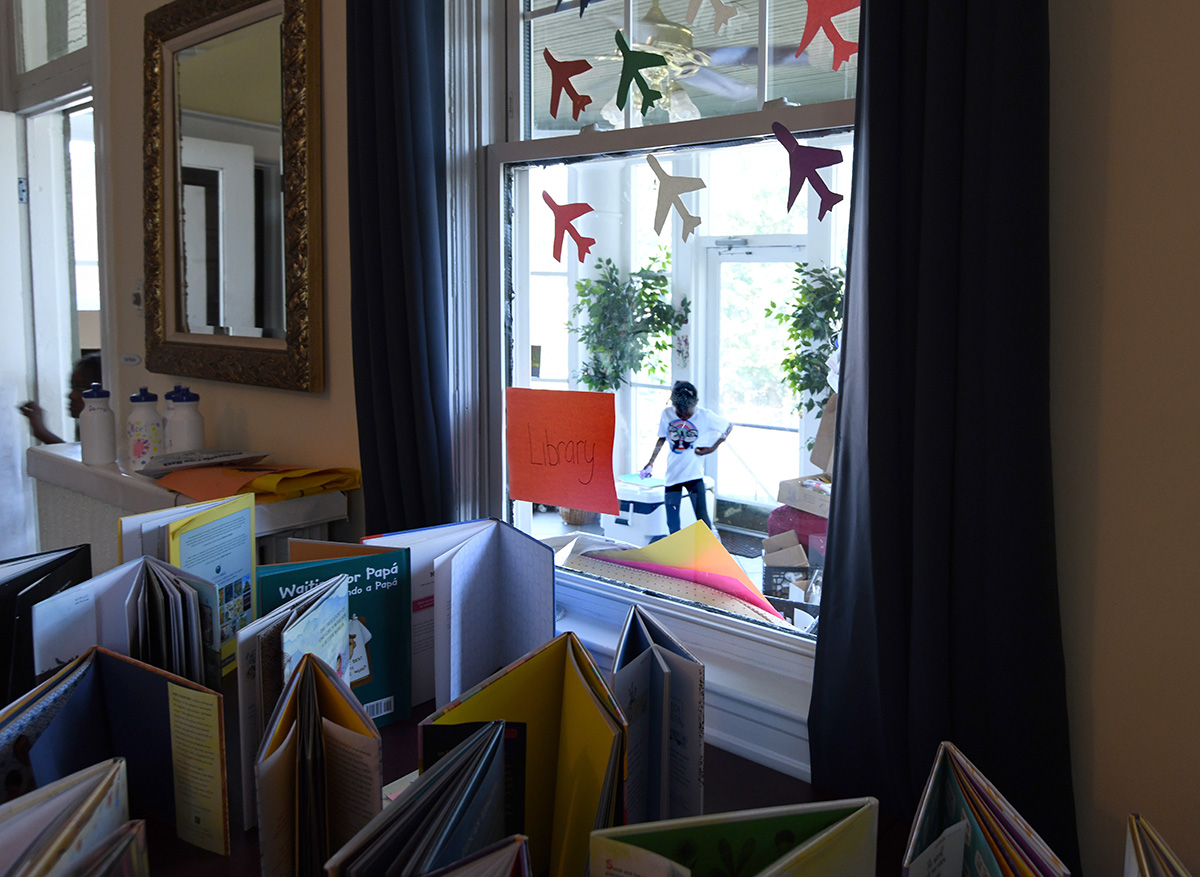 His church began supporting the program through funds dedicated to missions, and in recent years has funded it via an endowment, along with public and private partnerships.
"Our faith informs us about how important it is for us to make sure that the next generation not only knows God but that they are prepared to continue to really stand on the shoulders of the preceding generation and to carry the mantle forward," Moody said.
Birmingham has both a high murder rate and a high violence rate, and many kids are coming from communities where they haven't seen themselves in a positive light. With these schools, the pastor said, scholars can see the possibilities of what they can be.
"In the Old Testament, the nation of Israel is often taught to talk about the goodness of God and their faith principles with their children and their children's children," Moody said. "For us, pouring into the next generation, making sure that the next generation is educated … and prepared to live their best life and affect society in a positive way is an extension of what we believe God has called us to do."
What can your congregation learn from the Freedom Schools model of formation and community engagement?
Questions to consider
How does your congregation nurture the holistic well-being of children and families in your community?
How can partnering with a large national project like CDF's Freedom Schools empower your faith community's commitments to the young?
How do the five components of CDF's model speak to your faith community's theological understanding of discipleship and the formation of children?
How does the Freedom Schools model activate young people on issues that matter to them? Why might this matter to your church?
What can your congregation learn from the Freedom Schools model of formation and community engagement?
Much of who the Rev. Dr. Dominique A. Robinson is today can be traced back to two women — her grandmothers.
Her father's mother was Pentecostal and the founding pastor of Deliverance House of Prayer in Irvington, New Jersey. Her mother's mother was a Baptist laywoman. On Sunday mornings she attended the Baptist church and in the evenings the Pentecostal church, where her paternal grandmother was the preacher.
They exposed Robinson, 35, to traditional faith practices early in her childhood — practices that Robinson honors to this day. But their influence extended beyond that.
"Because my father's mother was my pastor, I heard her preaching often," she said. "Because of that, I imagined God as a black woman as a child. That still shapes who I am today as a minster.
"I did not grow up with a traditional lens of who God is, but many of the practices — like fasting and praying — are still with me today."
Robinson was named inaugural dean of Julius S. Scott Sr. Chapel at Wiley College in Marshall, Texas, in August 2019. It was a new role for her and for the college, which many people recognize from the 2007 film "The Great Debaters," starring Denzel Washington.
She is ordained in the African Methodist Episcopal Zion church, a decision she made when she was 18 because she thought the AME Zion church was a good mix of her Pentecostal and Baptist roots.
She has a bachelor's degree from Georgetown University, an M.Div. and a Th.M. from Emory University's Candler School of Theology, and a D.Min. from Columbia Theological Seminary. She is currently a Ph.D. student at Christian Theological Seminary.
Robinson identifies as a womanist millennial preacher. She's now adjusting to her role as faith leader for the 1,400-member student body of a Southern, United Methodist, historically black college rooted in history and tradition.
Reared in Newark, New Jersey, Robinson was practicing ministry in Atlanta, Georgia, before accepting the appointment at Wiley. 
"There were a lot of firsts for me moving here — I had never worked at an HBCU, never lived among the people I served, etc. The experience made me feel like I was living in a real-life fishbowl," she said.
"I only know how to survive by going back to my prayer closet. You can walk through the chapel today and see oily fingerprints on the walls from where I have walked about laying hands on the building while in prayer — all expressions of faith practice I gleaned from my grandmother."
She spoke to writer Mashaun D. Simon about her ministry preaching to millennials. The following is an edited transcript.
Faith & Leadership: What is your official title at Wiley? Why was it important to develop this role at this time in this capacity?
Dominique A. Robinson: Yes, it is the first time that Wiley College has had an official "dean of chapel." In years past, the chapel lead at Wiley was someone from the United Methodist Church serving a local UMC congregation in tandem with the role of chaplain at Wiley.
The administration desired to hire a trained theological educator who would be able to expand the work of previous chaplains in the areas of spirituality, maintaining chapel and religious programming, while functioning fully as a religion department faculty member and establishing a center for religious life.
Faith development is a core value of the school. In the midst of the pluralism and loss of faith nationwide, I believe designating an office, role, and funds and programming to religious life serves as a means of support for the overall well-being of our students, faculty and staff.
We are living in a day and society where it seems as though faith really isn't a priority anymore. It is my task to give students tools to put into their personal toolkits so they can determine what is best for them.
I want to move them from religion to relationship with whatever deity they identify with. While we live in a pluralistic world, there is a moral emptiness, and so I think faith development helps students become morally aware.
F&L: Many people know about Wiley because of the film "The Great Debaters." What made you interested in this role, considering the institution's history? What does it mean to be the first in this role, a black woman and millennial yourself?
DR: Yes, yes! I literally always introduce Wiley College and myself by saying "the home of the Great Debaters."
This role was of great interest to me because I have always felt called to minister holistically to marginalized individuals. That is all I saw my [paternal] grandmother, Della V. Smith, working with. For a season, serving marginalized individuals meant serving young black persons — millennials — because they looked like my brother or my sister, or they could have been my brother or sister.
At Wiley, I feel like I can function in all of who God has called me to be as a religious scholar, theological educator, preacher, writer, activist and advocate. This is the perfect place and time for my vocation and the future of Wiley to converge.
F&L: How does your ecumenical faith background and training fit within Wiley?
DR: There are four cultures present at Wiley: United Methodism, or Wesleyan; African Americanism; black church culture; and higher education culture.
It was founded by the United Methodist Church — faith tradition is one of the tenets of Wiley. It's an HBCU in the South — African American culture and black church culture is prevalent. And being that it is an institution of higher learning, there is the higher education culture and all that comes with that — the politics, policies and procedures, practices, etc.
In my training as an itinerant elder in the AME Zion Church, I embody black church culture and the beliefs and practices that the culture possesses. In addition, my ministerial training makes me versed in Wesleyan practices and verbiage, while understanding and relating to African American culture, language and colloquialisms.
Having earned degrees from Georgetown University, Candler School of Theology and Columbia Theological Seminary has equipped me in developing Methodist-based, liturgically cohesive, culturally relevant and biblically founded worship services that are also captivating and engaging.
F&L: Chapel is required of Wiley students, correct? What does it mean to have chapel be integral to the lives of the students?
DR: Chapel is held every Tuesday at 11 a.m. and required for all freshmen, sophomores and juniors. Attendance is also required of seniors who are members of the liturgical dance teams and a cappella choir.
And I have an expectation of all students who are members of the campus ministry — Young Disciples for Christ (YDC) — to attend chapel weekly. Also, all student organization leaders are expected to attend chapel weekly.
For those students where chapel is required, they receive a grade for their attendance and participation. They have weekly assignments that they're expected to complete each week. Some of the assignments include questions about things that may have occurred during chapel or the purpose of communion. The assignments vary.
My goal with the assignments is to help them think through their faith. All too often, they function through inherited traditions without any real investigation of why they believe what they believe or why they are doing what they are doing.
What is also important to note is that it is rare for an institution to require attendance and participation in chapel. But [Wiley's] requirement is not just for the students. No faculty person can handle business during the chapel hour.
Chapel is significant for us at Wiley for two reasons. First, we have a covenant relationship with the United Methodist Church.
Second, we hold firm to the belief that worship is a healing station for all of those who gather. The goal of having chapel become integral to the lives of the students is to display our commitment to developing and offering holistic support systems and programming.
Though Wiley is a Christian education institution, we are working diligently to offer safe and brave spaces for our non-Christian students, faculty, staff and partners. We do not want to allow one's faith to be used as a weapon against anyone.
F&L: Tell me about your project called iHomiletic. How does it line up with your work at Wiley?
DR: iHomiletic is a methodology of using social media linguistics and technology for reconnecting millennials to the church by way of preaching and teaching. It is the result of my D.Min. research, which focused on black church-going millennials and how their identity as millennials impacts their reception of sermons in black churches.
Long-term, I intend to publish a book as well as a workbook and app and incorporate the research into my liturgical planning for chapel and pedagogy for courses here at Wiley.
One idea is to have a live Twitter feed on the screen during chapel so that students can engage the sermon in real time — a modern take on call and response, via either Twitter or TikTok.
The idea is to meet them where they are, engage them via the tools in which they are currently communicating. In the classroom, I would like to see iHomiletic become a preaching elective.
F&L: How do you see your work at Wiley fitting into your larger vocation?
DR: My work at Wiley is just the tip of the iceberg for my larger vocation's narrative. I do see myself serving in church leadership and higher education at the highest levels one day — keeping one foot in the academy and one foot in the church.
In the same way that I am equipping our students for their future, I see this experience at Wiley doing the same for me. I am serving on presidential committees and task forces. I am learning higher education policies and procedures. I am practicing my craft of preaching and teaching. I have been given freedom to invest in and strengthen my scholarship. I am more than clear that God called me to Wiley.
Despite the fact that women make up half the graduates at institutions of higher learning, the top leadership is predominantly male. This pattern is even more pronounced at Christian colleges and universities, says Karen A. Longman, an expert in women's leadership.
But that shouldn't be the case, she said: "Christian higher education should be leading the way in terms of modeling a kingdom perspective on valuing gifts and abilities, and freeing up what is packed into every student to make the biggest contribution with the life that that student has been given."
Longman is a professor in the department of higher education at Azusa Pacific University, where she has been on the faculty since 2006. Before that, she served as vice president for professional development and research at the Council for Christian Colleges & Universities, where she continues to serve as a senior fellow and to coordinate CCCU Leadership Development Institutes, including the Women's Leadership Development Institute.
She has researched and published widely in the field of women's leadership in Christian higher education, including the article "The Secret Sauce: How Developmental Relationships Shape the Leadership Journeys of Women Leaders in Christian Higher Education."
She received a Ph.D. from the Center for the Study of Higher Education at the University of Michigan and a master's degree from Trinity Evangelical Divinity School.
She spoke to Faith & Leadership's Sally Hicks about what motivates women to lead and how Christian leaders can prepare women and people of color for leadership roles. The following is an edited transcript.
Faith & Leadership: You've studied women's leadership development, largely in the context of the colleges and universities that are part of the CCCU. Why is that important?
Karen Longman: I think that keeping half the human race held back from using their gifts and from walking into their calling and from being affirmed in how they are gifted to make a contribution with their lives — I think that's part of a fallen world.
The world needs what women bring.
For a variety of reasons, that has not been happening historically, because the leadership of those campuses that are identified as Christ-centered — we use the parameters and the membership guidelines of the Council for Christian Colleges & Universities — tends to be more male and more white than in secular higher education.
The church should be doing better to free up giftedness and affirm calling in a way that deploys every human being, regardless of the boxes we tend to put people in.
F&L: If you were a person in leadership in a Christian institution and you wanted to cultivate women leaders, what would you recommend?
KL: Before I talk about challenges for women, I also want to acknowledge that people of color need the same opportunities and developmental initiatives.
First, I would encourage the leadership of an institution or an organization to take a hard look at the status quo, the current realities, the demographics of who is in leadership. I think just being intentional and aware of the realities is an important starting point.
The second recommendation comes from a verse from Ephesians 2. Every individual has been gifted to do good works, and the job of the body of Christ — [including] Christian higher education — is to spot that potential, affirm that potential. People in authority, whether it's organizational leadership roles or faculty, have a huge potential to speak into the lives of others.
In research we did that looked at emerging leaders, over half the women said their most defining moment on their leadership journey was a single conversation — sometimes a single sentence — where someone spoke into their life and said, "You are really good at this" or, "Think about doing that, because of your natural gift mix."
If current leaders see someone with potential, whether it's a student or a very junior employee, give them opportunities to be doing something bigger so that women are not just kept down in functional positions and dumped on because we're very responsible and loyal and hardworking and conscientious and trying to please people.
A leader is viewed as someone who sees the importance of the institutional mission or the organizational mission and speaks into the broader picture — not just who has their head down and keeps doing micro work.
Along the relationship line, to the extent that women and people of color can be networked and find support within the institution and beyond the institution, that's really important.
One of the things we've seen with the women's leadership development work is that just having a network of professional women committed to Christian higher education that's bigger than their institution is important. Because often, it gets lonely within their institution or they get pigeonholed within their institution. This is what we call a constellation of developmental relationships.
F&L: OK, so the reverse question: If you were going to advise a woman who wants to take on a leadership role, what would you say?
KL: If we're talking about an institutional setting, I would encourage a book discussion group. We do a book club here called Leaders Are Readers.
There are wonderful resources in the last decade that are very encouraging. I think the more women read the current literature, popular and scholarly, the more confidence they'll have that the world is changing and needs to change.
F&L: What are the unique leadership issues for women in Christian institutions?
KL: Well, I'd start broader. There are unique leadership issues for women in general. Herminia Ibarra [Charles Handy Professor of Organizational Behavior at London Business School] writes about "second-generation" workplace gender bias — the things that are in the water of organizations and corporations, the subtle signals that either hold women back or are contrary to what women tend to value. She deals primarily with the corporate world.
Obviously, all women are not alike, and all men are not alike, and gender is a continuum, so I don't want to oversimplify this.
There was research that came out of Princeton, which was compared with other Ivy League schools, by Nan Keohane. She was asked to chair a study on undergraduate women's leadership on the 40th anniversary of Princeton going coed, because the curiosity was, Why are so few women in high-status, highly visible, high-prestige positions? She had done a similar study at Duke.
What they found out was that the female students at Princeton were more interested in leadership roles that served others or benefited others; they intentionally did not seek high-status or high-prestige or high-power positions.
F&L: Is there a particular overlay on those issues for Christian women?
KL: In general, evangelicals have deeply internalized a perception of a hierarchically ordered universe that's deep in our bones. Somehow we feel that God the Father is somehow hierarchically above Jesus, and then there's the Holy Spirit, and that the way human beings are supposed to function is that men are in some ways superior to women.
This is from a study that the Pew Charitable Trusts funded several years ago that looked at the behaviors and perceptions and attitudes of evangelicals.
You may be aware of a book that Jimmy Carter wrote called "A Call to Action," a really interesting book. The subtitle is "Women, Religion, Violence, and Power."
The point that he makes, which I think is relevant to your question, is that the perception that maleness is superior to femaleness [underlies discrimination and abuse against women], the No. 1 problem facing the world today, and that in the world's great religions — Judaism, Islam, Christianity — somehow this has been distorted to where people are going through life in their heart of hearts really believing that being male is superior to being female.
F&L: You make a distinction between leadership identity development and leadership development. What's the difference?
KL: Until the last decade or so, the emphasis has been on the concept of leadership development, which has largely been skills and abilities, like learning how to budget, learning how to be effective at strategic planning, team building, that kind of thing.
Herminia Ibarra's book "Act Like a Leader, Think Like a Leader" really has challenged my thinking.
Basically, she is saying that in the Western world, there is this deep sense that maleness is somehow superior and that men are designed to lead because they're taller, have deeper voices, have louder voices, are more decisive, are more what they call agentic.
There's what's called role congruity theory; we expect certain things of a leader, and often women don't feel like they either bring those things or want those things. The ideal leader does not look and act like they either do or want to look and act.
Obviously, people who would be effective in leadership need to have skills, and you can build skills. But it's the interior life of women and the constraints where we keep ourselves down or are not motivated to step into leadership [that can hold us back].
For some reason, being more competitive and viewing the world hierarchically seems to come more naturally to a lot of men. Women tend to downplay credit and ownership and try to create a sense of team and shared celebration of what's accomplished.
In a male-norm world, they're not viewed as leaders because they're not positioning themselves in the way that a male-norm world expects leaders to act.
F&L: Is the solution to that to change the idea of what a leader is or to help women conform to that male-norm model?
KL: In the Princeton study, which came out in 2011, one of [Keohane's] proposed solutions is what she calls a more capacious definition of leadership.
The way I would interpret that is to say we need to define leadership more around influence and getting work done in a way that people are engaged and motivated for the work that they're collectively doing.
Essentially, you define leadership in a way that writes women in and empowers them to lead in ways that are comfortable and effective. But not in the male-norm, hierarchical, agentic ways that the world thinks or historically has thought of leadership. I kind of like that.
If you view leadership as the ability to make a difference by influencing others, it gets out of the hierarchical, individualistic model of leadership.
F&L: What are some of the important factors in cultivating women leaders? You are the lead author of a paper called "The Secret Sauce: How Developmental Relationships Shape the Leadership Journeys of Women Leaders in Christian Higher Education."
KL: There are a number of different things that I think are motivational for women — that are more true in the lived experience of women than of men.
The research we've been doing looks at the internal motivators that get women willing to step into leadership. Within a faith-based context, I would say more women have confidence and willingness to step into leadership if they feel like they're being responsive and good stewards of the gift mix they've been given or of the calling they've been given.
Some of the women we've interviewed specifically said, "I feel gifted to lead." If they're called to lead, even if the environment is unhelpful, they will step into leadership. So giftedness and calling is one thing.
Another is role models and mentors, or — the latest research we've been doing — being coached and sponsored by people who spot that potential.
There's also what we've called relational responsibility, where women did not personally stick their hand up and say, "I want to be a provost" or, "I want to be a president."
But because somebody spotted something in them and said, "I need you on my team to be a better leader," women will step into leadership for the sake of the relational dimension.
In fact, I wouldn't mention the institution, but someone who was the most senior woman at a pretty significant faith-based university said, "I've had five jobs, and every time, somebody said to me, 'I need you' or, 'We need you to do this.' It wasn't that I wanted to do it, but I was responding to people speaking into my life, people that I valued and trusted and wanted to support who said, 'I need you to do this' or, 'We need you to do this.'"
It's a different set of motivations and rewards and values, I think.
F&L: What is the secret sauce?
The power of the natural ability a lot of women have to relate, and how important relationships are — whether it is relational responsibility or having this constellation of developmental relationships or, from a Christian perspective, being intuitive enough to realize that the world needs a different kind of leadership.
Basically, people are fed up with the brinksmanship and the ego and the combative one-upmanship style that is being elected in a lot of countries. That's not the kind of environment a lot of people want to live in and contribute their best to.
Sheryl Sandberg in "Lean In" cites Warren Buffett. It's one of my favorite sections of that book. Basically, how did Warren Buffett do so well? He said, "Well, I'm only competing with half the human race." So if the other half gets into the race, different people are going to start winning.
Recommended reading about women and leadership
In her interview, Karen A. Longman recommends a book club as a way for institutions to help nurture female leaders and leaders of color. Here are some books, articles and other resources she recommends to get started.
"Act Like a Leader, Think Like a Leader," by Herminia Ibarra
"The Athena Doctrine: How Women (and the Men Who Think Like Them) Will Rule the Future," by John Gerzema and Michael D'Antonio
"A Call to Action: Women, Religion, Violence, and Power," by Jimmy Carter
Catalyst.org, website of Catalyst, a global nonprofit building workplaces that work for women
"The Difference: How the Power of Diversity Creates Better Groups, Firms, Schools, and Societies," by Scott Page
Duke Women's Initiative Report, by Susan Roth and Nannerl O. Keohane, committee chair
"Executive Presence: The Missing Link Between Merit and Success," by Sylvia Ann Hewlett
"The Female Vision: Women's Real Power at Work," by Sally Helgesen and Julie Johnson
"Forget a Mentor, Find a Sponsor: The New Way to Fast-Track Your Career," by Sylvia Ann Hewlett
"Lean In: Women, Work, and the Will to Lead," by Sheryl Sandberg
"Pipelines, Pathways, and Institutional Leadership: An Update on the Status of Women in Higher Education," report by the American Council on Education
Princeton Report of the Steering Committee on Undergraduate Women's Leadership, by Nannerl O. Keohane, committee chair
"The Secret Sauce: How Developmental Relationships Shape the Leadership Journeys of Women Leaders in Christian Higher Education," by Karen A. Longman, Amy Drennan, Julie Beam and Amanda F. Marble
"Women and the Vision Thing," by Herminia Ibarra and Otilia Obodaru
"Women Rising: The Unseen Barriers," by Herminia Ibarra, Robin J. Ely and Deborah M. Kolb
"Women's Leadership Journeys: Stories, Research, and Novel Perspectives," edited by Sherylle J. Tan and Lisa DeFrank-Cole