The gospel lived out in the company of friends
Recently, after many years away and numerous COVID-related delays, I made my way back to the place of my childhood. I grew up along the winding Guadalupe River in the Hill Country of Texas, in the city of Kerrville, to be exact — a small town where I inhabited 11 different houses as a child.
Not only is this the place I grew up, it is also the place where I planted a church called the Soul Cafe in the late 1990s. I had anticipated going back for quite some time, and to my surprise, I found that not much had changed.
I was comforted to find a vibrant main street where I could still eat breakfast tacos on tortillas made fresh that morning. It was nice to sip coffee at Pax, have lunch at Francisco's and enjoy the region's wine at Grape Juice, all locally owned and operated.
I drove over low water crossings, remembering the thousands of trips down these roads in my 1985 turquoise-blue Camaro. I swam in the river and basked in the early-autumn sun below an enormous swarm of vultures circling overhead.
It can be easy to look back at the past, full of nostalgia, with rose-tinted glasses, but my childhood was more thorny than rosy, and that spilled into my experience of church as well. When I was a young teen, I endured a season in which my mother dropped my brother and me off at a different church each Sunday, hoping we would find one we liked. It was painful.
Despite an expressed emphasis on being welcoming, the churches I experienced felt anything but that. Awkwardly, I would enter, looking for a familiar face but sensing only impermeable boundaries roped off with pleasant smiles and perfect-looking family units.
My family was far from perfect. Dad had left when I was 5. Mom cycled through a series of relationships that kept us moving. My brother started using drugs at 13. Entering church on Sunday mornings, I stood out like a ragamuffin. I could find nowhere to hide, and it was impossible to blend in.
I ended up choosing the church where Regina went. A friend from school, Regina saw me at once and ushered me in to sit with her and her family. She truly and personally invited me in. Regina is someone who knows the art of friendship — someone I am still friends with today, over 30 years later.
In fact, she and her husband were part of Soul Cafe, the church I planted to reach young adults. Soul Cafe closed its doors several years ago, but there is still a group of people who are deeply connected by the experience of shared community it offered. These are the people I was keen to see on my visit.
On a Sunday night in late September, we gathered for a "come one, come all" potluck. In a familiar backyard under the stars, we jumped right back in with one another. We shared stories from the past, conversations about people who had moved away, photos and tall tales from weddings and other special events. We visited with young adults who had been babies back when Soul Cafe started, and we shed tears over the people who are no longer with us.
As I sat listening to stories and taking in the laughter, I just kept thinking: This is a holy space. This is what endures.
Several people have asked over the years what made Soul Cafe so special. My answer is always the same: community. It wasn't that the worship was awesome (it was!) or that we were pioneering the coffee shop church movement (we were!). It was the way we did life together.
We were friends, loving one another in good times and bad — and there were plenty of both — supporting each other, holding one another accountable, wrestling across differences, including political ones. Yes, both Democrats and Republicans live in Texas!
Soul Cafe ended after 11 years. At the 10-year mark, the elders decided to pause for one year to discern whether or not to keep going. You see, it had started as a church for unchurched young adults but had grown to be a family church. Because family churches abound in Kerrville, the leadership thought perhaps new things needed space to emerge.
Soul Cafe ended with no conflict. The leadership distributed its ample resources into ministries that had sprouted out of the church. Soul Cafe as a noun, a place, ended — but the community, the doing, the depth of friendship certainly didn't end. We'd been woven together, stitched into a sacrament with invisible threads. This rich community fed my soul back in the '90s and sparked my imagination on my recent trip back home.
It left me wondering: Do we make church more complicated than it needs to be? Do we underestimate the power of friendship?
After all, the gospel was lived out in the company of friends. Jesus walked with his friends; he ate with his friends; he performed miracles at events with his friends. It was his friends who lamented when he died and who shouted from the rooftops when they realized the grave couldn't contain him.
Scripture tells us people will know us by our love for one another (John 13:35). It is not the isolating holy huddle but the connecting act of radical friendship that counters the cultural norm of every-person-for-self.
What if friendship re-imagined is the crucial element the church needs to embrace? Not just friendship among people who are alike but friendship defined more broadly. Deep, engaging one-on-one time that breeds responsibility and care, not only for each other, but for a widening circle of concern.
We are living in a time when people of all ages — especially the young — are experiencing excruciating isolation. One study shows that 1 in 3 young people feel alone most of the time and that 40% say they don't have anyone to talk to. What if more gospel-infused friendships called us to create pop-up dinner parties and backyard barbecues that lived out abundance for everyone — the recently unemployed neighbor, the young person struggling with addiction, the lonely older person who lives down the street?
As a social innovator who often trailblazes new forms of community out of necessity, I've repeatedly felt ready to throw in the towel. Time and again, though, my community has showed up to sustain me. People have buoyed me along the way. Like Aaron and Hur, who held up Moses' hands when he grew tired, people have appeared at my side to lift me up.
They have called me to return to radical action; they have stirred up new reservoirs of empathy, encouraging me to keep taking risks and keep imagining new tributaries where the Spirit is flowing.
At our backyard gathering in Texas, we took a moment to share a ritual. We drank from a common glass of red wine, passing it from one to another, communion-style, each blessing the next with one word of heartfelt affirmation. Words such as "passion," "steadfastness," "integrity," "joy" and "loyalty" emerged to describe the ways people are showing up for life. These affirmations echo in my memory and call me to imagine.
Encouraged in the possibility of a church reawakened by focusing on a broad, expansive charge to befriend more boldly, I embrace this blessing by poet, mystic and soul-friend advocate John O'Donohue:
May you be blessed with good friends.

May you learn to be a good friend to yourself. …

May you be good to [your friends] and may you be there for them. …

May you never be isolated.
In his 1954 poem "Church Going," English poet Philip Larkin stops by a church and finds himself wondering:
When churches fall completely out of use

What shall we turn them into, if we shall keep

A few cathedrals chronically on show,

Their parchment, plate, and pyx in locked cases,

And let the rest rent-free to rain and sheep.
Larkin died in 1985, but his poem lives on. And the question it poses is ever more urgent for congregations across America.
Each year, thousands of churches in the United States close their doors and others begin to move toward that decision. While post-pandemic statistics on church closings are not yet available, 2019 estimates placed church closings between 1% and 2% annually, or between 75 and 150 congregations every week.
Even thriving congregations may struggle to maintain buildings that no longer align well with mission and ministry. Often silently, sometimes aloud, pastors and lay leaders and religious support organizations are asking Larkin's question: What should become of these buildings — what shall we turn them into?
Yet congregations need not feel alone in this struggle, as hard as the struggle may sometimes be. In fact, the problem of church buildings is generating significant conversation and creativity across the American landscape.
The question of what happens to church buildings means different things, of course, depending on context:
A 700-member church in the heart of a depressed Midwestern city faces the triple challenge of declining membership, a campus reflecting decades of deferred maintenance, and spaces that, while plentiful, do not match the congregation's needs.
A church in a growing Southern city faces a different dilemma. Its longtime neighborhood has become the "it" spot and is now thriving with restaurants, shops and new residents. But the church building is falling apart to the point of being unsafe. Most members no longer live in the neighborhood and have no resources to bring the building back to a useable condition. A quick sale to eager developers would bring in millions for the denomination but give up a key strategic location where ministry is needed.
A congregation out West with a big campus has a thriving ministry and a constant need for more space. At the same time, members are fervently focused on and engaged in mission and outreach in the surrounding city. This has led to dynamic discussions about how to balance "infrastructure needs" with a strong desire to serve the city and deploy as many resources as possible toward that vision.
A small church in rural Maine watches its congregation shrink each year. There is no booming real estate market out its front door. But several community groups use the fellowship hall for meetings, and most members have someone buried in the churchyard.
A 200-member congregation in a Northern city is challenged by a building that, as one member describes, "works for us if you squint really hard." The building has more space — and maintenance demands — than the congregation needs. And while financially stable now, the church is faced with a giving base that is aging.
A large church moved farther out into the suburbs from its large city several years ago and built a large, cheaply constructed building. Over the next decade, it will cost at least $5 million just to maintain the parking lot, replace the windows and deal with a leaky roof.
For this multitude of challenging contexts, a multitude of groups and organizations stand ready with suggestions and support.
Who can help?
A growing number of independent organizations offer tailored resources and consulting.
For more than 30 years, Partners for Sacred Places, the longest-standing national nonsectarian organization working in this arena, has been helping congregations better understand the architectural, historic and community value of their buildings in order to preserve and use the property for good.
Newer organizations like RootedGood are crafting cohort experiences and human-centered design tools to guide congregations toward new plans for their properties.
Oikos Institute for Social Impact is helping faith communities of color harness the power of their assets and especially their real estate, often their most valuable tangible asset, for community benefit and economic growth.
The Proximity Project is encouraging congregations to understand the built environment of their properties and neighborhoods as essential to mission, drawing on the insights of urban design, development and placemaking.
Some organizations are geographically focused. Bricks and Mortals (which wins the award for best name in a highly competitive field!) focuses on New York City congregations, connecting faith communities with development experts to find sustainable solutions to property woes.
Good Acres, a project of Mission City Renewal, builds collaboration among real estate professionals, investors, community organizers, and church and denominational leaders in San Antonio to help churches realize the full potential of their underutilized property for community good.
Wesley Community Development partners with faith-based organizations and churches in North Carolina.
And north of the U.S. border, both Parish Properties and Trinity Centres Foundation work with congregations in Canada.
Other organizations approach congregations through a specific social concern that repurposed church assets might help address: affordable housing, food security in Black communities, co-working spaces for change makers, ecological land stewardship or venues for artists, to name just a few.
Meanwhile, denominations continue to provide programs like Project Regeneration (Presbyterian Church [U.S.A.]), the Episcopal Parish Network (formerly CEEP) and the UCC Church Building & Loan Fund. They also share resources with one another cross-denominationally, and increasingly engage the growing landscape of independent consultants.
Where can you start?
Larkin's question, once prescient, now presses. What shall we turn them into? And yet, as all these organizations and consultants will tell you, the first step is not to rush toward a solution — even a solution they might advocate and ultimately help support.
The first step is a set of actions that every church can and should take right now:
Start a conversation in your congregation about how your building is a tool for ministry and mission.
Build a wider web of relationships in your community, as those will be essential to any future action.
Expand your ecclesial imagination about possibilities for the future use of your building.
One of the easiest ways to expand ecclesial imagination is to reflect on what other congregations are doing.
Faith & Leadership offers many articles about church buildings that can start the reflection. Drawing together these and other stories, Lake Institute on Faith & Giving has created the Faithful Generosity Story Shelf, stocked with short vignettes of congregations and other religious organizations who have repurposed their buildings, lands and funds in creative ways. A brief discussion guide offers ways to start the conversation.
You're not alone in your concern about the future of church buildings, whatever your context. There is a shared sense of the challenge and a growing network of groups with poetic names, ready to respond. Together they offer resources that can lead to a much greater good than Larkin's worried vision of churches "let … rent-free to rain and sheep."
On Mother's Day 2020, I was working as a contact tracer for the Florida Department of Health. Our team labored 10 hours a day, seven days a week, reaching out to people who had been exposed to COVID-19. We explained quarantine procedures and educated people about how to protect others.
That Sunday, it was my job to interrupt Mother's Day brunches across Fort Myers and tell folks that they had been exposed to the virus — in the days before vaccines and effective treatment. People were panicking.
It was a Groundhog Day experience as we contacted hundreds of people with bad news. It was difficult. It was depressing, especially when we'd learn about folks who had died.
I also saw the effects of superspreader events — some of them from churches that had refused to close. Florida at that time was one of the nation's COVID hot spots and the epicenter of furious debates about masking, quarantine and religious freedom.
I already was interested in public health and theology — 2020 was the summer between finishing my master's in public health and starting divinity school. For a young public health professional and theologian, this experience highlighted the urgency for collaboration. After all, religious communities and public health agencies seek the same outcome: healthier and more vibrant communities.
In divinity school, I tried to understand why there is such a divide between religious communities and public health practitioners. Now, as I embark on a Ph.D. in population health sciences, I continue to envision ways we can integrate theology and health education in our pews.
This ideal collaboration is far from simple. Experts in public health often lack the theological understanding and context to be culturally aware of the structures and behaviors in religious communities. And religious leaders are often overstretched in their regular clerical responsibilities; to expect them also to be skilled in health education and communication is unfair.
I have spent a large part of recent years focused on this never-ending chicken-or-egg scenario of how to build a bridge between health organizations and religious communities.
Though I think that accountability on both ends of this "bridge" is important, I want to suggest a few first steps for religious leaders.
Know your congregation.
This might sound obvious. However, knowing a bit of the backstories of the people sitting in your pews on Sundays does not mean that you understand their needs and concerns.
Consider the levels of insurance in your church. Are most people on a certain type of health insurance? Are people uninsured or in professions where their insurance level fluctuates? What about the availability of dental and vision services? Can they afford these services?
The intricacies of health insurance coverage could provide a brief peek into the health of those in your community and the gaps that may be chronically unaddressed for a significant portion of your congregation.
Though these question may not be part of the normal "getting-to-know-you" info card, being upfront about your church's intention to work for health equity and to address potential health needs of your congregants may ease the discussion of these sensitive though vital details.
Of course, even with the most honest intentions and perfectly curated questions, there are other dynamics at play as well.
Recognize the opportunities and limitations of your role as clergy.
It is no secret that clergy are often overworked, with their expected scope of care greatly exceeding their reach. In addition, few pastors have medical or public health expertise.
However, one of the great superpowers of religious leaders is their tendency to be seen as leaders and trustworthy members of the community. Recognizing opportunities to provide guidance to members of your community on health decisions while also recognizing your own limitations may be the perfect combination of your clergy superpower.
One example of this is the way that Black and Hispanic churches served a crucial role during the worst days of the pandemic by sharing health information and offering testing and vaccination sites.
Reach out to your local health experts.
This could be the health department, a health education specialist, medical providers, or other health care workers who have experience and training to offer guidance to your congregation.
Collaborating with these folks might create opportunities for your congregation to understand more about their health concerns from reputable medical sources while you also help them contextualize their health concerns within your faith tradition. Feel free to reach out to people like myself who are deeply rooted in the intersection of health and religion.
Include these topics of concern in your sermons.
If the pandemic has taught us anything about how religion and public health interact, it's the ways that people are influenced by information from people they trust. As a religious leader, you will likely be asked for your opinions on various health behaviors and decisions.
While honoring your educational gap on the subject matter and knowing your scope, you can still find helpful, engaging ways to include health issues in preaching. One possible place to start is by inviting your congregation to explore and be curious with you as you seek out information to make the best decisions for your own health.
The task of congregational care is a daunting one, especially when pastors venture beyond the spiritual needs of those they're in community with. However, the ability to improve health behaviors as well as faith practices is a beautiful dynamic.
It is my hope that no one else ever receives a call on Mother's Day to tell them that they and their families are in danger from a deadly virus. Through the intentional considerations of congregational needs and local resources, clergy can and should collaborate with health partners to help make sure the Groundhog Day summer of 2020 never happens again.
Peter Storey's ministry has been dedicated to dismantling the South African apartheid regime and rebuilding the country after liberation.
He served as chaplain to Nelson Mandela and others on Robben Island and spent decades working with Desmond Tutu to build a just society. He helped select members of the post-apartheid Truth and Reconciliation Commission and has worked to stem violence in his home country, among many other efforts.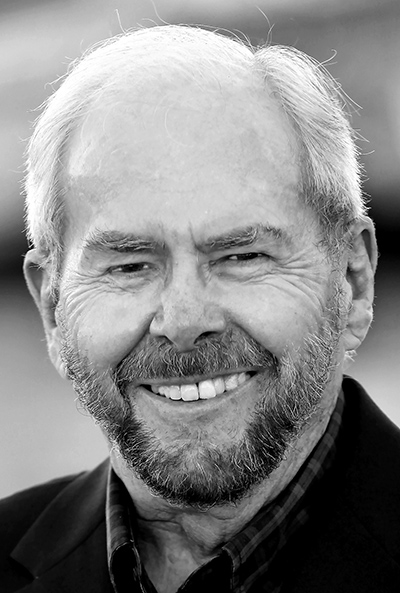 Storey is the former president of the South African Council of Churches and served as bishop of the Johannesburg/Soweto area. After retiring as bishop, he taught at Duke Divinity School, where he was named a distinguished professor.
Drawing on those experiences, he has a warning for American Christian leaders: Take your prophetic role seriously.
"I love America. I really do. I love this place. I've traveled here 56 times since 1966. And I've preached in about 130 of your cities. I've got a feel for the country, I think. I would hate ever to come across as a kind of distant moralizer," he said.
"I come as somebody who has a country which has been this way and has suffered deeply for it, and is still suffering for it. I wouldn't like it if this country has to go through that kind of horror in the days that lie ahead."
Storey, who lives near Cape Town, spoke with Faith & Leadership's Sally Hicks on a recent visit to the U.S. The following is an edited transcript.
Faith & Leadership: What is the work of the church in times of division?
Peter Storey: Well, I think those are the times when the church is called to be the church. And very often, it's only such times that begin to stir the church into reexamining what it means to be the body of Christ in the world.
In our experience in South Africa, I think the church was just about as sleepy as the American church is now, the mainline churches. Quite happy to go along in its little religious bubble, doing its little religious things and rituals, until it became evident that something was happening in the society that was more than the ordinary issues that you face in every society.
Something much more sinister, something that involved a determined attempt to take over, to capture, if you like, a new and different ideology from the one that you have gotten used to and were told was the way life was in your country.
You need to ask yourself what it means to be the church before that happens. And that's what I see in the situation in the United States at the moment. There's a determined attempt to take the country "back" for a small minority that has been outraged ever since a lovely Black family moved into the White House. It's been hard for many white Americans, many more than I expected.
And my shock, frankly, goes back to 2003 or so. I was teaching here for seven years, and it was the time of the Bush-Cheney invasion of Iraq. And I was asking Methodist clergy, "What have you been saying about this?"
And they said, "Nothing. We can't say anything." Why not? Some of them said, "Well, it's because it doesn't matter what we say. We're irrelevant these days. People don't listen to the church." And I said, "Well, there may be a reason for that."
And then the other [response] was, "If I do speak out, my congregation will move up and out." And my question was, "Since when did the prophets of God keep silent just because they felt they would be irrelevant?"
So don't use that as an excuse. The reason why you don't have influence is because of your silence, your continued silence, and the emptying of the church of any prophetic content.
You know, it happens to be Election Day today [Nov. 8, 2022]. And I went to church last Sunday and there was not one single mention of the election in that church, not even in the prayers. There wasn't even a tiny little prayer of, "Lord, please help people to vote according to their conscience."
What kind of terrified church is going to have any impact on what is happening in this country if it's silent two days before the election, any election? Ask yourself who is going to come with you into that voting booth when you go. Are you going to carry with you the pain and the suffering of any people here, or are you going to think only of yourself?
So it's whether the church is here for the world or for itself. That, to me, is the fundamental question.
And I think long ago the mainline churches, so called, have decided that survival is really our priority. And what in fact is happening is that while buildings and structures and bureaucracies survive, the actual heart of the church is gone. It's gone.
And so we have to come back to a church that realizes that God is much more in love with the world than with the church, and that God cares more for the world than the church.
F&L: What's your advice about sustaining justice movements when oppression feels overwhelming and insurmountable?
PS: Part of it is knowing the end, knowing how the book ends. Desmond Tutu, when things looked totally hopeless, would say to the regime, "Why don't you join the winning side before it's too late?"
And he wasn't being funny, because he knew, ultimately, the arc of the universe, as King would say, bends toward justice.
But you have to have a framework to hold you. And the framework that I found very meaningful was something that came to me as I was in Australia doing some study and the question of returning to South Africa, just at the time when it was sliding into the abyss, arose.
If I was going to return, it seemed to me, I needed to know: What does it mean to obey Jesus in apartheid South Africa?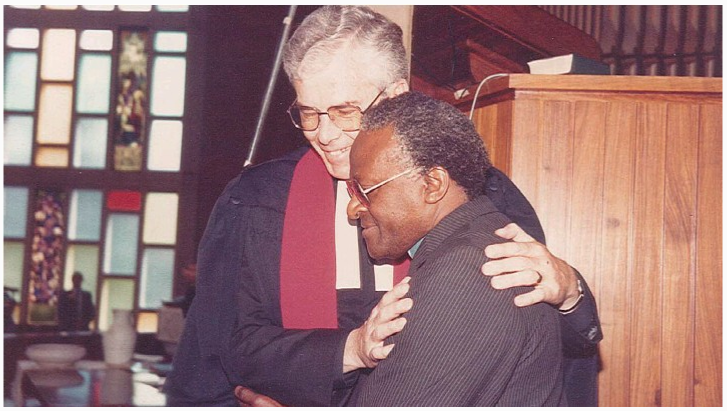 These are the four principles that came to me, and I've found they've sort of stuck with me through thick and thin.
Be a truth teller without fear. If I'm afraid to tell the truth, I must back out of it now. You've got to be a truth teller. You've got to be willing to lose members. You've got to be willing to incur the wrath of the authorities. If you waver from being a determined truth teller who exposes what is happening in the light of the gospel, then you will fail, and you will buckle under it.
Bind up the broken. If you happen to be somebody my color in a country where white people are oppressing Black people, then you've got to make every effort you can to somehow enter into the lives of those who are suffering most.
Not that the white person can ever enter into the soul of Black suffering. But you can touch the edge of it. I don't believe that any preaching that engages the really hurtful issues in the world has credibility unless it is preached from a platform of involvement with those who are suffering.
I would go further: Churches that are in relatively well-off situations and comfortable situations — and that often means white situations — if they want to save their soul, it's for their sake that they need to do the journey into the places of pain.
It's for the sake of our own souls, because that's where we find Jesus. He identifies there far more than he would in any comfortable suburban church.
Live the alternative. If the issue is race, then we've got to make sure that our churches begin to reflect God's dream for America rather than our fears of other people who are different.
In Johannesburg, I lost 200 white members when I integrated the Central Methodist Church, which was the cathedral in South Africa of Methodism. It was scary, because it looked like at one point I might be the guy who closed it all down.
But it didn't happen. Instead, we got a beautiful community of people of all colors. We could say to the whole of South Africa, "You think it can't be done? Of course we can live together like this. This is the kind of South Africa that God dreams of, and that's what the church should be representing."
I've got a photograph of my old congregation in Johannesburg. That photograph is a witness. It's a prophetic statement. No one has to say a word. They just have to look at that and say, "Wow, did that happen in South Africa?" And it did. So that's better than all the preaching in the world.
Join Jesus in the energy for change in your country. And I think that comes to your question, finally, about sustaining movements, prophetic movements. The church must get rid of its triumphalism and its arrogance. The suggestion that we are the only people that God is using to change the world is nonsense. In fact, half the time God has to abandon us because we are so useless and use other methods.
We should very humbly seek a place among other people of faith, of other faiths, of no faith, of different approaches, if you like, who seek justice.
My experience in South Africa was that if the churches had not gotten together in the South African Council of Churches, which was the spearhead of church resistance to apartheid, led by Desmond Tutu, and then broadened to include other faiths and then broadened further to include people of no faith but who were passionately committed to justice — if we hadn't done that, we would not have been able to play the role we did.
When nonprofits and churches and religious movers and nonreligious justice movers got together and became the United Democratic Front in South Africa, it suddenly had the kind of heft and weight for the regime to really get anxious about.
And I think the lack of ecumenical engagement — serious ecumenical action — in America is troubling. The denomination still very much overpowers any kind of ecumenical thinking and action.
And that troubles me, because you [need to] take on the powers that are beginning to coagulate in this country and are beginning to think they can actually do it, which is to take over this country for the right wing and for so-called Christian nationalism. Which, incidentally, is exactly what the South African regime called themselves — a Christian nationalist regime.
I think if we think we can take them on piecemeal, we mustn't bluff ourselves. They play very hardball, and power is a very important thing to defend in their case. And so we used to say back home, "When the church speaks out, their knees don't knock."
They get together to decide how they can chop our knees off. That's what they do. And so we've got to be very wise about how we go about this. But we have to go about it.
It's the absence of that going about it that troubles me when I look around here.
F&L: Do you think that something like a truth and reconciliation commission, as you had, would be helpful in our context?
PS: Oh, I do think it could. It would be very different. I'm working at the moment with a group of people in North Carolina. The center of it is the Beloved Community Center in Greensboro, who, of course, you might know, were responsible for the first truth and reconciliation [project] in America.
Now, our commission in South Africa was post-conflict, and I think this movement hopes to preempt conflict by getting conversations going. One of the things we struggled with in South Africa was how do you oppose something passionately and in principle without compromise and at the same time hold a hand out toward the people who represent that idea. We've got to get beyond the kind of hatred that is being generated between people.
If I claim to serve the Prince of Peace, and if that is what motivates me, then I've got to find a way to use the lovely phrase of Pastor Nelson Johnson of this truth commission movement: "I'm moving toward the other rather than walking away."
I've moved around a lot in the last few weeks in the South, and people have asked me time and again, "Where can we start? What can we do?" And I would say, "Break the silence between you and those people who are on the other side of this chasm. Break the silence."
Find a way of doing so, even if it's having a coffee with somebody and asking, "I really need to know why you feel so angry." Now that's not easy.
I think it's perilous times that this country is in. And I don't believe the church has begun to think really deeply about what are we called to be in these times. I think they're just hoping it will all blow away. And it won't.