Why pastors should support labor organizing
A few months ago, I prayed with a congregant, a Black woman, who was suffering from months of torrential criticism and verbal abuse from her boss, a white woman not much older than she is. My congregant was hurting, and the company's human resources department seemed content to look the other way.
At the end of the phone call, I asked her whether she was part of a union, following my standard set of questions for anyone dealing with workplace stress: Are you talking to your co-workers about what you're experiencing? Are you part of a union with a representative who can advocate on your behalf?
As the executive director of my church in New York City, I pray with my congregants about work more than anything else. They often don't have work, don't receive enough money from work to pay bills, or are experiencing incredible stress because of an exploitative boss.
Last month, we had a sermon series called "Work & Capitalism," which provoked an outpouring of stories from congregants about the difficulty of their jobs. Some told of being burned out by "mission-oriented" workplaces. Others had insecure bosses who made their jobs unbearable.
While I offer prayer to my congregants, I also recognize that their needs are material, not just spiritual and psychological.
Just as clergy rely on therapists and doctors to take care of our congregants' health needs that we can't address, so too we rely on labor organizers to meet their job-related needs that we can't. And that's why Christian leaders have a responsibility to support the efforts of those who help workers organize.
While our church does offer some financial assistance, I know that the most long-term solution for congregants with workplace issues is to ensure that they can organize with their co-workers to collectively pursue their demands. They might join a union that will help them advocate for their needs, and they might go on strike and withhold their labor to force management to listen to their needs.
The turning point for the congregant with whom I prayed came when she confided in a co-worker about her experiences. He assured her that she was not crazy. In fact, he had observed her boss treating other women of color similarly.
He was effectively operating as a labor organizer — connecting her to other co-workers with similar grievances so that they would know they were not alone and that they could take action together. He reinforced her dignity and sense of self in a way that I could not.
Clergy are sometimes reluctant to advocate for the interests of workers. It is partly practical: the bosses the clergy fear alienating are often the biggest contributors to a congregation's budget. Clergy will never be fully free to advocate for workers unless they are willing to confront their wealthy donors about their labor practices and take the risk of watching them walk out the door.
Other clergy may legitimately feel that it is "unchristian" to go on strike, saying that it sows disunity and discord, urging instead "loving, reasonable dialogue" between "both sides."
But calls for unity paper over the inequalities at play. Going on strike or speaking up against workplace abuses does not create disunity; it reveals it. Dialogue can only be successful when both sides wield equal power.
I do agree that even in an unequal situation, "both sides" are deserving of dignity; Jesus, after all, healed both the leper and the son of a Roman official. But that does not mean that as Christians we are called to treat each side equally. Rather, we are called to change the conditions of our world so that both sides are in fact equal.
Perhaps no one better exemplified that balance between treating all with dignity and advocating for equality than Dorothy Day, co-founder of the Catholic Worker movement.
In 1949, 240 unionized cemetery workers in the largest Catholic cemetery in New York City went on strike for better wages. They earned $59.40 per week for 48 hours of work, the same pay that other workers received for 40 hours of work.
When the archdiocese refused to negotiate, the workers went on strike. The strikers themselves were resolutely Catholic. They opened their union meetings with prayers, reciting the Our Father, the Hail Mary and a workers' prayer that began, "Lord Jesus, Carpenter of Nazareth, you are a worker as I am."
Day, along with staff at the Catholic Worker, supported the strikers by providing food for their families and joining the picket lines.
Seven weeks into the strike, Cardinal Francis Spellman broke the picket line with 100 seminarians, flanked by a robust police escort, and began digging graves. He accused the union of being influenced by foreign Communists.
Day wrote to Spellman following the events and urged him to consider the needs of the workers who merely wanted enough wages to raise and educate their children or even buy a home. In her letter, she appealed to his humanity, writing that she was "deeply grieved" to see that he had brought in seminarians to break the picket lines.
What was at stake for Day was not just material wages and hours, she wrote, but the strikers' "dignity" as men and as workers.
As clergy, our tradition tells us that all have dignity in the image of God. We hold a mirror up to our congregants every Sunday and say, "Look, you are worthy of dignity."
The question is whether the conditions in which our congregants work uphold the "dignity" of which we preach. If not, then following Day's example, we must support the work of labor organizers and unions to affirm the dignity of our congregants throughout the week.
Don't be misled by the makeshift counter and tent outside Humphreys Street Coffee Shop in Nashville, Tennessee. The business is here to stay.
That renovated green house is a symbol of permanence, commitment and determination. After all, helping people understand their value is not quick work.
As a social enterprise of Harvest Hands Community Development Corporation, the coffee shop serves up more than cold brew and lattes; it provides jobs, mentorship, discipleship and skills for teens from the community nearby.
"We don't hire students to make coffee," Harvest Hands executive director Brian Hicks likes to say. "We make coffee to hire students."
On a hot, humid August afternoon, local residents pull up or stroll over in a steady stream. One speaks of how he likes both the coffee and the aesthetic. On the edge of a recently gentrified neighborhood, it's charming, inviting. And powerful.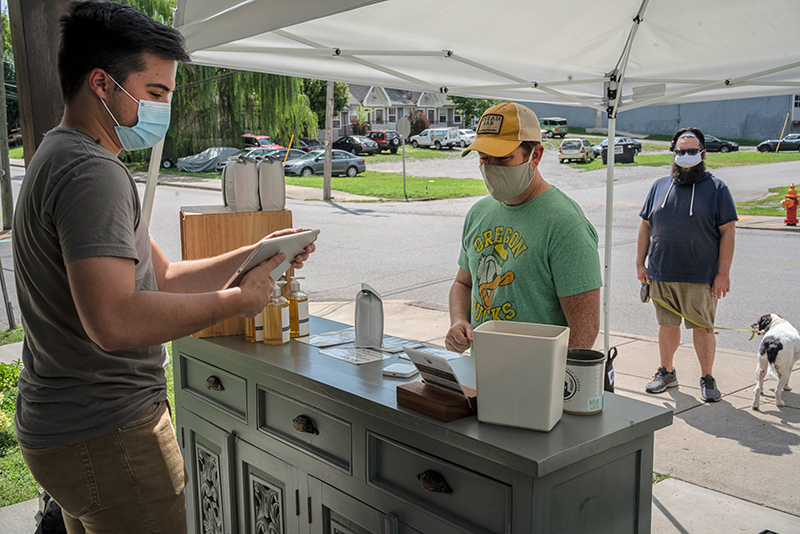 In a non-COVID season, Harvest Hands has met community requests for after-school activities, sports leagues, leadership training and more. Founded in 2007 by Hicks and his wife, Courtney, the organization has grown from a neighborhood gathering of a dozen or so kids to a nonprofit that brings in $500,000 a year in coffee roasting, brewed coffee and handmade soaps, in addition to gifts from individuals, churches and foundations.
Does your organization have empty spaces that could be re-imagined into a way to serve your community in this season?
There are typically 10 full-time staff and up to 50 more in various part-time roles — including those students. In the wake of COVID-19, the shop is currently curbside and delivery only.
After-school programs are shuttered for now, coffee and soap production continues with just a handful of students, and the once-bustling community center has transitioned to a quiet, safe and internet-ready space for younger children to take part in remote learning.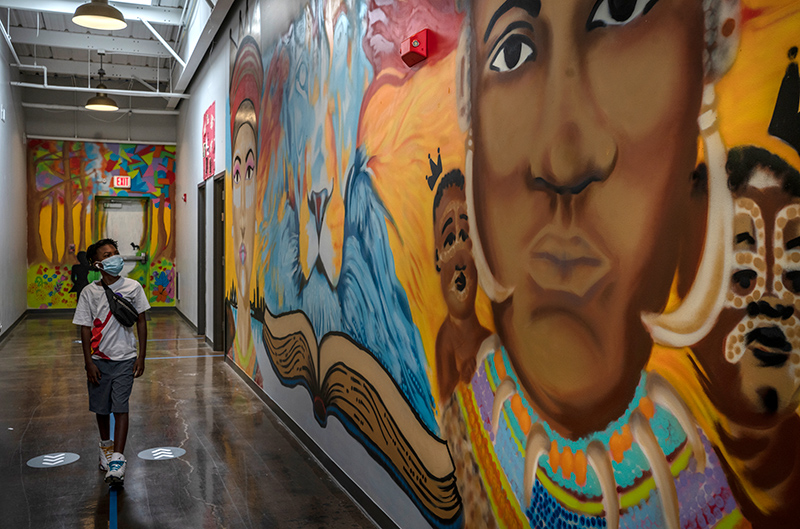 But the undercurrent of digging in for the long haul remains.
"Numbers are important," said William Parker, the Harvest Hands director of youth and mentoring. "But they don't dictate success."
'What do you love about your neighborhood?'
It was the Rev. Howard Olds who drew Hicks from Kentucky to the neighborhood. Olds was the longtime pastor of Brentwood United Methodist Church, an affluent congregation in an adjacent county. He was interested in neighborhood revitalization in South Nashville, not far from downtown; the church had the resources but not the manpower for the work.
Hicks, a seminary grad who cut his social activism teeth working in inner-city Philadelphia, Chicago's South Side and Louisville, was hired by the church to lead the nonprofit. As the organization grew, all other staff would be funded through Harvest Hands and represent a variety of denominations, experience and education.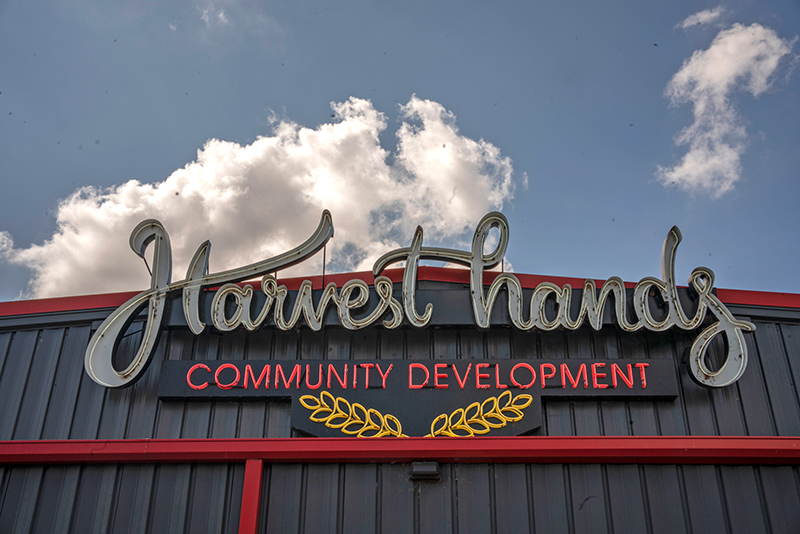 Hicks had been further inspired by the writings of John Perkins, co-founder of the Christian Community Development Association, and was ready to see communities empowered through true partnership rather than charity. He was ready to put down roots.
Olds, meanwhile, had attended a community meeting and was told that if he really wanted to make a difference, the church should buy the drug house on the top of a neighborhood hill.
Leadership Education at Duke Divinity recognizes institutions that act creatively in the face of challenges while remaining faithful to their mission and convictions. Winners received $10,000 to continue their work.
"So they did," Hicks said. "He didn't ask the congregation, which was made up of CEOs and leaders. He told them. And that became the entry point."
The house was torn down, and a fall harvest festival was held on the lot.
"The price of admission was a survey," Hicks said. "We asked them, 'What do you love about your neighborhood? And what would you change?'"
The residents were concerned about kids with nothing to do but get in trouble. An after-school program was a simple ask.
The newly formed Harvest Hands bought a small house and started working with children in 2008. It had outgrown that house by the following year, and the Methodist Church donated the building — the former Humphreys Street UMC — that would eventually become the coffee house. But things were just getting started.
Ruben Torres, an introverted middle schooler who would hunch over and fold into himself as if he didn't exist, was already part of the Harvest Hands program. Hicks saw promise in Torres and asked whether he might be interested in a new opportunity.
He could learn how to roast coffee, "a grown-up, adult thing that was super exciting," Torres said. Harvest Hands was looking for a social enterprise that would engage teens; a paycheck would be a definite draw.
Whom do you need to invite to get involved in your community's mission in a new way?
The church provided an introduction to one member in particular: Cal Turner Jr., former chairman and CEO of Dollar General. Hicks asked Turner for not only a Diedrich coffee roaster — a high-quality machine geared toward specialty batch roasting — but also a trip to the company's Idaho headquarters for himself and one other to learn how to use it.
"That's like learning to drive from Henry Ford," Hicks said. Turner told the then-30-year-old Hicks to write a business plan and he'd make it happen. Hicks enlisted the help of the teens. After a few tweaks here and there, Turner held true to his word.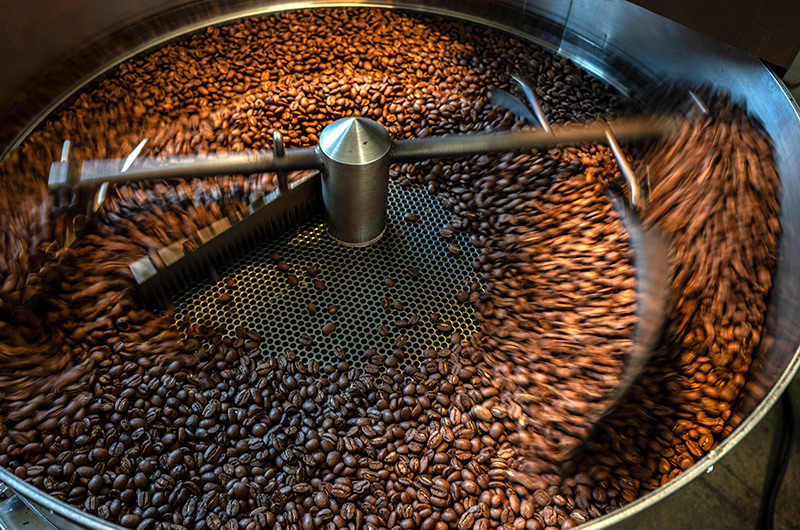 Torres was chosen for the trip. Today, he's production manager and head roaster, overseeing teens not unlike who he once was. Harvest Hands, he said, helped him learn about his value as a person.
"Something we very much believe in is that everybody in the community has the potential to be greater," Torres said. "There are also people who have the potential to be leaders. The talent is there. There's no need to bring a whole bunch of external factors."
It is easy to default to bringing in trusted external experts to start something new. What potential is already present in your community waiting to be invited to contribute?
He considers himself fortunate to have had an "awesome support system and great parents." His mother, Jael Fuentes, is now soap production manager at Harvest Hands. But Torres also understands he's in a position to model change, leadership and motivation for others. His own experience lends credibility.
"They take things to heart from me," he said. "As opposed to saying, 'You don't know my life.'"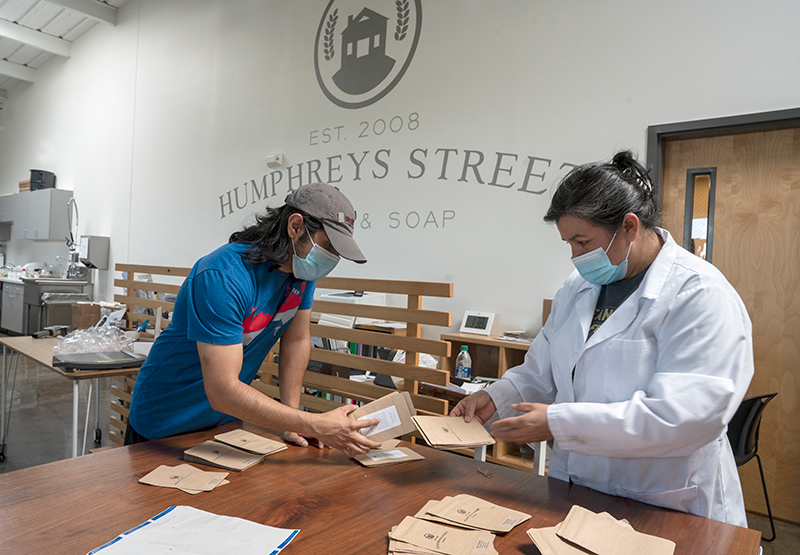 Giving it back to the people
As coffee and soap production grew, the Wedgewood-Houston neighborhood began to gentrify.
"The first thing we did," Torres said, "was to invite the community members in and say, 'What do you need? What do you see?'"
With housing costs rapidly rising, many were being forced out.
By 2015, Harvest Hands staff knew they needed to relocate. They met with members of the Napier-Sudekum neighborhood, less than a mile away, and learned of the need for after-school programs there, too.
Naturally, there were new challenges. Napier-Sudekum has more than 800 government housing units; crime rates and violence are high, and Harvest Hands notes that the average annual household income is $6,500. But it is also a community in which neighbors look out for each other and untapped talent is overflowing. Hicks found an old warehouse perfect for a community center and set to work.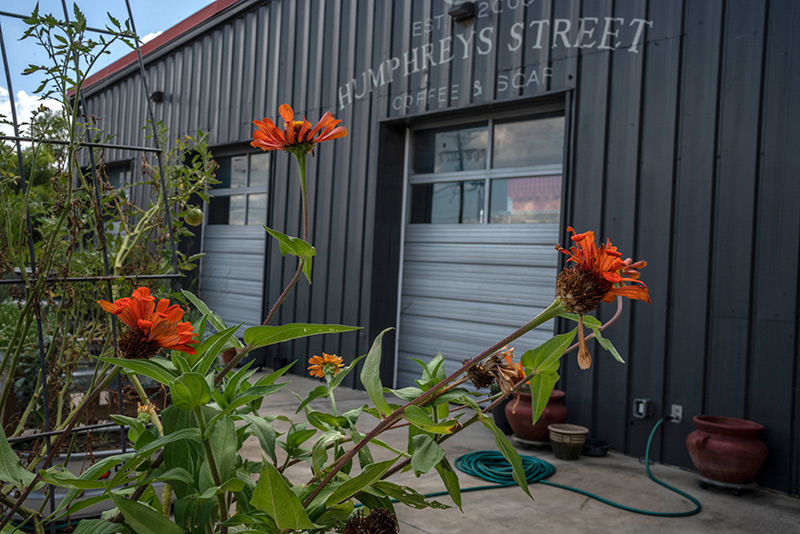 "It was the craziest thing," he said. "We beat the realtors and the developers to the building. As much as gentrification pushed people out, it drove up the price of that original crack house lot [in Wedgewood-Houston]."
The property that Harvest Hands had bought for $275,000 was sold to developers for $2.3 million, with plans to add shipping container units for "affordable" housing. The funds from the sale have been given back to the people, in essence, as Harvest Hands continues to expand its reach.
"It's creatively using gentrification for justice," Hicks said.
A call to reform
The bright and spacious community center in Napier-Sudekum officially opened in 2016. Named for Olds, who died in 2008, it is adorned with colorful murals and words like "integrity," "compassion," "love," "courage," "respect" and "wisdom." There's a playground and a large lab-like room that now houses two coffee roasters, stacked bags of coffee beans and packaged handmade soaps.
What do the spaces your organization inhabits communicate to others? How do you cultivate a space in which people feel valued?
As one of the first craft roasters in Nashville, Harvest Hands had steadily built a following that has helped sustain the organization through the pandemic. Online sales through its website include coffee from Africa, Central America, South America and Southeast Asia, in addition to liquid and bar soaps, laundry soap and a coffee sugar scrub. The brick-and-mortar coffee shop on Humphreys Street opened in 2018.
When people visit the Howard Olds Community Center, Hicks said, they often seem surprised at just how "amazing" it is. "Several things go through my mind — first, do you think these kids should not have a great space? Is it supposed to be a dump? We try to help kids believe that they are valuable and they are worth it."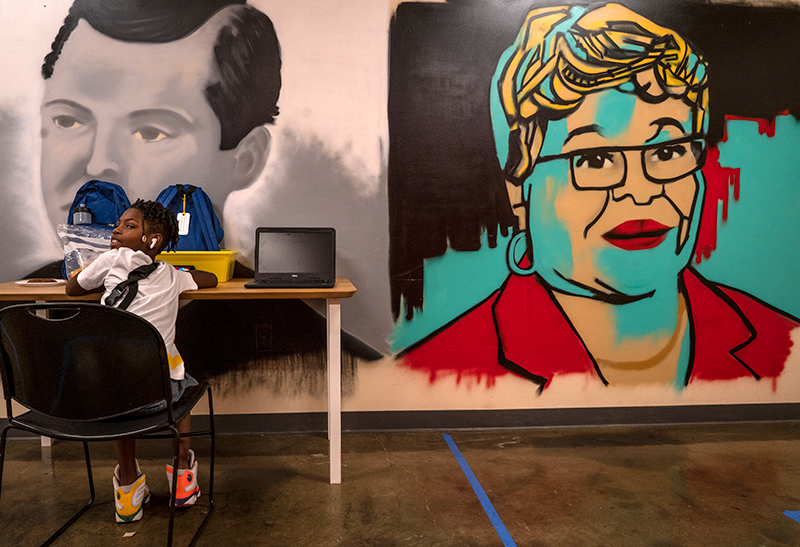 Jessica Holman, the organization's senior director of employee and community relations, grew up in the area and came to work at Harvest Hands while in graduate school at Vanderbilt University close to a decade ago. She knows firsthand that local residents have "inherent talents and skills," she said. "They just need opportunities to let them shine."
"I wish that people knew the people in these communities," she said. "There are some amazing people here. Intelligent. Creative. And I wish people knew about the sense of community here, too."
Consider Jarica Sanders, a self-employed artist, hair braider and mother of three. Her kids, ages 7, 8 and 10, have taken part in Harvest Hands programs for several years. They've played a variety of sports with the organization, participated in after-school programs, learned life skills, been encouraged in their faith and are now going to the community center for virtual learning. Sanders is hoping her oldest son, Lemy, will be able to gain work experience through Harvest Hands when he's older, too.
In her Napier-Sudekum neighborhood, she said, "if you don't know about Harvest Hands, I don't know where you've been." And it's not just the activities and opportunities for the kids. Sanders said the organization has a reputation for truly partnering with residents.
"We have parent meetings at Harvest Hands," she said. "They give us the chance to come in and tell them what's working and what's not working and what they could do better. They get the community involved, and I really like that. A lot of programs, they just come out and say, 'We have this, this and this.' But the people at Harvest Hands actually take the time to say, 'What do you need? What do you think can we add?' That's a very big help."
Harvest Hands follows the tenets of asset-based community development, which include focusing on those strengths, gifts and talents already present rather than just working to "fix" what's wrong.
How much of your organization's work is "fixing" what is wrong, and how much is building upon the strengths, gifts and talents already at work?
Parker, a Memphis minister who came to Harvest Hands in January, said those concepts had always been part of his story; he just didn't know them by that name.
Learning about the powers that systemically oppress communities — especially communities of color in urban environments — tugged at his heart. So did the opportunity to continue his work with teens.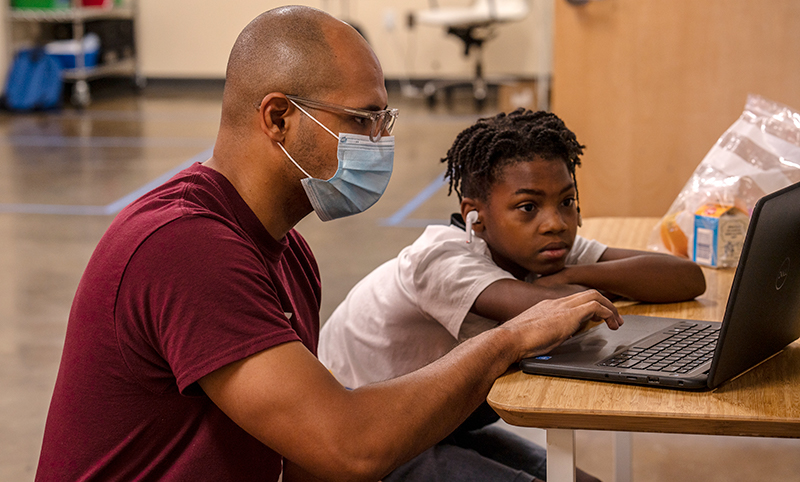 "It's not enough for me to just believe that Jesus Christ has changed the world through his actions," he said. "That same spirit that is in Jesus is in me, and it's calling me to bring reform, to change, to be with the community and say that it doesn't have to be this way. The gospel is more than just the theological ideology that we hold that sounds good on Sunday mornings. It calls for social reform to be in the mix.
"I'm just trying to lean into that social holiness piece and say, 'OK, justice is really close to the heart of God.' If I want to be able to understand how faith is played out in communities, I need to be in a position to hear stories and say, 'Where is God in that story, do you think?' … What drew me to Harvest Hands was to have space to ask the big questions without attempting to fix anything. That's where real healing takes place, where people are brought back to themselves."
Living Jesus out loud
That same hot day that customers were lining up for coffee at the shop, Parker was sharing a classroom in the community center with a middle schooler taking part in remote learning; the city's schools had not yet opened for in-person classes because of COVID-19.
Across the hall, Chartrice Crowley, the director of elementary programs, had a handful of younger students of her own. The kids have been on alternating days from 7:30 a.m. to 1 p.m., mindful of social distancing limits, with sibling schedules matched to ease the burden for parents.
This effort, too, came from going to the community and asking rather than assuming what was needed. It is the difference in saying, "We are here for you, not because of you," Parker said.
How might your organization's work be different if it existed "for" people rather than "because of" people?
In more normal seasons, Crowley plans after-school enrichment opportunities like African drumming and ballet, homework time, personal development, fun, and a faith component. Harvest Hands allows her to "live Jesus out loud" in a way that working in a public school would not.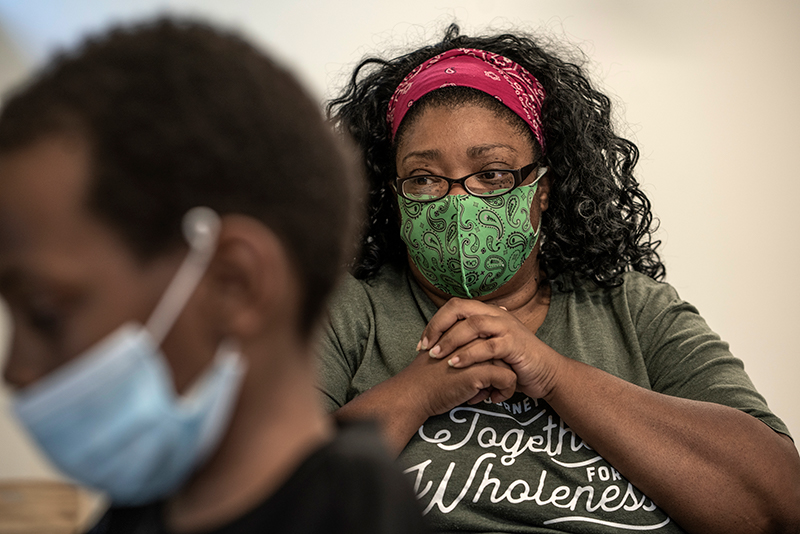 "The thing that makes me most proud about working here is that I get to see the fruits of the seeds that have been planted," Crowley said. "I get to see greatness every day. These kids are amazing. They're fun. They're witty. They're smart. They blow me away every day with what they know." Even when they're figuring out learning through a screen.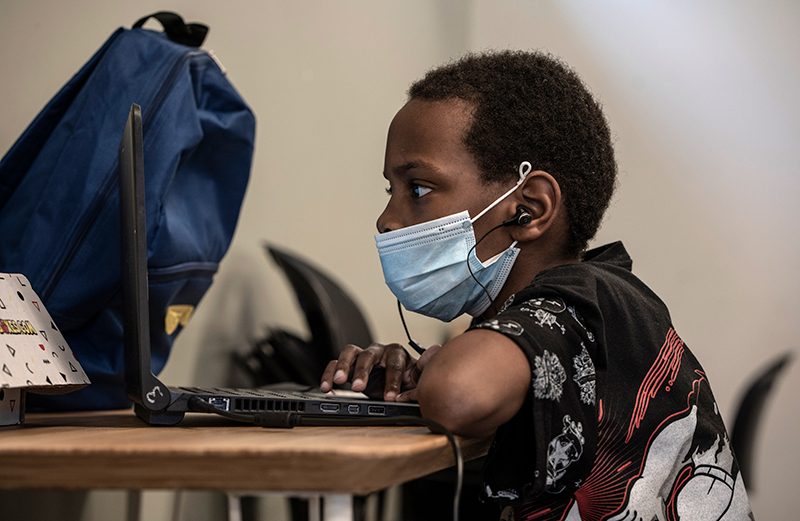 There's a cultural element to Harvest Hands, too, one that opens doors of opportunity, knowledge and respect for the predominantly Black community. Classrooms, for example, are named for historically Black colleges and universities, with those names changing each semester to increase exposure.
"Students are placed in their 'house' at the beginning of each semester," Holman said, "and they participate in house games throughout the semester, where they are able to win prizes. We think it's important for our students to know the history of HBCUs, why they were created, and that they are an option for them to further their education. It's important that they learn about Black excellence at an early age so that they grow up learning that greatness lies within them."
Local street artist Charles Key serves as another inspiration; his work can be seen throughout the community center (as well as at various Nashville sites). There are portraits of lesser-known Black leaders — many of them from the area — on the walls of the middle school classroom.
Overall, the ongoing uncertainty of COVID-19 makes some aspects of the future unclear. What is clear is that Harvest Hands will keep asking the community what it needs and endeavoring to incorporate the resources available to bring it about.
Torres hopes to develop a roasting certification program for the students he oversees. Hicks is looking forward to hallways full of kids once again. Parker is exploring pathways to success for high schoolers. And Holman will keep seeking opportunities to tell the story of long-term vision and sustainable success.
As for others hoping to do the same? Holman suggests that they'd do well to check their "why."
"Will you be there for the long haul, willing to relinquish power to the people within the community and let them shape it?" she said. "Our goal, at the end of the day, is to work ourselves out of a job. If we're doing what we aspire to do, that means the community will lead. Then they'll be the ones out there doing what needs to be done."
Questions to consider
Questions to consider
Does your organization have empty spaces that could be re-imagined into a way to serve your community in this season?
Whom do you need to invite to get involved in your community's mission in a new way?
It is easy to default to bringing in trusted external experts to start something new. What potential is already present in your community waiting to be invited to contribute?
What do the spaces your organization inhabits communicate to others? How do you cultivate a space in which people feel valued?
How much of your organization's work is "fixing" what is wrong, and how much is building upon the strengths, gifts and talents already at work?
How might your organization's work be different if it existed "for" people rather than "because of" people?
What does having a financially sustainable ministry mean? The one-size-fits-all answer is simple. The revenue coming in is consistently more than the expenses going out. But this simple answer obscures the gap between those benefiting from generations of building wealth and those in Black and brown America who have had wealth stolen across the years. Calculating sustainability needs to account for this gap.
I hope that the current pandemic, economic recession and renewed attention to racial inequity is teaching those in the dominant culture that one size does not fit all. When "we" talk about money, the field is never level.
African Americans were treated as property for generations while white Americans were acquiring land and accumulating money. The starting places for families in these communities today is not equal. Whenever we discuss financial sustainability, we have to examine the conditions that create, or that make it difficult to create, wealth.
Sustainability is a sought-after goal in new-program development. In financial terms, it refers to developing revenue sources that provide funding to keep the program going. Sometimes it is as simple as one funder asking the program to find other donors. Sometimes it means adding fees to the service or getting somebody else's budget to pay the cost. Often it includes reducing the cost of the service to match the expected revenue.
As a white leader in a dominant-culture organization, I hear the talk about making adjustments and raising more money — and it all seems doable. The pandemic has thrown up a roadblock, so reaching sustainability will likely take more time, but "we" believe that "we" can be back to normal in six months or a year. A few think that "we" are in for a decade of economic difficulty.
The use of "we" covers up the different experiences in different communities. When listening to colleagues in organizations founded by and rooted in African American and Latino/a communities, I recognize that they hear talk of sustainability differently. They have learned to say what funders want to hear, but they translate the words into a different set of actions.
For example, I have encountered a handful of organizations in these communities that recently had applied for but did not receive a $1 million grant to serve pastors. Most of these organizations moved forward to develop and deliver as much as they could of the proposed program without the money. How? Mostly through unpaid labor. People affiliated with these organizations took on a second (and sometimes third or fourth) job to serve pastors. In economic terms, these organizations were investing sweat in place of money in order to do what was both most important and possible.
In financial terms, it looks as if these programs are doing great. In fact, they don't seem to need the grant money. But when we listen to their stories, it is clear that valuable ministry is being performed by exhausted leaders.
The white-culture organizations where I have worked talk about priorities. These organizations have the privilege of deciding how to serve according to the financial resources available. But I have observed many organizations that are part of African American and Latino/a communities prioritize according to the needs of their communities and the world. The leaders of these organizations do what is needed regardless of the money.
How can I learn from this dedication and not participate in taking advantage of it? One element of privilege is not recognizing the impact of categories like sustainability on those without privilege.
This realization has made me more careful when planning a collaborative project with organizations from different cultural, racial and ethnic communities. For example, I now ask partners about pay equity across the project for the same work. I don't assume that because employees at my white, dominant-culture organization are paid a fair wage, all the collaborating organizations are able to do the same. How do we plan the project so that people are paid equitably?
In fact, the concern starts in the planning phase. What creates the conditions so that all the organizations involved in planning a project have the resources to do the planning? Those with wealth have the option of choosing to shift their efforts to a new project. Those with no resources have to double up on their work to do something new.
If a project is underway, what would it be like to count the labor of these leaders as part of sustainability? What would it be like for donors to see that they are matching a contribution of labor and recognize that effort as part of sustainability?
What would happen if donors recognized the vast disparity between the assets accumulated by white-dominant organizations and white families when compared with African American and immigrant institutions and families? What if the funding levels were calibrated to address these disparities? What would happen if organizations in these communities had significantly longer to develop sustainability plans for donors?
In the midst of economic challenges, more complex and nuanced definitions of sustainability need to be used. All who donate and benefit from donations can learn to pay attention to the needs in communities, as well as who can be supported to address these needs. Moving too quickly to asking a program to "pay for itself" can continue a cycle that takes resources away from long-disadvantaged people.
As a white leader, I must learn more about the challenges faced by my colleagues in different racial, ethnic and cultural communities and advocate for adjustments that provide a path to more equity. I must not leave all the weight for making this case on these leaders.
The COVID-19 pandemic will surely have a long-term impact on the financial life of congregations, regardless of their denomination, size or makeup. How can churches survive and even thrive in a post-pandemic landscape?
Faith & Leadership asked 12 church and ministry leaders in a variety of contexts across the country to share their views of the future.
They spoke about matters of dollars and cents — the need for online giving, for example. But they went beyond that, reflecting on the broader challenges and shifting roles facing churches on the other side of the pandemic.
No one knows the answers. But the question, as one participant put it, is clear: "Is this the death of the church or the rebirth?"
'Making your case'
Karen Lake Buttrey Director
Lake Institute on Faith & Giving
Indianapolis, Indiana
The Lake Institute on Faith & Giving had been preaching about the importance of addressing money in theological terms long before the pandemic. Now more than ever, said institute director David King, churches that shy away from the subject do so at their own risk.
"The time for being humble and shy in making your case is over," King said. "The time for talking about money as if it's taboo in a congregation should also be over."
The Lake Institute is part of the Indiana University Lilly Family School of Philanthropy at IUPUI. Its 2019 National Study of Congregations' Economic Practices found that revenue growth was more prevalent among congregations that regularly discussed the theological importance of giving through sermons, money management classes and the like.
For example, 12% of the 1,200 congregations surveyed indicated that they addressed financial matters monthly. Of those churches, 73% reported increases in revenue.
It is crucial, King said, for churches to lift up online giving not just as a convenience but as a theologically sound way to give. The 2019 study (reflecting 2017 data) found that 46% of churches offered online giving — a number that likely has risen with the recent shutdown — but that 78% of revenue still came through worship.
Managing how people give, King said, isn't as pivotal as articulating why their giving is a vital part of a life of faith. The pandemic just raised the stakes.
"On any day, but particularly today," he said, "religious leaders avoid at their own peril the full lives of those entrusted to their care."
---
'Local churches can lead the way'
Director
The Center for Healthy Churches
Clemmons, North Carolina
Bill Wilson predicts that up to one-third of U.S. churches could be out of business by 2025.
He points to LifeWay Research that says 5% of U.S. churches will close within the year because of the pandemic. That's five times the average closure rate for churches, according to The Christian Century magazine.
Wilson, who directs The Center for Healthy Churches, acknowledges that this is all conjecture, given the unprecedented nature and unknown length of the pandemic shutdown.
His best guess is that churches will suffer a 33% decline in giving in 2020, in part because there was no live Easter offering. It's possible that the traditional surge in giving in December will help make up for lost ground, he said, but there's no way to know.
Drawing on his experience with his organization, which has worked with several hundred churches during the past decade, Wilson estimates that one-quarter to one-third of churches operate on thin or no reserves.
Yet despite evidence of a looming financial disaster, he remains hopeful that the church can rise to the occasion.
In a March 18 post on the center's website, he wrote: "The Church has an opportunity to show the world what healthy people do in times of crisis. Rather than panic and devolve into self-absorption and self-protection, we run toward the needs in our culture rather than away from them. We refuse to demonize others, but act out the story of the Good Samaritan on a daily basis. Local churches can lead the way to show their communities what 'love your neighbor as yourself' actually looks like."
Wilson believes that our response to the crisis will help determine what happens next. "Is this the death of the church or the rebirth?" he said. "We'll see."
---
'What are we not doing?'
Senior pastor
Union Baptist Church
Durham, North Carolina
As pastor of a 5,000-member church and third vice president of the General Baptist State Convention of North Carolina, the Rev. Prince Rivers takes a short and long view of the shutdown.
In the short term, Rivers said, churches need to appreciate the importance of adopting online giving if they haven't already, and convince members that it's a viable alternative to the Sunday offering.
That may be a particularly hard sell in the African American faith community. According to the Lake Institute's 2019 National Study of Congregations' Economic Practices, African American congregations receive 88% of their revenue through worship services, compared with 78% for all congregations.
Rivers said that giving lagged at his church during the shutdown until they scheduled times for members to drive by and drop off their offerings. Many people do not feel comfortable giving online or even mailing their checks, he said. They want to practice the physical act of giving at the church.
Taking a longer view, Rivers believes that sheltering in place will stir churchgoers to more deeply affirm the value of worshipping shoulder to shoulder, "the significance of gathering people together and building relationships you can depend on," he said.
As the shutdown forces churches to examine their ministries and programs in terms of cost, Rivers hopes it also inspires them to reexamine, in a more profound way, how best to serve Christ.
"What do we really need to bring back?" he said. "And what are we not doing that we need to put more energy in?"
After the pandemic, Rivers hopes congregations will take a broader view that looks beyond their own steeples. His prayer? As we have sheltered in place as one, may we return to everyday life as one, bound by our hopes and needs, regardless of gender, color, class and culture.
---
'Terrified of what the church might be …'
Executive director
Massachusetts Council of Churches
Boston, Massachusetts
Amid the current uncertainty, Laura Everett of the Massachusetts Council of Churches said she is certain only of her fear: "I am terrified of what the church might be on the other side of this. I am terrified that we will come out on the other side of this and there will only be wealthy churches."
She calls the pandemic and its aftermath "apocalyptic," revealing what she characterizes as "the great divide in the body of Christ."
There are wealthy churches with strong financial reserves and the ability to survive even COVID-19, she said. Then there are smaller, struggling churches whose members now and in generations past have been held back by racial and economic injustice.
If the wealthy don't reach out beyond their congregations, denominations and narrow self-interest to help the poor and vulnerable, she believes, these marginalized churches will suffer — or die.
Christians should understand that God's economy is not the coronavirus economy, Everett said.
"We believe there is enough," she said. And so the challenge is to share what we have with those who need it most — to live up to that yearning expressed in John 17:21, "that they may all be one."
And if the church fails to do this?
"If we only take care of our own," Everett said, "how can anybody trust us?"
---
'How is it with your soul?'
Assistant professor of formation, youth and culture
Garrett-Evangelical Theological Seminary
Evanston, Illinois
Reginald Blount says he is optimistic yet pragmatic about what the church might look like when it returns to a new normal.
He believes that virtual ministry will play a more powerful role, to the point that everything except Sunday worship will be conducted online.
He anticipates that churches will still be calming the fears of members 18 to 24 months from now, including those who will be dealing with post-traumatic stress disorder (PTSD). He hopes churches will expand their pastoral counseling and mental health outreach.
Noting that COVID-19 has hit black and brown communities especially hard, Blount wants churches to address personal health — exercise, hypertension and other challenges.
But he also wants them to address public health issues. Why do African American and Latino communities lack easy access to full-service grocery stores with ample fresh foods? Why don't the poor have equal access to health care?
While on sabbatical this semester, Blount is studying the impact of current economic dynamics on African American churches, focusing on inequities in access to financial resources.
In addition to his academic work, Blount is senior pastor of the 150-member Arnett Chapel AME Church in Chicago. The challenge for his congregation and others, he said, is how to touch members without actually touching them.
Arnett Chapel AME is emphasizing FaceTime, phone calls and letter writing — not email, but old-fashioned pen to paper.
Blount is sending out a robocall to his congregants twice a week with a devotion or simple word of encouragement, "for the members to be able to hear their pastor's voice," he said.
His church hopes to revive the old Methodist tradition of class leaders — laity assigned to reach out to church members.
The question they will ask is the question we are all asking one another these days: "How is it with your soul?"
---
'How long is our memory?'
CEO
The Church Network
Richardson, Texas
When the pandemic hit, The Church Network offered its 1,500 congregations three pieces of advice:
Take a deep breath.
Communicate regularly to your church members about worship, giving, the status of ministries, meetings and more.
Offer alternative ways to give.
This Texas-based interdenominational organization is made up largely of church administrators, so its focus during the pandemic has been on economic survival, said J. Phillip Martin, the network's CEO.
Beyond that initial advice, Martin is urging congregations to launch or enhance online giving platforms.
One suggestion, from Discipleship Ministries of the United Methodist Church, is for churches to send out regular emails on Saturday evenings or Sunday mornings reminding those watching online — or not watching at all — to give, Martin said.
He hopes that church leaders now see the need to build up reserves for the next crisis that puts church life in peril. Should you have a month's worth of money in the bank? A year's worth? These questions can no longer be tabled for another day, Martin said.
He also encourages congregations to be open to innovation. Many churches have found ways during the pandemic to care for the homebound via Skype and Zoom. Congregations should continue to look for fresh ways to preach and live the gospel virtually — worship, pastoral care, education. Certainly, this approach will speak to youth and young adults, the two demographics the church is losing in greatest numbers.
Churches can go in one of two directions after the pandemic, Martin said. They can find ways to be more stable in administration and innovative in ministry, or they can ignore the lessons of the pandemic and go back to business as usual.
"The question," he said, "is, How long is our memory?"
---
'I could be wrong, right?'
Professor and chair of sociology
Davidson College
Davidson, North Carolina
Gerardo Marti sees trouble ahead in the immediate days following the shutdown.
Churches with limited credit and fixed costs — mortgages, leases, maintenance — will have little room for financial flexibility. Marti foresees church attendance dropping when live worship returns, especially among occasional attendees.
With that, he anticipates a decline in giving. Ambitious plans, whether reflected in new ministries or in new or improved facilities, will have to be put on hold while churches worry about more immediate issues.
How much staff do we need and can we afford? How many chairs should we put out for worship?
With that narrow focus, innovation will likely grind to a halt, said Marti, who is co-author of the book "The Glass Church," about the financial collapse of Robert H. Schuller's megachurch, the Crystal Cathedral.
For example, a profound church innovation of the late 20th century was the start of contemporary worship. That sort of bold step, which draws newcomers and engages regulars, will give way after the crisis to a focus on returning to some level of normalcy, he said.
If any churches not only survive but perhaps prosper, Marti said, it may be the smaller Pentecostal and nondenominational evangelical congregations, those with fewer than 300 members. This size and style of church strikes a particularly strong chord in the Latino community, he said.
Their smaller size generally means they have less infrastructure, less fixed debt for capital projects, maintenance and the like, and are less dependent on a higher-up body for financial support. These congregations, already comfortable living on a shoestring, may be best positioned to continue their ministries with a fervor unaffected by COVID-19.
Given that all of this is uncharted territory for churches and the rest of society, Marti is quick to add a warning to his forecast: "I could be wrong, right?"
---
'Unlock some different kinds of creativity'
Coordination program director
National Initiative to Address Economic Challenges Facing Pastoral Leaders
Indianapolis, Indiana
Elise Erikson Barrett fears that COVID-19 will force already struggling churches to lock their doors five to 10 years earlier than they otherwise might have. But at the same time, she hopes that it will stir those churches to seize this unprecedented opportunity to embrace change.
Barrett directs a program to help pastoral leaders facing economic challenges. The initiative, funded by Lilly Endowment Inc., supports 43 grantee organizations, stewarding projects to equip pastoral leaders for financial literacy and leadership, as well as providing direct economic aid.
Many pastoral leaders engaged in the grant programs are men and women of color who lead small, rural congregations. Many struggle to meet payroll and keep the doors open.
When the shutdown is over, Barrett believes, there are at least two ways such churches can respond: offer a long, slow resistance to change, mired in the legitimate grief of losing the way church has always been, or rally around the need for dramatic change and identify what Barrett calls a church's core purpose.
How might a church choose the latter? Become more focused on mission outside the church rather than difficulties within the church, Barrett said. Be willing to adapt, whether that involves the size and responsibilities of church staff, how the buildings and campus are used, or how the church can make itself invaluable to its neighbors.
Each church's story — past, present and future — is different. But on the other side of sheltering in place, Barrett sees a blank canvas waiting for God's people to bring it to life.
"This," she said, "can unlock some different kinds of creativity."
---
'Many of our idols have fallen'
Director of NAE Financial Health
National Association of Evangelicals
Denver, Colorado
Brian Kluth, who lectures and writes about generosity and finances in churches, foresees four options for churches faced with a difficult decision after the pandemic:
Merge with one or more other congregations.
Become a satellite campus of a larger church.
Transform into a house church, where remaining members meet in each other's homes.
Close and disband.
Even churches that survive will have to examine giving and make adjustments in payroll, facilities and programs, he predicts.
Drawing on 2015 research by the NAE Financial Health initiative, Kluth said it's inevitable that many churches will face wrenching choices. The median annual church budget in the United States is $125,000.
Such churches, Kluth said, have little margin for a decline in giving, especially if they lack online giving and livestream capabilities.
Kluth is worked with a number of national organizations and ministries to conduct an online poll of church leaders to gauge the economic impact of the pandemic. The poll indicates that about six out of 10 churches have seen a drop in giving.
But rather than seeing the pandemic solely as a crisis, Kluth sees it also as an unexpected sabbatical season, free of distractions, with time for churches and their members to search their souls.
"Many of our idols have fallen in this season," he said, citing sports, shopping and travel. "We have to reassess what our commitment is to God and to our families. It's no longer about the big Sunday production but how we [show] care and love for people."
In that sense, he said, the pandemic shutdown can be a gift from God.
---
'A true digital stewardship'
Chief development officer
Leadership Roundtable
Washington, D.C.
In her role with Leadership Roundtable, Josephine Everly helps U.S. Roman Catholic parishes, schools and missions with strategies for raising funds, building endowments and engaging donors.
And she has experience dealing with the aftermath of a crisis. Having grown up in New Orleans, she brought a personal passion to managing disaster-relief giving after Hurricane Katrina.
Everly believes that it will be 18 to 24 months before parishes, schools and other Catholic institutions see a return to normal levels of giving.
With so many parishioners facing possible layoffs and declining investments, it will likely take that long for many donors to recover from the pandemic, she said.
Everly anticipates closings and consolidations among Catholic institutions, especially in communities on the margins.
She knows of 13 U.S. Catholic parishes that launched online giving in the first week of the pandemic. But giving remotely is a tough sell for Catholics, she said, because the seven sacraments of the Roman Catholic Church, including Holy Communion, are shared within the four walls of the church.
The physical act of passing the plate at Mass, she said, is a deeply spiritual experience that cannot be replicated online. Nor can mailing a check provide the same experience.
Her counsel?
The church must expand digital giving but also expand how it shares the word of Christ online, offering the broader, deeper spiritual experience for which Catholics yearn — or at least the next best thing.
"A true digital stewardship," she said, "does this."
---
'I gave online'
Church administrator
Carmel Baptist Church
Matthews, North Carolina
Tim Wishon oversees the business side of a megachurch with the resources to survive the pandemic.
Carmel Baptist has 5,000 members, an average of 2,500 worshippers at Sunday's three services and a $10 million annual budget — $23.6 million if you include its K-12 private school and preschool.
But the church has a challenge in common with smaller churches: convincing members that giving online can be as meaningful a part of their faith life as dropping a check or envelope in the offering plate.
The church has robust, cutting-edge technology, from online giving to the livestreaming by which Carmel has been reaching its congregation during the pandemic.
Carmel's constituency is largely suburban, middle-aged and professional. Members are comfortable living their lives online.
And yet, Wishon reports, 50% of the church's giving pre-quarantine was put in the plate on Sunday mornings. Another 35% was mailed in, and 15% came in online.
Passing the plate endures as a powerful, sacrificial act, he said, from farmers offering fruits and vegetables generations ago to children tithing part of their weekly allowance today.
Still, the pandemic may at least have introduced people to the ease of giving online. Post-quarantine, 45% of Carmel's giving has been online, Wishon said. But 55% still comes the old-fashioned way — through a check in the mail.
For those who need a little help in the long term pivoting away from a tradition as sacred to them as a hymn, Wishon has a suggestion. When Sunday worship returns, churches can provide cards bearing a simple statement for members to put in the offering plate: "I gave online."
---
'A gut-check moment'
Executive director
The Ministry Collaborative/Macedonian Ministry Foundation
Atlanta, Georgia
The message of the church must be bigger than "We've reopened the doors, and the machine is up and running," said Mark Ramsey, the head of a ministry that offers pastors a chance to meet with peers.
Yes, churches will have to become leaner organizations after the pandemic. And it's not just small churches at risk, he believes. Larger churches with big buildings and big staff will face big financial challenges, too.
All churches will have to inspire people who have worshipped online for months to return to the church on Sunday mornings.
But if the church doesn't seize the moment and examine the essence of its place in this world, do matters of finance matter?
"If the church feels like my homeowners association in how they do things and what they offer," Ramsey said, "what's the point?"
Lessons learned must go beyond how to livestream a funeral. People are frightened. Our way of life has been turned upside down. Now is the time for the church to reintroduce itself as a place of care, connection, community and depth, he said.
"God loves the church," Ramsey said. "But God loves the world more. Do whatever you can to love the world now, and don't worry about your infrastructure. If churches focus on the money, they're going to have a hard time. If they focus on what they can do culturally, I think they'll have a fighting chance.
"I think this is a gut-check moment," Ramsey said. "Can churches really love into that?"
---
Additional Resources
Most houses of worship, denominations, seminaries and other faith-based institutions are sharing on their websites a broad offering of resources and reflections on COVID-19. Here are four that are featured in this article.
The Church Network: This national association focuses on church administration. Its COVID-19 presence offers church and government resources and articles.
Lake Institute's National Study of Congregations' Economic Practices: This 2019 survey of 1,200 congregations explores financial practices relevant to the current crisis.
Leadership Roundtable: This Roman Catholic organization offers leadership, pastoral and government resources for the COVID-19 crisis.
Massachusetts Council of Churches: This site has resources related to public health and doing the work of the church (funerals, finances, pastoral care and more) during the shutdown.