Pastors are uniquely positioned to help people contemplating suicide
If you or someone you know is in crisis, call the Suicide & Crisis Lifeline: Call, chat or text 988, a national, 24-hour service.
When psychologist Karen Mason managed the Colorado Office of Suicide Prevention in the early 2000s, she wanted to engage faith leaders to help educate the public and respond to warning signs of crisis.
But her research since then has revealed a paradox. Though pastors are uniquely positioned to help prevent suicides, they're often hesitant to embrace the role.
"Clergy are very reluctant to talk about the topic because they don't know what to say and they're afraid to say the wrong thing," said Mason, now a professor of psychology at Gordon-Conwell Theological Seminary and the author of "Preventing Suicide: A Handbook for Pastors, Chaplains and Pastoral Counselors."
Faith leaders' silence, no matter how well-intentioned, comes at a price. It can reinforce stigma associated with suicidal thinking, Mason said, including the assumption that contemplating suicide signals a weak faith. When people feel that their struggles can't be disclosed, even at church, social isolation and risk of suicide can increase.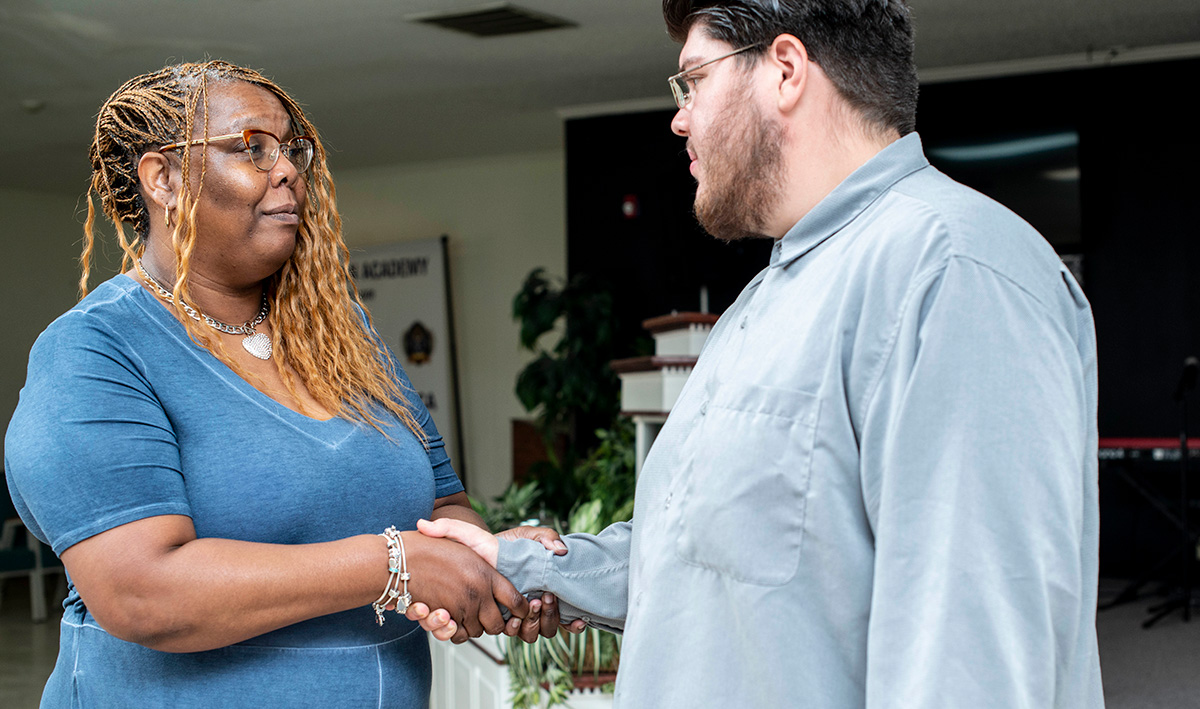 Pastors have "a moral responsibility to help this person sort through, 'What other options do [I] have besides death?'" Mason said.
Suicide is increasingly recognized as a prevalent and largely preventable problem. The U.S. suicide rate increased by 30% from 2000 to 2018, according to the Centers for Disease Control and Prevention. It's now the nation's 12th leading cause of death, responsible for the loss of almost 46,000 lives in 2020.
When clergy look out at the pews and see middle-aged faces, they're looking at the group most likely to need help: 80% of suicide deaths occur among men and women ages 45 to 54. Rates across age groups are especially high for certain demographic groups, including men, Native Americans, LGBTQ folks, rural dwellers, farm workers, military service members and veterans.
Efforts are now proliferating to help pastors rethink assumptions, prepare for conversations about suicide, and recognize that they don't have to be therapists in order to discuss people's hopeless feelings and influence their life-and-death choices.
Many pastors express a feeling of powerlessness, said Michelle Snyder, the executive director of Soul Shop, a nonprofit that equips faith leaders to train congregations in ministering to those pondering suicide.
"To which I say 'no'; I reject that. I think pastors have the power of persuasion," she said. "So leverage your position for suicide prevention."
Resources and training
Resources have been expanding to help pastors do that leveraging. For example, in October 2020, the LivingWorks company launched LivingWorks Faith, a self-paced online program that guides faith leaders in how to intervene, minister to the bereaved post-suicide and promote purposeful living.
Those seeking to go deeper can attend the company's two-day in-person program in Applied Suicide Intervention Skills Training (ASIST), which has been used by the U.S. military for more than 20 years.
Soul Shop offers a one-day in-person workshop for faith leaders that covers how to help congregants have conversations about suicide and how to solicit testimonies from those who've been suicidal in the past.
In August, it announced a new one-day workshop specifically for pastors, church staffers and lay leaders in the Black church. The Soul Shop for Black Churches training works to address the recent rise in suicides among Black people. The suicide rate for non-Hispanic Black Americans jumped 3.5% from 2019 to 2020, even as the general population saw a 3% decline in the same period.
And in July, the national suicide prevention hotline got a new, easy-to-remember number: 988. This gives pastors another tool to use in crisis situations, Mason said. If someone calls expressing thoughts about suicide, a pastor can keep the person on the phone and they can call 988 together.
On what topics are you silent? What is the price of that silence?
In trainings, pastors learn to spot warning signs. Some are actions, such as giving away all of one's personal possessions, not showing up for work or nonstop sobbing. Others might be comments such as, "I think the world would be better off without me." Major setbacks in a person's life, such as a divorce, bankruptcy or public humiliation, can also be associated with heightened suicidal risk.
Then what? When a pastor learns that someone is contemplating suicide, next steps could involve removing the intended means, connecting the person to mental health services and promising to follow up with a check-in call soon. All are doable by pastors with no specialized suicide prevention training, experts say.
When clergy hear someone say they're considering suicide, they are not legally obligated to report the suicidal person or to take other preventative actions unless they live in a state that requires such steps, according to Mason. She added that she does not know of any states that require clergy such reporting.
How can you foster a sense of belonging in your congregation?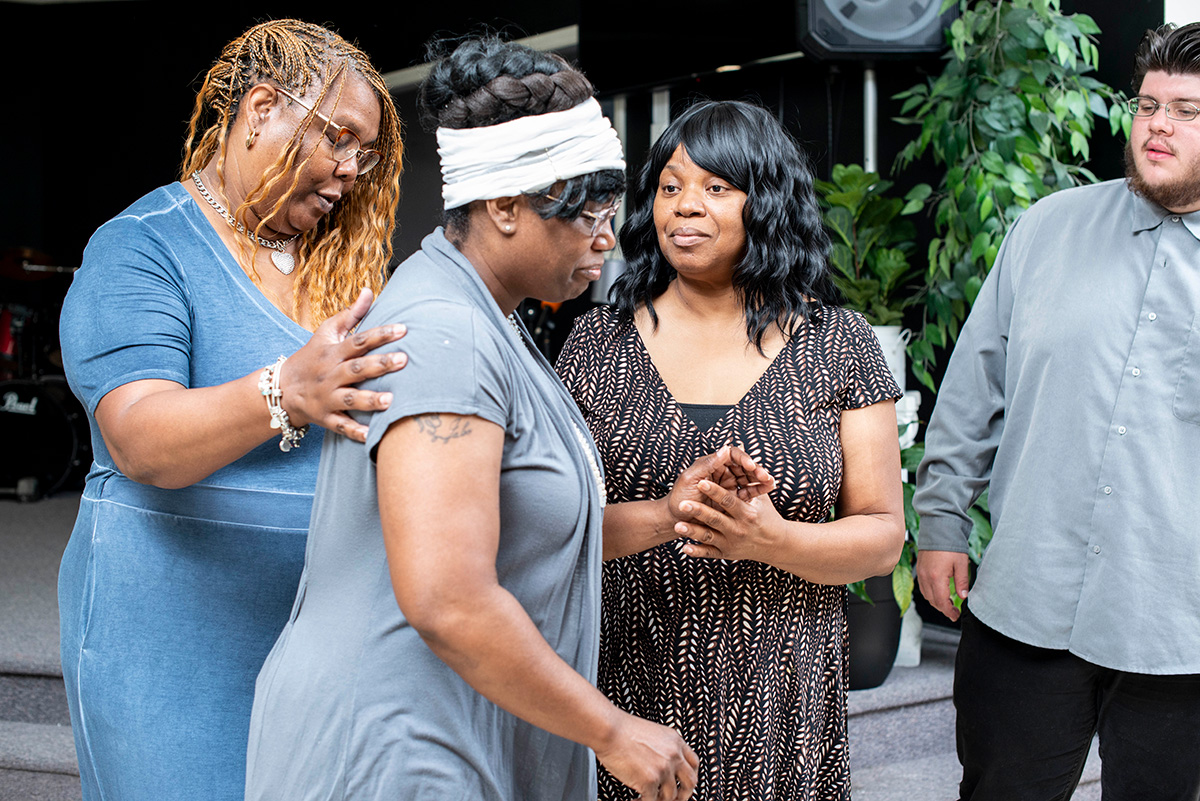 Guns and suicide
Removing the means that a suicidal person plans to use can be crucial, especially if the plan involves a gun. That's because guns are so lethal.
They're used in fewer than 5% of suicide attempts, yet they're responsible for more than half of all suicide deaths, according to CDC data. And 54% of gun deaths are suicides, according to 2020 data from the National Safety Council, a nonprofit focused on eliminating causes of preventable death.
Mason points out that guns are different from other methods because they don't allow a person to reconsider.
"If you were to swallow pills, you could say, 'Gosh, this is not what I wanted to do,' and you could call 911. But with guns, you don't get a second chance, and your reasons to live don't get a chance to emerge."
This is an area where pastors can make a difference.
Do the questions you ask invite honest responses?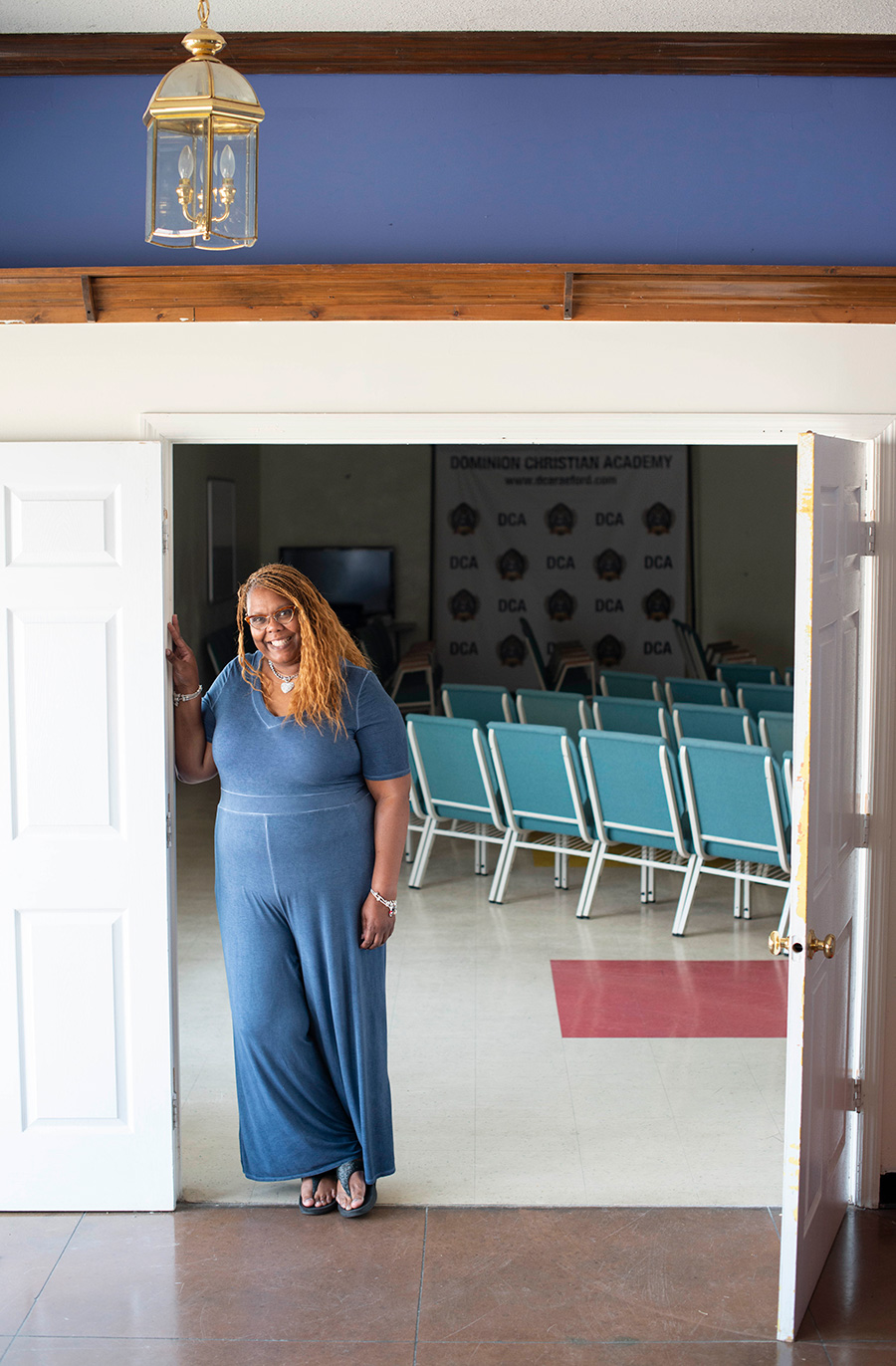 Being effective starts with asking directly, "Are you considering suicide?" That's a common question for the Rev. Kenya Procter to ask in her ministry as executive pastor at Ambassadors for Christ Worship Center in Fayetteville, North Carolina.
Raising the topic doesn't make suicidal thinking more likely, experts say, but rather creates a safe environment for people to express their desire for help. Procter also trains pastors in suicide prevention through the LivingWorks ASIST program, which emphasizes the need to be clear and direct.
The reason? If she were to ask something indirect, such as, "You're not thinking about doing something crazy, right?" she'd be prejudging the response, she said. Because a person who answered "yes" would be admitting to lunacy, he or she is apt to say "no" instead, even if the answer isn't sincere. Asking the question directly makes a clear and honest response more likely.
If a person answers "yes" and is a gun owner, Procter said, she might suggest storing the guns temporarily with the police department, which will return them when the person is ready. And for anyone possessing guns, whether presently in a crisis of suicidal thinking or not, she suggests keeping guns locked.
"The three seconds that it takes to unlock might be the three seconds that deter that person from using that firearm," Procter said. "Because then you have to get the key. You have to put the key in the lock. And people with thoughts of suicide are not always thinking rationally. … So those three seconds could make the difference."
Procter speaks as someone who's felt the pain of suicide's ripple effects. She and her husband, Fallon, had a mutual friend, Jay, whom they'd known when Fallon and Jay were soldiers stationed at Fort Bragg. Jay always seemed to have something about him that "never sat right, but I couldn't put my finger on it," she said. They later learned that Jay had been involved in another person's death and eventually killed himself.
When she got an opportunity to work in suicide prevention, she embraced it as a chance to help others do what she had not been equipped to do for Jay, such as know which warning signs to look for.
In talking with congregants, it's important to convey that God is near, according to Glen Bloomstrom, the director of faith community engagement for LivingWorks. Isolation can intensify thoughts of "My life is worthless; I don't belong" and needs to be met with messages of love.
"The healthy way to talk about this is …, 'We are here for you,'" Bloomstrom said. "'Don't isolate. Speak with us. We can get you help. You are very valuable to us. You are loved as part of our congregation.'"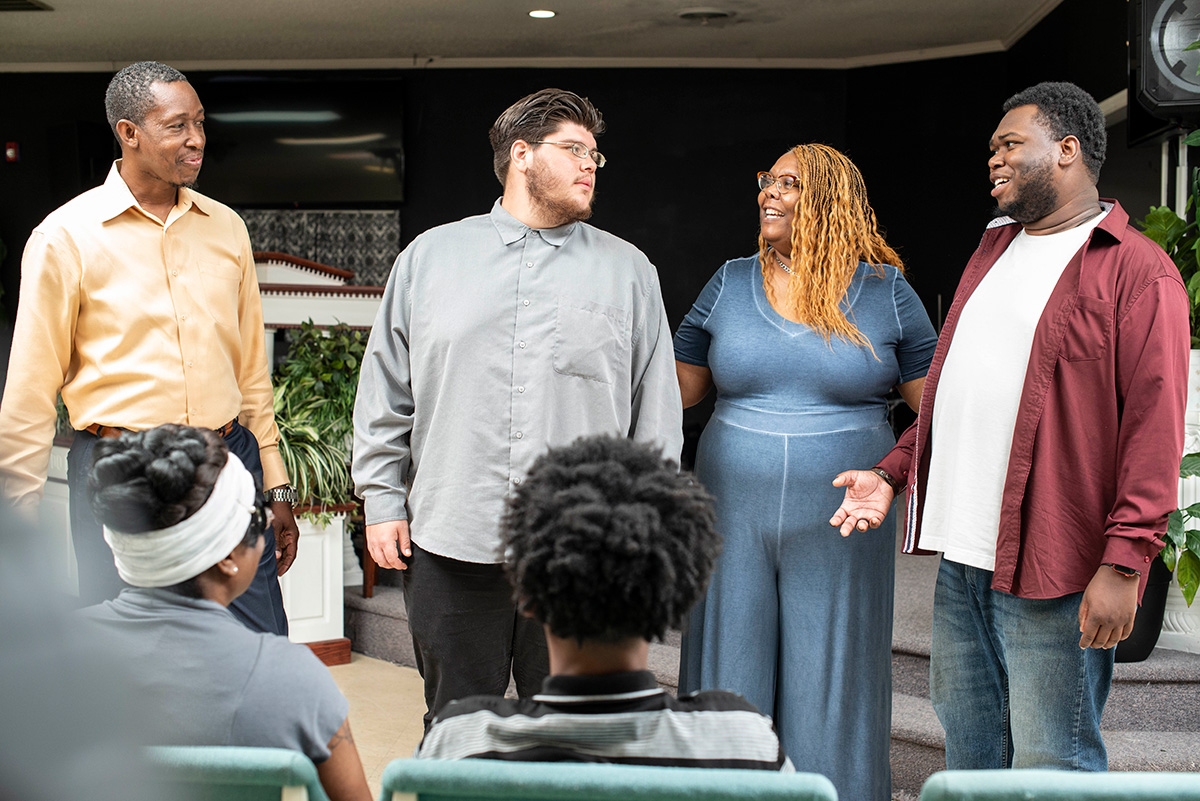 In these situations, pastors don't have to guess at what to say. The hotline can guide them in the moment as they speak with a suicidal person and conference in 988.
"Let 988 help the clergyperson or whoever is calling figure out the right thing to do next," Mason said. "The situations differ so much. It is hard to give advice [for faith leaders] that's going to blanket every situation."
Pastors can be most effective when they aren't acting as salvation agents but rather as equippers of a team effort to encourage life-affirming choices. For instance, a pastor who knows a responsible gun owner might ask, "If the situation arises, would you hold a gun for someone temporarily?"
Then if a crisis arises, the pastor can suggest to the suicidal gun owner, "How about if so-and-so, whom you know and trust, holds on to your guns for a while until you're ready to have them back?"
Cultivating community and hope
In crisis situations, disabling a suicide plan sometimes happens by moving the person to a new environment, such as a hospital emergency department, where mental health resources are available and firearms are not.
How can you form and equip a team to encourage life-affirming choices in a crisis?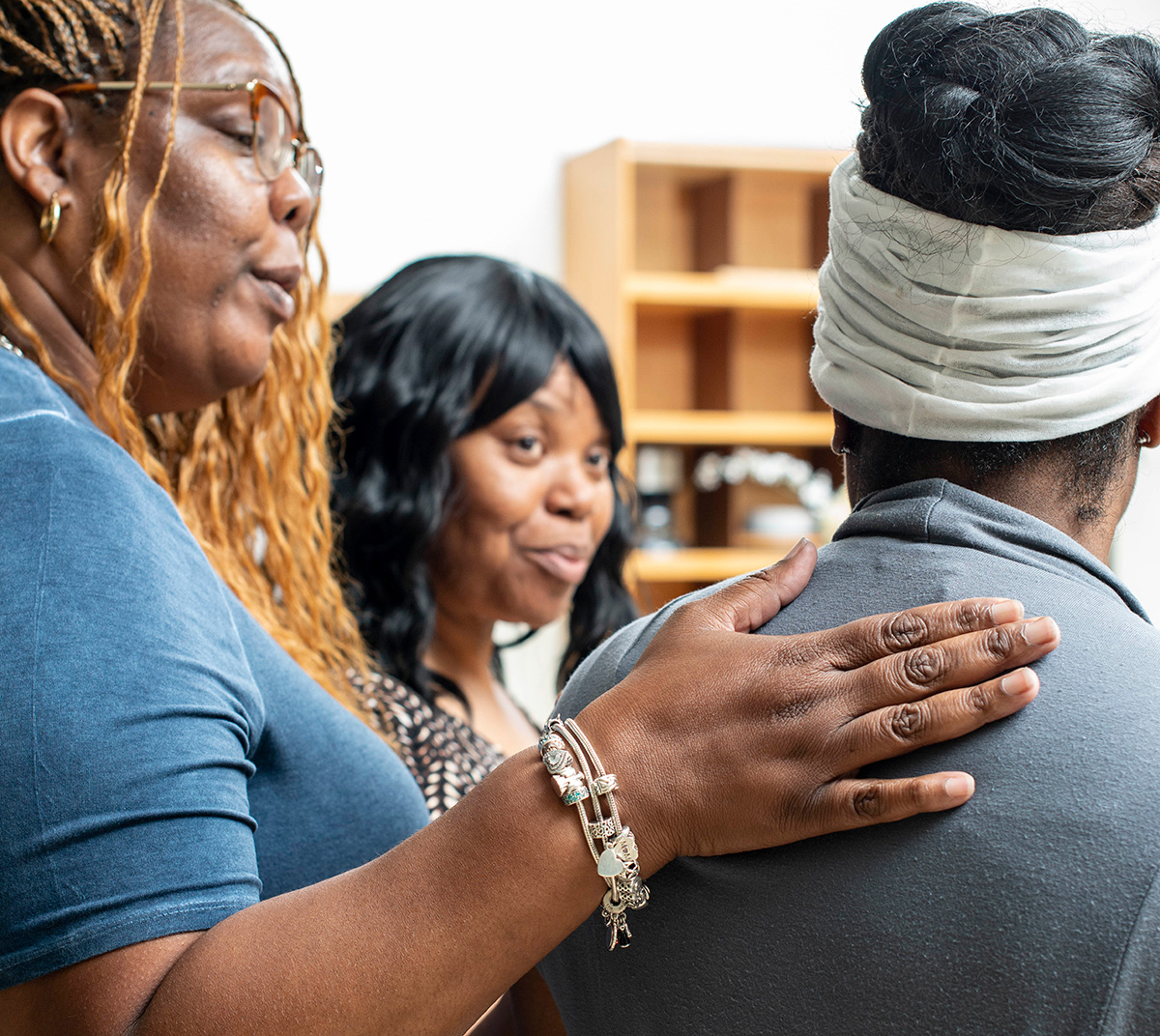 That's the approach used by the Rev. Leon Sampson, an Indigenous Episcopal priest at Good Shepherd Mission on the Navajo reservation in Fort Defiance, Arizona.
When they say they want to hurt themselves, "they want help," Sampson said.
"The first step we'll do is take them to the emergency room. We tell them, 'This person has said they want to hurt themselves.' Through the Indian health system, they will receive counseling and be able to get the resources they need."
But Sampson also knows that contributors to despair on the reservation are unfortunately common, including abuse, cyclical poverty and lingering effects from past traumas.
As an antidote, Good Shepherd hosts programs in which teens and young adults learn Navajo traditions, from agriculture and cooking to spiritual practices and the Navajo language. Sampson helps them proudly share their heritage and identity by inviting them to address church groups visiting on pilgrimage or mission trips.
As part of cultural pride building, Sampson lifts up appreciation for responsible gun ownership as a component of Navajo culture. He traces it to the tribe's long history of sending men and women into military service and having guns for protection and hunting.
With this honorable gun-owning tradition comes a duty, Sampson tells young Navajos, to store firearms and ammunition responsibly.
"Gun education and gun safety have been part of the community," Sampson said. "Very rarely do you hear of a teenager [here] self-inflicting harm with a gun. I think that's because of the history of families. … They have a deep understanding of how to handle and keep guns."
Theology, taboos and false assumptions
Shaping culture to support choosing life might look different on the reservation, on a Midwestern farm or in a coastal city. But in each setting, the pastor is drawing on a frequently used skill.
Pastors shape worlds by weaving narratives and elevating particular values in community life. In suicide prevention, that means grappling with how suicide has traditionally been viewed through a theological lens as well as parishioners' deeply ingrained taboos and assumptions.
Suicide is complicated for pastors, because it's loaded with theological baggage. It's been understood as sin, self-murder, cause for exclusion from Christian cemeteries, even an automatic ticket to hell. Such concepts presume that the final act was a grave misdeed and left no margin for repentance or forgiveness.
Such ideas trace back in part to Augustine of Hippo, the fourth-century African bishop who taught that life is a divine gift to be cherished and put to use, not something to extinguish in hopes of entering a better world in the hereafter.
New thinking about suicide and morality is needed to foster more compassion toward those struggling without hope, according to the Rev. Rhonda Mawhood Lee, an Episcopal priest in the Diocese of North Carolina. With support from a Louisville Institute grant, Lee is writing a book that develops a new theology of suicide.
Lee has been touched by suicide directly. Going back generations, several members of her family have taken their own lives. Her mother made multiple attempts at suicide while Lee was growing up before dying by suicide in 1995, when Lee was in her 20s.
She's careful with her terminology, using "died by" rather than "committed" suicide, because the latter connotes sin and crime.
"Saying that suicide and other complicated ills like substance use disorder reveal the fallen nature of our world does not have to mean assigning culpability to people who kill themselves, or sitting in judgment of them," Lee said in an email.
"It does mean we can lament suicides, have a range of feelings about them, and do what we can to prevent them."
In working through the repercussions of her mother's suicide, Lee has spent years researching her family history and noticing patterns that help her understand it.
A number of theological ideas about suicide need reexamining, she said. The one who dies by suicide shouldn't be seen as unsavable, she said, because that would "tie God's hands" and leave no room for grace. Instead, suicide, while always lamentable, should be seen in light of conditions that might have driven the person to desperation.
Taboos around suicide are tenacious, and today's work involves probing which ones, if any, still serve a useful purpose. The taboo describing suicide as self-murder is too harsh and diminishes compassion toward those struggling with suicidal ideation, Lee said. But the general cultural taboo against dying by suicide might help prevent suicide in some cases by marshaling social pressure to choose life instead, she said.
As pastors gain appreciation for how much they can do to prevent suicides, they're discovering how much needs to be done on fronts ranging from pastoral care and preaching to theology. Wherever they begin, it's with growing conviction that this is the church's work to do.
"We're trying to demystify the idea that [suicidal thinking] is somehow this untouchable thing that is so medical that it requires the professionals," Soul Shop's Snyder said. "In fact, what it requires is communities that can respond with community and with hope."
What do your congregation's theological ideas about suicide say about God?
Suicide prevention resources
Questions to consider
On what topics are you silent? What is the price of that silence?
How can you foster a sense of belonging in your congregation?
Do the questions you ask invite honest responses?
How can you form and equip a team to encourage life-affirming choices in a crisis?
What do your congregation's theological ideas about suicide say about God?
I call a pastor friend to ask him for a favor, and we're engaging in pleasantries.
"How are you?" I ask.
He pauses and then says, "I'm good. Well, yeah, I'm good."
I pause. I have a decision to make. Do I stick with my mission and move on about my day? The truth is, I can't.
So many times in the past few months, I've had this conversation — the pastor calling to ask for a mental health referral for a member, the executive minister calling to schedule a Zoom-based session on mental health during the pandemic, the clergy member arranging a panel on responding to race-based violence in the U.S.
The purpose of the conversation is service to the people we all care about, but when do faith leaders make time to attend to themselves?
"I don't believe you," I say to my friend. He just responds, "I know."
"I'm here," I say. "You know I'm here." He replies to my invitation with three simple words: "It's just everything!"
Immediately, I get it. He doesn't need to explain. The past six months have been a whirlwind for all of us. In March, the arrival of a pandemic that stopped us in our tracks. What we thought would be a few weeks has turned into a half-year-long saga of reinventing the ministry wheel and responding to emotional, financial and programmatic needs.
In May and the months after, the ubiquitous reminders of the racialized violence that is embedded in the bones of this country, reinforcing how perilous the very concept of "safety" is. Add to that a contentious political battle in which it seems that we are fighting for our very souls. Ministering has never, ever been an easy job, but this year has made it even harder.
Ministry as a profession trains people to orient themselves outward and upward; less often are they encouraged to orient inward. For clergy, this season has been a call to action.
In heroic efforts for which they have not always gotten appropriate credit, clergy have worked to transition churches to online formats, shift their pastoral care strategies, manage financial concerns, and respond to the fears and anxiety of congregations who are wondering what to do in moments like these.
While the buildings have been closed, the phone calls and requests for help have not stopped. In fact, the work has somehow increased! Parishioners have needs, and they call clergy first.
Clergy have had front-row seats to the pain: the COVID-19 deaths, the isolation from family and friends, the despair about how long this period will last, the racial unrest and calls to protest, the mental health consequences that come along with this turmoil. They see and feel and hold it all.
Our trauma is their trauma, on top of their own. The simple definition of trauma I give to clients who have experienced it is this: something happened that shouldn't have happened, or something didn't happen that should have happened.
Isn't that this year in a nutshell?
Secondary trauma is bearing witness to these happenings (and not-happenings) for others. For clergy, it's bearing witness for lots of others — and in times like these, there is often a sense of hopelessness or powerlessness that simply overwhelms. Clergy are doing what they can, but many simultaneously have the sense that it is not enough.
As this internal and external war rages on, the things that can serve as little reminders that their labor is good and their efforts are appreciated have faded away: no hugs or high fives, fewer smiles from people who can see how hard they are working, no faces in the sanctuary reacting to the sermons, no real-time responses to the proverbial sermonic call.
A funeral, which at one time was a balm for collective grief, suddenly turns into a graveside service with many left watching at home. A wedding or baby dedication to celebrate the cyclical nature of life is either canceled or transformed into something nearly unrecognizable.
The anxiety and angst of this time in our collective history means that people need more. And clergy, being who they are, have responded.
But who takes care of the shepherds? While they have the responsibility of leading churches during these tumultuous times, they are still whole people with their own anxiety about COVID-19, maybe their own financial issues, their own angst about the state of the world. Still, their churches might be needing more and more.
It is a precarious place to be, and the reality is that when people are used to being in the role of caretaker, it can be hard for others to see them (and for them to see themselves) as needing love, care, support and encouragement. The shepherds need this care and support more than ever. Theirs can be a thankless job, and we are in a particularly unforgiving season.
Add to that the uncertainty. When will the church building open back up? When can we return to "normal" life? What's our responsibility in response to social unrest? Where is God in all of this?
I imagine that some clergy are tackling another uncertainty in addition to this list: How can I go on like this?
I have said over these past few months that I firmly believe we are all doing the best we can. What is the best we can do in this moment? What is the best we can do for the shepherds?
One place we can start is simply giving clergy places to name their struggles. Many of us know the isolation that can come with this profession. What clergy need now, more than ever, is connection — even if that connection is not through the traditional methods. This can be personal and emotional, but it can also be professional.
Clergy can benefit from spaces to share best practices, technology hacks and helpful resources. They also need spaces to cry, scream and lament.
Now is the time for denominations to rethink and rework renewal leaves, sabbaticals and time away.
Now is the time for churches to evaluate their benefits packages to make sure they include comprehensive medical and mental health care, paid leave, and professional funds. For many churches, this means getting creative, collaborating with fellow churches and capitalizing on the strengths of the leaders in each congregation.
The clarion call of rising clergy burnout rates has been ringing for quite some time, and for us to be the church, we must equip the clergy. They have risen to the occasion, and now it's our turn.
A part of this equipping work ideally happens before a crisis occurs. In most traditional seminary training, there is at least a cursory discussion of self-care as a part of pastoral care or some other foundational class. But what we are learning in this time is that ministry during a crisis requires something different as clergy attempt to care for congregations and to care for themselves.
Seminaries can be a part of the solution by helping seminarians build crisis-specific skills: collaboration, understanding and responding to personal needs, setting appropriate boundaries. The strategies might be similar to those of general self-care, but they are executed differently in times of crisis.
It will take all of us to come together and envision processes for being well and even thriving as these challenges continue.
Growing up in the Black church, we used to say, "This joy I have; the world didn't give it, and the world can't take it away." Joy is unspoken hope that floods your being. It's that "it is well with my soul" that resonates deeply within your spirit.
It took becoming an adult for me to understand the subversive power of a mantra that held joy as personally sacrosanct. What we were saying was that the conditions of this world didn't produce joy for us; rather, something within us created the joy that the world continually tried to steal. Time and time again, systems of this world tried to steal our joy, our dignity, our hope and our future.
We fought as a community to get back what those systems took while keeping ourselves from internalizing what they said about us. We began to define ourselves. And out of defining ourselves came our ability to value ourselves. Out of defining and valuing ourselves came our ability to believe in ourselves. Out of defining, valuing and believing in ourselves came our ability to create joy. Hard, gritty, sustainable — our joy that the world didn't give.
It is with that communal formation as my spiritual and sociocultural backdrop that I have renewed my commitment to being on the lookout for joy, even in the midst of a pandemic. As a New York City pastor, I have been proximate to such widespread sorrow and grief that they have made joy seem like a luxury, not a right.
I found myself so weighed down by the realities of this crisis that joy was the furthest thing from my mind. Black Americans are three times more likely to die of COVID-19 than white Americans. My heart broke as I saw the economic and residential insecurity that the pandemic exposed, as well as the preexisting medical conditions of folks in my community that it exacerbated. As is said, when the nation gets a cold, marginalized folks get pneumonia.
Our community had to find a way to protect ourselves from an unseen virus, mind the preexisting socioeconomic inequalities, monitor our own pre-COVID health issues, and be on the lookout for potential exposure to a new disease that none of us had ever experienced.
On top of that, in the midst of the pandemic, fatal encounters with police or just everyday citizens made Black people's names into viral hashtags — Breonna Taylor, George Floyd, Ahmaud Arbery, Nina Pop. It seemed that joy was hiding. I knew that I needed to access some form of joy for my own well-being, but bad news was all around me. I pushed myself to preach and teach about the very thing I was in search of: Black joy.
Barbara Holmes' book "Joy Unspeakable: Contemplative Practices of the Black Church" has helped me. Holmes calls our attention to the concept that the most powerful response to Black death is Black joy, and she reminds us that we cannot live in an ongoing state of resistance. The joy that she speaks of is a kind of resilience that refuses to be dictated to despite the horrific conditions it is forced to transcend.
Among the practices Holmes encourages is being mindful of our breath — particularly powerful in a moment when our ability to breathe feels endangered on multiple levels. She writes: "Breath is the sustainer of life and also the vehicle for entry into the contemplative center. We take deep breaths to still our thoughts, center our being and connect to a wisdom that permeates the universe. We breathe together individually and communally to invoke the spiritual strength to withstand and resist injustice."
In this difficult season, I am intentionally looking for unexpected joy, mindful of the quote attributed to Dinos Christianopoulos, "They tried to bury us. They didn't know we were seeds."
People are buried under the pressures of life. They're buried under the weight of having to say goodbye to loved ones taken by COVID-19. They're buried under job loss and under health disparities, under foreclosure and landlord disputes. They're buried under the inability to home-school their children, as well as a lack of child care. They're buried under fear — hoping that their names aren't the next ones converted into hashtags.
But I find joy by asking the "what if" questions. What if this societal burial is of seeds in the ground? What if, while buried under job loss, we discover new vocational purpose? What if, while buried under health disparities, we find natural ways to heal our bodies? What if, while buried under foreclosure, we spread our wealth by moving two or three families under one roof to ensure that we have what we need?
What if, while buried under home schooling and a lack of child care, we discover new things about our children and begin to teach them according to their own personalities and needs versus what the school system says they need?
The possibilities of "what if" connect to where my joy lies. This is the joy that the world didn't give. It lies in our ability to redefine what these conditions might be able to produce.
The lesson from the seed is that it may have been dropped into the ground and forgotten, but it is going to live again. The seed is going to live into its possibilities and sprout into its best hopes and dreams. But seeds don't sprout on their own. They need water, sunlight and external support.
Likewise, for us to make it, we all need a little support while we are buried. We need unjust systems to be overturned. We need ways out of no ways to be made. And we need joy. We need a counternarrative. We need to be reminded that joy is our right. And we need to be reminded, as Nehemiah 8:10 proclaims, that the joy of the Lord is our strength.
Take a lesson from the seed. Find your joy. In that discovery you will also find your strength.
Reading the Bible in the early morning quiet. Taking a walk along a greenway. Accepting a congregant's offer of help. According to research conducted at Duke University, these practices, done with intention, can help pastors flourish in their ministry.
In 2015, the Duke Clergy Health Initiative learned from 52 church-appointed pastors in North Carolina about their daily lives and how they approach challenges. From this data, gathered through interviews, activity logs and surveys, the researchers identified four practical, "real world" strategies crucial to clergy's flourishing.
Flourishing pastors are intentional about taking care of their physical and mental health, setting boundaries around their work and personal lives, nourishing friendships and mutual relationships, and working in alignment with God.
"Pastors' schedules are constantly being revised as needs arise during the day," said Rae Jean Proeschold-Bell, co-principal investigator at the Duke Clergy Health Initiative. "Flourishing clergy proactively make backup plans A, B and C, and are flexible in taking care of their physical and mental health."
Some of the study's participants were found to be practicing all four strategies in their lives, leading the researchers to nickname them "superflourishers." Two superflourishers, David Woodhouse and Eric Reece, agreed to share their experiences.
Taking care of body and spirit
Woodhouse, the pastor of Smyrna United Methodist Church in Robbins, North Carolina, is very intentional about exercise, he said. He walks every day, sometimes twice.
"I've always either run or walked, throughout my life," he said. "My grandfather was a United Methodist pastor, and taking a daily walk, sometimes two, was part of his ministry and a way to interact with people in the neighborhood. Walking has always been a character of our family life."
Woodhouse called exercise, which also includes lifting weights three times a week, "one of the things that has kept me sane."
Depression runs in his family, Woodhouse said. "There is a genetic component to it, and I'm aware that it is a possibility for me, so I prioritize the exercise."
Walking on a greenway near his house allows him to refresh his body and his spirit.
"[The greenway is] a good trek, with hills and dips, and a lot of trees. It has birds, squirrels and snakes, so it's almost like walking through a little nature preserve," he said. "The interaction with nature is refreshing to my soul."
If exercise and activity are essential to flourishing, so is the practice of rest. Reece, pastor of Robbinsville United Methodist Church in Robbinsville, North Carolina, said he had to learn that truth the hard way. After years of regularly working himself to exhaustion, a bout with pneumonia landed him in the emergency room, and "I just couldn't go anymore," he said.
A pastor's hectic schedule can lend itself to exhaustion, which is where the importance of intention comes in, Reece said.
"Pastors put in long hours," he said. "If you're not rested on Sunday morning, if you've put in double shifts all week long and drag in on Sunday morning, that's going to reflect on your ministry."
Reece has gradually taught himself to keep a Sabbath — an intentional day of rest.
His Sabbath starts with not setting an alarm to wake him. Even if he wakes up before the alarm would have gone off, he still finds it mentally restful to know that he doesn't have any meetings scheduled or any reasons to rush out the door.
"On some of my Sabbaths, I like to volunteer. That's not resting, exactly," he said, but it's a break from his usual routine, and it's optional. "There's a Christian ministry thrift store in town," he said. "I carry the trash out or sweep the floor."
Setting boundaries
Of course, much of ministry means being available to other people, which brings up another strategy important to flourishing: boundaries. Setting boundaries and keeping them allows time and space for the other practices.
"I did have to learn how to set boundaries, and that's real hard for a clergyperson," Reece said. "I wish I had known and done so sooner. Setting boundaries is very important. To have others respect those is a good thing."
Woodhouse said he tells his staff-parish relations committee of his self-care practices so they can support him and help him be accountable.
"I've learned that I am responsible for myself," he said. "I tell them, 'I try to keep myself ready to be a faithful pastor, and I need your support in maintaining these practices. I'm trying to do what is right and best.'"
Embracing social support
Both pastors, veterans of at least 30 years in ministry, say that letting others help them can feel awkward at first but eventually rewarding.
"Like a lot of people, I feel more comfortable serving than being served," Woodhouse said. "Even accepting gifts from my congregation, like the offer of using someone's beach house — just to receive a gift [they've offered] means a lot to people."
In recent years, Reece has worked with a coach, who has helped him identify and build on his strengths.
"I serve on a lot of committees," Reece said, adding that his coach has helped him enjoy committee work more by choosing a task that he likes.
"I love to do research, so that's what I volunteer to do [on committees]," he said. "That's my strength."
Remembering the higher purpose
Perhaps the most important aspect of flourishing is aligning oneself with the greater purpose. Both Woodhouse and Reece say they work to feel the presence of God on a daily basis. Both take time to read the Bible.
"We found that flourishing pastors — and not pastors with burnout — reminded themselves often of where God was leading them," Proeschold-Bell said. "It seemed that pastors experiencing burnout were too much in the thick of distress to focus on the larger goals."
Woodhouse said he reads through the Bible every year, tracking his progress on a sheet of paper or on an app on his phone. He does this reading every morning, first thing.
"For me, it's just being present to God and allowing God's word to wash over me," he said. "The reason I'm doing this is to spend time with God, and it reminds me to be more attentive to God throughout the day."
Both pastors said that the path to flourishing has been full of trial and error. What works for one person might not work for another.
"We are all constantly navigating change in our lives," Proeschold-Bell said. "Small practices make a difference. The challenge is to enact them regularly in the midst of unpredictable work, but we've seen that it is possible, and valuable. Pastors are a part of the body of Christ, too."
Woodhouse said he tries to remember something his grandfather, the pastor, told him: "Wherever you go, God is already there working." That goes a long way toward relieving any personal pressure to succeed. "Flourishing, for me," he said, "has been accepting the things that are out of my control."