Learning leadership lessons from the World Cup
For leaders and those seeking a more liberating vision of life abundant, the 2023 Women's World Cup teaches us the importance of expanding the table, the power of investing in those who have historically been denied resources, and the pleasure of affirming joy.
In this 2023 World Cup played by women's national teams, FIFA expanded the field from 24 to 32 nations (up again from 16 prior to 2015). With the 2023 expansion, many mainstream sports pundits tutted that the quality of play would decrease as less-talented teams were invited in. The 2019 World Cup saw major blowouts, like the 13-0 win of the U.S. over Thailand. Instead, the expanded 2023 tournament has seen far closer scorelines. The expanded field has set records for ticket sales and domestic viewership.
While some Americans treat this as a passing event, we experience it as a taste of heaven — a joyous celebration of multicultural life. The World Cup teaches us to get comfortable with the idea that even if it's not about us, it's still interesting. Even though the U.S. women's national team lost in the round of 16, there are still compelling teams for whom to cheer.
The tournament also has lessons for leaders. Instead of clinging to an elitist mindset of limiting seats, we can learn that expanding the table has actually made for a better tournament, more interesting matches and a far more enjoyable experience. With expansion, the world has gotten exposed to young, dynamic talent from across the globe and clashes of styles.
When the table is expanded, we get introduced to brilliant and talented people. The world got a chance to meet the emerging Haitian star Melchie Dumornay and experience her high soccer IQ and skills against an ill-prepared England. Panama's Marta Cox's booming free kick against France launched a joyful last game in the group stage that had the group leaders on the edges of their seats.
At 18 years old, Colombia's young phenom Linda Caicedo is not only the future of women's football but the present.
With an expanded field of teams also comes increased awareness of the need for equality at the table. Global economic inequality applies to soccer too. First World nations have more economic resources for their teams and better chances of winning the tournament.
There is stark gender inequality as well. FIFA began the men's World Cup in 1930, while the first Women's World Cup was allowed only in 1991, 61 years later. The women's teams have endured chronic underinvestment from their national federations in development, training, research, and physical and mental health support. And as in the church, in the places where we underinvest, sexual, racial, emotional and economic abuse festers.
Almost every team in the tournament has been in conflict with its national federation. After years of pay inequality, the U.S. team just settled the equal pay lawsuit against its federation. Spain's team quit en masse over a work environment that harmed the players' emotional and physical well-being. Canada's team has been in a pay and labor dispute for over a year with its federation. Members of France's team went on strike over an abusive coach. Some players on Zambia's team accused their head coach of sexually assaulting his players. The Nigerian team is owed back pay for over two years from its federation. Jamaica's players were denied training camps, pre-World Cup warmup matches and compensation by their federation and had to crowdfund support to compete in the tournament.
As SkyE's Shea Butter Football Club podcast co-host, Sylvs, has said, "There is not a talent gap. There is an investment gap." This is the Pentecostal reality of the Spirit that falls on all people. This tournament shows that all nations have talented players, even as there is unequal investment. Leaders would do well to remember to constantly cast our nets wider and trust that talent is everywhere.
Teams at this tournament show that when there is robust investment, there are also hopeful results. Morocco is a case study in what happens when a federation invests in both its men's and its women's teams. As a result of that investment, both have achieved historic success, including the women being the first Arab nation women's team to make it to the round of 16.
Around the world, investment in women's domestic leagues has allowed for explosive growth of the sport in home countries while increasing the quality of national teams. In this new landscape, multiple traditional powerhouses have met early exits in this tournament (the U.S., Canada, Germany and Brazil), a sign that the game is growing in a beautiful way. When we invest in development, not just senior leadership, we build strength across generations.
This World Cup teaches us the embodied joy of celebrating, rejoicing, cheering and being alive, especially after such a long, hard season post-COVID. It's not lost on either of us that in a world that seeks particularly to control Black, queer and women's bodies, soccer players and fans enact embodied joy. This itself is an act of resistance against powers and principalities.
The communal celebration of fans in the stands rejoicing along with players on the field in being alive feels like church at its best. Many of the Nigerian team's songs are also worship songs. Colombia and Brazil dance as a team after goals. In the words of the gospel song, "This joy that we have, the world didn't give it and the world can't take it away." Despite remaining inequality, this World Cup gives us an opportunity to cheer.
A world made out of love: Creation
When we talk about the Trinity, we talk about love: the three persons of Father, Son, and Holy Spirit in an ever-moving, ever-giving dance of love.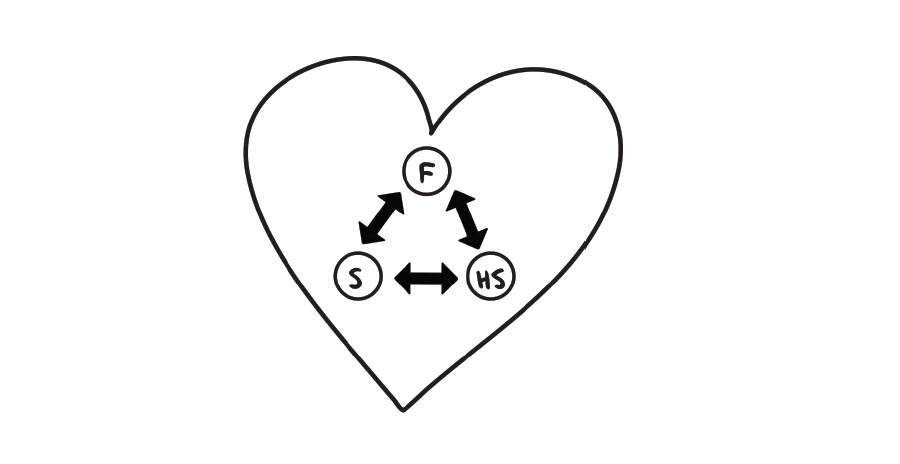 When we talk about creation, we also talk about love: the love amongst the three persons that spilled out into sun and sea and you and me.
Theology has a couple different terms to talk about these loves and how the Trinity works in relation to itself and in relation to what has been created.
When we think about that dance of love that Father, Son, and Spirit spin and move in, the inner life of these three persons, we are thinking about the immanent Trinity. When we say "immanent," we mean "internal," "innate," "inside." This is a pretty mysterious concept, because there's only so much we can know and say about what goes on inside the Godhead apart from what we can see in the world around us.
But we can say a few important things. The apostle John put it neatly in his first letter to some early Christians: "Whoever does not love does not know God, for God is love" (1 John 4:8). God does not simply have love, or give love. Love is not simply an attribute of God; it's God's whole being.
And God chose to allow that love to burst out of God's very own self.
'When God began to create the heavens and the earth …'
This is where we begin to see the economic Trinity at play — the Trinity in its relation to what is not God, in relation to what God has created. God could have chosen to just remain as the immanent Trinity forever, having nothing to do with that which is not God. The love flowing freely between the persons of the Trinity would have been enough for God. Father, Son, and Spirit were not sitting around sulky, moping, in need of praise and adoration.
Creation wasn't necessary.
Our world did not need to exist. Everything we see and smell and taste is excessive: an outpouring of God's love. God didn't need to create humans or frogs or planets to satisfy some whim or to appease some lack. God didn't need us.
But God wanted us.
There's a phrase attributed to St. Augustine: Amo; volo ut sis. Translated from Latin, it reads: "I love you; I want you to be." Imagine, for a moment, God whispering this as the heavens and the earth began to take their shape, as Adam was formed from the dust and breathed into life. "I love you; I want you to be."
God needs nothing — but God wants us to be. And in creation, God wanted to share the love that is God's own self and being. In creating, the love within the Trinity flooded over into every nook and cranny of the cosmos, every inch drenched in it.
'… the earth was complete chaos, and darkness covered the face of the deep …'
So God didn't need to create, but God chose to, freely. That's a statement we need to make when we talk about creation. There's another piece to it, though: that God created out of nothing.
When we humans "create," we use paints, bricks, computers, thoughts in our minds: things that already exist. When God created (in the truest sense of that word), God used … nothing.
The term theologians use to describe this concept is (you guessed it) a Latin phrase, creatio ex nihilo, which translates to "creation out of nothing." This sets God apart from any one of us, and it sets God far beyond the reaches of any technology or tool we might develop. Only God can take nothing — a void of voids — and create.
The scholar Janet Soskice puts it like this: "Creatio ex nihilo affirms that God, from no compulsion or necessity, created the world out of nothing — really nothing — no preexistent matter, space, or time." This concept of "really nothing" is essentially impossible for us to fathom. How can we imagine this kind of emptiness? What creatio ex nihilo does is force us to confess just how transcendent, just how "other," God is.
But it also shows us another key thing about God.
Many centuries ago, in an English town called Norwich, a woman lived inside a church.
The woman, who became known as Julian of Norwich, lived the life of an "anchoress," voluntarily secluding herself in a cell within the church walls so she could devote herself to prayer and worship.
She spent many years there, sifting through and making sense of some remarkable things that had happened to her. She wrote a book, "Revelations of Divine Love"— the first book written by a woman in the English language — about a series of "showings" she had received from God during a severe illness. These showings were often dramatic and graphic, showing the suffering Christ in vivid detail, but one of them included a simple image.
And in this vision he also showed a little thing, the size of a hazelnut, lying in the palm of my hand, and it was as round as a ball, as it seemed to me. I looked at it and thought, "What can this be?" And the answer came to me in a general way, like this, "It is all that is made." I wondered how it could last, for it seemed to me so small that it might have disintegrated suddenly into nothingness. And I was answered in my understanding, "It lasts, and always will, because God loves it; and in the same way everything has its being through the love of God."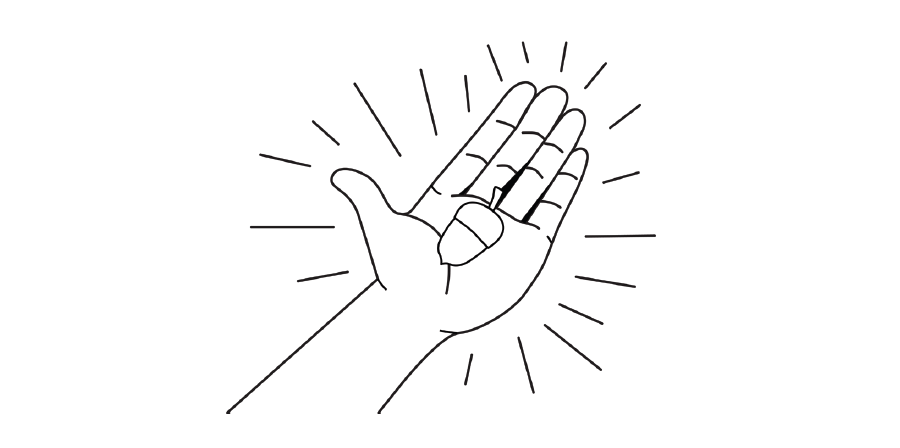 God is transcendent and "other," yes. But God also knows us and sustains us in a profound and personal way. This is not a watchmaker God that some philosophers have spoken of: a God who puts together a watch and then steps back to let it tick away. God is not aloof. We last because God loves us. We couldn't exist without that love — the enveloping love of a God who is both utterly beyond us and beside us.
To emphasize that God sustains us and all of creation, theologians often reference the idea of creatio continua, another fancy Latin phrase that means that God constantly upholds all of creation.
God did not simply, at one time, desire to create the world. God always wants the world; he consistently calls what he made "good." God actively re-creates the world in every single moment. God always wants us, and everything, to be.
What happens when we start to forget some of these ideas about creation?
Much of Christian theology ends up being centered around the person and work of Jesus Christ — which makes sense, considering the name "Christian." The attention we give him is well-deserved, after all. But sometimes the way that focus plays out results in some long-term damage — like when the doctrine of creation starts getting squashed.
A weak theology of creation is bad news for creation. If we focus so much of our energy on ourselves as humans, on what God has done for us, and we don't pay much attention to the rest of the universe that God made, we end up staring at a tiny piece of the big picture that is God's love and care for the world.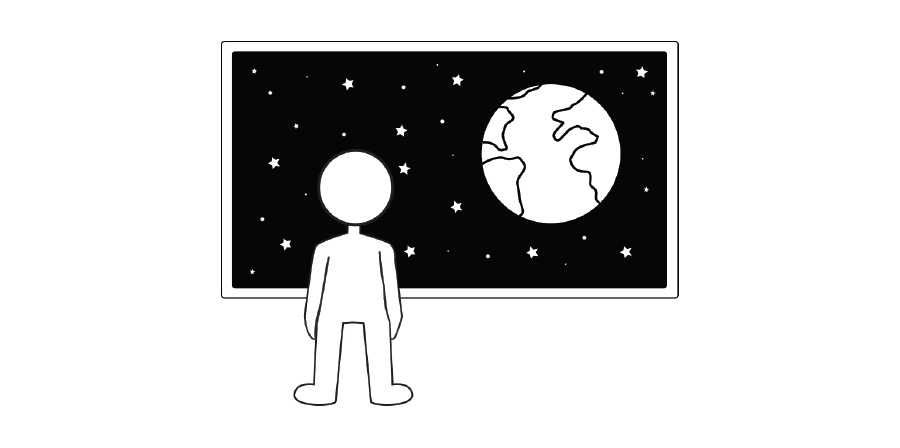 A Native American theologian named George Tinker knows this all too well. He writes about the ways Christian missionaries preached the gospel to Native Americans, giving it the usual Western-church spin of humanity's fall from grace, their sinful nature, and their need for redemption. For traditionally oppressed and marginalized peoples, however, the emphasis on humanity's sin and their need for a savior doesn't sound like the best news. "Unfortunately," Tinker writes, "by the time the preacher gets to the 'good news' of the gospel, people are so bogged down … in [their] internalization of brokenness and lack of self-worth that too often they never quite hear the proclamation of 'good news' in any actualized, existential sense."
Tinker calls for us to start sharing the good news from, well, the beginning of it all: that first "in the beginning." He asks for us to "take creation seriously as the starting point for theology rather than treat it merely as an add-on to concerns for justice and peace."
When we begin to neglect the significance of creation — what it says about God and God's love — we can find ourselves getting so wrapped up in our own lost-ness and need that we forget just how loved we have always been, just how valuable everything and everyone around us is. When our theology becomes centered on "just Jesus and me," our sisters and brothers — our whole planet — suffers.
What might it look like to take creation seriously, then — to remember how God holds us tight and close, wanting us to be?
What might it look like to remember that we live in a world that God wants?
God's creation is vast and expansive. God does not choose to be God only for God's own self — God is the One who delights in extending love and life to others. God's good world — created and sustained by God's loving-kindness — is worth knowing and celebrating and protecting.
Luckily for us, God chooses to reveal to us more of what we, creation, and God are like. That's what we'll look at in the next chapter.
From "Napkin Theology," by Emily Lund and Tyler Hansen. Copyright © 2023 by Emily Lund and Tyler Hansen. Excerpted by permission of Wipf and Stock Publishers. All rights reserved.
Each year during the liturgical season of Lent, I intentionally engage in spiritual practices that strengthen my devotion to God and God's people. Typically, I have chosen to give up something so that I might better focus on wrestling with the deep questions challenging my faith. Sacrifice can minimize distractions.
But I have come to recognize that Lent isn't just about taking something away. It can be about adding something too. You can be more attentive to your relationship with God by praying, reading the Bible or serving others, growing your faith through thought-filled actions.
With that in mind, I decided last year to cultivate my relationship with God's people further by intentionally engaging in acts of kindness as my Lenten practice. These actions ranged from buying someone lunch to putting change in a vending machine to leaving a letter in a library book to share a kind word. While seeking to learn more about Christ, I was hoping that these acts would also show me more about myself and my role in building the kingdom of God.
I was inspired by the narrative of Paul and his accompanying party sailing toward Rome, as recorded in Acts. After a perilous storm ending in shipwreck, they reach safety on the shores of Malta, where, Luke records, "the local people showed us unusual kindness" (Acts 28:2 NOAB). Describing the Gentiles on Malta, Luke uses philanthrōpia, which can be translated as the "love of human beings" but also, in Hellenistic Greek, was commonly used for "hospitality." The Maltese people's acts of unusual kindness were an expression of love and hospitality; these acts were so impactful that they were included in the biblical text.
My kind acts during the Lenten season do not rate addition to the biblical canon, but I do know that they had an impact; if not on the recipients, they had an impact on me. I enjoyed the level of intentionality that it took to try to be a person of unusual kindness. Were there days when I missed an opportunity? Yes. But in those moments when I was able to engage in expressions of unexpected love and hospitality, I knew joy.
Having experienced transformation myself, I enter this Lent wondering what such a practice might mean for our institutions. What if they were committed to greeting people with unusual kindness? With the possibility of an impending recession and rising costs, what if our organizations were committed to expressing love and hospitality in extraordinary ways, even in the face of scarcity?
F.S. Michaels, argues in "Monoculture: How One Story Is Changing Everything" that a master story enthralls our culture. This master story argues that the human actor is a rational, self-interested individual who, given a choice, will always opt for what brings happiness and avoids pain. But what happens when our self-interest is in direct conflict with what is communally good?
Because the master story shapes not only our imagination but our organizations' imagination of what is possible, it impacts our ability to imagine what supporting our communities could look like. In these times of increasing division and polarization, and of limited resources, it is easy for the master story to create narratives of exclusion and scarcity in our organizations, which in turn create limits on our kindness.
As leaders, we often confront the related narrative that institutions and organizations are in competition with each other. This narrative also alters our imagination.
Shannon Hopkins and Mark Sampson, in their essay "Seeing Our Rooted Good," write: "In the midst of the challenges of meeting urgent needs, changing patterns of work, and supporting vulnerable congregations, it can easily get lost that the most important question is not 'What do we do next?' Instead, we suggest the defining question is always 'What do we see?'"
Do we see images of unusual kindness?
I recently have come across several organizations that are helping faith-based institutions think through ways to open their buildings to others who need space for public benefit programs, such as community kitchens, co-working spaces and even affordable housing. Other organizations are intentionally developing co-ops to raise funds to invest in startup ideas that have the potential to lead to transformative outcomes.
When we focus on acts of unusual kindness, we see communities become unburdened by isolation, exclusion and scarcity; indeed, unusual kindness can unlock the door to abundance and generosity.
It's simply not enough to know and recognize the mindset of scarcity; we as leaders need to be able to strategically offer and embrace kindness, acknowledging all the resources we have in our toolbox.
Unusual kindness can create a new narrative of connectedness. As Jane Wei-Skillern and Sonia Marciano have argued in the Stanford Social Innovation Review, "Most social issues dwarf even the most well-resourced, well-managed nonprofit. And so it is wrongheaded for nonprofit leaders simply to build their organizations. Instead, they must build capacity outside of their organizations. This requires them to focus on their mission, not their organization; on trust, not control; and on being a node, not a hub."
How is your organization building its capacity to be kind? The challenges of these times present our organizations with an opportunity to engage in acts of kindness, and to build trust in our communities.
Trust is equity for more relationships, allowing us to ask the most important question in concert with others: What do we see?
What resources are made available when we look at our communities through a lens of unusual kindness? If we are just willing to be unusually kind to one another, might we see that we have everything we need to address the challenges facing our communities today?
This Lent, I believe, unusual kindness can help our organizations achieve lofty missions even if we have decidedly humble means.
In this photo, we're somewhere along the boundary of Rocky Mountain National Park. The air smells of pine and juniper as we walk and talk and laugh. This particular hike is just about 3 miles long, but we're up at nearly 8,000 feet, and our breath sometimes needs a minute to catch up to our legs. I keep thinking, "It is so good to be here."
"Here" is Colorado, and "here" is a long-expected gathering of women from various Christian institutions across the U.S. We are a group of peers, all of us in similar career phases, all of us committed to the work of the church and the ways of Jesus.
As we met in this beautiful place, I felt that these few days together summed up so much of what the past few years have shown us — about the ways we all need each other, and about the many ways, traditional and not, we can show up when needed.
This peer group was very much a product of the pandemic. It came out of an idea I had in the fall of 2020 and spring of 2021, when I participated in the first-ever virtual cohort of Foundations of Christian Leadership. My idea was to gather a small group of women who had jobs like mine, the kinds of ministry-adjacent roles where it was sometimes difficult to find resources and support.
I'm not a pastor, and I don't work at a church, but the faith-based work I do means that the usual nonprofit or higher ed resources don't always seem to speak to my context. I proposed this group as a place for emerging female leaders in Christian institutions to come together and learn from each other. Colleagues recommended various women who fit my description — women who'd advised us on our programming, participated in our grant activities. Ultimately, 10 of them said yes.
We met on Zoom for the first time in July 2021 and continued to meet that way monthly. A virtual setting was the only way these particular participants, scattered across the country, could gather. There were 11 of us in all, spread out over seven states (plus D.C.) and three time zones. (To this day, all 11 of us have not been on one call at the same time!)
For as much talk of (and experience with) "Zoom fatigue" as there has been throughout the COVID-19 era, this online-only group was a boost and a gift each month. I realized fairly early on that we didn't need much of an agenda for conversation — really profound conversation — to thrive. We saw the promise and wisdom in one another, and more often than not, I was able to just sit back from my screen and drink it all in.
We'd met online for eight months before I even brought up the possibility of gathering in person, an idea my supervisor and co-workers nudged me toward. Ultimately, seven of us found ourselves meeting at the Denver airport in October 2022, 15 months after we'd first met via computer screens. We made our way into the mountains and ate takeout pizza for dinner while sitting on the floor of my hotel room.
The next morning, a member of our group led us through a time of confessional Bible study, where we examined stories of women in the Bible and pondered them and the questions they stirred up in us.
That afternoon, another group member led us in a circle exercise, where each of us would have a few uninterrupted minutes to muse on questions like, "What does a favorite quote of yours mean to you?" and, "Who are you carrying with you this week?" Someone in the group brought out a box of Kleenex — which we would all need over the next hour.
Over a couple of shared days, we spotted elk and watched them through binoculars. We went for walks; we window-shopped; we popped into a bookstore and bought books we'd been recommending to each other ("Braiding Sweetgrass," "Gilead"). We went out for dinner and split entrees that looked good but that we couldn't decide on for ourselves. We marveled at the golden brightness of the aspen trees and their quaking leaves. We said we would do this again next year.
At dinner on the last night, we tried to figure out whether any of the seven of us had actually met in person before — had none of us ever run into each other? The answer was no.
The pandemic forced institutions and organizations to be pretty creative when it came to what was being done in person that could also be done online, whether schools or churches or offices. Now, as we emerge from the age of lockdowns and figure out how to live with COVID-19's ongoing presence, we are rightly relieved that so much of our lives doesn't have to be lived virtually anymore. But I also wonder what we might lose if, in that relief, we run too quickly away from the possibilities of online fellowship.
This Colorado gathering was so wonderfully embodied — when we all first rendezvoused at the airport, a common refrain was "You have legs! You're more than just a head and shoulders!" — but the whole reason the gathering even happened was because we had built up connections beforehand, via (dare I say it) Zoom.
While together in person, we talked about how valuable this group was — and how safe it felt — precisely because none of us lived in the same place. We could bring concerns about our day-to-day lives in confidence, knowing that none of us would happen to run across the person or place being discussed. We could offer support in person because we'd built up the proper trust virtually, and that rhythm of support, in person and on screen, will continue.
I wrote in early 2021 about how the pandemic showed us how much we truly needed each other. Nearly two years later, that remains true — and we've also seen, in our COVID-era creativity, how we can forge and foster true community in so many ways. I don't want to look back on the months of Zoom calls and say that it somehow wasn't as real or as meaningful as it would have been if we could have met in person. I wouldn't know these women if it weren't for the tools that provided us a community in COVID-19's darkest days.
I can't wait to see them again on my laptop screen — and I can't wait to go on another hike with them in person next year.